How To Decorate A House On A Low Budget
You are here because you are wondering how to decorate a house on a low budget. And although the content at Room Crush is primarily focused on luxury decor, we like a good deal as much as the next homeowner!
So, know that yes it is not only possible to decorate a house on a low budget, but with a little bit of creativity, it can also be even more meaningful when you do.
In this post, we will show you some tricks to make your home look well put together on a shoestring budget, without it ending up looking cheap.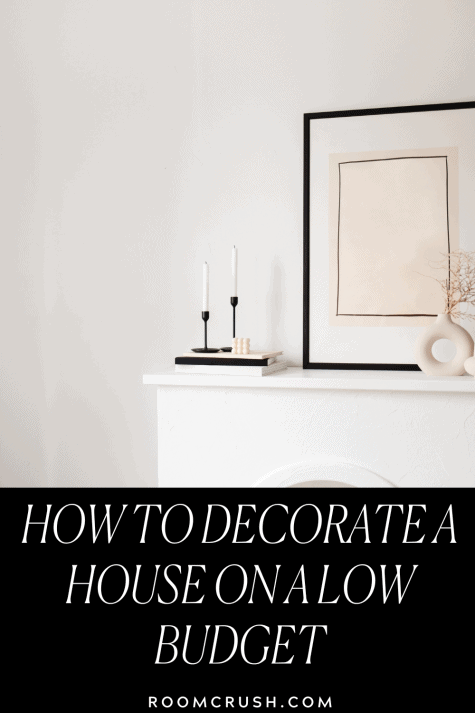 How To Decorate A House On A Low Budget? How To Decorate A House With No Money?
You see, one of the biggest secrets to creating a beautiful home isn't spending tons of money. It's the ability to imagine the possibilities with items that you already possess or are within your current budget.
---
7 Easy Home Updates eBook: Free!
Today, get a free copy of our ebook that shows you 7 simple updates you can make in your home this weekend that will make your home look expensive and increase its value. Tell us where to send your free copy:  
This site uses ads and affiliate content as an Amazon associate earning on qualifying purchases. Disclosure.
---
In other words, your creativity.
Creativity is defined as the use of a person's imagination or original ideas, especially in the production of artistic work.
This definition plays right into a quote that inspires me when decorating on a tight budget, which is:
Think like a designer but break the rules like an artist.
A designer takes into account measurements such as room layouts, proportions, and proper scale. An artist will push those boundaries to their limits.
This is especially true when decorating on a dime, which is why your creativity can be the secret weapon to a fabulous home style.
We purchased our first fixer-up property when we were first married. And like most young married couples, we were in love and broke!
Sure, it probably would have been wiser for us not to spend the last five thousand dollars in savings to purchase a termite-infested house, but what can I say, we're risk-takers!
While our friends canceled their bid on that very home, we rushed in and paid the full asking price. You see, the dump had potential, a great floor plan, and I'm a sucker for a wood-burning fireplace.
Throughout the years of owning that home, we renovated every nook and cranny. Roof, siding, windows, sidewalks, oil tanks, electrical, and that was just the small stuff!
Did our gamble pay off? Yes, it sure did. We flipped that home and made a nice profit.
However, in the beginning, it was all about replenishing our savings account and getting creative to make our house feel like a home.
If you're on a low budget, here are some key things to keep in mind.
The Trick To Decorate A House On A Low Budget, Without Making It Look Cheap
Let's talk about how we can decorate with a small budget and a plan that includes the entire house.
If you take away any piece of advice from this post, let it be this.
Your goal in decorating is not to create a beautiful space, room, or wall – it's to create a COHESIVE HOME.
Creating a cohesive home decor does more than show your visitors that time and effort was taken to create your space.
It allows your rooms to flow and provides you with an inviting place to come home to.
Now, this does not mean you are not able to experiment with a few wild cards here or there. It means your house should have an overall theme and style.
Most people "try" to accomplish this by choosing a specific décor style such as farmhouse or boho and sticking to it.
Although each individual choice may fit a particular style of décor, their end results could be…well…ugly!
Here's what to do instead.
1. Stick To A Color Palette
Over the years and many projects later, I have come to appreciate that working with a neutral color palette has too many advantages that can not be ignored.
First, it's budget-friendly.
Therefore, for your walls and staple furniture pieces, make your life easier, and choose a neutral tone to help give you the perfect blank canvas to create your masterpiece.
Since even white has different shades and tones, I like to get some free swatches at Home Depot and tape them to my walls. This way, I can check how the color will look during both daytime and nighttime (you wouldn't believe it, but it does look different at different times of the day!).
Second, you will find you will be less likely to grow weary of it quickly.
When you do start getting tired of your current décor and you will, changing out a few accessories will be a lot less expensive than repainting a room.
We enjoy using a "hint or pop of color" in accents throughout a home to create an overall scheme.
One great way to do this is to get a set of vases in different colors, which allows you to easily swap them out when you get bored:
Sale
CWLWGO-Ceramic Matte Vase for Home Decor, Modern and Minimalist Decorative Vase Set. Farmhouse Living Room Tabletop, Bookshelf Decoration, Centerpiece Table Decor,Boho Decor.(Matte Multi)
Decorate your home with personality- This 3-piece vase set decorated with morandi-colored ceramics, elegant and relaxed beauty, exquisite home decoration creates space in your home, suitable for all seasons and holidays.
Multifunctional decorative vase set: Artificial flowers or fresh flowers that can be used alone in vases can be used as decorative pieces such as living room, dining room, bedroom, bathroom, table, bookshelf, mantelpiece, porch, etc. It can also be used as a perfect decoration for parties, weddings, brides and baby welcome parties.
High-quality ceramic manufacturing: 100% high-quality ceramic handmade, the vase has good corrosion resistance, so that your flowers are safe and comfortable.
These vases are perfect for displaying your favorite dried or artificial flowers and green plants, but they are not recommended for fresh flowers and water.
Multifunctional decorative ceramic set-(size 3″L x 3″W x 11″H; 3″L x 3″W x 7.5″H; 3″L x 3″W x 5″H; This vase have four other colors, and there's always one that will suit your decorating needs.
Instead of choosing or creating your own color palette, find one piece of art that sets the tone for your entire house.
This could be a painting, for example.
In my opinion, this method is foolproof since all your colors are contained within the art piece.
The artist has already done the hard part for you, which is to make sure the colors work well together.
You are already attracted to the piece, and you will be able to reference it as a guide for future purchases.
To do so, use your cell phone to take a photo of the piece which can be saved as a sample when you are shopping for your home.
Pro Tip: Before making any purchases, make sure to review your photo to confirm the color and style will blend well together with your existing decor.
Let's break this down.
Say you had this artwork pictured below, and you were wanting to style a room around it.
The colors that "POP" are shades of earthy beige to blue.
You will use one primary color, of your choice, as your accent color throughout your home. As an example, in this room, you could add a throw blanket in blue. A small book underneath the plant on the coffee table with lettering in beige or brown would also be a nice touch.
Purchase 1 or 2 small items per room such as a vase, throw, or pillow with the color of your choice.
With this in mind, a room that was styled like this (pictured above) would be a perfect complement to the example painting.
You can purchase this beautiful cabinet right here.
Personally, I like to change accents in a room with the seasons. I would use a bright yellow for spring and deep red for winter.
For emphasis, most people decorate room by room so they can complete a project before moving on to the next.
You May Also Like: Ideas To Decorate An Apartment For A Single Guy
Tackling one room at a time works well for your budget but….
It encourages you to think of your décor on a room-by-room basis. Impulse buys like something that grabs your eyes in the stores will more than likely make their way back home with you.
Having a limited color palette or style for your entire home will limit your purchases and force you to make sure your items will blend.
To further clarify, this doesn't mean you need to decorate the entire home at once. It merely means you will have a critical eye while curating and editing your décor.
2. Decorate A House On A Low Budget With Inexpensive Wall Art
Decorating walls is something I hold dear to my heart since that was my main focus for nearly two years.
Also, when moving into new spaces, we felt there was nothing more depressing than staring at blank empty walls. Our home would feel lifeless.
Since purchasing completed pieces of art can be a costly endeavor, you can minimize your cost substantially by purchasing art prints instead. Etsy is one of my favorite ways to do this as there are so many talented artists and small businesses on there!
Not only will you benefit from the financial gain, you will also be able to create a more sophisticated design.
Art prints can be purchased in varying sizes and framed according to any décor style. You will have the added luxury of adding mats, which will make a simple art poster appear like a beautiful work of art.
PRO TIP: To add more interest and complexity to a wall gallery, we enjoy adding a few pieces of art.
Here are a few tips to keep in mind when working with art:
If you plan on purchasing small art prints, place them in a frame that has a large mat.
Hanging tiny art on a big wall is a no-no. Most homeowners hang artwork too high.
The center point of a single frame or grouping of art should be at eye level.
The correct spacing in-between frames is 3-6 inches.
Never hang all large pieces in one area and small ones in another.
The same goes for similar frame styles. Your goal is to have a visually balanced design.
Okay, so I could go on for days on this subject, but instead, I'll provide you with one of my favorite hacks!
Purchase a large book with photographic prints and carefully remove several of the pages and frame them to your heart's desires. Some of the best options for this are photography, fashion, and architecture books, which have plenty of beautiful images for you to choose from.
Sale
Coastlines: At the Water's Edge
Hardcover Book
Nathan, Emily (Author)
English (Publication Language)
288 Pages – 05/24/2022 (Publication Date) – Ten Speed Press (Publisher)
My client Alison and her husband were house poor and saved money by displaying artwork from ONE book.
The trick is to use framing mats to make the images torn from the books appear more "expensive" and display them as artwork.
Since it still contained tons of "art" to be framed, she let me in on her dirty little secret by gifting my husband the book for our first fixer-upper home since he was in awe of the inspiring artistic images of Cuba.
Of course, a few carefully placed highlights over the art pieces helped a bit as well. In the property above, I used a poster to save money.
The easiest way to update your decor is through artwork!
Artwork adds color, character, and a little bit of dramatic flair to your home. Now you don't have to worry about purchasing expensive art to make a massive impact on your home décor.
There are so many amazing artworks that you can buy for a few bucks.  And if you want to save on shipping costs, then get some digital download art prints from Etsy! These are just as beautiful as pre-printed ones, and you can choose the size, where you print it, and what frame you put it in!
For example, you can get the 3 prints below in one set and they're all a digital download, so you can decide whether you want to print all 3 and whether you want duplicates.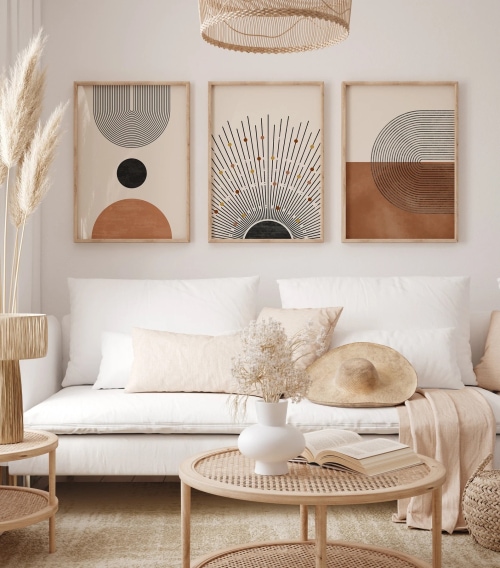 If you don't want to spend on art, there are other ways you can create art for your home.
If you need additional ideas for your blank living room walls review, Ways To Decorate A Large Living Room Wall.
Lastly, you could also review some of the topography and digital prints from our shop, which begins for the price of a latte coffee.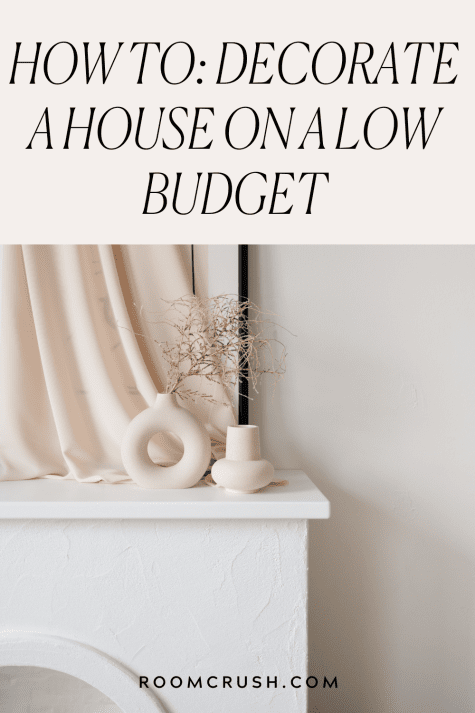 3. Decorate A House By Properly Working With Your Floor Plan
Let's start with the obvious, measure the space you are working with to plan accordingly. Consider the scale of your furniture pieces with the size of the area you are working with.
A large sectional may look right at home in a spacious room; however, it will overcrowd a smaller space.
If you want to take things to extremes, you can use my friend Nancy's method. She uses a large piece of cardboard as her floor plan.
Then draws and cuts out her furniture pieces to help her visualize her space. Nancy has lived in NYC apartments, which range from 350-400 square feet, and has made fantastic use of her spaces.
Yes, her methods are time-consuming, but it's your home!
Her organizational skills and the flow of her furniture allow her family to feel like they have a home, not just a space.
4. Get Comfortable With Power Tools
The best way to save money when decorating a home is by doing some of it yourself.
One of my pet peeves is when homeowners showcase DIY creations that scream – I made it myself But not in a good way.
The key is only to take on home projects that are in line with your skill set.
Following this advice will allow you to deliver professional results and, in the process, evaluate your decor altogether.
If you feel you are not creative, please read on my friend, as this post will provide direction as well as some projects to inspire you.
We will cover projects that will involve basic skills and some that are more advanced.
You can learn some skills and techniques by researching and watching videos, and if you are more of a hands-on learner, there are free resources you should take advantage of.
For example, subscribe to the Rad Dad Builds Youtube channel to learn how to make modern, design-savvy improvements in your home.
As well, Home Depot retail stores provide free educational classes on many home improvement projects.
Attending a class on how to tile a floor would be an excellent investment of time before trying to tackle installing a floor for the first time.
You will be provided with advice which will produce a better-finished product. Remember, preparation is critical for a successful outcome.
5. Invest In Flooring
Having matching flooring in the entire house will be more visually pleasing. Mismatched floors look cheap.
With a cohesive floor, your home will feel less choppy, even if you have many interior walls.
If you are unable to update mismatch flooring due to budget or renting here are a few options:
Consider replacing the flooring in the main living areas.
Negotiate a discount on your rent for updating the flooring.
Use area rugs to define spaces.
Amazon has a decent selection of 8×10 area rugs at a fairly affordable price, like this boho-style rug:
Sale
Boho Area Rug 8×10 Feet Modern Area Rug Neutral Carpet for Bedroom Decor, Livingroom Decoration Ideas, Play Room
Living Room Area Rugs – Add cushioning, warmth and personality to your decor with this bohemian style area rug. Atop hardwood and tile floors, this rug helps reduce noise in your living space. They anchor the furniture in a room, creating cozy, intimate spaces and seating areas.
Choosing the Right Size – Area rug 5×7 works well for smaller living rooms. Small area rugs play off of the room's scale, lending a larger feel to tight spaces. Place the rug in front of your sofa and chairs and center the coffee table on top for a classic layout. 8×10 area rug works well with larger living rooms to tie the space together. Rest the front legs of your sofa and chairs on top of these rugs. This layout works especially well with furniture placed against a wall.
Decoration & Utility – Our neutral area rugs add an understated, rustic element to any room. Their neutral colors and playful textures and patterns to make anyone feel instantly at home. Offers full coverage over any permanent stains or markings and protect the flooring from scratches. Use our rugs as a base for layering rugs to give your space a luxe feel.
Soft Material – Family-friendly shag area rugs add a spot of plushness to your living room. Let you relax after a long day, and making sure your kids have a soft place to rest as they play.
Machine Washable – High-tech material layer plus TPR backing guarantee durability, tear strength and sustainability. Roll up the rug into wash machine for easy maintenance.
You May Also Like: The Correct Dining Room Rug Size For Your Table
One room of the house that usually does not match the rest of the home is the kitchen, which is why I included the photo below.
The designers used inexpensive tile in this small gallery kitchen and installed the tile in a herringbone pattern to give it a more luxurious feel.
Other details to note are the backsplash. The subway backsplash used can be purchased in pre-made sheets and installed as a DIY home project.
For extra cost savings, the designer chose not to carry the tile to meet the upper cabinets.
Photo credit @ Stayloom
6. Make Use Of Plants
There are many reasons to include plants in our homes besides their health benefits. Bringing nature indoors adds interest and beautifies our spaces in ways nothing else can.
If you feel you were not born with a green thumb, you'll enjoy reading my post on the Best Artificial Plants To Use in Decor.
Along with Plants being reasonably inexpensive as decor accessories, they can be purchased in a range of colors and sizes.
Therefore, if you notice you have an empty corner and your room doesn't feel complete, a floor plant could be the missing ingredient.
A decor hack I use when adding in plants is to purchase a large wicker basket to store the plant. This way, my initial purchase will be minimal since the plant will be able to live within an inexpensive plastic pot.
Sale
TIMEYARD Sturdy Jute Rope Plant Basket Modern Woven Basket for 10″ Flower Pot Floor Indoor Planters, 11" x 11" Storage Organizer Basket Rustic Home Decor, Black and Beige Stripes
【 Good Material and Size 】Handcrafted meticulously, sustainable jute and sewn in a coiling method that results in a flexible textile that is stiff enough to hold its shape. Approximate size is 11″ Diameter x 11″ High. Pot and plant are not included.
【 Suit Fits 10" Flower Pot 】Ideal for potted house plant and fits cylinder flower plant pot from 8″ up to 10″ in diameter. If your favorite plants are using ordinary plastic flower pots, ceramic planter or grow bags, cotton rope pot covers will provide unique charm with fiddle leaf fig tree, indoor burgundy rubber tree plant, large statement cactus, monstera or snake plant.
【 Rustic Modern Home and Lifestyle 】This striking black-bottomed hand woven cotton rope planter basket adds a modern flair to your favorite large plant for home, hotels, offices, and restaurants for an instant feeling of rustic simplicity.
【 Foldable and Unique】Handles are sturdy and not easy to be broken. The plant basket is easy to move, foldable and can save space when not in use. Due to the of handmade items, each plant basket is individual and there may be slight variations from one to another. A perfect housewarming gift or unique gift.
【 Multiuse for Different Scenes】This neutral woven basket is also great to use as a storage bin for clothes, beddings, books, office supplies, fruit, vegetables, laundry, toy organizer, etc.
For faux plants, I use rubber mulch as the topsoil to give them a more realistic appearance.
7. Create A Mood Board To Decorate Your House
A mood board can be a handy tool to use. It can be hard to visualize how furniture, color, or texture will come together. Begin by gathering inspiration from websites, Instagram, or Pinterest.
Make sure you are following the Room Crush Pinterest so you could see what is currently trending and what we find inspiring.
While introducing ideas onto your mood board, please keep in mind the constraints of your space.
You may need to work with existing furniture or an awkward room layout.
While you're out and about, don't be shy about taking photos of items that catch your eye.
For the full tutorial, read How To Create A Home Decor Mood Board [+Examples]
8. Utilize A Few Wood Crates (Pallets)
Wooden crates naturally lend themselves to building tables and desks with little effort. They work well when decorating for children since their needs are continually changing.
Further, the crates help to keep kids organized.
But how do you use a pallet in your decor without it looking like trash you dragged in from the side of the road? (Even if that is exactly what you did!)
Well, the trick to using pallets without looking tacky is to ensure the presentation is done in a tidy, intentional way.
One pallet project done with restraint may be nice. But too many and your home will look like an actual junkyard, so use this material in moderation.
Since wood pallets have become favored as building materials, legislation has become aggressive in prosecuting pallet takers.
They have also made business owners responsible for record-keeping their pallets.
Therefore, when sourcing your pallets, be sure to ask for permission. Some businesses have to pay for their removal and may welcome your willingness to remove the pallets from their properties.
Now, not all pallets are created equal. If you're interested in building furniture, you may want to source pallets from furniture retail stores or supermarkets as they will have stronger wood pallets.
Some ideas to elevate the appearance of wood pallet projects:
Power wash pallets and allow them to dry out for several days before working with them.
For a farmhouse look, you can apply a clear coat of satin polyurethane
For something more contemporary, apply a dark wood stain. Then complete with a clear coat of polyurethane.
The above projects require little investment of both time and money.
9. Bring Nature Indoors
Next up is nature! You will be surprised at how little details such as flowers can spice your home up.
Flowers add a personal touch to your home and make it look more attractive. Our favorite blooms are cherry blossoms, roses, and hydrangeas.  
Bringing those beauties inside by adding a few branches from your outside landscape to add color, texture, and life to your space is a guaranteed win. A simple glass is often all that is needed, and if I don't want to see the clutter of the branches below, I grab a solid vase instead.
Sale
For your home, you simply need to decide, "do I want a bouquet of flowers here and there, or do I want the décor of my home to revolve around flowers?"
You simply need to choose one of these options and work around it.
You can also choose between natural flowers and artificial flowers. I'd advise that you begin with a mixture of both.
Doing this will help you figure out which you are most comfortable with. If you are perfectly able to care for natural and fresh flowers, don't feel bad grabbing them during your next grocery run.
If your natural flowers do not survive the first days of your care, just grab a few branches during your next walk.
10. Good Lighting
This tip is crucial. Good lighting transforms the mood of any room. And fortunately, lighting is an inexpensive and easy update to accomplish!
To make an impact on your home's décor, light up the place unapologetically.
If you have dull lighting that makes your rooms and home exterior look dim at night, work on them. Improving your home's lighting involves purchasing new bulbs, which will only cost a few dollars.
You can light up the exterior parts of your home, like your driveway, your pool, and your fence – if you have one. Lighting makes your home more welcoming and makes it easier for you to carry out activities at night.
One of my favorite inexpensive ways to add mood lighting is with outdoor string lights. These are perfect for summer evenings when you're entertaining guests, for outdoor movie night, or date night!
Sale
addlon 48 FT Outdoor String Lights Commercial Grade Weatherproof Strand, 18 Edison Vintage Bulbs, 15 Hanging Sockets (3 Spare Bulbs), ETL Listed Heavy-Duty Decorative Christmas Lights for Patio Garden
Including 18 Edison Bulbs: Each strand contains 15 hanging sockets, provided with 18pcs S14 incandescent glass bulbs . The distance between bulbs is approximately 3.11FT. This Heavy-duty light is bright enough and ideal illumination anywhere.
Weatherproof & Heavy-duty: This outdoor string lights are UL listed weatherproof commercial. The insulation material can protect the strand from hot winter, sun, wind, rain, snow and damp. Flexible heavy-duty cord withstands the wear of indoor and outdoor use.
Dimmer Compatible to Set The Right Mood: For greater mood lighting flexibility and a soft glow, a dimmer switch【not included】 to create the perfect atmosphere for a birthday party, family reunion, or wedding reception. It adds flair to bistro deck porch patio garden backyard terrace pergola café restaurant malls for wedding BBQ party banquets, also suitable for tree-lighting like Christmas tree.
Smart Installation: Each socket has hanging hook above, makes it easy for hanging with hooks, guide wires, or zip ties. It can connect with another simply use grounded cord plugs into any standard outlets. Link up to 5 strands.
Satisfaction Guaranteed: Your satisfaction is first. If you are not fully satisfied for any reason, please contact us.
Lastly, outside lighting also provides extra security, especially when motion sensors are installed. For more backyard ideas check out my post on, Inexpensive Staycation Ideas At Home.
When Decorating A House Remember That Less Is More
It's essential to make you aware that most designers will remove some furniture and trinkets before introducing new items.
The reason for this is in the world of decorating – less is more.
First, having less furniture allows for pieces to be positioned for the best flow of the room. Second, when layering in textiles, fabrics, and art pieces, these items will be able to stand out as focal points rather than get lost.
If you already have some essential furniture pieces and are looking for ways to sprinkle in a few accents, here are a few solutions that won't break the bank.
You may think of decluttering as a chore and save it only when tackling big cleaning jobs like spring cleaning.
Let's face it, during our day-to-day routines; we tend to become a bit lazy and messy.  Mail begins to mount, recent issues of your favorite magazines become old issues and your junk drawer overflows.
With the right techniques, you will be able to give your house a mini facelift by merely decluttering.
Here's my method, I grab a large garbage bag and walk around the house, tossing out items. You'll be surprised how quickly that bag becomes filled.
Related: How To Organize Your Room Fast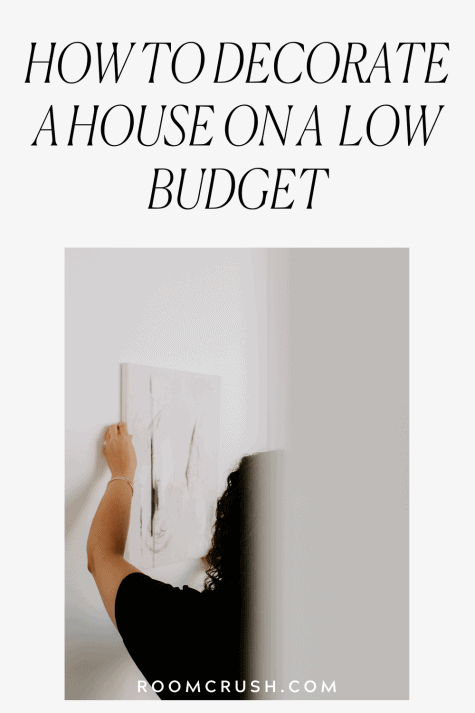 Invest In Quality Furniture Pieces
Don't be fooled by sales at low-quality furniture stores. Just because it's affordable does not mean you should put it in your home.
To make a significant impact on your home décor, you don't have to break the bank or save for weeks. But when it comes to purchasing furniture, it's always worth it to invest in high-quality pieces that will last a lifetime.
Rather than waste your money on cheap furniture that will fall apart in a year.
Simply by using the right lighting, hanging up some interesting art pieces, and sprinkling some outdoor elements indoors, you can spice up your home décor, and save your money for high-quality furniture investments.
Any of these inexpensive ways to improve your decor on a budget would make a significant impact on your home.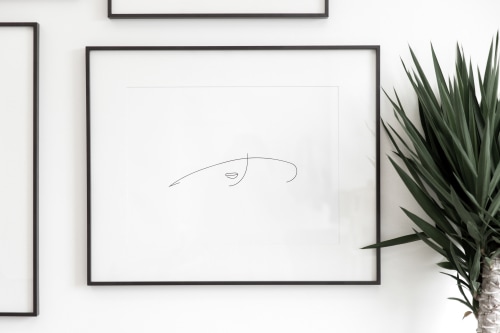 Should I Rent Instead Of Buy A Home?
There are a few reasons why renting may be better than buying if you're worried about being "house poor."
When you own a home, you are responsible for all the maintenance and upkeep. This can be time-consuming and expensive.
Another reason why renting may be better than buying is that it frees up more of your income to save for other goals.
You can invest and save for things like retirement or travel when you're not tying up all of your assets in a mortgage.
This leaves you with more free time to enjoy your hobbies and spend time with loved ones. Renting also gives you the flexibility to move if your job or lifestyle changes.
You don't have to worry about selling your home or finding a buyer – you can just pack up and go!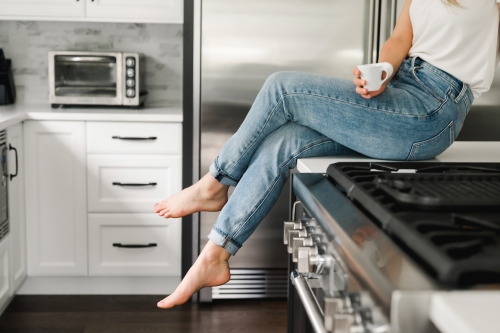 How To Decorate A House On A Low Budget –  Conclusion
I hope that this post was able to convey that decorating a home on a low budget is not only possible but can also help you create a warm and inviting home.
With fantastic lighting, artwork, and some flowers, your home can look brand new! Changing your flowers and artwork occasionally in your home can also give your home a fresh feel every now and then.
You can also rearrange your furniture and rooms to emphasize your lighting, artwork, and position of the flowers.
I've learned that your creativity plays a huge role in how successful these changes to update your home turns out. Get up and get creative!
Your home décor should never be underwhelming. This is because your home décor can make you feel more comfortable and excited in your own space.
To wrap up:
Get creative with what you have on hand. Use old books or magazines to create a collage on a wall, or repurpose old jars and vases as storage containers.
Shop at secondhand stores and garage sales for unique pieces that you can repaint or refinish to fit your style.
Choose simple, solid colors for your walls and furniture instead of patterned wallpaper or busy upholstery fabric.
This will keep your space looking cohesive and polished without breaking the bank.
Stick to light, natural materials like wood, cotton, and linen to create an airy feel in your home.
Regardless of your budget, your home should be your sanctuary.
When decorating a house on a low budget try viewing your home décor as an entire project similar to a wall gallery.
Each piece of art represents a room, and all the pieces together create a home.
Although they are all individual images, they complement each other and create a visually pleasing display.
Lastly, if you're still in need of some guidance, you may find it helpful to read my post, How To Make Your Home Look Expensive or Best Home Improvements To Raise Your Home Value. 
In the meantime, enjoy our Free Home Styling Book which will help you create a better home style in a week.