10 Unique and Useful Gifts for Interior Design Lovers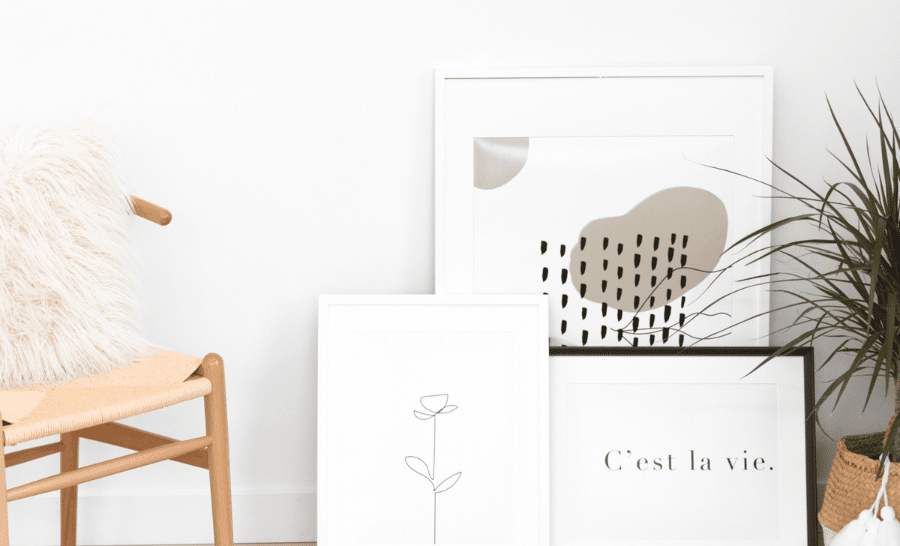 We found the best gifts for interior design lovers! Whether it's the upcoming holidays or a birthday, it can be tough to find the right gift for the design lovers in your life.
You might be stumped because the only thing that comes to mind is a coffee table architecture book when you know they have a bunch of those already.
But your gift choice doesn't have to be predictable—in fact, it can be something they would never have thought to buy for themselves!
For this article, we've hand-picked 10 standout gifts the interior design lover in your life will absolutely love.
---
7 Easy Home Updates eBook: Free!
Today, get a free copy of our ebook that shows you 7 simple updates you can make in your home this weekend that will make your home look expensive and increase its value. Tell us where to send your free copy:  
This site uses ads and affiliate content as an Amazon associate earning on qualifying purchases. Disclosure.
---
10 Unique and Useful Gifts for Interior Design Lovers
If you're not as much of a fan of interior design as your gift recipient is, it can feel impossible to get them a gift.
What if they already have it? What if it doesn't match their decor? And is it appropriate for the occasion?
The good news is that the decision-making process becomes much easier once you know what to look for.
The first step in choosing the right interior design gift is deciding whether you want to get a purely decorative item or one they will use every day.
This depends on the person's lifestyle, what they already have, and whether you're getting them a housewarming gift for a newly designed house.
Even if you're not sure of what they already have, we could all use a bit of a change in our decor every now and then.
That's why we've chosen gifts for design lovers that are both useful and decorative. We've also covered a variety of design styles, making it easy for you to choose one that you think will resonate with your gift recipient.
Let's take a look at the best interior design gifts they can't wait to display in their home!
1. Quartz-Pattern Rug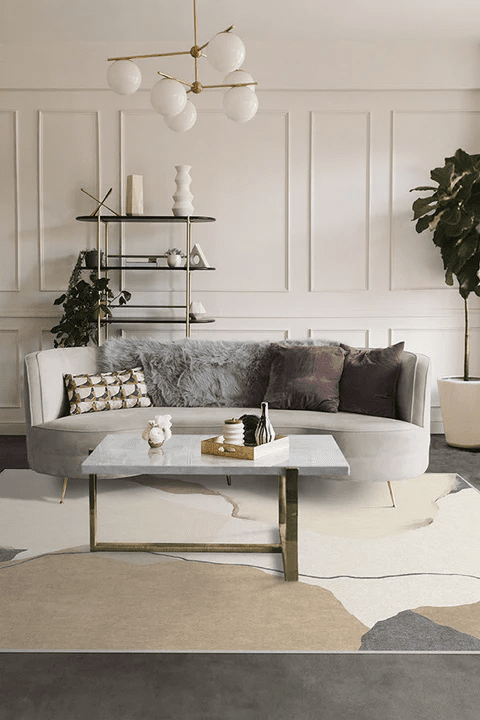 This quartz-pattern rug from Ruggable is perfect for those who love abstract and elegant pieces.
The rug is also perfect for those with a minimalist design style, as it adds subtle detail and a soft medley of cream, dusty rose, gray, and off-white.
Rugs get worn and dirty pretty quickly (especially if they're in high-traffic areas), so they're bound to be replaced eventually. This is why rugs make a perfect gift, as even if they're not used right now, they will be in a year or two.
The best part about Ruggable rugs is that they're machine washable.
Yes, you read that right! When you own a Ruggable rug, you can simply toss it in the washing machine.
This saves so much time and gives people the confidence to put the rug in a high-tread or messy area like the kitchen, as they don't have to worry about hand-scrubbing dirt or spills.
Not to mention, the rug itself looks like a piece of art that you might find hanging on the wall of a posh Hollywood home.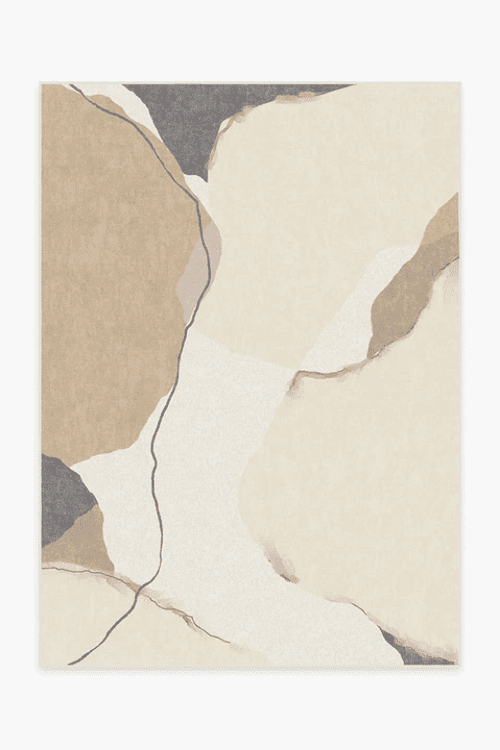 The other benefit of this rug is its comfort.
Machine-washable rugs are low-pile, meaning that the height of the fibers is short. These rugs are easier to care for but tend to be less comfortable.
But with Ruggable rugs, you can get a cushioned pad to use underneath, making the rug super comfortable underfoot.
The rug pad has a special fabric that makes it easy to remove without losing any cling, so all they need to do is detach the rug pad and throw the rug in the wash!
You May Also Like: The Correct Dining Room Rug Size For Your Table
2. Unique Chandelier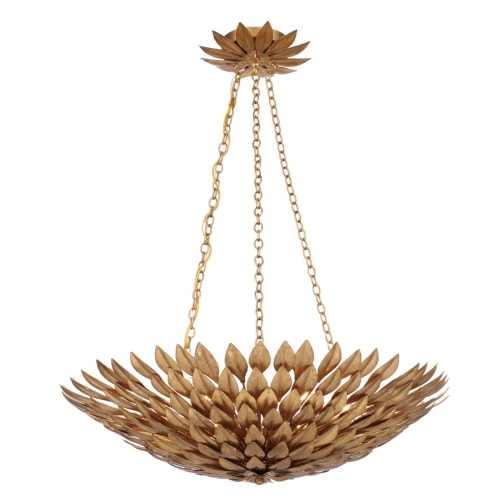 Most of us associate chandeliers either with obnoxiously large pieces in mansions or with tacky-looking light fixtures we can't wait to get rid of.
These days though, there's an abundance of unique yet tasteful chandeliers to suit anyone's style.
We are obsessed with this chandelier, because it reminds us of an art piece or a sculpture.
The leaves are reminiscent of a sunflower or lotus flower, and we love the antique gold finish of the leaves.
Gold is also a great choice because it's a trendy, modern finish that's also classic, so it isn't going away any time soon.
The chandelier is also a nice size—at 24″ X 16″, it's not so huge that it overtakes the rest of the decor in a room.
Instead, the chandelier is small enough to use in a bedroom, dining room, and even entryway!
3. Sunburst Mirror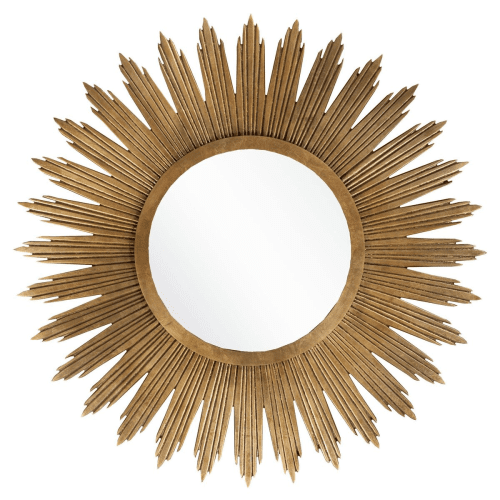 A sunburst mirror is a great choice because it can be used as either a standalone decor piece or as part of a feature wall. This gives gift recipients the ultimate versatility with how to use their gift.
We appreciate this sunburst mirror for its nod to Hollywood Regency style, without looking dated.
The aged gold finish also gives it an opulent feel that can match any decor style, from organic modern to farmhouse.
When choosing a sunburst mirror as a gift, it's best to go with aged or brushed finishes, as these offer luxury and subtlety at the same time.
This means that the mirror will work well in a hallway, on top of wallpaper, or as part of a feature wall with shinier or more dramatic sunburst mirrors.
4. Artistic Wallpaper
Artistic wallpapers are perfect for the art fans and maximalist design enthusiasts in your life.
Design fans will recognize the inspiration behind this wallpaper, as its design channels the famous prints of 19th-century designer William Morris.
What we love most about this wallpaper is that it comes in so many color and pattern variations.
How pretty is the contrast between the black against the red, orange, and blue flowers? You can just imagine the wallpaper as an accent wall in entryways or behind a bed.
Wallpapers are some of the best gifts for interior designers, as well as home DIY experts or those willing to hire an expert to help them apply the wallpaper.
The wallpaper also comes in one size, so this takes away the need to awkwardly ask your gift recipients for wall measurements!
If you want to give them a larger surface area to work with, simply buy one or two more rolls of wallpaper.
5. Bouclé Pillows
Bouclé refers to a type of fabric that weaves together looped and curled fibers to create a nubby texture.
This texture creates a natural look that's warm and contemporary, making it the perfect fit for organic modern homes.
While bouclé was a popular midcentury fabric, it's been reinterpreted in contemporary shapes, like with the spherical pillows pictured above.
Given their unique shape, these pillows can be used just about anywhere, from adding a pop of texture to the couch to adding a sculptural element to a plain chair.
These architectural bouclé pillows come in a set of two, one bigger than the other. The difference in scale will add interest to any couch corner.
The best part about these pillows is that they're made of performance fabric.
This means they're resistant to spills, stains, and wear, and are also suitable for pets and kids.
This durability makes these pillows the perfect gift for anyone on your list.
6. Modern Wall Clock
Gone are the days when wall clocks are simply for telling time.
Instead, a modern wall clock should be as much a part of your decor as anything else on your walls.
A metal wall clock is a perfect choice because it has a simple, yet functional design. The "9" and "3" on each side make it easy to tell time, yet the double frames add visual interest and subtle detail.
We ove the combination of wood and metal on this clock, which gives it a modern look that's still warm and welcoming.
When choosing a wall clock as a gift, make sure to take the dimensions into consideration. A wall clock should be large enough to be read easily, but not so large that it overtakes a room.
This is why this handmade clock from Etsy made our list of the best gifts for interior design lovers.
This is meant to be a statement piece, but it's small enough to fit into any room.  Whether that's a living room, a bedroom, or a home office.
7. Glass Blown Nest Bowls
For a beautiful and one-of-a-kind gift, consider getting blown glass decor.
Not only will you be supporting small businesses, but each piece is guaranteed to be unique.
We love these handmade nest bowls for their bright colors and thick, sturdy shape.
Not only can you use these bowls as a keyholder or trinket dish, but they can stand on their own as a tabletop decoration.
Consider getting your gift recipient a set of two or three bowls for even more decor options.
These can be arranged together on furniture like a console table or placed separately in the kitchen, on a vanity, or on a coffee table.
8. Grecian Bust Pot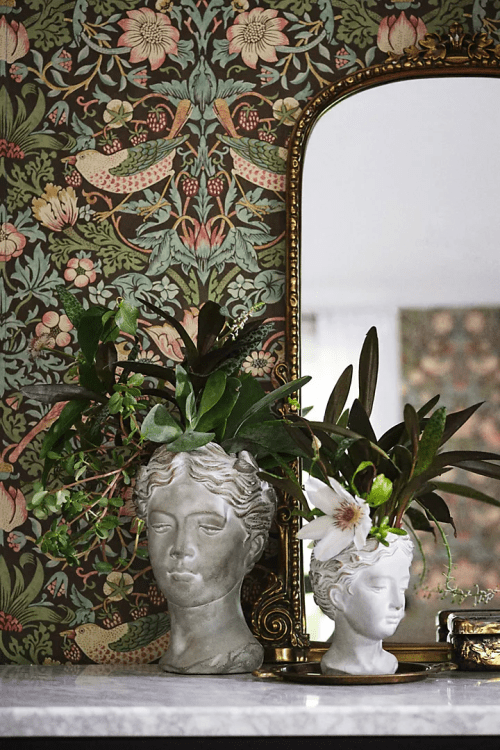 A unique pot is a perfect gift for interior design lovers who also love plants and gardening. It's also a huge step up from boring plastic pots that don't add to a room's decor.
These Grecian bust pots are the perfect way to add a functional, yet refined look to any room (especially for lovers of art history and classical art)!
The white and gold paint creates the look and feel of an antique.
This bust pot can also be used indoors or outdoors, so it makes for a good gift whether your gift recipient has a house or an apartment.
For a matching gift, we suggest getting two bust pots: one large and one small. This lets people decide whether to use them in separate rooms and makes for a beautiful contrast if they're placed side-by-side.
9. Dolomite Shell Bowl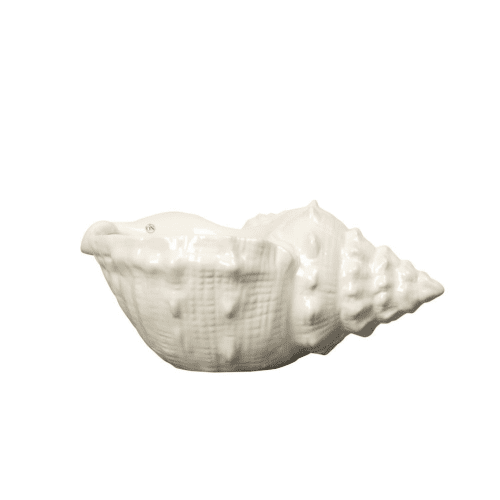 Bowls make for some of the best interior design gifts as long as they have a unique design that doubles as decor.
The design of this bowl takes on the shape of a conch shell and looks just like the real thing.
It is made of dolomite, which is a sedimentary carbonate rock, a type of limestone.  This means, no sea creatures were used or hurt, to make this pretty bowl.
While the white color means the bowl goes well with any type of decor, it's particularly great for minimalist or coastal interior design styles.
The best part about this conch-shaped shell bowl is its functionality.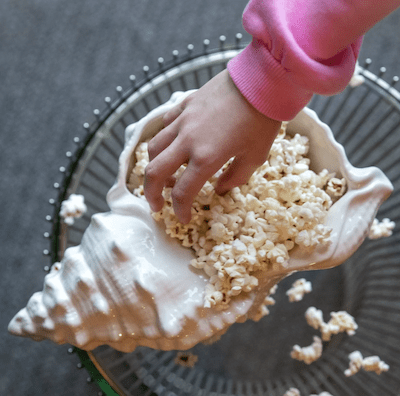 Not only does it make for a great serving bowl for a dinner party, but it can work as a jewelry holder or even a beautiful centerpiece for the coffee table.
And unlike most bowls like this, which would be made of plastic or ceramic, because this bowl is made of dolomite,  it's built to last.
This means that the bowl is durable and will stand the test of time.
10. Petrified Wood Plate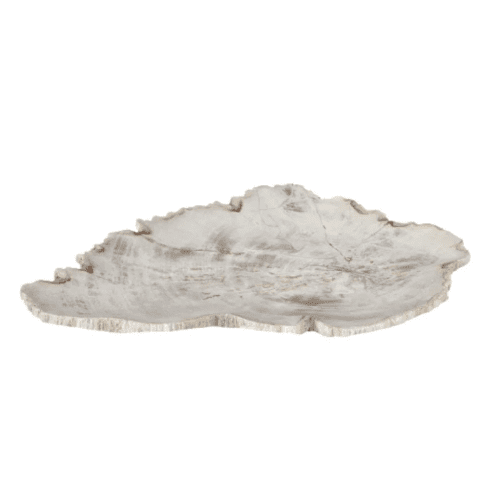 Some of the best gifts for interior design lovers are ones that they can use every day and for multiple purposes.
This petrified wood plate does just that. Petrified wood is wood that has been fossilized (and thus mineralized).
This gives it the texture of wood and an almost marble-like quality, which is perfect for adding warmth and natural textures to a space.
Can't you just imagine someone serving a beautiful cheese or fruit platter on this plate? Or using it as a perfume tray? Or even using it to display wine and dessert?
Adorable!
And since the plates are all-natural, they vary in size and shape and have different edges and cracks.
This makes for a unique piece that is a much more thoughtful gift than a cookie-cutter plate you can get at any big-box store.
Frequently Asked Questions About Gifts for Interior Design Lovers
What Do You Send to an Interior Designer?
Interior designers are likely to have their decor set in stone, so the best thing to send them would be something they can use every day. Just make sure that the gift travels well in the mail!
Of course, you want to go for something unique, so the best gifts for interior designers are one-of-a-kind items like blown glass bowls and petrified wood plates. You can also send them useful but elegant items like hand soap and lotion sets, which they're sure to use.
What Do You Buy a Decorator?
Great gifts for decorators are ones they can use in multiple ways or adjust to their liking. One of the best examples of this is a unique wallpaper that they can cut to their specifications and place wherever they like.
Another example of this would be round pillows in a neutral color, as these can match most pieces of furniture and most interior design styles.
What Are Some Good Gifts for Home Design Lovers?
To delight the home design lovers in your life, get them something that's a mix of form and function.
These include Grecian bust pots that are as beautiful as they are functional, as well as a conch-shell style bowl that works with any home decor style.
What Are Good Interior Design Gifts for Her?
To get the best interior design gifts for women, try to envision her style and decide whether you want to get her a standout piece (like a sunburst mirror) or an accent piece like a glass-blown bowl.
In addition to the ideas above, you can also get her an elegant candleholder set, which she can use wherever she wants to add some ambient light.
What Are Some Modern Design Gifts?
Some of the hallmarks of modern design include geometric shapes, clean lines, natural textures, and a good degree of minimalism.
So for modern design gifts, go for items that have these qualities, such as a metal wall clock or a neutral-colored rug.
10 Unique and Useful Gifts for Interior Design Lovers – Conclusion
When it comes to gifts for interior design lovers, always look to get something that's both unique and functional.
You also want to get something that can be put in different rooms or used in multiple ways so they can truly make it their own.
This will result in a unique gift that they'll love and use regularly!
For Even More Gift Ideas, You'll Love:
Pin this: