What To Do After Buying A House, Immediately!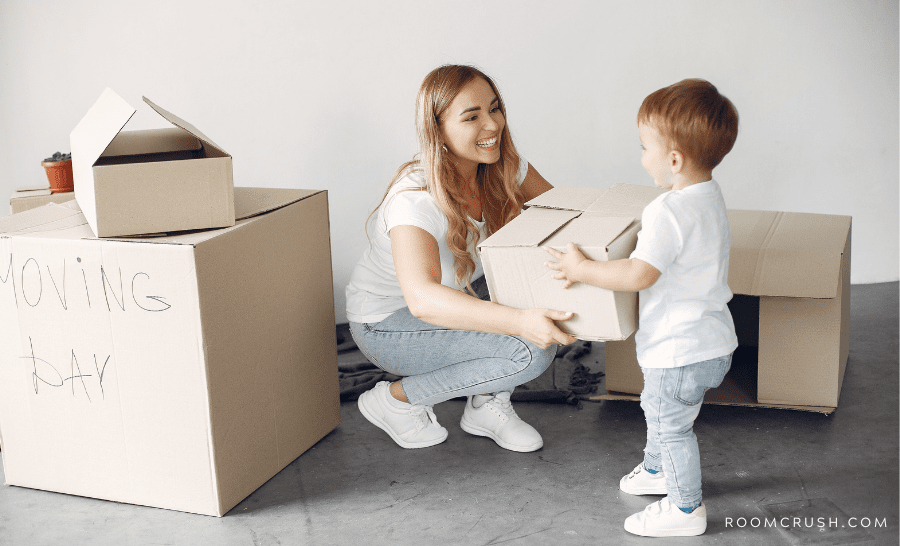 Wondering what to do after buying a new house? These are the important things to do, immediately after buying a house.
Buying your first home is very exciting. However, stress tends to kick in around the time you sign hundreds of papers committing you to that hefty mortgage payment for the next 15 to 30 years.
Not to worry, you're totally normal as most people feel a little overwhelmed after signing their life away on those closing documents.
In this article, experts reveal the top 15 things to do, immediately after buying a home. (Some will surprise you!)
---
7 Easy Home Updates eBook: Free!
Today, get a free copy of our ebook that shows you 7 simple updates you can make in your home this weekend that will make your home look expensive and increase its value. Tell us where to send your free copy:  
This site uses ads and affiliate content as an Amazon associate earning on qualifying purchases. Disclosure.
---
When You Buy A Home, It's Normal To Feel Overwhelmed
It's possession day, the day you finally get the keys to your new home after weeks or months of closing work.
You jump in your car, drive to your new neighborhood, and happily pull into YOUR driveway.
You look at the yard and front door, and think;
"Okay, I can do this; it's a little messier than I remember at the showing. But after some cleaning, power washing, landscaping, and some major elbow grease my curb appeal will be much improved."
You feel a little bit better knowing you have already made a mental to-do list and an actionable plan. (If you haven't yet, don't worry, this article will show you exactly what to do.)
Next, you fiddle around trying to get the front door open as you take yet another mental note of another purchase to add to your growing list.
Lawnmower, weed wacker, mailbox, and new locks…
Yikes, it just hit you – you're in for a number or expenses, and you're not even inside yet!
Hmmmm….will that pretty designer doormat have to wait?
Now that the house is entirely empty inside, you discover that your blank canvas is not what you expected.
In fact, it's not blank at all!
The plaster walls have large cracks, the appliances weren't cleaned very well, and the floors are scratched. This was not part of your interior design plan.
How in the world are you going to turn this dump into your home?
Take a breather and have comfort in knowing a little progress each day is all that is needed.
Knowing you are not the only one that has gone through such emotions will automatically make you feel better.
What To Do After Buying A House, Immediately!
Since your time is valuable, it's essential to use it wisely. Let's begin with the necessities first.
1. Secure your home
The first thing you need to do is change the locks on all the exterior doors.
This is a crucial step, and not one that should be skipped!
You just never know how many people may have copies of the previous owner's keys, after all.
You need to secure the home with new locks.
We recommend this door handle and lock combo, which you can easily have shipped to you from Amazon.
Pro tip: spend some time walking around your new yard, looking for hidden spare keys.

These keys could be hidding under rocks or flower pots, or stashed high above the doors or windows. It's not uncommon for homeowners to place spare keys around their proerty in case of emergencies or for family members to use. And they may have forgotten to remove them before moving out.
2. Change the toilet seats
This tip for new homeowners may not be the first thing that comes to mind, but why wouldn't you get fresh new toilet seats?
Changing the toilet seats is something we ALWAYS do when moving into a new place.
You didn't pay 6 or 7 figures to buy your home, only to re-use the previous owner's germy old toilet seats, did you?
You deserve a brand new toilet seat, free of anyone else's germs.
They are easy to install. All you need to know is if your toilet uses a round-shaped seat or an elongated (oval) shaped seat.
Then, you will want to choose one that is soft-close (which means that it closes slowly, instead of slamming down)
You will want to ensure that it has bumpers
And you will want to pick a high-quality brand. We recommend this one.
You May Also Like: Ideas To Decorate An Apartment For A Single Guy
3. Check smoke and carbon monoxide detectors
Without a question, one of the first things you will want to do immediately when buying a new home is to check that the smoke and carbon monoxide detectors are working.
If your home doesn't have smoke detectors with built-in carbon monoxide detecting capability, replace them with ones that do, right away.
4. Reset The Garage Security Code
Similar to changing the locks on the doors, you just don't know who might know the garage door security code.
Reset this right away.
Or if you aren't sure how to reset the old one so it's 100% secure, simply swap it out with a new one that you can be sure is secure.
5. Get home insurance
Most likely you would have purchased home insurance before closing on the home. But just in case that was missed, be sure to get it now.
6. Go Over Your Inspection Report
When you and your realtor were doing due diligence on the home, you probably had a home inspector perform an inspection.
They would have given you a document that detailed what kind of condition the home is in, and what updates it will likely need in the near future.
Take a moment to re-read this inspection report, and use it to create a home maintenance list, for all the things you will need to take care of.
7. Know the collection days
Each neighborhood will have its dedicated collection days for when garbage, recycling and food waste/compost will be picked up. Oftentimes, those occur on different days.
Check out your city's government website to get the pickup info for your area. And then set a recurring reminder on your Google calendar.
This way, you won't forget to put the bins out.
8. Change the cameras
Your home may have come with the previous owner's home security cameras still installed.
And although that might have seemed like a perk, it isn't always a good thing. We've all heard horror stories of families being spied on in their homes, by strangers through the cameras.
If you aren't able to clear the user access with 100% certainty, then it's safest to replace them with your own.
9. Locate your new mailbox key
Gone are the days when a post carrier would walk door to door delivering mail to individual addresses.
At least in most cities, nowadays most mail is delivered to a community mailbox.
If your mailbox key wasn't provided to you by your realtor, you may have to go into city hall, a post office, or another local government building to register for yours.
Pro tip: Don't forget to bring along your closing papers or mortgage statement to prove that you are the new owner of this address.
10. Set Up Your Utility Accounts
Hopefully, this is one step that your realtor reminded you to take care of before closing on your home.
This will include water, electricity, and setting up an appointment for your internet service.
11. Change Your Mailing Address
Sorry, I know you don't need your bills to find your new location, but I'm here to remind you that you can not afford your credit score to take a hit!
Make sure to update all important accounts with your new mailing address, right away.
12. Deep Clean
Please try not to become overwhelmed during the cleaning process.
It's completely normal to find more issues with your new home along the way as you are now inspecting it inch by inch.
First, stock up on these eco-friendly non-toxic cleaning products.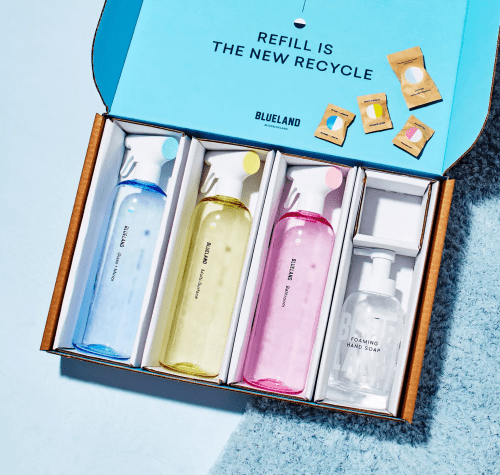 Then, get scrubbing! Hire a carpet cleaner! Heck, hire a whole professional cleaning crew.
As you scrub away, your home will begin to show its appreciation for the attention you are giving to it.
To your surprise, you will probably begin seeing a sign of hope.
Once polished up, a few of your wishlist items (e.g., a new stove or refrigerator) are now showing signs that they have earned themselves a chance of sticking around longer than you initially had planned.
13. Update Your Drivers License and Registration
You will probably not be getting to this one for the first week or two of your move.
It will be helpful to make a reminder in your google or outlook calendar so as not to forget to make this change as most deadlines are usually 30 days or less.
14. Meet your neighbors
Spend an afternoon going door-to-door introducing yourself to your new neighbors.
15. Host a Housewarming Party
Celebrate your new digs by inviting your friends and family over for a fun get-together.
Read: The Best Housewarming Gifts
Your Decorating Plan After Buying Your First Home
Great! Now that you have done all those most important things after buying a new home, it's time for the fun part.
…Decorating your new home and making it yours!
Let's begin with a few basics (which are easy since the house is empty!)
The following tips will provide you with a good foundation for future decorating.
It's absolutely fine to decorate your house piece by piece, rather than one room at a time.
That being said, there are some items you should consider doing before unpacking if you have the budget to do so.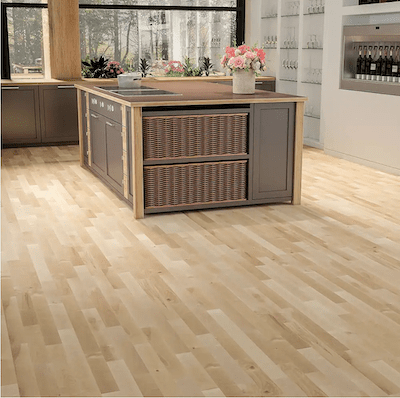 Replace The Floors
Whether it's for necessity or aesthetic purposes, your home may be in need of new floors.
Many homeowners believe they should replace the floors after painting the walls, to avoid getting paint on their brand new floors.
I can understand your concern; however, professionals will say the opposite.
Why?
In the process of removing and updating flooring, which is a dirty job, there is a good chance your freshly painted walls and trim will get ruined.
Instead, use Rosin Paper which is a water-resistant floor protection material to protect your floors after they are completed. And then bring out the painting gear.
Read this: The Best Types Of Wood Flooring
Paint The Walls
Painting is yet another one of those things that are best done before unpacking is done.
Not only will it be less of a hassle, but it will also be a faster and neater process with an empty home.
Oooh, and the transformation will be amazing!
Nothing entirely does it like a fresh coat of paint.
Read this: How to make your home feel modern yet cozy
Ensure you have the essential furniture Pieces
There are a few essential items you will need after moving in; the rest of the things can be purchased over time.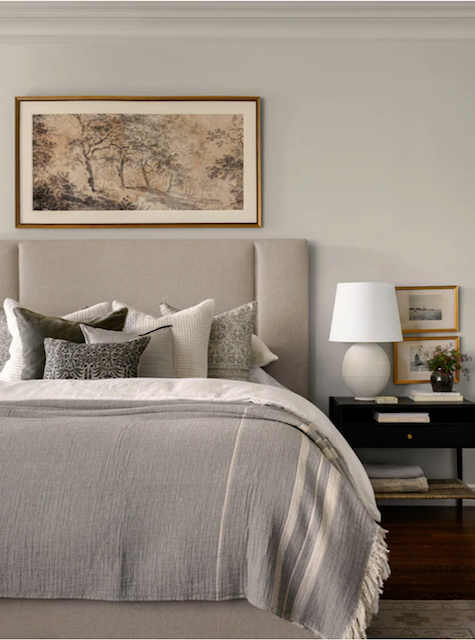 Get this exact bed pictured above, here!
Bed
Are you surprised that a bed made it on the list of things you will need after buying a home?
If you're starting with nothing, say, you just moved out of your parent's house or dorm, then purchasing a bed should be a priority to buy.
Fortunately, these days there are more quality mattress options that can be tested in your home risk-free for many nights, and carry affordable prices.
In a mattress store, you only get 5 minutes to test out a mattress.
With a Layla mattress, you get 120 nights in the comfort of your own home.
If you don't love your Layla mattress, they'll send a driver to pick it up for FREE.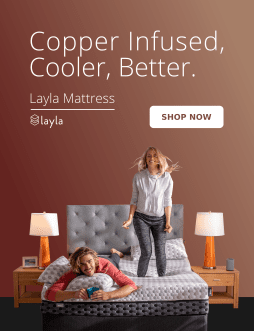 Pro Tip: When buying large and costly pieces of furniture, it's best to look for classic styles that will stand the test of time rather than a style that will be outdated quickly.
Table
Well, you need somewhere to eat, don't you?
If you're low on cash, this is where you can be creative.
Fortunately, a decorative floor-length tablecloth can hide anything, including a card table or a piece of plywood with a sturdy base.
Couch
After your bed, a couch will probably be your next crucial upholstered piece.
It's where you'll lounge, watch TV, eat meals, take naps and entertain family and friends.
So it would be wise to invest in one that will last.
Get this exact sofa here
Find Your Decorating Style
Okay, now let's tackle your new home's interior decor.
To avoid making random impulse purchases, it's helpful to learn the style you're aiming for.
Here at Room Crush, we are not one to tell anyone to stick to just one particular design style.
There are many to choose from, including farmhouse, transitional, organic modern, minimalist or even maximalist.
Instead, we suggest that you start by gathering images of rooms or furniture you are drawn to.
In doing so you can begin to find a pattern in your choices and make a home that's unique to you.
Are you drawn to bright or neutral colors, clean lines, a relaxed and comfortable setting, or a formal one?
Pinterest is an excellent way to do this.
In fact, we did the hard work for you and we went ahead and created Pinterest boards filled with tons of incredible design ideas and organized them by design style!
Look at all these boards!
See all the boards and get inspired now,
Here are a few posts you will find helpful to review, as well:
How To Find Ways To Save Money After Buying Your First Home
Add-In Some Character
New is not always better.
In fact, heirloom pieces can immediately add character and charm to a space.
Hunt down some unique pieces at estate or garage sales as well as Facebook marketplace.
Try A  Little DIY
A fresh coat of paint or a new set of handles may be all that is needed to bring new life to an old piece.
Just look at how pretty this old bar cabinet looks after a coat of paint.
Consider using the furniture piece in a different room for an unconventional change, or give it a total DIY makeover.
Pro tip: When working with a very tight budget, focus on the items you already own, (and love) and work on building around them.
How Your Realtor Can Help You Save Money After Buying A Home
It's true, your Realtor isn't only helpful in getting you the best deal on the purchase of your home!
When it comes to furnishing your home, your Realtor can also be a great resource for helping you save money after you've moved in.
"If you know you're moving into a home without a refrigerator, ask your REALTOR® to keep an eye out for other clients looking to sell theirs. We see people upgrading appliances in new construction homes and selling what the builder installed initially. That means someone is getting a good deal on a practically brand-new appliance. We also often see clients who need to unload whole furniture sets, because they're downgrading to a smaller home. They're not new, but it's an opportunity to save money." – Meghan Henderson, The Cameron Team
Should You Take On Major Renovation Projects After Buying A New Home?
After buying your first home, your funds may be limited, and you will need to get used to your new financial responsibilities.
Our friends who are seasoned house flippers provided us with the following advice shortly after our first house purchase, which was a major fixer-upper.
It is a good idea to wait a few months to a year before doing any major renovations to your first property.
After living in the house for a while, you will have a better idea of what is truly needed or lacking in the home (e.g., HVAC, roof), and you will be able to prioritize the projects accordingly.
Lastly, and most importantly, make sure all your decisions are made with future resale value in mind.
Even if you plan to live there for the next 15 years, you should always, ALWAYS think resale value.
Within six months after buying our first home, we learned a thing or two.
The charming fireplace had interior cracks from the basement to the third floor. The termite damage was not just isolated to the cellar; it extended to the second-floor sill plates. The oil tank which the house was still using had begun leaking.
Again, we are blessed to have friends that are contractors, and we, fortunately, turned a nice profit, but had we not taken that advice….yikes!
What To Do After Buying A House – Conclusion
Congratulations on buying your first home!
Even if your moving boxes are currently playing double duty as your dining room table, be proud knowing it's yours.
Sometimes we like to rush the process and are in a hurry to turn our houses into a fully decorated and cozy homes.
Room Crush is here to remind you to enjoy the process of bonding with your family and friends during those late nights of painting and pizza take-out dinners.
These are your future memories that are your "present."
Lastly, for those homeowners that are willing to take on a few DIY home projects, you will reap the satisfaction of adding value to your homes.
On that note, read this next:
Pin This: