Buydeem Review: Read Before Ordering Kitchen Tools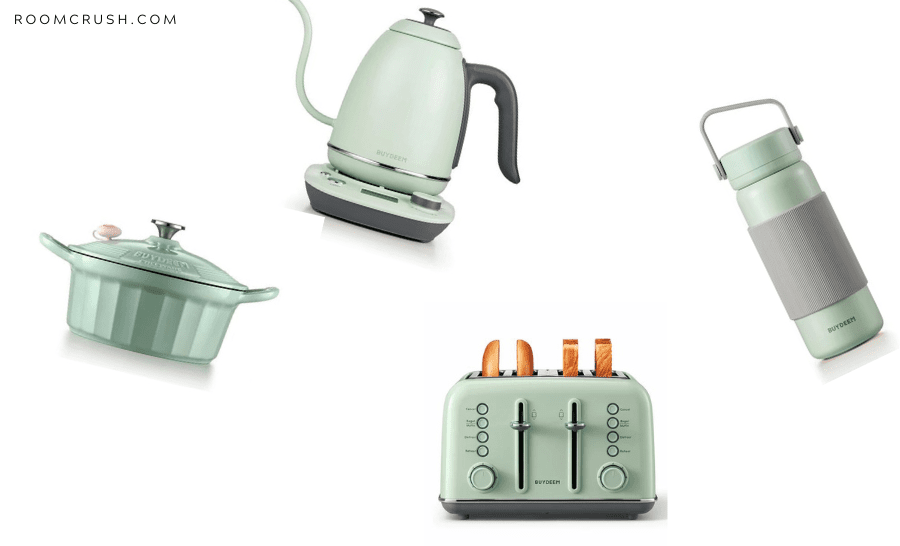 Thinking of ordering from Buydeem? Read this Buydeem review first! Most of us spend at least an hour or two each day in the kitchen. We're making coffee, meal-prepping, or eating something delicious from the fridge. Those serious about Cooking can spend even more time in the kitchen whipping up their fave meals.
Most kitchens are simple, functional rooms in a household. But because we spend so much time there, you must create a good atmosphere in it.
And that doesn't just mean stocking up on your favorite snacks. For the modern adult with a penchant for all things "aesthetic," it means having stylish, eye-catching appliances too.
Were you looking to spruce up your kitchen? Then, Buydeem might be the brand for you. We fell in love with their products the second we saw them, and we hope you'll like them too!
---
7 Easy Home Updates eBook: Free!
Today, get a free copy of our ebook that shows you 7 simple updates you can make in your home this weekend that will make your home look expensive and increase its value. Tell us where to send your free copy:  
This site uses ads and affiliate content as an Amazon associate earning on qualifying purchases. Disclosure.
---
Today, we'll be going through everything you need to know about Buydeem. We're also going to feature some of their bestsellers to help make shopping easier.
About Buydeem
Buydeem was launched in the early 2000s. It happened when a group of foodies started to reimagine boring old kitchen appliances and how they could transform them. Their idea was to build a brand that could give kithcen tools a more high-end, contemporary look and feel.
While Buydeem is technically a home appliance company, it is also a lifestyle brand. Its line of sophisticated, modern kitchen appliances makes prepping food and drinks so much more exciting. In addition, it's a brand that you will love if you like aesthetically pleasing home décor.
In a way, Buydeem products turn the highly functional task of cooking into a self-care habit. The gorgeous, Insta-worthy appliances make it feel less like a chore and more of a pleasurable ritual to look forward to.
The brand is proud to carry a wide range of kitchen appliances. All of these are not only beautiful but high-quality as well. They're designed thoughtfully and consciously to make food preparation more convenient.
Buydeem is a growing brand with an excellent social media presence. Today, they have a Facebook community with 7,000+ likes. And on Instagram, they have 11,000+ followers.
How to Order from Buydeem
The Buydeem website is as sleek and visually appealing as its products. It's also easy to navigate so that you can shop quite quickly.
They have a wide selection of kitchen appliances available. These include digital food steamers, tea and coffee makers, kettles, toasters, and utensils. If you're lucky, you might even find bundles that put the products you're eyeing in a discounted set!
The Buydeem aesthetic is Instagram-worthy. They use eye-catching pastel shades and compact shapes and silhouettes. This is a far cry from traditionally bulky and boring kitchen appliances. The materials make them durable and high-quality, too.
If you buy electronics, shipping is free so long as you're in the USA. There's also free shipping on kitchen accessory orders over $99. There are additional discounts for Mother's Day (but more on that later).
A one-year limited warranty covers all Buydeem products. It covers manufacturing defects. There's also a 30-day return, refund, and exchange policy. So, purchasing from them is essentially risk-free.
Buydeem Bestsellers Review
Let's take a look at some of Buydeem's bestsellers. You can cop these pretty kitchen tools and appliances for yourself. Or, you could snatch them up as a special present for your mom on their Mother's Day sale.
The promotion is a great chance to buy some of these bestsellers. They're ideal for any modern home but are fantastic for mom too!
You May Also Like: 10 Inviting Outdoor Kitchen Ideas For Every Yard
Buydeem Food Steamer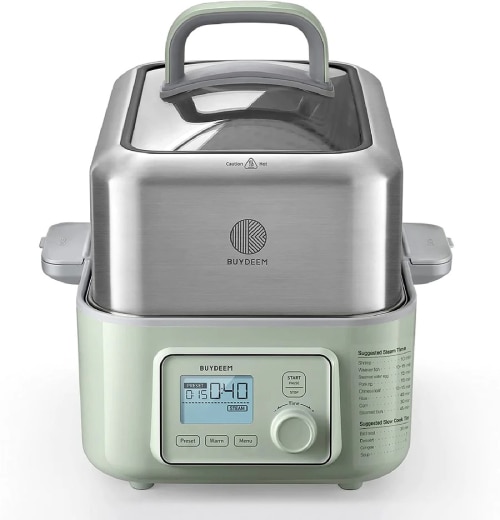 If you're looking for an all-in-one cooker, this innovative steamer is perfect. It's a terrific appliance for newbie cooks that need an easy way to prepare a range of dishes.
It also cuts down the time you need to cook. So, it's fantastic for those who live a busy, fast-paced lifestyle. And since steaming is the healthiest way to cook food, you're taking better care of your body.
Just put the food you want to cook into the steamer and choose your cooking settings. Then, you sit back and wait for the steamer to cook it. Check back after the set time, and you'll find your meal beautifully cooked!
This 1500W steamer is made with two tiers and a 2L water chamber. That means you can cook two different foods at the same time.
You can use one tier for cooking roast beef and the other to make your favorite stew. It's faster to prep meals without running around the kitchen like a headless chicken.
The steamer has a digital screen that tells you how much time is left before cooking your food. It also shows a wide selection of presets. Just choose which is suitable for your dish.
What do customers like about it?
Saves on cooking time
Allows you to make a variety of dishes easily
Very easy to use
Buydeem Stainless Steel Toaster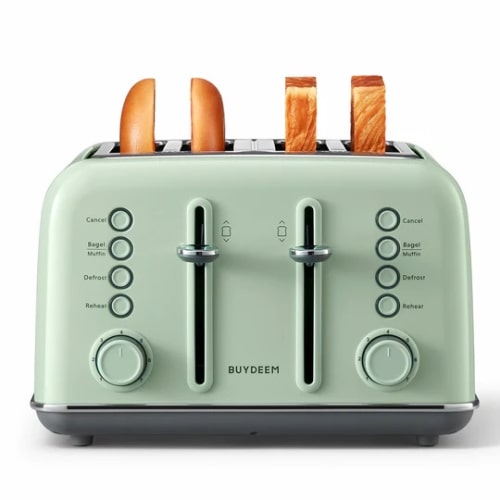 Get your favorite bread and bagels toasty with this stainless steel toaster. It comes with 10 settings that allow you to customize how to make your toast. These include the bagel, reheat, defrost settings, and many more.
The small, space-saving toaster has a cute vintage look. It comes in seven pretty pastel shades, from mint green to pale yellow. It will look gorgeous on any countertop and bring your kitchen to life.
There are removable crumb trays at the bottom of the toaster. That makes clean-up way more accessible and less messy. It also has a lever to help make the removal of your bread a breeze.
Another helpful feature is its 40-inch cord. This is perfect if you don't have much space in your kitchen. You can place it somewhere far from the electric socket with no issues.
This toaster is so well-loved that it's on Amazon's top 10 best toasters list.
What do customers like about it?
Small but heavyweight and durable
It makes the perfect toasted muffins and bagels
The cancel button makes toasting easier
Buydeem Pour-Over Coffee Set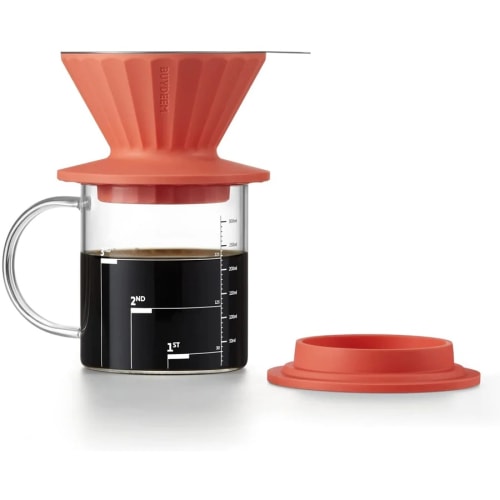 Making pour-over coffee is a relaxing way to start the day. This set was designed for coffee lovers who can't get enough of their pour-over coffee.
The coffee set is also helpful if you're a newbie in getting your morning caffeine fix. You don't need to stress yourself out with complex recipes and espresso machines. Instead, just put your filter over a cup, pour hot water, and watch it turn into your morning cup of joe.
This set includes a borosilicate glass that has easy-to-read scales. There's also a dripper made of stainless steel and silicone. The dripper is available in three colors—mint green, coral, and light gray. Everything in the set is resistant to high temperatures.
You also get a set of ultra-fine, double-layer mesh filters. These are recyclable, so you don't produce waste the way you would with disposable paper filters.
What do customers like about it?
Eco-friendly and reduces unnecessary waste
Small enough for tiny spaces, like an office desk
Buydeem Gooseneck Pour-Over Coffee Kettle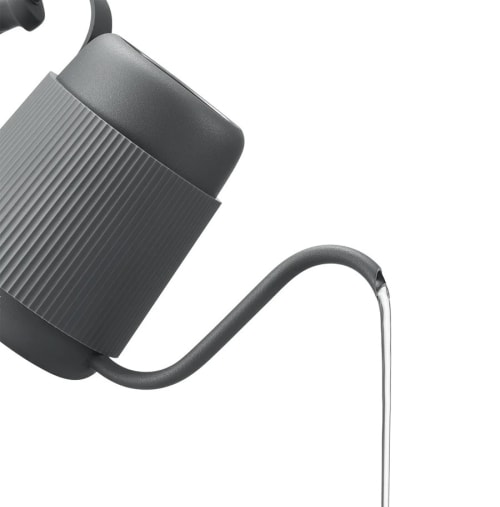 Make your coffee or tea in style with this sleek gooseneck kettle. Just heat some water and pour to make your hot drinks smooth, mess-free, and precise.
This kettle was designed to last you years. It's made with BPA-free silicone and 18/8 stainless steel for the utmost durability. The silicone also makes the kettle easier to hold as you pour.
Because the kettle is lightweight, you can bring it with you anywhere. So it's perfect for quick camping trips and traveling.
The minimalist design is available in two colors: pale green and light gray.
What do customers like about it?
Modern design unique to other gooseneck kettles
Lightweight and portable
Buydeem Mini Kettle Cooker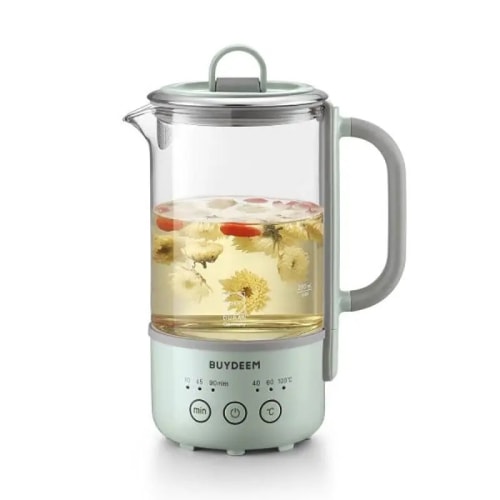 Don't let this kettle cooker's size fool you. It may be small and compact, but it packs a punch for cooking fast foods. It's foldable and weighs just 1.6 lbs, so you can take it anywhere to cook delicious meals.
A digital touch screen makes choosing your temperatures and presets easy. You can choose between two modes—Cooking and boiling. The cooking mode is then divided into three sub-modes:
10-minute mode: for tea, instant noodles, boiling eggs, oatmeal
45-minute method: soups and vegetables
90-minute way: meats and complex stews
After cooking, the kettle cooker can keep your food warm. It maintains a 60℃ temperature for up to eight hours. Learn more about the kettle here.
What do customers like about it?
Versatile enough to let you cook easy and complex dishes
Cute, minimalist design in multiple colors
Perfect for cooking a meal for one person only
Buydeem Pros and Cons
Of course, no brand is perfect. There are things to love about Buydeem, but you should still be aware of a few downsides. Here are the pros and cons of the brand:
Buydeem Pros:
Multifunctional kitchen products
Stylish, modern, aesthetically-pleasing designs
All products are made with high-quality materials
Free shipping on all electronic kitchen products
They often have sales and discounts for new subscribers
Has certifications from the FDA, UL, and CUL
30-day return, refund, and exchange clause
One-year limited warranty for items with manufacturing defects
Perfect for gift-giving, especially on mom for Mother's Day!
Buydeem Cons:
Some products can be a bit on the pricier side compared to their unbranded counterparts
Buydeem VS Smeg
When it comes to aesthetically-pleasing kitchenware, Buydeem isn't the only one out there. Another big name in that category is Smeg. But how does it fare against Buydeem?
Two of the most significant differences between Buydeem and Smeg are product range and price.
Smeg is known for bigger, more traditional appliances. These include microwave ovens, refrigerators, dishwashers, and smaller devices. Meanwhile, Buydeem focuses on compact and sleek tools, like kettles and small toasters.
And when it comes to price, Buydeem is more sensible and accessible.
For example, you can get a charming and sophisticated Buydeem kettle for $69. On the other hand, a similar kettle from Smeg might cost you $189. So if you want to save extra cash, Buydeem is much better for you.
Buydeem Reviews
Buydeem has a pretty good score on ReviewMeta. It rounds up to an average of 4.2 out of 5, thanks to 435 reviews. On Amazon, where the brand has 1,500+ ratings, the score is higher at 4.3 out of 5.
Some content creators take to YouTube to show off their Buydeem purchases. Steve's Cooking, for example, has a video of unboxing and cooking with the Buydeem food steamer.
"It's more than a steamer," he says in the video. "You can make yogurt. You can make bread in this. Fish—like I did. Rice, stews, soups, you name it. You can do anything!"
He also takes the time to praise the look and design of the steamer. "I love the design," he gushes. "It's small, compact, and fits in any kitchen."
Is Buydeem worth it?
Yes, Buydeem is worth it for foodies and those who take their home décor seriously. All the products designed by the brand are so visually pleasing and add joy to any kitchen. Plus, they're sturdy and high-quality as well.
The free shipping and one-year limited warranty also make Buydeem worth a try. And if you don't end up liking what you bought, you can always opt for the return, refund, or exchange policy.
You May Also Like: 90s Kitchen Makeover: Stunning Before And After Transformation