Are Marble Countertops Right For You?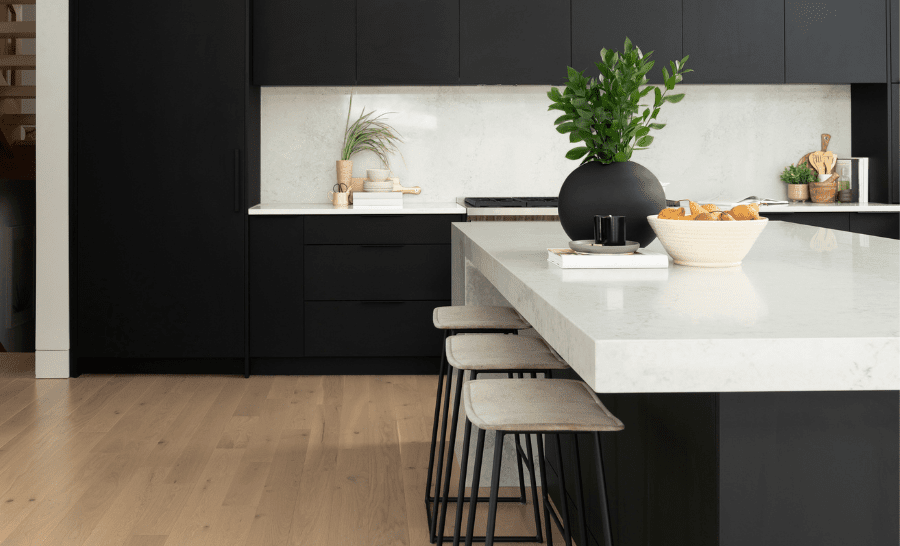 Are marble countertops right for you?
If you're on the fence about installing marble in your kitchen, we can help.
Many people are scared to have real marble in their kitchens. After all, kitchens are messy places and marble is not the most durable or stain-resistant stone.
But by educating yourself with a few tricks to keep your marble countertops like new, anyone can enjoy this type of stone in their homes. Read on to learn how.
---
7 Easy Home Updates eBook: Free!
Today, get a free copy of our ebook that shows you 7 simple updates you can make in your home this weekend that will make your home look expensive and increase its value. Tell us where to send your free copy:  
This site uses ads and affiliate content as an Amazon associate earning on qualifying purchases. Disclosure.
---
Are Marble Countertops Right For You?
Marble countertops are porous and high-maintenance.
This is a fact. But with the right maintenance techniques, your marble countertops could stand the test of time and always look stunning.
So long as you know how to look after them.
Caring For Marble Countertops: Lessons From a Commercial Marble Fabricator
Here are some important things to know, for how to keep your marble countertops looking like new for years to come.
Use Proper Cleaning Products
When cleaning marble, the rule of thumb is to never use anything harsh.
A commercial marble fabricator recommended Method Marble Cleaner to me years ago, and it's a MUST in my home.
SherAn, a customer says about this marble cleaning spray: "I had begun to hate granite (and I have a massive island). Sick of streaking, pungent products. Then my hubby tried this. It smells awesome! Doesn't streak, actually makes cleaning a pleasant task now."
You can also get Grove products or Blueland delivered to your door as often as needed.
And if you need to disinfect your marble countertop, use an eco-friendly disinfectant like Force of Nature (according to their website, you can use their disinfectant on sealed stone like marble).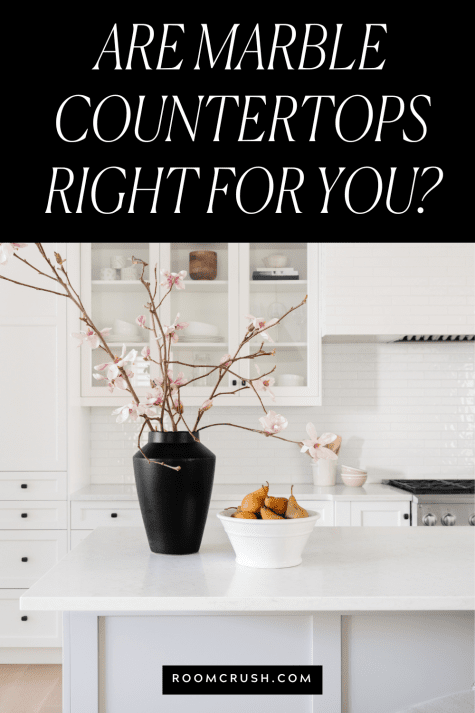 Never Cut Or Prepare Food Directly On A Marble Countertop
Make sure you use cutting boardsand lots of care when preparing acidic foods like lemons or tomatoes, as these will "etch" your surfaces.
It may also be wise to install honed (matte finish) marble, to help prevent etching.
Prevent Etching
In time, your marble countertops may suffer a few etched areas. If it's a bathroom counter, hairspray could be a culprit of that.
However, using a polishing powder such as Lustro Italiano Etch Remover is the best solution.
Pro Tip: During renovations, visit multiple fabricators and ask to see their scrapyard. You could possibly pay 50-60% less than retail!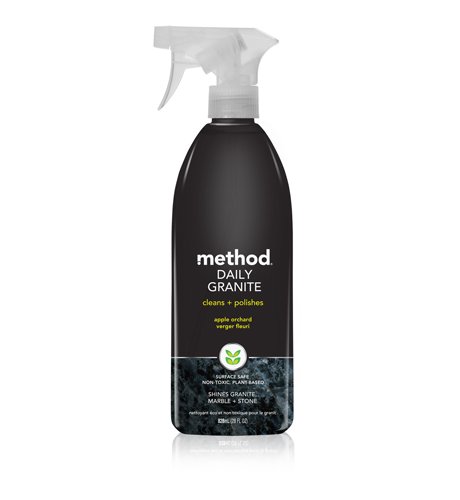 How To Select Marble Slabs?
Since every stone slab is slightly different, selecting the pieces for your slab makes a lot of difference for your marble countertop.
You can choose to decide on one based on the veining location or the color of your kitchen or bathroom.
You need to put into serious consideration how different pieces would come together to become one.
Consider book matching the marbles to make sure adjacent pieces give a mirrored appearance as in the case of seams.
Two Popular Marble Countertops
Carrara Marble

This has to be one of the most popular types of marble to be used for kitchen counters, floors, and tiles. It is quarried in the city of Carrara, Italy hence the name.
There is a general misconception that this type of marble is white. The base color of this marble is muddy in appearance with hues of gray.
The distinctive background color and feathery veining pattern make it easy to identify.
Since Carrara is readily available in the marketplace is it also less expensive.
Some factors increase the price of the marble, such as grade, thickness, size, and finish type.
Calacatta Marble

Calacatta is considered rarer than Carrara marble and more luxurious.  As a rule of thumb, the whiter the material, the more expensive it is.
This is why it's always a good idea to get samples before you buy an entire countertop:
Calacatta marble has a pure white background plus thick dark gray veins. This gives it a distinguishing factor from other types of white marble.
It tends to look more dramatic thanks to its distinct bribing patterns and color variations.
The more uniform the veining, the pricier it gets. When it comes to using this type of marble, it usually depends on how you want to match it with other colors.
To up the luxe factor, add stainless steel appliances, like toasters or a stainless steel Vitamix.
Vitamix A3500 Ascent Series Smart Blender, Professional-Grade, 48 oz. Container, Brushed Stainless Finish
48-Ounce Container is ideal for smaller to medium-sized blends.
Program Settings: Five program settings (for Smoothies, Hot Soups, Dips & Spreads, Frozen Desserts, and Self-Cleaning) ensure walk-away convenience and consistent results.
Touchscreen Controls give the machine a sleek silhouette and are easily wiped clean.
Variable Speed Control and Pulse feature let you manually fine-tune the texture of any recipe.
Wireless Connectivity: The motor base can detect the container size and automatically adjust program settings and maximum blending times accordingly. Add a range of compatible containers and attachments, building a customized system designed to fit your needs.
Natural Stone Countertop Alternatives
Statuary Marble
The statuary marble is an option, which isn't well known but has the same qualities as the Carrara marble.
The classic statuary marble also comes from the same Carrara region.
It is a white marble that has a semi-translucent outlook that gives a dramatic feel.
Unlike the Carrara, it is a lot brighter and tends to reflect more light, plus it has a smooth and glossy feel to it.
Some professionals recommend it for indoor floor coverings where foot traffic is low. It's also widely used as a kitchen countertop material.
Crema Marfil Marble
Crema Marfil ranges from light beige to yellow background, and it is designed with irregular vein patterns.
Due to its neutral color, it is also the right choice for bathrooms and kitchen countertops, especially if there is a presence of dark-colored cabinet or designs with natural stones.
The Crema Marfil marble is very common and can be found almost anywhere.
It is used for floors, walls and also surrounding the fireplace to give a more gentle and appealing look.
Nero Marquina Marble
If you have no problem with black marble, then this is for you. Since marble is a metamorphosed rock that originates from limestone, it is usually mostly white.
There are also actual black marbles, and this is an excellent example of one. Another example is Marmol Negro. The Nero Marquina comes from the Marquina region of Spain.
The Nero Marquina is a deep black stone that comes with pure white veins.  In some cases, it can almost overcome the contrasting white background.
You can also use it as a backsplash tile:
Stone Center Online Nero Marquina Black Marble 2 inch Hexagon Mosaic Tile Honed Kitchen Bath Wall Floor Backsplash Shower (1 Sheet)
Premium Grade Nero Marquina Marble Hexagon Mosaic Tile. Black Marquina Marble Honed 2 inch Hex Mosaic Wall and Floor Tiles are perfect for any residential / commercial projects. The 2 inch Nero Marquina Venato Marble Hexagonal Mosaic Tile can be used for kitchen backsplash, bathroom flooring, shower surround, dining room, entryway, corridor, kitchen backsplash, spa, etc.
Color: Nero Marquina Marble (black background with fine and compact grain and white veins); Size: 11.81 x 10.24 inch; Thickness: 5/16 inch; Finish: Honed (Matte)
Our timeless Nero Marquinia Black Marble Honeycomb Mosaic Tile with a large selection of coordinating products is available and includes brick, herringbone, basketweave mosaics, 12x12, 18x18, 24x24, subway tile, moldings, borders, and more.
First Quality, Carefully Selected, Consistent in size and finish. Factory Direct, Meets your needs at a very low cost. Natural Beauty, Natural stone does vary in pattern and color, so each piece will be unique, which is part of what makes natural stone such a beautiful and interesting material. The picture is representative of one piece of stone and your product may look different.
Stone Center Online offers custom packaging on all orders to ensure your order will arrive ready to be installed and without any problems. We are the only natural stone company that offers this service to you no additional charge. You can order small quantities based on your project needs or larger quantities which are readily available in both full pallets and containers.
It is one of the most sought-after stones in Spain, and a lot of other countries as well because of its high quality, dramatic look, and fine grain.
If you are looking to go for a black-and-white design in your kitchen or bathroom, this beautiful marble may be the best choice for you.
Since it's readily available, you don't have to worry too much when trying to source it.
Are Marble Countertops Right For You – Conclusion
Marble countertops are stunning!
Be aware that they are porous and high-maintenance.
Since marble is a softer stone, be prepared to see some scratches and chips.
Remove stains right away as they will penetrate into the stone.
Lastly, ask your fabricator if sealing your marble is recommended. If the answer is yes, follow their suggestions for products and usage for your individual marble.
What To read next:
90s Kitchen Makeover: Stunning Before and After Transformation