Stunning DIY Bouclé Ottoman Makeover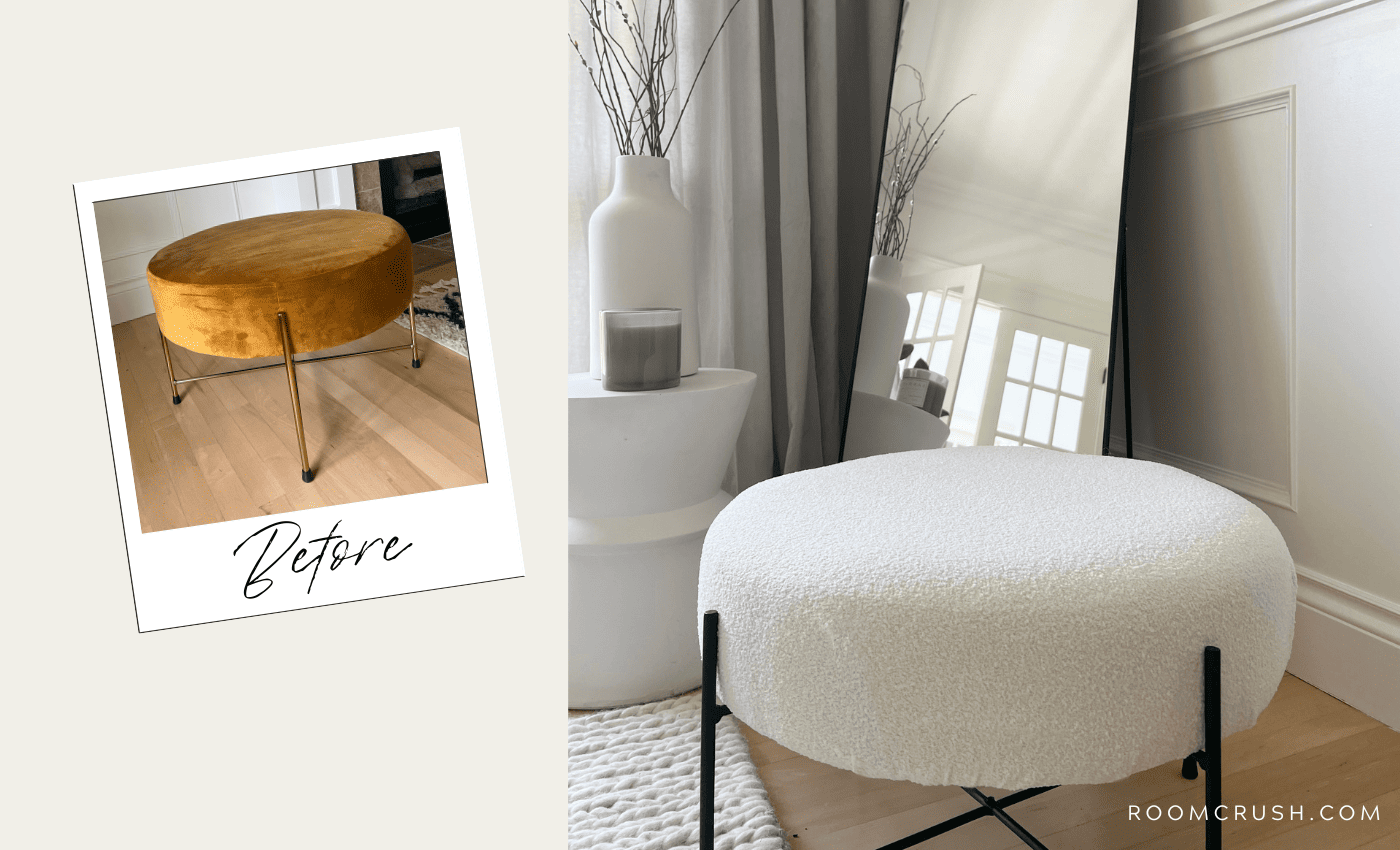 In this tutorial, I will share the results of my DIY Bouclé ottoman makeover, and show you how to recreate the boucle look with ease.
I wanted to give an outdated ottoman a more organic modern makeover. And I'm going to attempt to re-upholster it with gorgeous bouclé fabric, myself!
Want to know how to upholster an ottoman yourself, and get the bougie boucle look for less?
Read on.
---
7 Easy Home Updates eBook: Free!
Today, get a free copy of our ebook that shows you 7 simple updates you can make in your home this weekend that will make your home look expensive and increase its value. Tell us where to send your free copy:  
This site uses ads and affiliate content as an Amazon associate earning on qualifying purchases. Disclosure.
---
Stunning DIY Bouclé Ottoman Makeover
I've had this ottoman for a few years, but lately, the dated look of it has been bothering me.
Here's what the ottoman looked like before: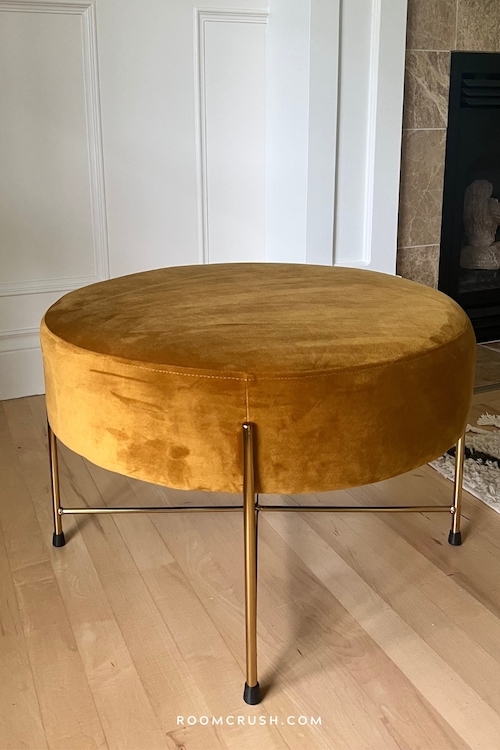 It wasn't bad. In fact, it would still look good in a home that was decorated in a maximalist style.
But my style has evolved. My home decor is light and airy, following the organic modern style, which doesn't suit so much gold.
And frankly, I'm just not feeling the gold velvet fabric or the shiny gold legs anymore.
Come along and see if I can improve it, or if I'll ruin it!
What is Bouclé Fabric?
For this DIY project, I've chosen to use bouclé fabric.
Bouclé is a type of textured fabric known for its looped or curly appearance.
The word "bouclé" comes from the French term meaning "to curl" or "buckled," which accurately describes the distinctive look of this fabric.
It is usually made from a combination of different fibers, such as wool, cotton, silk, or synthetic materials like acrylic, and the loops are created by adding extra yarn or using fibers with inherent loops.
Not to be confused with sherpa or teddy bear material, bouclé is a more luxurious material.
…And it's expensive too. So I definitely don't want to mess this up!
Where to buy a boucle ottoman
We will be DIYing our boucle ottoman today, but if you aren't interested in upholstering one yourself, you can easily purchase one already made!
One of my favorite places to shop for home decor online is Mcgee & co. They have everything you could possibly desire for a beautiful home.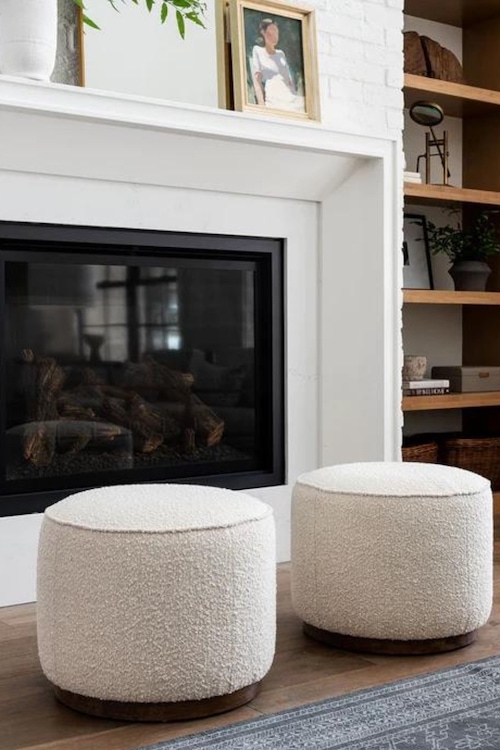 One of their pieces that I'm totally in love with is this gorgeous boucle ottoman: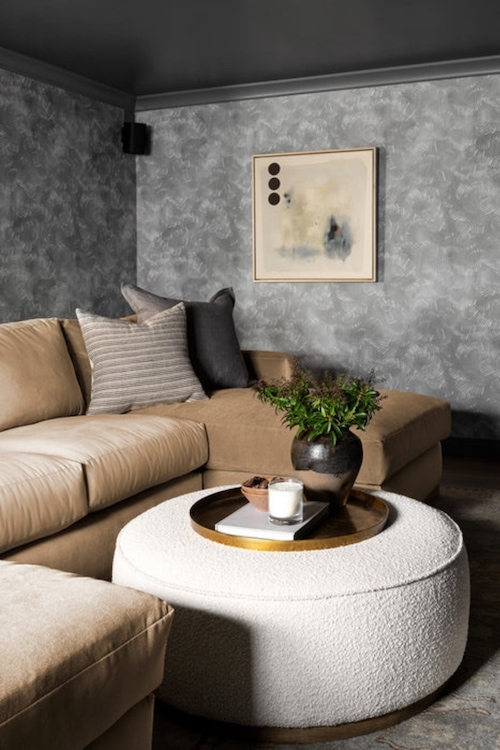 That ottoman is priced from $500-750. It's worth every penny, but what if you want to DIY your own one?
Well first, you will need to buy some boucle fabric!
Where to buy bouclé fabric?
While bouclé fabric can be more expensive than some other fabrics, its unique qualities and popularity make it a sought-after choice for those looking to add a touch of luxury and elegance to their home.
I was able to find excellent high-quality bouclé here for a very good price! That's where I bought my boucle fabric.
The seller (Kybeles) shipped fast and the quality was even better than I'd expected.
You can also try Amazon (although it won't be as good quality as the Kybeles cotton type).
DIY Bouclé Ottoman Makeover: How to reupholster an ottoman with bouclé fabric
Upholstering an ottoman can be a fun and rewarding DIY project.
It's also a smart way to save some money. Because buying a new bouclé ottoman is super expensive.
Here's a step-by-step guide on the best way to upholster an ottoman.
Materials you'll need:
Ottoman
Foam or batting (if your ottoman needs extra padding)
Scissors
Screwdriver (to remove any existing upholstery)
Sale
Upholstery 4 in 1 Staple Gun Heavy Duty, with 6000 Staples, Remover, Gloves, Manual Brad Nailer Power Adjustment Stapler Gun for Wood, Upholstery, Carpentry, Decoration DIY Staple Gun
Versatile Fastening Tool – YEAHOME 4-in-1 Staple Gun accepts D-shaped, U-shaped, T-shaped, and Pin Staples. This kit comes with Remover, Gloves, 2000pcs of each 7/16″ D-Type and 1/2″ U-Type , 1000pcs of each 3/8″ T-Type and 5/8″ Pin Brad Nails for a wide variety of applications: general DIY repairs, crafting, decorating, upholstery projects, roofing, and more.
Heavy-Duty Staple Gun – Features all chromed-steel construction and a chrome finish to provide strength and durability, and make the staple gun rust-proof. YEAHOME staple guns are assembled toughly so that it can handle the tough load and last as long as you need it!

Step 1: Prepare the ottoman

If your ottoman already has old fabric or upholstery, use a screwdriver to remove any staples, nails, or tacks holding it in place.
Make sure the ottoman is clean and free from debris.
I removed the legs from my ottoman, and then spray painted them with matte black spray paint.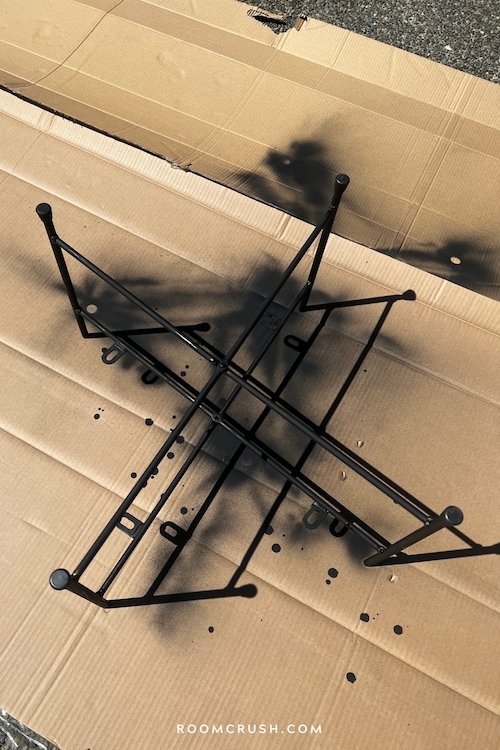 Step 2: Measure and cut the fabric

Lay your fabric out on a flat surface, with the textured side facing down.
Place the ottoman on top of the fabric and carefully measure around it, leaving some extra fabric on each side to wrap around the ottoman's edges.
Cut the fabric to the appropriate size.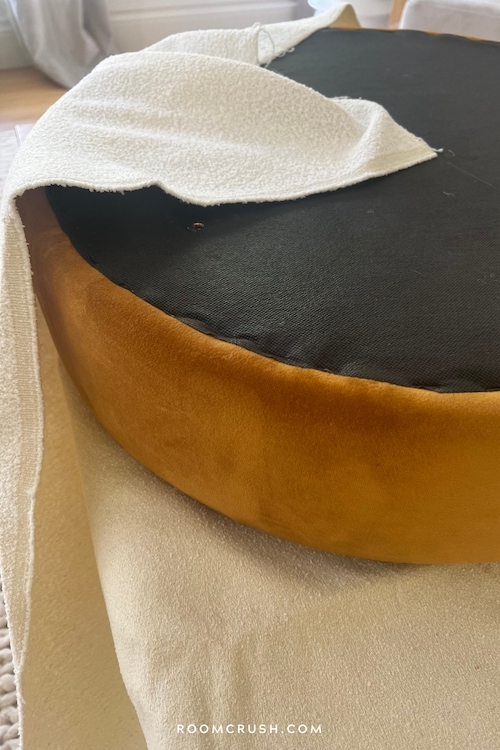 Step 3: Add padding (if needed)

If your ottoman needs extra padding or cushioning, you can add a layer of foam or batting to make it more comfortable.
Cut the foam or batting to fit the top of the ottoman and secure it in place with a few staples.
I'm not using padding for mine, because I'm leaving the velvet fabric in place and just covering it.
Step 4: Start stapling

Begin by folding one edge of the fabric over the ottoman's top and secure it in place with a staple in the center. Repeat this on the opposite side, pulling the fabric taut.
I recommend this staple gun, it's heavy-duty and better quality than other ones I've tried.
Then, do the same with the other sides, pulling the fabric evenly to avoid any wrinkles or creases.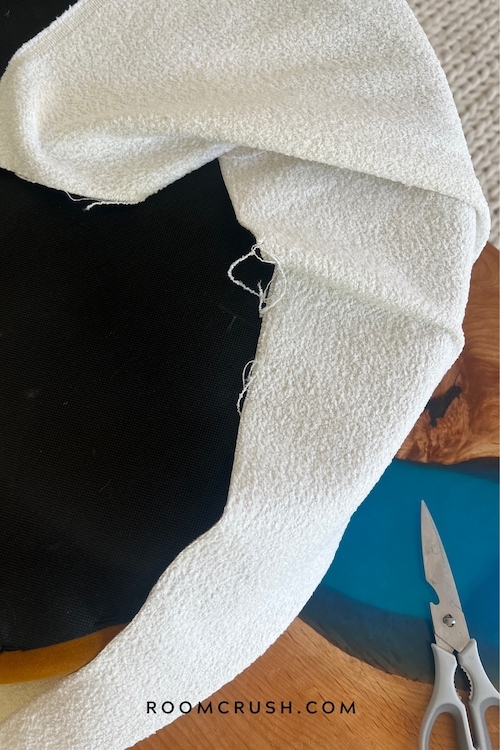 Step 5: Cut the excess fabric

Continue stapling the fabric along the sides of the ottoman, making sure the fabric is smooth and tight.
Once everything is in place you can trim the excess fabric.
Step 6: Add trim (optional)

If you like, you can add decorative trim around the edges of the ottoman to give it a polished look. Simply apply the trim using fabric glue or small nails.
Check the entire ottoman for any loose or uneven areas. Make sure all staples are secure, and the fabric is smooth and wrinkle-free.
This process may vary slightly depending on the ottoman's design and shape, but these general steps should guide you through the process.
Remember to take your time and pay attention to details for a professional-looking result.
Time for the big reveal!
Here's how my DIY boucle ottoman makeover turned out: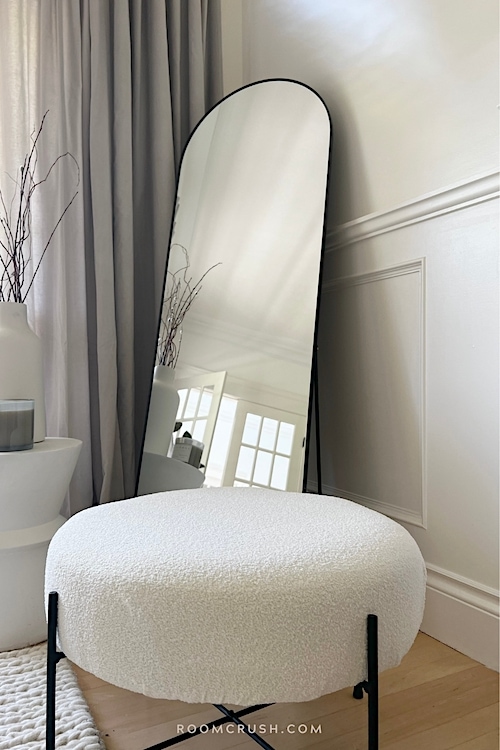 Here are some reasons why bouclé fabric is so popular:
Unique texture:
The main appeal of bouclé fabric lies in its unique texture and appearance. The loops and curls create an interesting, three-dimensional surface that adds depth and character to the fabric.
This textured look is highly sought after for creating fashionable and luxurious clothing, accessories, and home furnishings.
Soft and comfortable:
Due to its combination of fibers, bouclé fabric is often soft and comfortable to wear. It is commonly used in creating cozy winter garments like coats, sweaters, and scarves.
Trendy and fashionable:
Bouclé fabric has been used by many high-end fashion designers and iconic fashion houses over the years.
Its association with luxury and elegance has made it a timeless choice for stylish garments and accessories.
Labor-intensive production:
The process of creating bouclé fabric involves a considerable amount of craftsmanship and attention to detail.
Adding loops and curls requires skillful weaving or knitting techniques. This labor-intensive process can contribute to the higher cost of the fabric.
High-quality materials:
To achieve the desired texture and appearance, bouclé fabric is often made with high-quality natural fibers like wool, which can be more expensive than synthetic materials.
The use of premium materials also contributes to the fabric's higher price point.
Limited availability:
Bouclé fabric may not be as readily available as more common fabrics, which can also impact its price.
It is often found in specialty fabric stores or exclusive fashion boutiques.
Versatility:
Bouclé fabric's versatility makes it suitable for a wide range of applications, from clothing to upholstery and home decor.
Its ability to elevate the look and feel of various products adds to its appeal and desirability.
DIY Bouclé Ottoman Makeover – Conclusion
I am very happy with how my DIY Bouclé Ottoman Makeover turned out.
It has some fold lines and less-than-perfect areas, but for a first-time upholster project I think it's great!
Pin this: