10 Ideas For Home Decorating On A Budget
Are you looking for amazing ideas for home decorating on a budget?
Well, if you're looking to upgrade your home now that we are spending more time indoors- there is nothing stopping you from turning your house into the ultimate staycation paradise.
Even on a shoestring budget.
Your home is where you live, where you relax, where you return after work, where you entertain friends, and where you should feel the most comfortable.
---
7 Easy Home Updates eBook: Free!
Today, get a free copy of our ebook that shows you 7 simple updates you can make in your home this weekend that will make your home look expensive and increase its value. Tell us where to send your free copy:  
This site uses ads and affiliate content as an Amazon associate earning on qualifying purchases. Disclosure.
---
10 Ideas For Decorating Your Home On A Budget
Decorating your home, on a budget or not, allows you to create a stylish new look to your home, making it look refreshed and upgraded. And this is not the only advantage:
The decoration and look of the house play a major role in determining the mood of the place. So, it is important to pay attention to the décor since a good-looking house is good for getting rid of anxiety and stress.
Decorating your living space is exciting and allows your creative juices to flow.
Decorating your home sets you apart and you'll learn about your personal style.
There are low-budget decorating ideas to incorporate into your home when you don't have much to spend.
So why not put your personal touch on the space?
1. Simply Clean & Re-Organize
Cleaning your house is a great way to organize your home and this is good for your overall health too.
Dust each room, including the topsides of all the furniture, undersides of shelves, and all handrails, as well as picture frames, TV screens, and knickknacks.
Clean furniture fabrics and wipe down the mirrors, windows, and doors too. Quickly vacuum shelf surfaces, mantels, railings, and inside drawers.
You can then clean all surfaces including the floors and disinfect as necessary. In the process, use eco-friendly cleaning supplies that will leave your house smelling fresh and comfortable.
Of course, I can't live without my Narwal which does all the vacuuming and mopping by itself!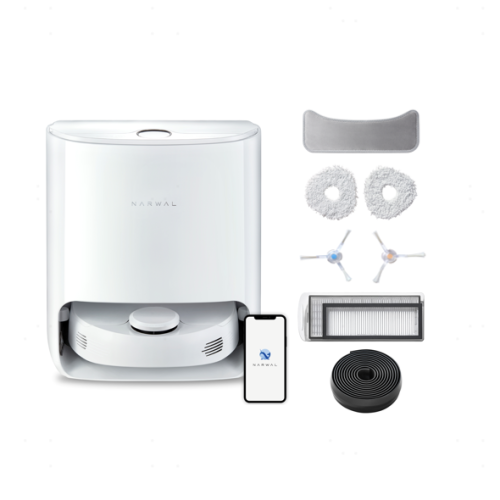 Stop cleaning your floors manually. Get Your Narwal Here!
Now that you have a clean house, it's easy to transform it without spending a cent. How? By simply re-organizing it!
It may sound obvious, but this switch makes all the difference.
Rearrange your furniture, style your bookshelves by arranging books and integrating art, boxes, and mementos and display a piece of art and some flowers.
2. Paint The Walls or Add Wallpaper
A fresh coat of paint always brightens up any dull room, making it look brand new.
Changing the wall colors is the best way of creating a fresh and new look of the place. You should choose the color according to the mood or environment you want to create. You can also choose the color that compliments the season.
Changing the paint is not an expensive upgrade so you can do that every season.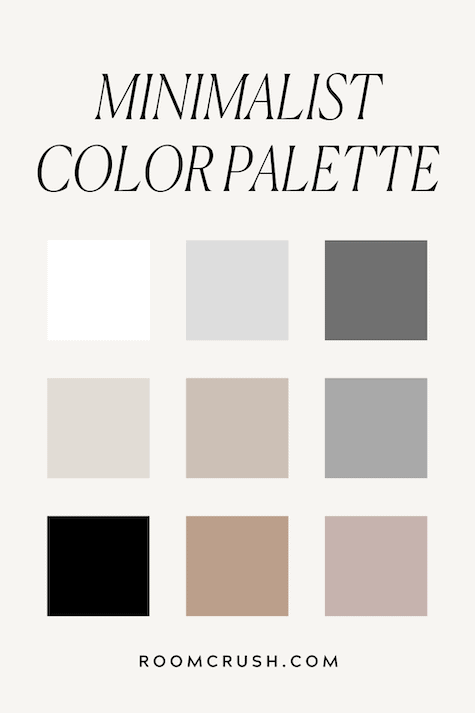 It is advisable to go for oil-based paint which is durable and easier to clean, although takes longer to dry.
Paint your walls white for a brighter space and remember to give your ceiling a facelift too.
For an affordable exterior upgrade, paint your front door too with an unexpected shade as preferred.
Also, give your cabinets and drawers a stylish makeover with decorative paint.
If you're looking for something that will last longer than paint and be more cost-efficient in the long run, wallpaper is a great choice.
It is extremely easy to clean since you can use a sponge that is not too abrasive to clean it.
There's no need to purchase any fancy cleaning solution either – get some water and add a small amount of mild detergent.
Wallpaper also comes in different materials, styles, and textures thus you have a wide variety to choose from according to your preference. Highly textured wallpapers give the wall a sense of dimension and character.
Whether you're looking for colorful or neutral, patterned or abstract, textured or flat, geometric or floral — wallpaper offers a million ways to add your own individual impact to any space.
You May Also Like: How To Choose Lighting For Your Dining Room
3. DIY Your Own Art
Go to Homesense, Ross, Home Goods or anywhere else that sells large framed canvases of "ugly" prints.
The print doesn't matter, you just want it for the canvas and frame!
Paint over the canvas to cover the ugly print with a neutral color, and then do a few paint strokes with a lighter or darker neutral color.
I like to add a layer of drywall compound to give it a luxe textured aesthetic, too.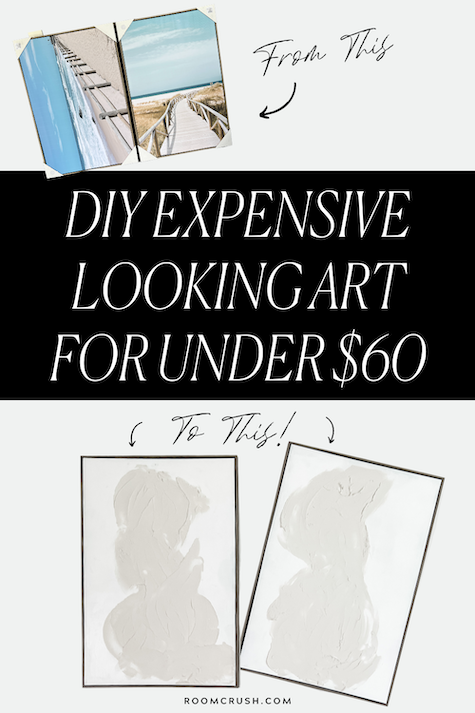 Voila! Modern art.
All you will need to DIY your own expensive-looking wall art is:
4. Go Thrifting
No need to spend at high-end home stores if you don't have the budget. Because, thrift stores, as well as Facebook Marketplace can be a goldmine!
Check out this antique bar cart I found on Facebook marketplace for only $100!
 

 

 

View this post on Instagram

 

 
All it needed was a coat of paint and now it's a beautiful piece in my dining room.
5. Fresh Draperies & Curtains
Curtains and draperies work hard at blocking light and sound, heat, and cold. They're also extraordinarily decorative and add enormous personality to a room.
Beautifully tailored drapery or curtain panels can highlight a focal point of your room's design allowing you to also add pattern and color as preferred. They also add privacy to your room.
Traditionally, windows were treated to three types of curtains: a sash curtain (to filter light), a draw curtain (to block out light), and an over-drapery (which was purely decorative and is now just called a drapery).
In very formal rooms (with sufficiently high ceilings), all of this was topped with a cornice or valance (to hide the hardware).
This form of traditional window treatment carries on in today's rooms.
However, in today's age, think of curtains as sash curtains (often unlined and in a variety of lengths), and draperies as those that draw, completely closing off the window.
While curtain panels can be inexpensive to purchase, custom drapes can be expensive. So, be sure to work within your budget.
If you're looking for a quick upgrade, switch for a beautiful fresh drapery panel fabric as movable room dividers to create a stunning interior decorating. They can also be used to add charm to the wall.
6. Change Your Covers & Rugs Occasionally
If your sofa already looks old, you might also want to consider dressing it in a cleaner slipcover.
While you can affordably purchase a slipcover, it is easier to DIY your own slipcover since you get to choose the fabric you want.
The great thing about rugs is you can easily swap one out for another each season, to bring out a whole new style in the same room.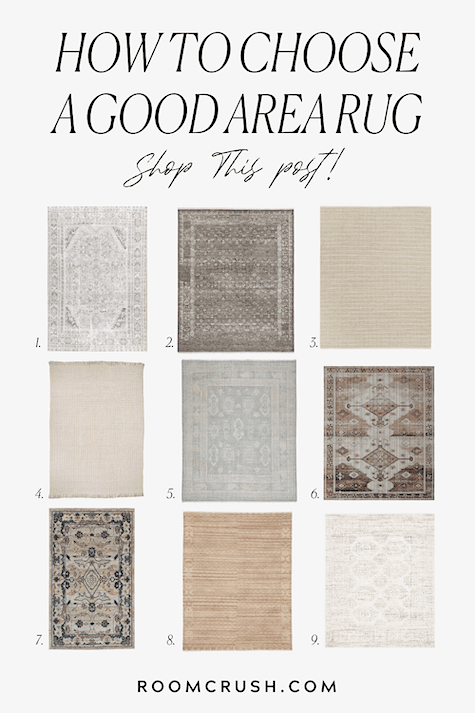 Shop this post: Rug 1 / 2 / 3 / 4 / 5 / 6 / 7 / 8 / 9
Remember to change your bed sheets and duvets too for a fresher-looking bedroom.
You May Also Like: The Correct Dining Room Rug Size For Your Table
7. Dress Your Tables & Tops
A sophisticated table will pique visual interest through the incorporation of varying textures, patterns, and heights.
While you can leave it as it is, especially if its tabletop is exceptional, you have the option of dressing your tables.
A tablecloth can be used to instantly improve a less-than-perfect table adding a note of elegance for a special occasion, such as a dinner party.
Sequined table runners are also trending, and we can bring them from the wedding reception for use at home!
Additionally, consider dressing your tables and tops with contact paper. A common trend we've seen is the use of marble tops.
While marble is hot right now, it is very expensive.
Thus, to enjoy the trend, opt for the cost-effective marble contact papers and put them on the tabletops, insides of drawers, or sometimes to cover up some not-so-nice shelving in a kitchen or pantry.
You May Also Like: Ideas To Decorate An Apartment For A Single Guy
8. Decorate with Flowers & Fruits
Sometimes, a lush tablescape is all you need— birdcages adorned with greenery and flowers will do the trick.
Grouping each flower type separately and using smaller vases of varying heights will give your tables the look of an abundant garden.
For a rustic yet elegant look, forgo traditional linens and use greenery or garlands to line your tables instead.
You can also create a simple and fresh centerpiece by putting a bunch of fresh apples or lemons in a bowl and displaying them on the dining table.
A simple way to add color to your surroundings!
9. Change Out The Accents
For a quick and inexpensive makeover, replace the handles and knobs in your kitchen and bathroom.
You can also replace lampshades and light fixtures.
An updated lampshade would brighten up and add warmth to your room. Consider a new look for your lampshade and don't be afraid to mix patterns or overlap large cutouts for the desired look.
Throw pillows are also a great decorative element to update your space- they can instantly transform a sofa. Good enough you can also change them according to the season.
And if you already have enough throw pillows that storing them is becoming an issue, consider switching only your throw pillow covers to achieve a different look altogether.
10. Stylish Storage
Reinvent your storage ideas with more stylish options. Preferably, go for hidden cabinets and organizers to ensure your house looks minimalistic and clean.
You can improve the outlook of the place by making use of the space that is going to waste like basements which are often reserved just for storage purposes.
You might also consider repurposing your storage. An example would be using your storage ladder for potted plants or books instead of towels.
Now it's your turn to start decorating your home with any of these low-budget decorating ideas!
PIN THIS: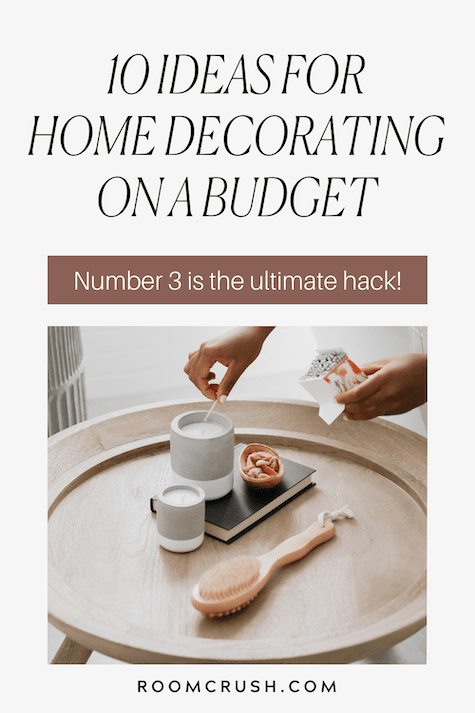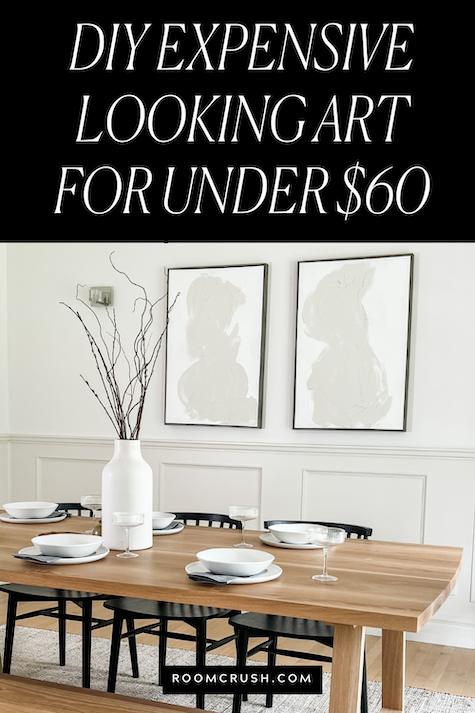 What To Read Next