7 Best Washable Rugs Of 2023
Washable rugs are a must in our home. If you have kids, pets or both, you know how hard it can be to keep the floors clean.
While rugs can be a good solution for tying a room together, traditional (aka non-machine-washable) rugs tend to not make the best accent piece for a busy, messy home. 
This is why washable rugs are so popular!
If you've never heard about washable rugs, you're in for a real treat. These decorative pieces are designed to take the beating, shed off the bad stuff and wash everything away in your washing machine.
---
7 Easy Home Updates eBook: Free!
Today, get a free copy of our ebook that shows you 7 simple updates you can make in your home this weekend that will make your home look expensive and increase its value. Tell us where to send your free copy:  
This site uses ads and affiliate content as an Amazon associate earning on qualifying purchases. Disclosure.
---
The Best Washable Rugs To Style A Kid-And-Pet-Friendly Home
Nowadays, washable rugs are all the rage, and they come in all sizes.
From large area rugs, to runners and round sizes which means whatever space you're trying to decorate you can find something that fits. 
If you're in the market for the best washable rugs to keep your house looking clean and fashionable, these are the top picks we recommend.
1. Gray Atrium Medallion Washable Area Rug From RugsUSA
The Atrium Medallion rug is the perfect fit for my new loft space. The color is stunning.
It's both water and stain resistant, making it a great addition to any high-traffic home. 
What makes it a great pick for your home is the fact that you can throw it in the washing machine when it gets dirty or simply vacuum it off.
Washable rugs from RugsUSA are crafted from eco-friendly, top-grade materials. Offering a soft, comfortable surface with every stride you take.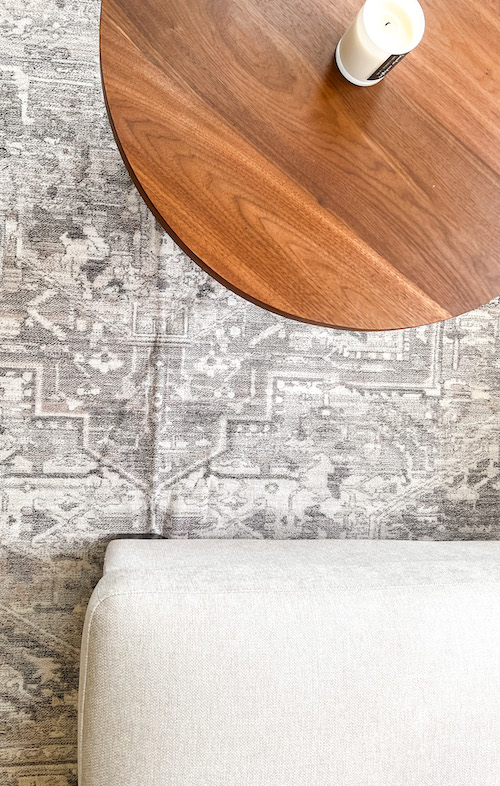 Designed to withstand spills, stains, and high foot traffic, these rugs are an ideal choice for households with children and pets.
Take a look at RugsUSA's full line of washable rugs.
2. White Washable Solid Shag Area Rug From RugsUSA
I ordered the Atrium Medallion washable rug as well as this shag rug.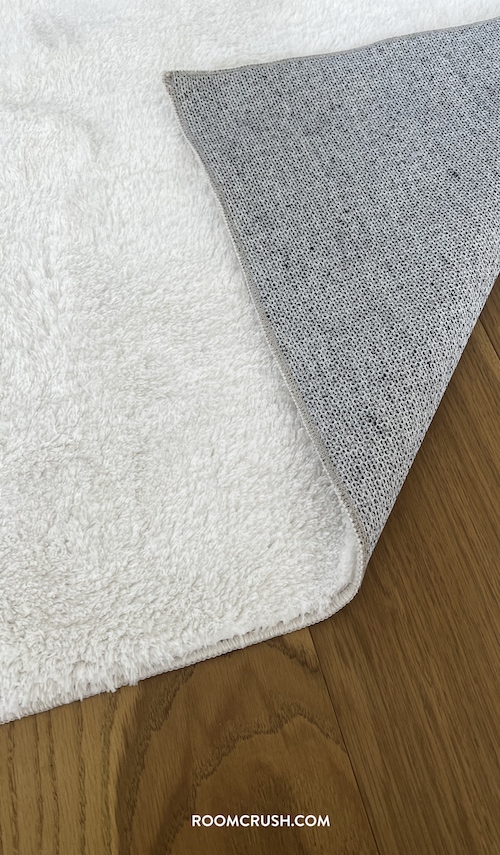 The shag rug is super soft. It's more of a teddy bear material rather than an actual shag.
It will look great in my office.
I love that RugsUSA ships their rugs in small, easy-to-carry boxes. Once you receive your rug, all you need to do is lay it flat in the area of your choice.
Caring for your washable rug is easy.
Simply toss it in the washing machine with cold water.
RugsUSA advises avoiding using bleach.
For drying, either line dry or use an air-only cycle in your dryer to maintain the rug's shape and texture.
If required, a low-heat iron can be used to smooth out any creases.
3. White Diamond Pinstripes Washable Rug From RugsUSA
The style of this rug is a simple yet cute diamond design.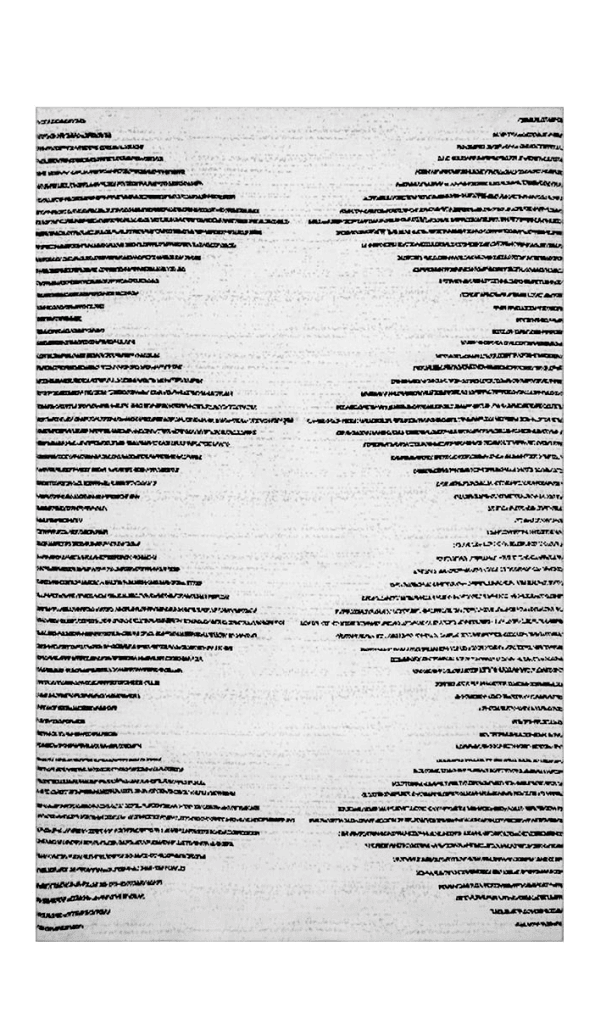 This rug comes in all shapes and sizes, including area and runners.
This rug is made to be extra durable. It's spill and stain resistant, making it excellent for high-traffic spaces.
When it needs a clean, simply take it off the pad and run it through the washing machine.
4. Lorena Canals Reversible Washable Rug From Nordstrom
The Lorena Canals Reversible Washable Rug is a classic but decorative choice that's perfect for high-traffic areas.
This rug comes in three different color combinations:
Toffee/Natural
Amber/Natural
Vintage Blue/Natural
This rug is incredibly easy to care for and it comes in a canvas bag, which makes it easy to store if you need to switch up the look for a while.
Plus, you get to choose from three different sizes so you can find the perfect fit, including:
2'7″ x 4'7″
4′ x 5'3″
5'7″ x 7'10"
Because it's a reversible rug, it offers you two looks in one, giving you the opportunity to switch your décor up every once in a while.
It's a cotton rug that can be thrown into the washing machine when it looks a little dirty.
Ultimately, this is a GREAT choice if you have kids, pets or a particularly messy partner!
5. Soft Checkered Shag Washable Rug From Williams-Sonoma
We love a good checkered, shag rug, and this fun, checkered washable rug is a great example.

Not only is it super cute, but it's durable and easy to take care of – perfect for any family home.
Spice up any room with this fun, intricate design – it comes in two colours, so you can decorate however you want!
This rug comes in a cute pink blush and cobalt.
It's made from long-lasting, durable fibers and comes in two different sizes (4 x 6 or 5 x 8), so you can find the best option for your space.
It's a great choice for a kid's playroom or a maximalist living room.
Because it's so easy to take care of, you can get whatever dirt on it and still clean it off before the in-laws come over.
6. RealLife Washable Rug
If you're looking for a more traditional rug look and feel, this rug is for you.
We love the design, it blends a traditional medallion design with vintage texturing giving it a real lived-in but still contemporary feel.
This rug is both pet and kid-friendly.
Liquids ball up, right ontop of the rug, making it spill-proof, and you can toss it in the washer and dryer to get any dirt off it.
There are six size choices, including both area rugs and runners, making it so you can dress any space you'd like.
Not only is this rug easy to take care of, but it's made without any harsh, harmful chemicals, making it a sustainable choice for your home.
7. Washable Hopscotch Play Rug From Ottomanson
If you're looking to spice up the playroom with a little decorative game, the Washable Hopscotch Play Rug is the perfect choice for you.

This kid and pet-friendly rug is PERFECT for high-traffic areas and messy play dates.
Not only is it made to be durable but it's easy to care for when you need to. You simply throw it in the wash, give it a good clean, and once it's dried put it back in the playroom!
It's a truly versatile rug that's just waiting to make it into your home. Pair it with a non-slip rug mat, and it's ready for playtime.
Why buy a washable rug?
Rugs aren't typically washable, so it begs the question, why go for one?
The answer is pretty simple: washable rugs tend to be durable, and they're easy to clean. Overall, they're perfect for homes that have pets and kids.
Click here to see more washable rugs we love!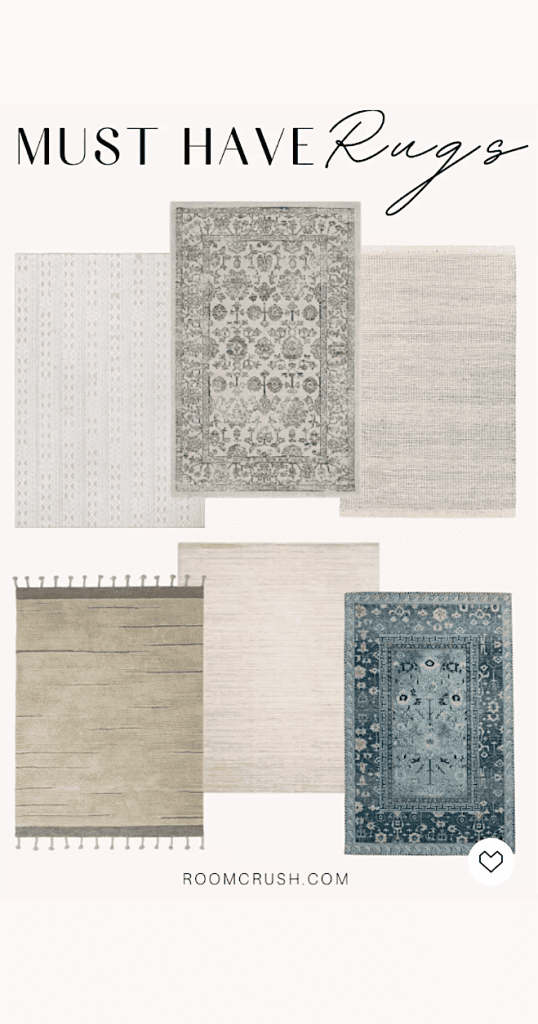 7 Best Washable Rugs – Conclusion
While it depends on the particular rug, these rugs can be stain and water-resistant, easy to care for and they come in a variety of designs.
If you want to dress up your house but you need something to care for, getting yourself a durable, washable rug is a great choice. 

Read this next: