I love sharing stylish bedroom makeover ideas.
Who doesn't love a good transformation? No matter your style preference, your bedroom should be a dream-worthy spot complete with comfy linens and furniture that matches your style.
If you're looking to update your current bedroom, this guide will help you discover bedroom decorating ideas and decor tips you can master the art of designing your perfect bedroom.
Yes, these gorgeous bedroom makeover ideas will transform your little, guest, or master bedroom at home.
Be sure to read our 90s Kitchen Makeover post, too!).
These 15 Bedroom Makeover Ideas Will Transform Your Bedroom
I absolutely love staycations at 5-star hotels. The soft bedding, the tranquility, the delicious room service meals...
But why not experience this comfort in our own bedrooms at home?
My posts Posh Hotel Bedroom Ideas, and, How To Make Your Bed Like A Luxury Hotel explored the concept of luxury hotelesque makeovers at home. And today's post continues this fabulous theme.
But before you start your room makeover, there are styling tips to keep in mind before your makeover.
1. Pick Your Design Style
Your bedroom should reflect your personality and personal style. This room should also influence relaxation thanks to its calming ambiance.
Do you like minimalist interiors with sleek, smooth, and clean lines? Go for minimal or modern decor.
Are you a fan of bohemian decor? Bring that look into your bedroom with mix-matched bedding and natural textures. You can also have mixed patterns and colors.
If you like the look of piled-on colors, animal prints and bold furniture, maximalist style may be more your taste.
If vintage furniture, pale color palettes with a feminine feel that pair perfectly with whitewashed floors and walls, and glamorous chandeliers appeal to you, go for a shabby chic or Grand Millennial style.
Love the beach and want to bring the coast inside? Neutrals like whites paired with beige to mimic the sand, pops of blues to resemble the water and light sheer fabrics will surely get the coastal design vibe across.
Or do you love something modern and almost minimalist, with lots of neutrals, but with more warm and inviting textures of wood, stone and wool? If yes, then, Organic Modern is more your style!
Not sure which design style is right for you? I've made it easy for you!

2. Choose Your Colors
To give your bedroom a fresh look, you want to choose the colors to work with, and those you don't want to incorporate. This will influence the overall look and ambiance in your bedroom.
Neutral colors like soothing ice blues, cream whites, soft grays, and beige feel like fresh air when you walk into the room.
They add an ethereal, dreamy quality to every space but also offer a ton of versatility, making them particularly well-suited for the bedroom.
Choosing your colors allows you to come up with a color palette, featuring colors that blend well.
Many decorators take a minimalist approach with color and add pops of color just to bring life to the room. A comforting color palette is what you need to fall asleep quicker.
Tired of white paint?  A white bedroom can look light, airy, and pretty when done right, But sometimes, you want a bit more.
You can paint your walls any color, or create a unique gallery wall.
Bring in furniture, fabric, and bedding that features your favorite colors. And to inject a punch of extra style into your bedroom, start layering items with texture, mixing fabrics, and switching up your color scheme seasonally. This will take it to the next level.
Pro Tip:  When planning a room makeover, follow the 60:30:10 interior design rule. Choose one dominant color to fill about 60% of the space (ie the walls). You'll find that most designers choose a neutral as their dominant hue because it can be built upon easily to create your preferred atmosphere. Then, select a secondary and accent hue(s). A secondary color should fill about 30% of the room while accents take about 10%. This rule creates a balance in your décor, ensuring your room is neither under-stimulated nor overstimulated.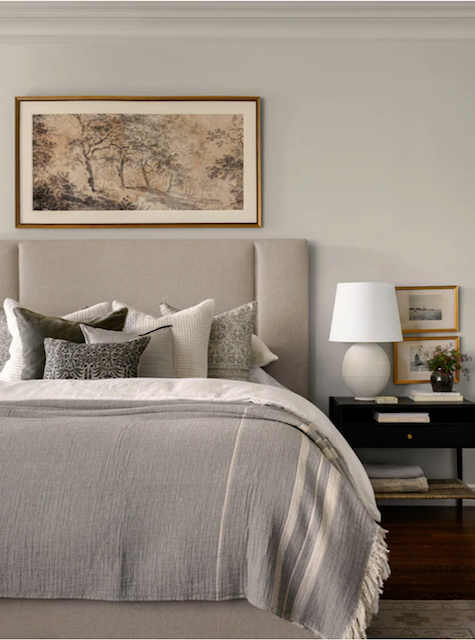 Get this exact bed pictured above, here!
3. Consider the Size & Layout of Your Room
The size and layout of your room will determine what space you have to work with. It will also affect the utilization of the space in regard to furniture arrangement.
For instance, will you need room for a large closet or a home office in your bedroom?
Alpaca and Sheep Wool Blanket, Soft and Thick, King Size, 86 x 103 inches, Earth Tones with Tan Stripes, Andean Collection, Made in Peru
100% VIRGIN WOOL! Our Andean Collection is a thick, tightly woven blanket made from luxuriously soft 50% Alpaca and 50% Sheep Wool, from animals raised in the extreme elevations and climate conditions of the Andes Mountains.
Earth tones. Color might vary slightly from detail photo due to manufacturing of natural fibers. Edges are protected and reinforced with polyester binding, then double stitched for extra durabiity.
Washable, or can be dry cleaned.
Made in PERU! Alpaca and sheep wool sourced from animals raised high in the Andes mountains. Spun, woven, and finished at a family owned mill in Huancayo, Peru.
King size - 86 x 103 inches, weight 7.2 lbs.
The most common bedroom layouts include:
Small and narrow bedrooms are roomy enough for just a bed. This layout needs one who can maximize the small room without overpowering the room. Multi-functional furniture will serve you best. Think beds with hidden storage.
Full-size master bedrooms have enough space for a queen or king-size bed. You have space for bedside tables and lamps that extend to the majority of the wall, and a dresser and chair on the opposite wall. As well, a footbed bench.
Extra-long master suites. Due to the large space available, master suites often come with a walk-in closet, so forego the dresser in favor of more comfortable furniture. A reading corner, a desk, a bench, and a large plant can all help fill in awkward corners.
4. Clean your Space from Unnecessary Things and Clutter
Remove all items lying on tabletops including paperwork into the bin and arrange what should be, place dirty clothes in the hamper and neatly arrange your wardrobe and declutter your wardrobe if you have too.
Clean the floors, windows, and change to fresh curtains, sheets, rugs, and bed linens.
5. Make Necessary Decor Purchases
In some cases, you might want to bring in new items for your bedroom after decluttering and considering the kind of style you want to achieve.
You can buy some new items and decors from the store or you can make your own.
Sometimes, you might just need to re-arrange your bedroom's furniture for a new look altogether.
Are you looking for more ideas for your bedroom makeover?Here are some ideas that will quickly transform the look and feel of your bedroom - from boring to stunning!
15 Bedroom Makeover Ideas That Will Transform Your Bedroom!
1. Refresh Your Walls
If you've experienced the feeling of looking around your bedroom and no longer being satisfied or inspired by its interior, there are quick ways to refresh your space and give it a new look.
Your walls would be a good start!
You can repaint your walls, or create an accent wall by adding wallpaper.
2. Upgrade Your Bed
The bed should be the first thing you need to consider when arranging the furniture in the bedroom, whether small or large.
Once you know where it should be placed, arranging the rest of your furniture will be a whole lot easier.
Choosing a premium quality bed can improve the quality of your sleep immeasurably when compared to poor quality beds.
This improved level of rest can actually have a big impact on the way we learn and how we store memories.
Sale
3. Choose A Quality HeadBoard
While a headboard creates a focal point in your living room, it also provides comfort and support when sitting up in bed.
The headboard design and style are one consideration when choosing a bed.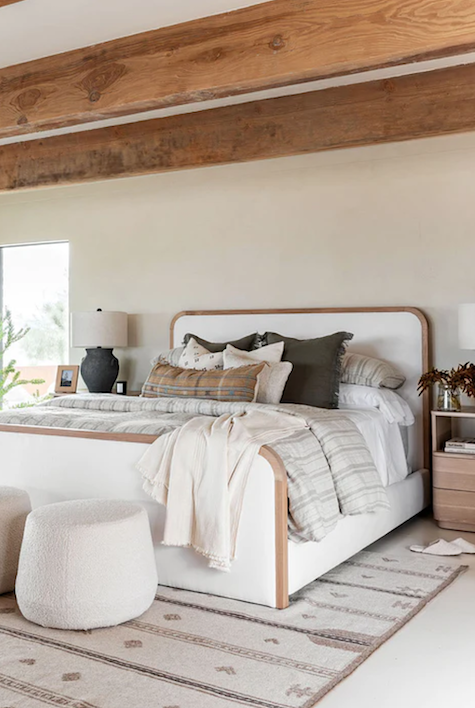 Get this exact bed here!
Most beds come with a headboard; however, sometimes you may buy a headboard separately. In the end, choose the type that speaks best to you and your design style to find something that compliments the decor in the room.
Sale
KOTPOP Linen Headboard, Adjustable Size 3 in 1 Upholstered Rectangular Headboard,Modern Breathable Fabric with Nailhead for Full/Queen/King Size, Optional Heights from 37" to 49", Beige
Adjustable Headboard for Full/Queen/King Size Bed: Features unique adjustable length design, KOTPOP headboard has 3 adjustable options to fits full, queen and king bed frame. The length of our headboards is expandable, you can expand it to fit different bed frame easily. Pay One, Gets Three.
Elegant Decoration for Your Bedroom: Classically elegant, this rectangular upholstered headboard features the classic nailheads trim that adds chic sophistication to any bedroom, making a sophisticated statement for bedding and shams of many styles.
Stable & Easy to Assemble: With durable metal legs and stable constructions, this headboard is built to last. All tools and instructions are included within the package, Assembling is super easy, takes less than 30 minutes by one person.
Beige Headboard with Adjustable Height: Modern rectangular design. The headboard height can be customized to 3 different levels by choosing one of the predrilled sets of holes in the back of the headboard upon setup.
Completely Customized Headboard: Fits full size bed: 54.75* 3.25* 36-48 inches. Fits queen size bed: 61.75 * 3.25 * 36-48 inches. Fits king size bed: 78*3.25*36-48 inches. 24-hour friendly customer service and hassle-free return. If there are product defects during shipments, please contact us in time and we will give you a satisfactory solution.
4. Use A Great Mattress
A good quality mattress matters.
Investing in your sleep by getting this item allows you to wake up feeling more refreshed, with more energy and less back pain. I love this one!
Read: The Best Bed-In-A-Box Mattresses
5. Fresh Layered Beddings
Fresh-smelling and clean bedding is key to a comforting bedroom. And indeed, there's nothing quite like coming home to a made bed. Even better when your bed looks professionally made.
Layering is key to a beautiful bed. It gives your space an instantly glamorous upgrade, plus you'll be beyond cozy in the wintertime.
If you're looking to give your bedding the layered look of your dreams, check out this article.
6. Add Pillows & Throw Pillows
Having the right bed pillows is not only comforting, but they also play an important role in keeping the upper body in alignment during sleep, relieving pressure, and counterbalancing the points in the body.
Throw pillows are also low-investment accessories that can elevate the look of your space, add texture and color too.
Sale
cygnus Set of 2 Farmhouse Decor Stripe Patchwork Linen Throw Pillow Covers,Modern Tan Faux Leather Accent Pillow Covers 18x18 inch,Black
Material& Size-- Front: cotton linen, striped cotton fabric with faux leather accent decor. Backing: natural cotton.18x18 pillow covers,Pack of 2 .(Please note: Only Pillow Cover, no filler)
Trendy Design--Vertical three piece fine line cognac brown faux leather and linen.The leather accent stripe on this stylish decorative farmhouse throw pillow covers adds an element of class to the stark, a stylish blend of modern and classic
Super Durable--Hidden zipper sewed with neat stitches, works smoothly. Reinforced seams avoid ripping or fraying, providing you durable using experience.
Easy Match--farmhouse stripes bring classic flavor with modern simple brown leather, neutral color cotton linen fabric. No matter what style you are, it is easy to match.
After Service-Please contact us if there are any quality issues. we will improve it and make sure you have good shopping experience
When decorating with pillows, put the larger pillows at the back and layer with smaller sizes in the front. And to save more, keep the same pillow inserts and buy pillow covers to swap whenever you want.
7. Have Bedside Lighting
Pros recommend light layering in the bedroom to keep the comforting ambiance. While dark bedrooms are great for sleeping, they hinder other activities like dressing or reading.
On the other hand, bright lighting can affect the relaxing environment- some people can't sleep in a brightly lit room.
Since no single fixture can effectively serve all bedroom lighting needs, a combination of controlled task lighting and gentle ambient light is recommended: think wall-mounted lamps, pendant lamps, or a personalized nightstand.
Pro Tip: If your bedroom is very large or your mattress is a king, two bedside lamps give better balance, regardless of whether you're the only one using the room or not.'
8. Invest In A High-Grade Dresser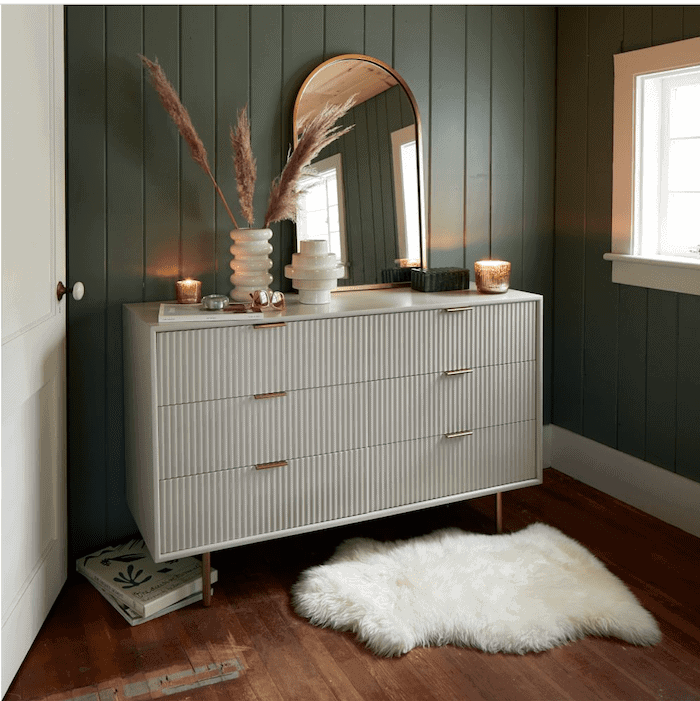 The next thing to go inside the room after your bed is the dresser. Invest in a high-quality dresser, because, like the bed, your dresser should be a focal and statement piece in the room.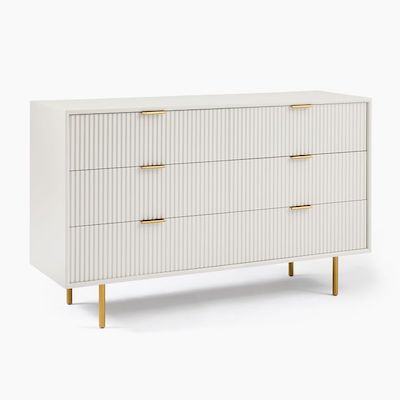 Get this dresser here.
A beautiful dresser allows storage space for your clothes, and optimizing the space is key to ensuring your space doesn't look cluttered. Organize it well and it will make a style statement.
Also, remember to keep enough space between the dresser and your closet so that you can open all drawers and doors.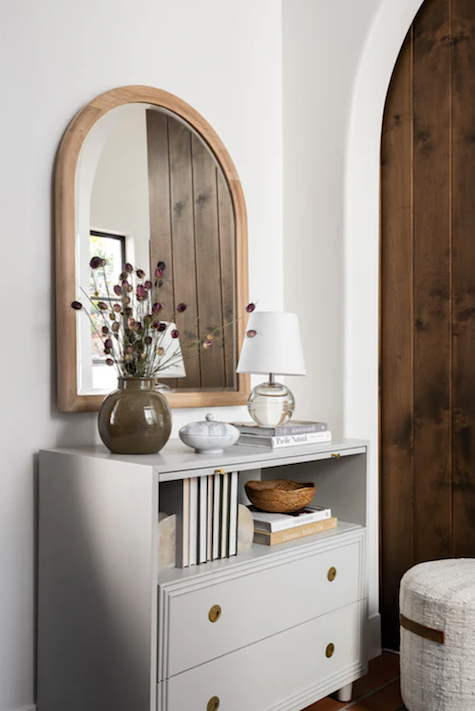 Get this exact dresser here!
In a small bedroom, and you have less space, tuck your chest or dresser in the closet to have more room space.
9. Stand-out Curtains
Luxe window treatments add richness to your bedroom interiors.
While neutral and minimalist curtains or draperies will add subtle and sophisticated texture to your room, boldly colored curtains inject a much-desired pop of color into your room.
If you particularly have bold bedroom furniture, wall art, or bedding in a bold color, tie the room together by matching at least one color to your curtains.
10. A Statement Piece of Art
Wall art can infuse personality to your bedroom's decor, and create a focal point too. Add a great piece to your walls and be sure to keep the theme of your artwork in line with the decor you have chosen for a streamlined look.
You May Also Like: How to Make Your Bed Like A Luxurious Hotel Bed
11. A Good Mirror
Hanging mirrors on the wall is also an excellent way to make a bedroom look larger.
For more details on how to hang mirrors the right way, and how to take your decor to the next level with wall mirrors, check out this article.
Hamilton Hills 24x36 inch Brushed Gold Metal Framed Mirror | Hanging Wall Mounted Mirror | Arched Top Corner Deep Set Design Rounded Rectangle Mirror | Bedroom, Bathroom Vanity Mirrors for Wall
SOPHISTICATED DESIGN: Bring simple sophistication to any room with our 24" x 36" floating glass modern Arched Top corner gold toned metal framed mirror. Our simple brushed gold toned metal framed mirror is the perfect addition to various styles and design elements offering a contemporary finish. Our premium, large, rectangular, plate glass mirror floats in the frame surrounded by a thin 1/8" gap. Clean simple edges the glass sits 1 1/4" back in a deep 2" gold brushed metal frame.
SAFE AND EASY TO INSTALL: Our glass is safely custom inlaid and protected by the surrounding frame construction. The mirror is recessed into the deep frame and floated from the frame edges. The mirror comes with reinforced D-ring hanging clips as well as the wall hardware and screws to easily hang the mirror in a bathroom, entry way or over a table.
3 GENERATIONS OF EXCELLENCE: Our family has been manufacturing and producing mirrors for over 3 generations. We stand by the quality of our product and your experience. A family owned business with simple principles. Affordable quality from an American company.
EXCEPTIONAL QUALITY: We use premium materials not found in other lesser quality imitation mirrors you will see. Our mirrors are made to strict trade-secret standards and pass a rigorous 8 point inspection. Every mirror comes with our certification of authenticity.
This mirror is the perfect addition to your home. The deep-set design and Arched corners are a great touch. A contemporary mirror is hanging can be hung horizontally or vertically. With total exterior dimensions of the center plate glass is floating with air space and surrounded by a solid stainless steel metal curved corner frame.
12. A Comfortable Rug
Warm, comfy feet are happy feet! A rug adds color, pattern, and texture to your bedroom space to give it a more polished and personal look.
It's also a super-easy way to refresh your space without breaking the bank!
I put together a collection of my favorite area rugs for you.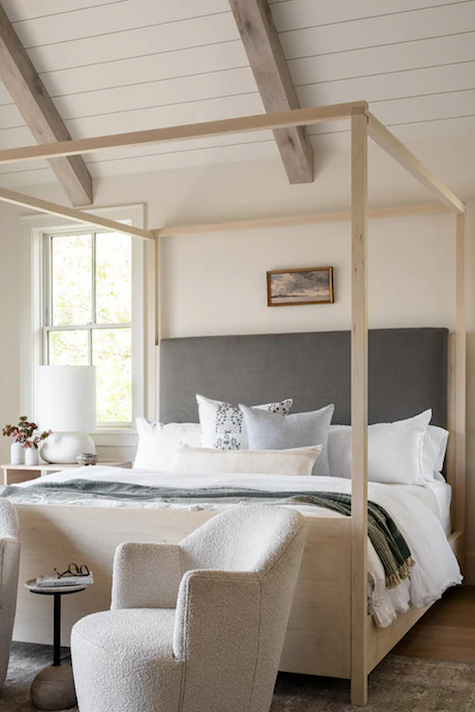 Get this exact canopy bed here, and these exact swivel chairs here!
13. A Seating Area
Smaller bedroom furniture such as ottomans, benches, stools, and chairs provide extra seating, as well as a place to keep possessions like coats.
A bench placed at the end of your bed elevates the look of your space while giving you a place to sit while putting on your shoes in the morning.
If space allows, use a stylish accent chair to create a small seating area in your bedroom to sit, read, and unwind.
Sale
nuLOOM Mia Machine Washable Geometric Medallion Area Rug, 5' x 8', Light Grey
Made of a new and innovative material, nuLOOM Washable Rugs require just ONE piece and eliminate the hassle of a backing layer. No additional setup required: simply lay flat in the desired space upon arrival and after each wash
This rug features a sleek look, it has a flat pile and includes non-slip backing. This allows for convenient placement in entryways, near doorways, and underneath furniture
Want the thicker feel of a non-washable rug? Simply layer a nuLOOM rug pad underneath the rug to add extra cushioning
Spill and stain resistant, this rug is kid and pet friendly and perfect for high traffic areas of your home
To clean, machine wash with cold water using a standard washing machine (do not use bleach). We recommend line drying or drying without heat on an air-only dryer cycle. A low heat iron can be used if needed
14. Bring In The Green
Houseplants bring a splash of green indoors, thus, we can't ignore bringing them in the bedroom too.
Lavender is great, lady palm and Areca palm grow tall and make a statement in your bedroom, and also lush ferns make such great hanging gardens!
15. A Tech-Free Zone, vs Tech-Inspired Zone
You may be already spending too much time on your gadgets and this may be affecting your sleeping habits. For a change, embrace a technology-free bedroom and watch how this changes your sleeping habits.
It will also improve your well-being and relationship with yourself- if you journal and pray before bed- and with your partner too. In short, a technology-free bedroom will make you a happier person.
Not ready to give up technology?
Then maybe you are like me and you want to actually incorporate technology into your bedroom MORE!
My husband built our bed and kitted it out with custom tech, such as:
built-in side tables that have hidden phone charger pads (so you can charge your phone simply by setting the phone down on the table)
Modern multi-plug outlets built into the side tables (like hotels) that allow you to charge things with different USB cables
Nautical-like knob dimmer switches built into the headboard
Want to check out my own bedroom makeover progress, to see how my custom bed is coming together?
Watch my woodworker my husband's video below:
15 Awesome Bedroom Makeover Ideas - Conclusion
No doubt, these bedroom makeover ideas will inspire you to transform your space!
Which of these bedroom decorating tips will you be inspired to try in your home?
I'd love to know your thoughts!
Tag me on Instagram @Editorsfaves so I can see how your bedroom makeover turns out!
Pin This:
What To Read Next:
How To Style Your Bedroom Like A Fancy Hotel
The Best Indoor Plants For Beginners
15 Ideas For Decorating Your Walls Without Repainting