Awe-Inspiring Black Bedroom Reveal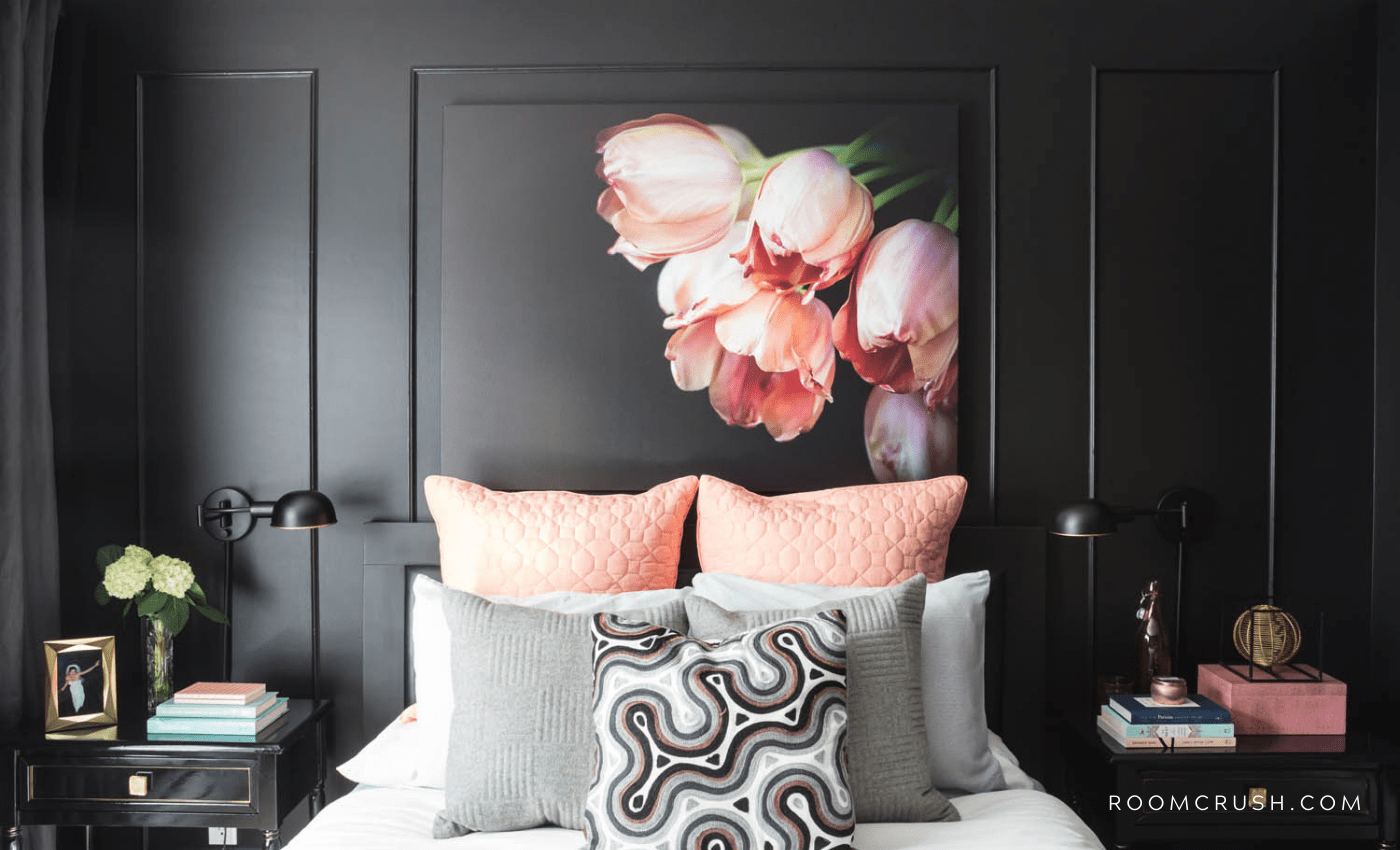 Awe-Inspiring Black Bedroom Reveal: There isn't a better month for a bedroom reveal than January.
Today we have a room crush on this all-black bedroom designed by the team at CrushInteriors.ca. Their clients asked for something that would be dramatic but still give them the sense of cocooning.
Not many clients are as brave as this couple but when the designers suggested black and they loved it.
And as scary as it sounds, this room has turned out to be a dream bedroom.
---
7 Easy Home Updates eBook: Free!
Today, get a free copy of our ebook that shows you 7 simple updates you can make in your home this weekend that will make your home look expensive and increase its value. Tell us where to send your free copy:  
This site uses ads and affiliate content as an Amazon associate earning on qualifying purchases. Disclosure.
---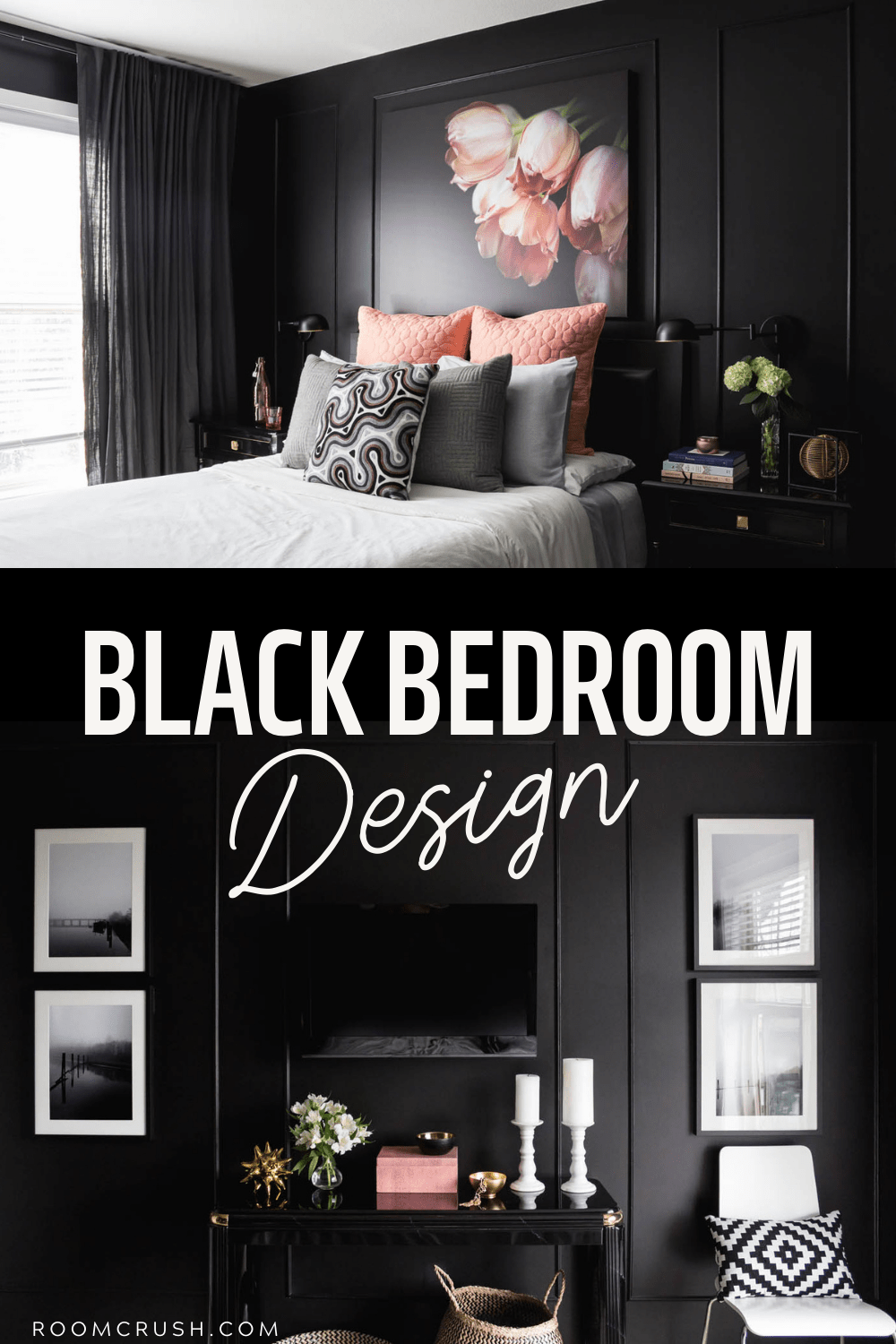 Awe-Inspiring Black Bedroom Reveal
Don't we all hate getting out of bed in the morning and then dream all day of getting back under the covers at night?
We introduced you to the room last year when the design was in its infancy.
It's been a long process but today we're sharing the room reveal for the black bedroom.
Rather than being cold and small, the room actually is cozy and stylish but with a sense of warmth that you might not expect.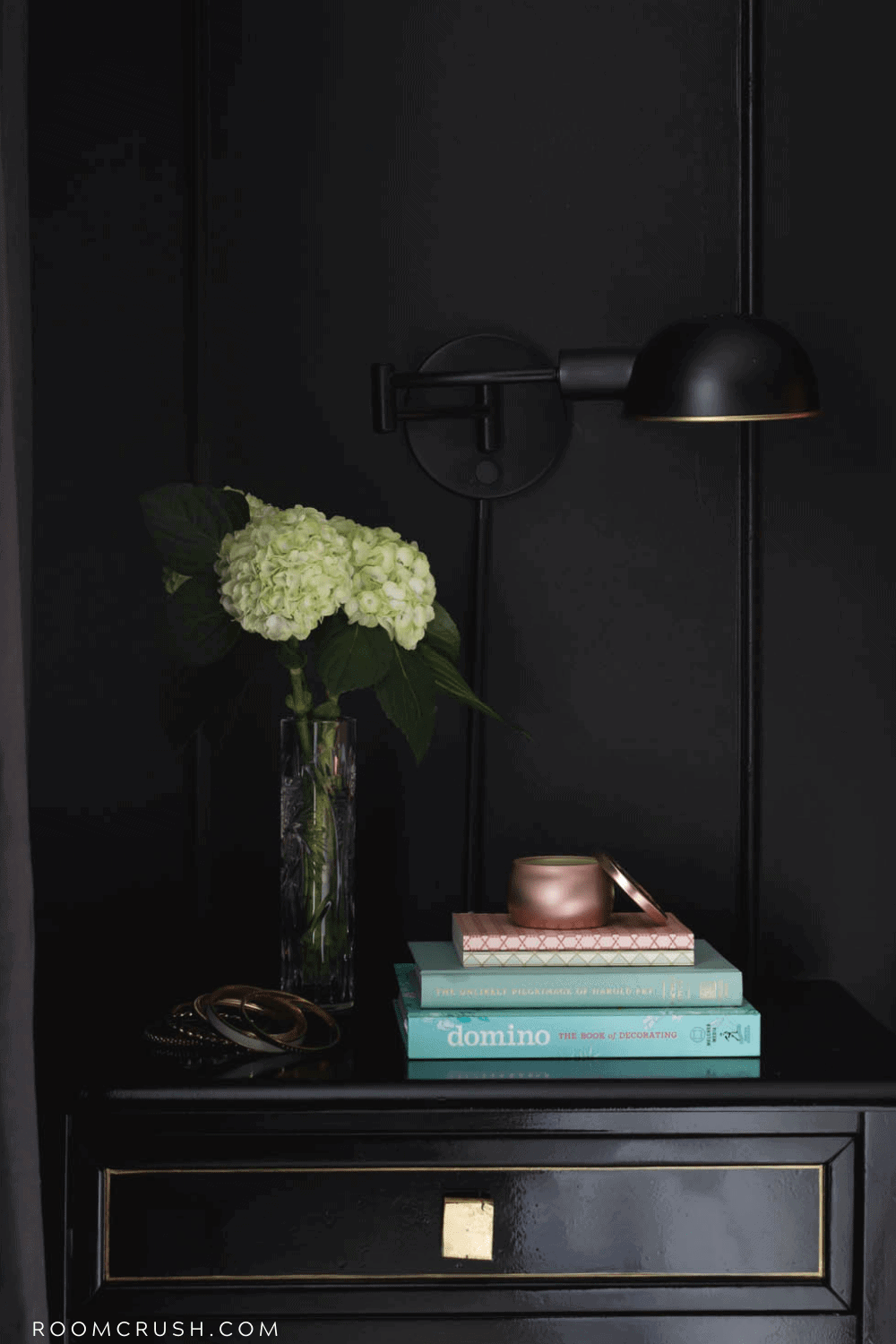 DESIGNER TIP – The secret to keeping a black bedroom from appearing to be very small probably goes against what you might think. Small, dark rooms need continuity.
A lot of breaks in color make the room appear to be chopped up and it'll feel small. So when painting a dark color, carry it through and wrap the entire room in that color.
We kept everything on the walls black so that it flowed and appeared larger than the space really is.
The trim, the wall sconces, the headboard, the drapery, and the dresser are all black for one continuous flow of color.
This gives our black bedroom a feeling of space and allows the artwork to be the star.
This is a suburban bedroom and many of you will be familiar with the 8′ ceilings that are void of molding or architectural details. The homeowners are handy and installed some wall trim to create the look of paneling.
All in all, the room still needed an injection of personality to make it a place this couple felt good about retreating to each night.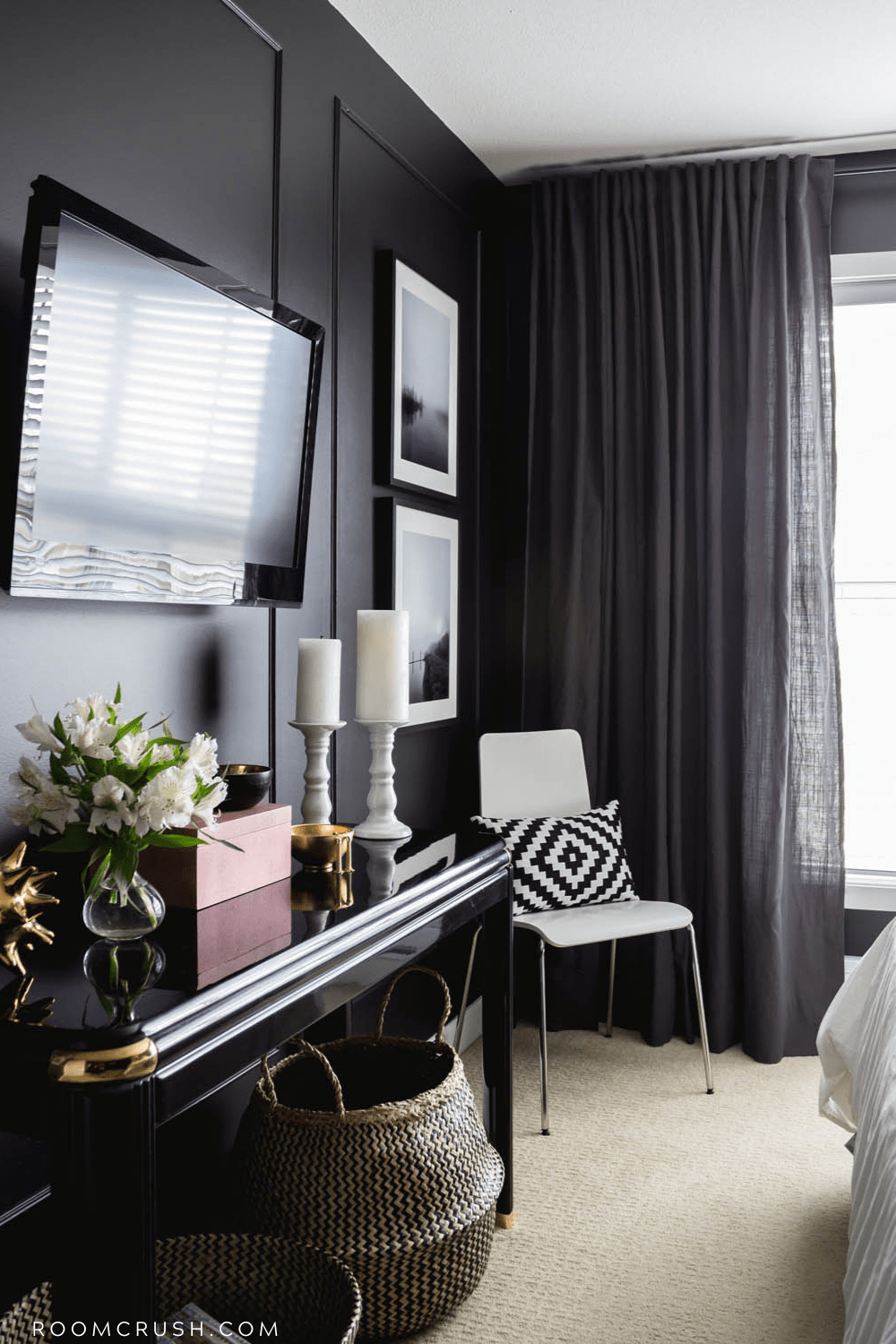 Monochromatic walls? Details Matter!
Since this room was created using a monochromatic color scheme, the details needed to be very well thought out. 
The designers chose gold accents, geometric patterns and pink/peach tones in small doses to give the room a bit of glam but nothing is overdone. This room is all about simplicity and restraint.
Related: How to style a moody black bookcase for major style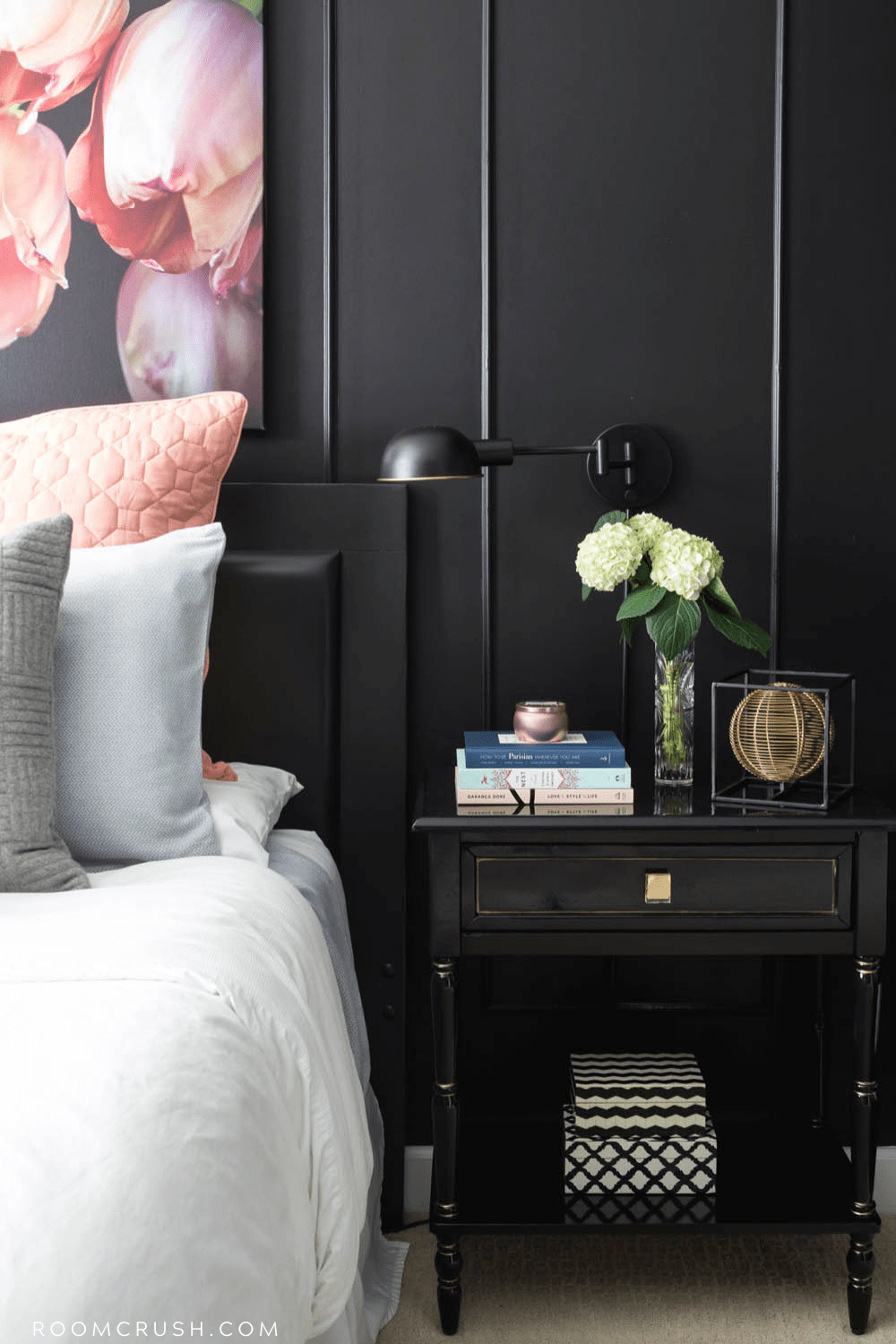 Awe-Inspiring Black Bedroom Reveal – Conclusion
So what do you think?
Have we convinced you that black is an option for creating a warm and inviting room?
If you're feeling brave and thinking that black walls might be in your future signup for our newsletter and find out what our go-to black paint is.
We'll share not just the color but which white works best as a trim color too.