Functional Shower Organizers To Accentuate Your Bathroom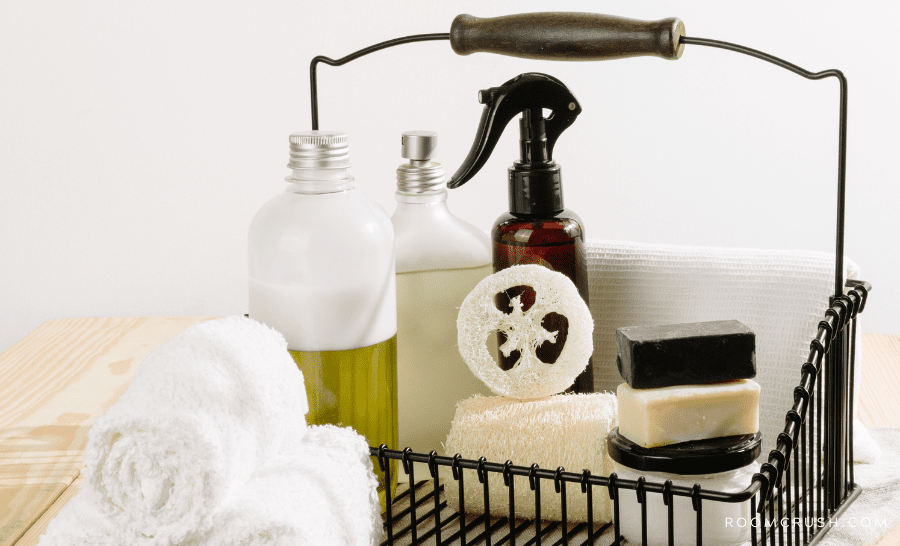 Looking for the perfect companion in the shower? Then you had better accessorize your bathroom with elegant shower organizers.
While there are so many bathroom accessories that can amp your bathroom, shower organizers like baskets, shower shelves, or shower caddies not only become a must-have but also, a style statement.
These bathroom fixtures offer functionality since they offer a lot of space for all your shower requirements while still adding a stylish design to the shower.
Shower organizers help to hold your bath supplies, toiletries, and other shower items like your scented candles, lotions, or essential oils. Also, they prevent them from falling over and again.
---
7 Easy Home Updates eBook: Free!
Today, get a free copy of our ebook that shows you 7 simple updates you can make in your home this weekend that will make your home look expensive and increase its value. Tell us where to send your free copy:  
This site uses ads and affiliate content as an Amazon associate earning on qualifying purchases. Disclosure.
---
Anyone would hate their soap falling down in the bathroom, right?
Clearly, we all require a shower basket, shower caddy, or a shower shelf.
Even if your bathroom is small, you will require proper organization by using a shower basket, shelf, or caddy of the right size in order to tidy up your bathroom space.
We really discourage homeowners from having large soap dishes to accommodate all their shower items. It is better to have a shower shelf installed to hold everything. Good enough, you can easily and neatly arrange items there.
In the market today, shower shelves, shower baskets, and shower caddies are the most common and functional shower organizers.
"YES!"
Shower shelves and shower baskets are the most common solution. So, for a luxury corner & wall, mounted shower baskets or shelves will not just look lovely, but unclutter your shower.
Shower caddies are equipped with multiple shelves and hung by a hook onto a shower set.
Telescopic shower caddies are free-standing with a reinforced middle pole (which could be made from aluminum) that features strong rubber grips and a high-compression spring for a secure fit.
Corner shelves or baskets easily fit freely into your bathroom corner. It can be free-standing or fixed to your bathroom wall by drilling, using suction cups, or sticking it to the wall through its adhesive glue.
Thus, in this article, we'll give you tips on how to shop for these handy storage shower companions while also giving you inspiration on the kind you should get for your shower.
5 Tips to Consider when Buying your Shower Organizers
1. Check how your shower basket, caddy, or shelf is installed.
Some are free-standing; others are screwed to the surface or they may have suction cups; specially engineered adhesive glue for sticking; or even hooks for hanging over the door that should be fixed to smooth surfaces like tiles.
So, be sure to install yours as directed by the seller or bathroom designer.
2. Check the fixings which should be strong enough to withstand the weight of your accessories.
For example: if you fixed your shower baskets with screws or fixing plugs. Also, check the suction cups frequently because they may have a tendency to loosen over time with exposure to steam and moisture.
3. Get a moisture-resistant material;
This helps prevent these storage accessories from wearing out or deteriorating so quickly.
Some of the best materials include:
Aluminum makes very strong storage accessories.
Aluminum shower baskets are also easy to maintain. However, if your water is hard (e.g. it does not lather or form foam with soap easily), the material will show limescale marks.
That's why it is common to hear bathroom designers advising that when choosing a shower shelf or basket, choose one made of premium aluminum which is insusceptible to wear or tear hence its durability.
Stainless Steel which is very resistant although also sensitive to limescale. Its silver look makes it highly preferred for shower shelves and baskets in the modern bathroom.
Glass which has clean lines and a light look that makes it a perfect gem for your bathroom. However, glass is difficult to maintain due to its fragility and quick limescale build-up.
PVC which is easy to maintain, hard-wearing, comes in a variety of colors, and is very affordable.
You May Also Like: 10 Ideas To Update Your Boring, Old, Tiny Bathroom Stylishly
4. Buy a rustproof shower basket material;
Engineered plastic or PVC which is guaranteed rust-free and corrosion resistant too. For example, the Shower Gem shower caddy.
5. Get the right style according to your budget.
Depending on your preference and the type of your bathroom décor, find a shower basket that will blend in your décor, and still serve its purpose.
It must fall within your budget because for sure, you need not invest in one that you hadn't saved up for. Save first then get it if it exceeds your budget per time!
There you go! Now you can go ahead and select the right shower basket for you!
But first, here are some elegant shower organizers that will accentuate your bathroom while still adding so much functionality:
Shower Baskets
Sale
Bestseller No. 1
Posyla Shower Caddy, Bathroom Shower Organizers, Black Shower Shelves for Inside Shower with Soap Caddy & Toothbrush Holder, Stainless Steel Wall Rack Baskets Adhesives Mounted(5 PCS)
【5 Packs Shower Organizers Set】POSYLA wall mount shower caddy comes with 3 big shower racks, soap shelf, toothbrush holder & 4 adjustable hooks which can help you organize restroom necessities. It's ideal for the bathroom, toilets, kitchen, living room & bedroom. They keep everything organized. The large storage capacity provides enough space to put shower accessories.
【Rustproof Shower Shelves for Inside Shower】Our shower caddies are made of 100% stainless steel material waterproof, rustproof, corrosion-resistant, non-deformable, non-fading, scratch-resist. The outer layer of shelf rack has a spray paint process which improves the scratch-resist and durability of the bathroom organizers, and makes them still as new after using inside shower for a long time.
【Super Strong Viscosity Adhesives】Our shower caddies provide an upgraded version of transparent non-marking adhesive with superior stability which capacity can reach up to 40lb without drilling.( Stronger than suction up shower shelves)And we provide 3 big adhesive sticker and 2 small adhesives for each of shower shelf.( Renter friendly Tip: Use a hair dryer to heat it up before tearing it off)
【Suitable for All Smooth Wall】Use the adhesive sticker for clean and tidy walls (tile or glass walls). You can install the shower basket anywhere in the bathroom, kitchen, living-room, outdoors and more. They are bathroom home apartment essentials
【Good Customer Service】 If the shower caddy shelves didn't work well, please contact us and we will provide a better solution for every dear customer! If you need more adhesives, please search for B09XMQP778
Bestseller No. 2
Moforoco Shower Caddy Basket Shelf with Soap Holder, No Drilling Traceless Adhesive Shower Wall Shelves, Rustproof Bathroom Shower Storage Organizer
【Best Design】 Use the shower caddy to make the most of your space and keep your bathroom clean and tidy. At the same time, you'll get the convenience of taking shampoo and shower gel when you take a shower.
【Super Strong Adhesives】Our shower shelf adhesives have been specially gravity-tested for a minimum of 22lb and are stable, even when used with pumps.
【The Most Durable Material]】We chose stainless steel material with the strongest rust resistance in humid environments and added sandblasting technology on the surface to carry out secondary protection. This improves the corrosion resistance and scratch of the bathroom organizer, which will still look new after long-term use.
【Personalized Combination】You will get two high-quality bathroom shelves, three strong adhesives, one soap holder and two hooks. It can be installed in dormitories, bathrooms, toilets, kitchens,rv accessories or any combination, large-capacity storage for your daily necessities to create your tidy space.
【Satisfaction Guaranteed】The shower wall organizer can be used after attaching it, with no holes and no damage to the wall. If you have any questions during use, please consult our customer service staff. We hope to provide you with a pleasant shopping experience.
Bestseller No. 3
YQh hanging shower rack, bathroom rack storage rack, shampoo bracket, the back hook can be rotated, and can be hung on the faucet or cross bar, 304 stainless steel rust proof (Single layer shelf)
1. STORAGE MADE SIMPLE: Keep bathing essentials close at hand with this convenient shower door caddy;The open grid design allows for maximum drainage and air circulation, items dry quickly, reducing the risk of mold and mildew
2. EASY INSTALLATION:No need to punch; Perfect for apartments, condos, dorm rooms, RVs and campers; For home or commercial use
3. INTIMATE DESIGN: The large wide baskets are great for storing shampoo, conditioner, body wash, hand soap, shaving cream, oils, facial cleansers, leave-in conditioners and salt scrubs.
4. QUALITY CONSTRUCTION:made of solid 304 stainless steel wire,strong and durable, not easy to wear and rust
5. Reasonable size: the size of the basket is 11 inches x 4.1 inches x 13.4 inches high; It is recommended that hooks be used at locations up to 1.5 inches in diameter.
Corner Baskets
Bestseller No. 1
Bestseller No. 2
orhemus 304 Stainless Steel Shower Caddy Corner Basket Shelf Bathroom Organizer Wall Mounted Storage, Brushed Nickel
SUS 304 Stainless Steel Construction. Made of solid metal, durable, corrosion resistance and rustproof.
Brushed Nickel Finish. Build to resist daily scratches, corrosions and tarnishing. Brushed stainless finished creates a contemporary look.
Size: 220 x 220 x 60 mm/ 8.6" x 8.6" x 2.36". Convenient shape, modern design for corner.
Shampoos, soap and bath items holder in the shower or bathtub, provide space-efficient storage.
Easy Installation. Wall mounted, comes with screw caps, hardware pack. Fits home, bathroom, kitchen, public toilet, school, hotel and so on.
Sale
Bestseller No. 3
SMARTAKE 2-Pack Corner Shower Caddy Deep Basket Design, SUS304 Stainless Steel, Wall Mounted Bathroom Shelf with Adhesive, Storage Organizer for Toilet, Dorm and Kitchen (Silver)
UPGRADED DEEP SHOWER ORGANIZER: [ONLY fits 90° right angle corner, NOT suitable for round corners]. These bathroom shelves designed for organizing your space, deep basket design better for storing your bath products. Ideal for storing your shampoo, body wash, cream and more, no drilling required, no damage to the wall, easy to install and also can be removed to where you need.
RUSTPROOF SUS304 STAINLESS STEEL: Made of SUS304 stainless steel, which made the corner shower caddies rustproof, stable, durable, and longstanding use. Avoiding rust stains on the floor or walls, keep your space clean and tidy. [If it is rust during use or you have any questions, please feel free to contact us].
NO DRILLING STRONG ADHESIVE: [You can refer to the video we provide to learn the installation]. Powerful adhesive comes with the bath shelf ensuring the shower rack stable, we also offer additional 2 adhesives to meet your needs, if you want to move the shower shelves to another place, just need to install adhesives. REMOVE GUIDE: Use a hairdryer to heat the sticker, tear it off easily when heat enough.
DRAIN FAST: The corner shower caddy comes in an open-grid design for maximum air ventilation and water dripping away. Keep your bath products clean. The grid can prevent some small objects from falling. Our bathroom shelf can bear up to 30 lbs, DO NOT press the shampoo hard when you place it on the shower caddy. It might cause an exceeding the load-bearing limit.
2 DIFFERENT SIZES: You will get 2 × shower caddies (large: 8.7 × 8.7 × 3.9 inches, small: 7.9 × 7.9 × 3.9 inches), 6 × adhesives. It is recommended to install the large layer first and put the objects you want to place on it, then install the small layer, to avoid the objects you want to put in after the installation is higher than the distance between the two layers.
Shower Shelves
Sale
Bestseller No. 1
Kitsure Shower Caddy Maximum Size - 15.7'' x 4.9'' x 2.4'' - 2.64 lb Premium Material - Rustproof Shower Organizer, Drill-Free Shower Shelves, Stainless Steel Shower Rack with 4 Hooks, Black - 2 Pack
PREMIUM RUSTPROOF MATERIAL: Kitsure shower racks for inside shower feature 100% stainless steel and thickened black coating, which is rustproof, waterproof, scratch-free, and durable for long-term use. In addition, with a smooth and easy-to-clean surface, you can just rinse the black shower caddy and leave it to air dry.
EXTRA-LARGE CAPACITY: The two Kitsure large shower caddies measure 15.7" and 15.2" respectively. They are large enough to store all your bathroom items, such as body wash, shampoo, conditioner, and facial cleanser. The heightened guard rail can effectively prevent your items from accidentally dropping down.
STRONG ADHESIVE TAPES: With 2 high-quality adhesive tapes, each Kitsure rust-proof shower caddy can easily hold up to 12lb for a long time. Let Kitsure shower storage shelves keep your bathroom necessities in place, securely and stably. The package comes with 4 fixing snaps that keep the shower racks steady without shaking.
QUICK DRAINAGE: The hollow design of the bottom makes Kitsure large shower organizer drain the water quickly and smoothly, keeping your shower accessories clean and dry. No more water remains at the bottom to damage the racks and your items! Besides, there are 2 round holes at the bottom, which can store the bottles upside-down for easy dispensing.
DRILL-FREE INSTALLATION: Kitsure drill-free shower caddy is super easy to install without screws, gel, or any special tools, and it will not damage the wall at all. The adhesive tapes are removable. Just heat the surfaces with a hair dryer for 5 mins and peel them off. (NOTE: Please install the shower caddy on smooth and sturdy surfaces.)
Sale
Bestseller No. 2
Bonn 1949 2 Pack Corner Shower Caddy,Strong adhesive Shower Organizer Shelf with 8 hooks.Waterproof, rustproof wall-mounted shower shelves for bathroom,dorm and kitchen .No Drilling (Black)…
Saving space:L-shaped design make corner shower caddy hold more and can better accommodate heavy containers Coming with 8 hooks for brushes, sponge and so on .Not only can use them in the bathroom but also in the kitchen, bedroom, any place you want.
Strong Adhesive:No drilling and no damage,Shower storage shelf secured by strong adhesive, trace less adhesive that won't damage the shower wall. no worry about falling down.Tool-free installation means no damage to your wall, just apply the adhesive on your shower wall, then hang your shower organizer.
Stainless Steel Material:Shower shelf for inside shower crafts from stainless steel. will never rust after prolonged use .The corner shower caddy comes in an open-grid design for maximum air ventilation and water dripping away. Keep your bath products clean. The grid can prevent some small objects from falling.
Easy installation :No tools or drilling is required. Mark where the adhesive will be place with shower shelves attached, stick the adhesive and mount the shelves. Corner shower caddy fits 90° right angle corner. Take fully advantage of corner space.
Package Contents : 2 x corner shower caddy,Large:10.62 × 10.62× 3.46 inches, Small:9.84 × 9.84× 3.14 inches,6 x adhesive, 8 x hook. (NOTE: If you have any questions, please feel free to contact us, our customer service will reply within 24 hours.)
Sale
Bestseller No. 3
Moforoco Shower Caddy Shelf Organizer Rack, Self Adhesive Black Bathroom Shelves Basket, Home Farmhouse Wall Shower Inside Organization and Storage Decor Rv Accessories, First Apartment Essentials
【Great Shower Organizer Set】This wall mount shower caddy can help you better organize your bathroom necessities. It is suitable for bathrooms, kitchens, Rv, living rooms and bedrooms, make your family space use to the extreme. The large storage capacity allows you to store more items, and the fence prevents items from falling.
【Durable Stainless Steel】Our shower shelves are made of 100% stainless steel, rust-proof and durable. The spacer design at the bottom can help drain and dry quickly, avoiding harmful substances in humid environments. It is an ideal choice for supplementing your bathroom.
【Stronger Adhesive】The upgraded version of the transparent non-marking adhesive provides you with stronger stability. It can be installed without drilling. The load-bearing capacity can reach up to 40lb, which is twice that of other products on the market. Since it won't fall from your wall, you don't have to worry about the loss caused by the shower organizer falling after installation.
【Applicable to All Walls】You can install it on any smooth wall, and it works on almost any bathroom wall, so you can buy with confidence without worrying about inapplicability.
【What Will You Get? 】2 x Shower Caddy with Hooks, 2 x Adhesive, 1 x Manual. We provide one opportunity to replace the adhesive within 3 months after purchase Moforoco shower caddies.
Quick Care Tips
Check the fitting frequently to ensure your shower shelf or caddy remains firmly fixed in place. For example, suction cups may come loose over time due to steam. In this case,
Only add bath supplies and toiletries of a sizeable weight to ensure your beautiful storage accessory can accommodate the weight. For example: if it is designed to hold three bottles, a soap, a razor, and loofah, be sure to add just that during storage.
Clean your shower basket often to get rid of the limescale that builds up over time or bacteria that can accumulate on the surface (this is particularly important for plastic shower baskets).
Check your shower basket for rust.
Handle glass shower caddies carefully.
Do you have a shower organizer in your bathroom? Which of these beautiful shower storage accessories would you get for your bathroom?
WHAT TO READ NEXT:
9 Bathroom Accessories to Create A Luxurious Home Spa