Shower Curtain Styling Ideas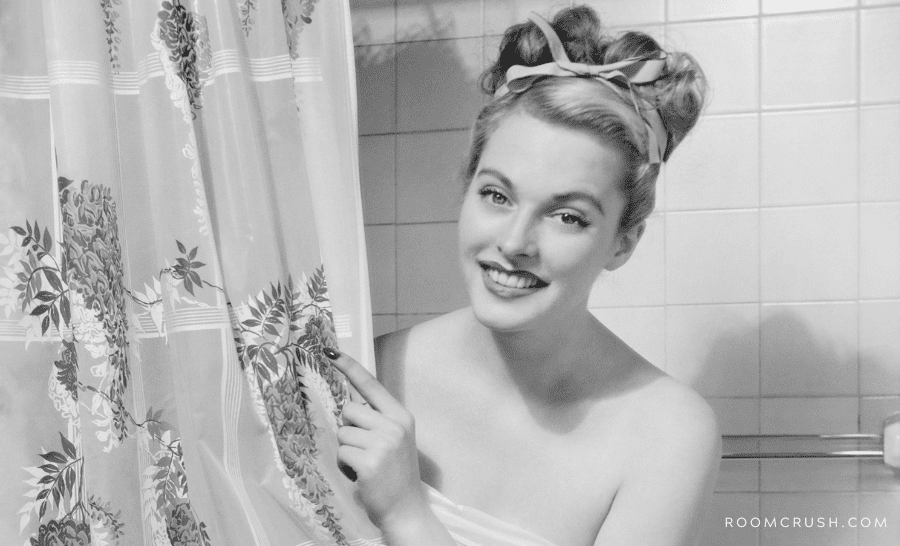 A shower curtain is very essential and vital for bathroom accessories. Particularly, if your bathroom requires the use of one.
They ensure privacy in the bath space and prevent water from splashing all over your bathroom floor. As well, they add style to your bathroom.
Merely, it is not necessary to install shower curtains for bathrooms, especially where the rate of humidity is too high to avoid rust or moisture. In this case, you can put sliding doors in glass or make your shower area large enough so that you won't have water all over the bathroom floor.
Good thing, these days people are designing their showers with creative entrances to allow people to be hidden while showering without the use of a curtain.
---
7 Easy Home Updates eBook: Free!
Today, get a free copy of our ebook that shows you 7 simple updates you can make in your home this weekend that will make your home look expensive and increase its value. Tell us where to send your free copy:  
This site uses ads and affiliate content as an Amazon associate earning on qualifying purchases. Disclosure.
---
However, if you're a person who prefers privacy, go ahead and provide shower curtains for modesty protection, particularly, in your guest bathrooms.
You May Also Like: How to Create an Eco-Friendly Bathroom
Convinced about adding this bathroom accessory, then learn how to choose a quality one.
How To Choose Quality Shower Curtains
While shower curtains are one of the most easily customizable elements of a bathroom, you may become overwhelmed quickly when picking one without some guidance. Thus, these factors to put in place:
1. Fabric Choice
Shower curtains come in various types of material, as follows:
Fabrics with a vinyl lining that repels water, which is strictly for privacy and decorative purposes,
Vinyl shower curtains which function as a water barrier and shower curtain, and,
Fabric shower curtains with an added treatment to help them repel water.
If you are prioritizing style over budget, then a fabric shower curtain paired with a vinyl liner will give off a classier vibe in your bathroom. 
For a more budget-friendly option, then a vinyl shower curtain will be suitable. These have no elegant touch though they are easy to maintain, repel water naturally, and are less prone to mildew and mold.
There are also cotton curtains that can be the most durable and are also the easiest to wash but must be done each month. Due to their fabric and look, cotton shower curtains can a more luxurious feel to your bathroom.
Cotton absorbs moisture easily, so, if you do buy a cotton curtain, remember to get a quality liner to go with it.
Sale
jinchan Black and White Shower Curtain Fabric Shower Curtain for Bathroom Modern Black Striped Shower Curtain Summer Water Repellent in Bath 70x72 inches Long Shower Curtains Set with Curtain Hooks
Striped Design: This W70 x L72 inch fabric shower curtain brings a fashionable look and refresh your bathroom. Package comes with shower curtain rings.
Water Repellent Fabric: JINCHAN shower curtain is made of water-resistant polyester fabric. Enjoy your relaxation with no splashed water on your bathroom floor. Recommend using with shower curtain liner.
Versatil Fit: Apart from bathroom, there are many more spaces for this shower curtain to fit in. You can put it as wall hanging in your living room or a room divider in your apartment. Be Creative!
Easy Care: Machine wash in cold water and tumble dry in gentle setting. Do not bleach. We recommend add a curtain liner to extend the longevity of your shower curtain.
More to explore: JINCHAN aims to discover delights in life and transform the inspiration to you. Visit our store for more exciting designs in home decor products.
You May Also Like: 9 Bathroom Accessories to Transform your Home into a Home Spa
2. The Size
The standard size of a shower curtain is 72 x 72 inches, and this curtain length extends to the floor and covers the tub.
Depending on your preference, you might prefer a curtain that reaches all the way to the bathroom floor or one that is 'floating' which hangs just to the edge of the tub.
Most importantly, do not allow the curtain to touch the bottom of the shower. Cut it off and trim just short if necessary.
You will need to measure before you buy a shower curtain because buying one that's too short or not wide enough means a daily flood on the floor. On the other hand, buying one too long means dirt and moisture pickup.
3. The Shower Curtain Rod
A shower curtain makes a big statement in your bathroom, but it is important to consider the shower curtain rod as well.
The right shower rod for you is the one that fixes to the wall perfectly and holds the curtain firmly in place. Also, it will not sag and the curtain will slide effortlessly on it. Lastly, it will complement the bathroom interior.
For contemporary, minimalist bathrooms, go for rods made of natural steel, have straight lines and high gloss finishes. 
On the other hand, vintage, rustic, and eclectic bathroom spaces look best with mat black finishes or rusty-looking materials such as copper or brass. 
Ivilon Tension Curtain Rod - Spring Tension Rod for Windows or Shower, 24 to 36 Inch. Warm Gold
Ivilon tension curtain rod for shower or windows with heavy duty tension spring and 1-inch diameter rod.
Unique design finished with durable rustproof warm gold plating of high quality, can be used indoors and outdoors.
Solid metal finials, thick and heavy construction, holds heavier panels with the non-slip, non-scratch, non-marking rubber.
Adjustable length tension rod bar, small size extends from 24 to 36 inches.
Easy to install and no tools are required, can be used for shower curtains, doorways, windows curtains, and more.
4. The Pattern
Shower curtains come in endless colors and patterns, thus, there is always something for everyone.
While the choice of the pattern will ultimately boil down to your style preferences, the best shower curtains tend to be the ones that match and accentuate the rest of your bathroom decor effectively. 
Remember to pick a variety of shower curtains.
That way, you can switch out your current shower curtain for a fresh one to create a specific seasonal look or totally makeover your bathroom without spending too much time and effort.
However, avoid cheesy patterns or drawings in your bathroom as they might look very unappealing.
You May Also Like: 10 Ideas to Update your Old Tiny Bathroom Stylishly
5. The Hooks or Rings
Not all shower curtains require hooks or when they're attached to a shower curtain rod. There are hookless curtains that can be grommet-holed or buttoned.
Now go ahead and pick an amazing shower curtain for your bathroom. And without further ado, let's give a rundown of some of our favorite shower curtains ideas below:
Caring For Shower Curtains
1. Pick Shower Curtains With Liners
Although there are shower curtains that are attractive, water-resistant, and perform well without a liner, having a liner is an added improvement.
Shower curtain liners are relatively inexpensive, help reduce excess moisture in the bathroom, and prevent unwanted bacteria, mold, and mildew growth.
Also, note that a cheap plastic liner is fine if you change it regularly and keep it thoroughly clean. But you'll need to replace it every six months—or sooner if necessary—because it tends to show water stains, soap scum, and mildew.
NEVER pick plastic shower curtains! While plastic is cheap and easy to clean, and you won't feel bad about tossing it when you get tired of it, they look, awfully cheap. Skip them if you want to inject elegance into your bathroom.
A fabric liner made of polyester is pretty water-resistant and also very spalike, thus, a better recommendation.
2. Have an Exhaust Fan
Many people don't use shower curtains as over time, they get moldy and this can become unsightly and unhygienic.
One thing we have found important is to have the exhaust fan on while showering and even after, for approximately 30 minutes after showering to clear out moisture. You can also leave the door open to facilitate air movement.
The circulation of air will minimize the problem of mold, which is what you want to do.
If you can't have an exhaust fan, then right after a shower, remember to leave the curtain open for air to properly circulate and dry out the curtain.
Preferably, spread the curtain out to its maximum extent and make sure that the folds are reasonably even. This helps it dry quickly and looks better than a retracted curtain.
After a while, though, it's best to close the curtain so it, too, can dry fully. Otherwise, there's the risk of mold/mildew in areas that stay moist.
You want the curtain/liner to dry as quickly as possible to minimize trapped moisture that can lead to mold.
Thus, the last thing you would want to do is leave the curtain right up against the wall, preventing air circulation.
In either case, the bathroom exhaust fan should run both during and after showering to carry away moisture in the air.
KAZE APPLIANCE SEP120 | 120 CFM | 0.3 Sone Ultra Quiet | Energy Star-Certified Energy-Saving Bathroom Exhaust Ventilation Fan
CEILING OPENING SIZE - Please note the ceiling opening requirement is 11 3/8 x 10 1/2 inch, resizing your ceiling opening will be needed if existing fan size is different.
SUPER QUIET - Powerful 120 CFM and quiet operation at 0.3 Sones. Suitable for bathroom size up to 120 square feet.
INSTALLATION - Attic access required. Sliding hanger bars allow fan housing to be positioned accurately anywhere between the framing. The bars span up to 24 inch and can be used on all types of framing.
DUCTING - Removable 6 inch duct with back draft prevention damper. Includes 6 to 4 inch duct reducer.
RELIABILITY - Proudly stand behind our products with 3 year warranty
3. Use A Mold Killer
To get rid of mold, do not use bleach on your shower curtains because it does not kill mold, it only hides it. Most home stores carry a mold killer. I would highly suggest giving it a try.
4. Choose Curtains with an Anti-Mildew Coating
When buying a shower curtain, consider looking for products that have an anti-bacterial and anti-mildew coating.
This will protect your shower curtain from mold, which is very common in the humid, damp environment of a bathroom.
5. Keep Your Shower Curtains Off The Floor
Your shower curtain is not supposed to touch the floor to prevent the bottom of the curtain from collecting too much moisture and dirt.
Thus, leave between three to five inches of space between the curtain hem and the bathroom floor.