Brondell Luxury Bidet Toilet Seat Review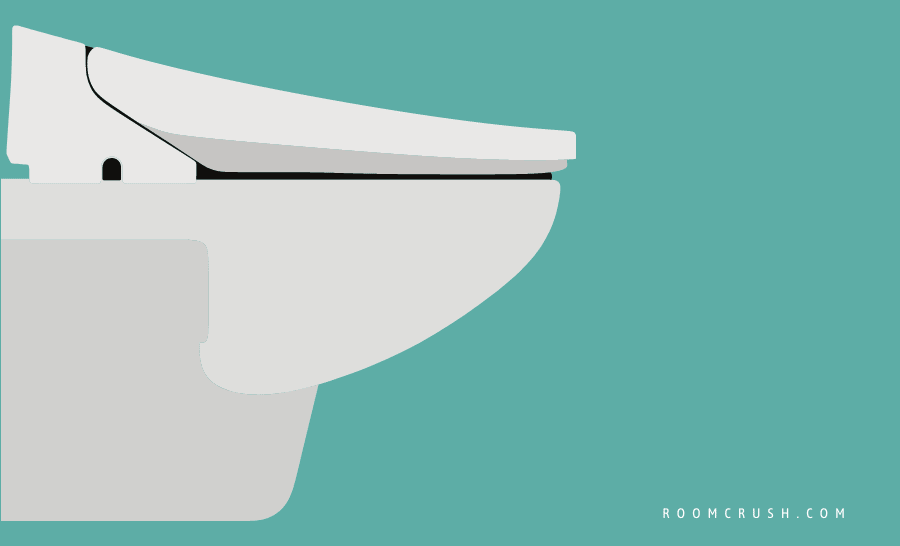 Want to give your bathroom a spa-like upgrade? Our Brondell Luxury Bidet Toilet Seat review is for you.
Here at Room Crush, we love finding ways to make your home more luxurious. And today, we are installing the Swash 1400 Luxury Bidet Toilet Seat with Remote Control, from Brondell.
Read on for our honest Brondell Luxury Bidet Toilet Seat Review.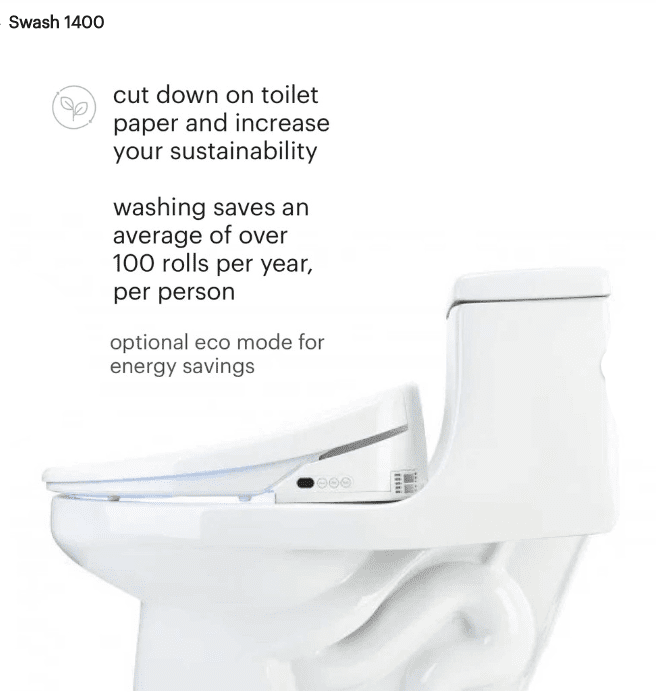 Brondell Luxury Bidet Toilet Seat Review
First, let's check out the stats.
---
7 Easy Home Updates eBook: Free!
Today, get a free copy of our ebook that shows you 7 simple updates you can make in your home this weekend that will make your home look expensive and increase its value. Tell us where to send your free copy:  
This site uses ads and affiliate content as an Amazon associate earning on qualifying purchases. Disclosure.
---
The Brondell Luxury Bidet Toilet Seat is a top-of-the-line model featuring a sleek and stylish design. The Brondell Swash 1400 provides users with an array of adjustable features, including a warm seat, temperature-controlled water spray, and an adjustable nozzle.
These features offer a luxury experience previously found only in high-end spas and hotels.
With its easy-to-use remote control, the Brondell Bidet Toilet Seat makes it simple to find your perfect settings for maximum comfort and convenience.
This product also offers benefits such as improved hygiene, cost savings on toilet paper, and fewer clogs due to reduced toilet paper usage.
Not only will the Brondell Swash 1400 make your bathroom experience more pleasant and luxurious, but it will also save you money in the long run.
What is a bidet toilet seat?
A bidet toilet seat is a type of toilet seat that attaches to a toilet and uses jets of water to clean your rear end.
They're popular in Europe, where they're seen as a luxury item, and they're gradually making their way into North America.
Some people find bidet toilets to be more hygienic than conventional toilets since they can help clean your backside better. Others find them simply relaxing since the streams of water can massage your skin.
Whichever you believe, the Brondell Swash 1400 bidet toilet seat is an excellent option if you're looking for a high-quality bidet toilet seat.
The biggest reason for using a bidet toilet seat is that they are a sustainable alternative to toilet paper and flushable wipes.
You May Also Like: 10 Ideas To Update Your Boring, Old, Tiny Bathroom Stylishly
What is the Brondell Swash 1400?
One of the most popular models of bidet toilet seats is the Brondell Swash 1400 bidet toilet seat.
This model comes equipped with all the standard features you'd expect in a high-end bidet toilet seat, such as a heated seat, adjustable water temperature, LED nightlight, and a warm stream of water.
But what makes this model truly unique is its sleek design, and self-cleaning function. Plus, the ability to be controlled with a remote control is a nice touch.
Brondell Swash 1400 features:
-A heated seat that delivers up to 120 degrees of warmth
-An adjustable water temperature that goes from 113 degrees to 132 degrees Fahrenheit
-A warm stream of water that provides a refreshing and invigorating experience.
-A self-cleaning function that cleans the water jets and seat automatically after each use
-An ergonomic design that makes sitting on the bidet comfortable and relaxing.
How To Install The Brondell Swash 1400 Luxury Bidet Toilet Seat?
Brondell promises that the installation process is a quick and painless DIY process, and will have your bathroom up and running in no time at all.
All you need is a wrench to remove the old toilet seat, and a screwdriver to install the new bidet seat.
But is the installation of the Brondell Swash 1400 really that simple and easy?
Let's test this out for ourselves, shall we?
1. Unbox the Toilet Seat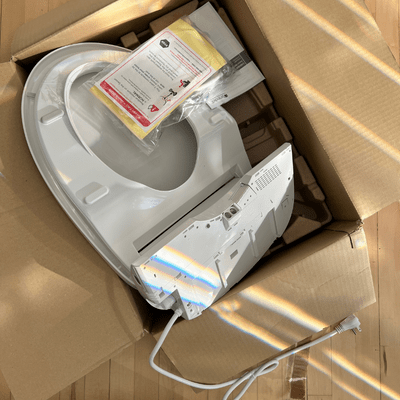 2. Remove The Old Toilet Seat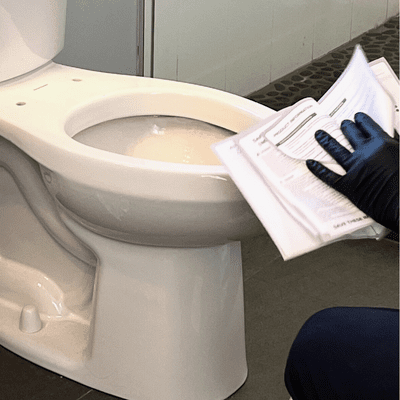 You will need a wrench to remove the old toilet seat. This is a simple 30-second task.
For the next steps, be sure to read the installation instructions that ship inside the box.
3. Place The Brondell Bidet Seat

4. Connect The Water Lines To The Back Of The Toilet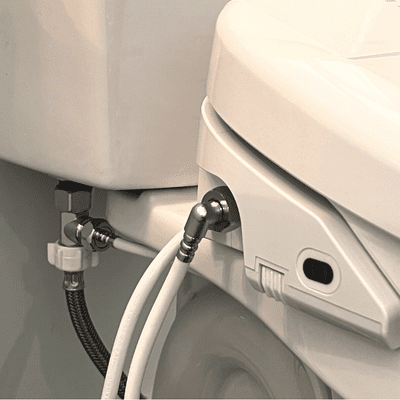 This step took us about 3 minutes to complete.
5. Plug The Cord Into An Outlet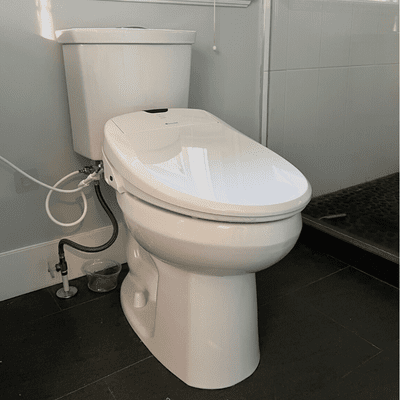 And there you have it. It actually was a pretty easy installation process.
Pros & Cons
Pros
Installing this bidet toilet seat is easier to install than it would be, to install a full bidet.
Choose from elongated or round to fit any toilet
The Brondell Swash 1400 is a state-of-the-art bidet toilet seat that offers a luxurious, spa-like experience with adjustable water pressure, water temperature, and even a gentle aerated bubble wash.
It also offers an adjustable heated seat temperature, warm air dryer, and an illuminated night light so you can use the restroom safely in the dark.
Additionally, it has an eco mode to reduce electricity consumption.
We appreciate the sustainability impact of this product, as well as the opportunity it presents consumers, to save from spending on toilet paper.
Cons
You will need to plug it into an electric wall outlet, so you need to have a toilet that is close to an outlet to be able to use it.
Shyer folks may not like that the box it is shipped in is not discreet.
Sale
Brondell S1400-EW Swash Electric Bidet Toilet Seat With Oscillating Stainless Steel Nozzle, Warm Air Dryer, Heated, Night Light, Gentle Close Lid, Thin Profile, Remote Control, Elongated, White
ATTENTION TO EVERY DETAIL: The S1400 is crafted to offer a luxurious clean for every user, every time; This smart toilet seat offers one-touch customizable wash settings for a pampering sit-down with controls that can be programmed for 2 individual users
CREATE THE RIGHT WASH: Air-mixing technology & variable pressure settings provide a gentler & more thorough wash for a spa-like experience unlike bidet attachments that require excessive pressure; Adjustable temp, nozzle positions, & spray patterns
Frequently Asked Questions
Does The Brondell  Swash 1400 have an LED nightlight?
Yes, the Brondell Swash 1400 does have an LED nightlight.
This means you'll never have to worry about getting out of bed in the dark to use the toilet – especially if you are male.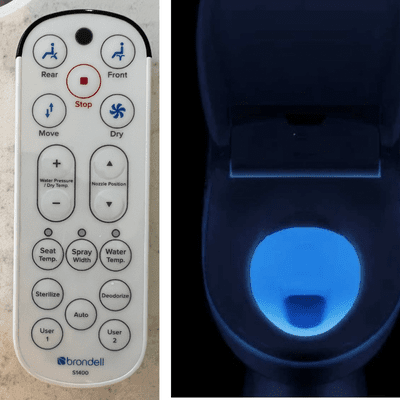 And, the LED light is also helpful for kids to use the toilet at night on their own.
Kids love a toilet that lights up. If you have toddlers, this feature could make potty training more fun.
Is the Swash 1400 Luxury Bidet Toilet Seat Shipped In Discreet Packaging?
The box that the Swash 1400 Luxury Bidet Toilet Seat arrives in is not in discreet packaging.
The box makes it very clear what is inside, as you will see in the image below.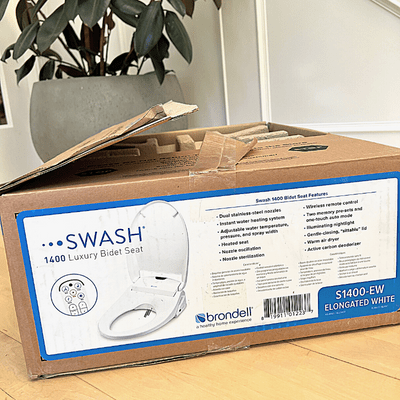 If you are someone who is shy about these kinds of things, you might not like the box is not discreet.
Conclusion: Is Buying A Brondell Bidet Toilet Seat Worth it?
We think that the Brondell Luxury Bidet Toilet Seat is an ideal choice for those looking to upgrade their bathroom.
You may not have the floor space or budget for a full bidet installation, so this bidet toilet seat makes for the perfect solution.
What makes this product stand out are its features that save both time and money while providing superior hygiene and comfort.
With this bidet toilet seat, you may not need to buy additional items such as toilet paper or cleansing sprays as it cleanses with water instead.
If you're in the market for a high-end bidet toilet seat, then the Brondell Swash 1400 should definitely be at the top of your list.
Not only does it offer exceptional quality, but it's a posh addition to any bathroom. With this product, you can complete your 5-star hotel-style master bathroom makeover.
Sale
Brondell S1400-EW Swash Electric Bidet Toilet Seat With Oscillating Stainless Steel Nozzle, Warm Air Dryer, Heated, Night Light, Gentle Close Lid, Thin Profile, Remote Control, Elongated, White
ATTENTION TO EVERY DETAIL: The S1400 is crafted to offer a luxurious clean for every user, every time; This smart toilet seat offers one-touch customizable wash settings for a pampering sit-down with controls that can be programmed for 2 individual users
CREATE THE RIGHT WASH: Air-mixing technology & variable pressure settings provide a gentler & more thorough wash for a spa-like experience unlike bidet attachments that require excessive pressure; Adjustable temp, nozzle positions, & spray patterns