90s Kitchen Makeover: Stunning Before And After Transformation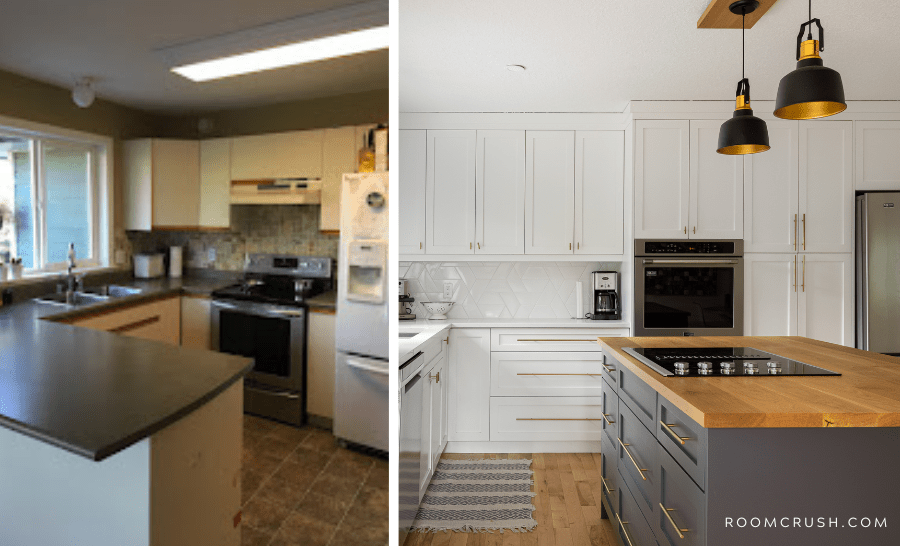 You have to see this before and after kitchen transformation! This 90s kitchen makeover turned an extremely dated builder-grade kitchen into a modern, bright and airy living space.
The designers Chelsea and Nick Clarke knew the space needed to be completely gutted in order to give it the new lease on life the home deserved.
Opting for the modern organic aesthetic to lead their design, the designers got to work transforming it into the welcoming space it is today.
Read on to see this 90s kitchen makeover reveal and discover some inspiring kitchen makeover ideas.
---
7 Easy Home Updates eBook: Free!
Today, get a free copy of our ebook that shows you 7 simple updates you can make in your home this weekend that will make your home look expensive and increase its value. Tell us where to send your free copy:  
This site uses ads and affiliate content as an Amazon associate earning on qualifying purchases. Disclosure.
---
90s Kitchen Makeover: Stunning Before And After Transformation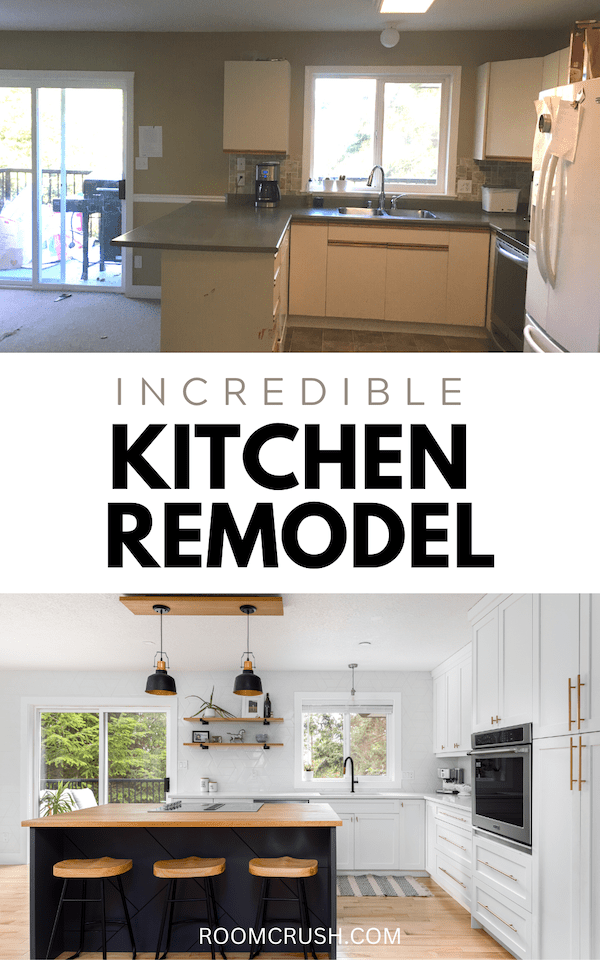 When the homeowners purchased this house, they knew it needed a lot of work.
The home was built in 1994, and was fitted with cheap builder-grade kitchens and bathrooms that had never been updated.
The kitchen had very old pea-green laminate countertops, beige melamine cabinets with wood handles, and your typical 90s appliances.
"From a function standpoint," says designer, Chelsea "the kitchen was in good shape. Those 90s melamine cabinets were built to last. And this kitchen had stood the test of time, durability-wise. But from a design and aesthetics standpoint, it was a mess."
Paired with the original red and brown laminate floors, dark green and orange walls, boob lights and even a fluorescent light – serious cosmetic updates were in order.
Choosing a modern organic design style for the kitchen's new look would be key. 
Modern organic is a design style that warms up bright white spaces by using high-quality natural and organic decor elements. Such as natural wood, stone, clay, wool and so on.
Here are the 9 things that made this 90s kitchen makeover a success.
1. Open Up The Space
Nick removed a wall that was previously closed off the kitchen to the rest of the house.
Removing the wall instantly opened up the space and allowed for re-imagining the future layout of the new kitchen.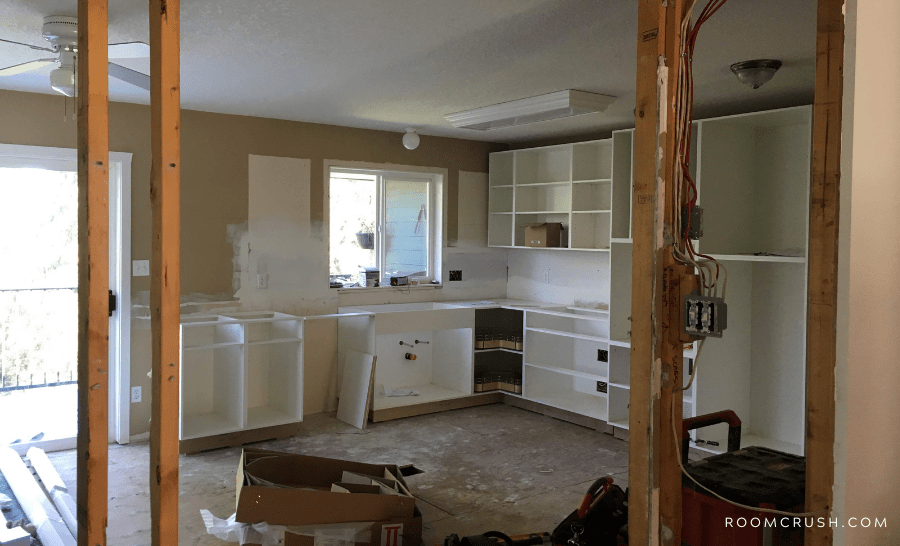 You May Also Like: The Correct Dining Room Rug Size For Your Table
2. Gut & Clear Out The Old Cabinetry
Completely clearing out all of the old cabinetry, appliances and countertops was a necessary task for this 90s kitchen makeover.
The homeowners were able to sell and donate the old pieces.
3. New Floors
Bye-bye laminate and hello real maple floors!
The natural, light-colored wood brings a modern, fresh and vibrant feeling to the room.
Read: What's the best type of wood flooring?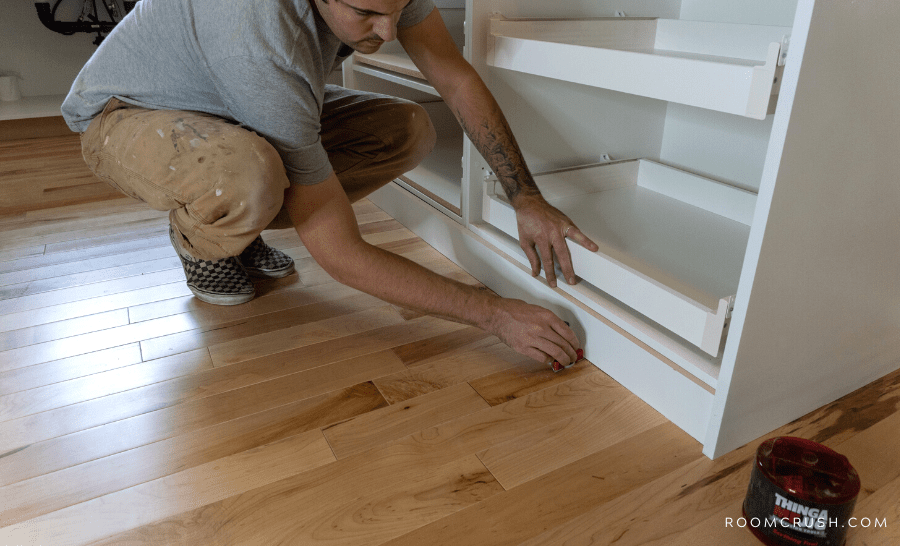 4. Custom Cabinetry
All new cabinetry was custom crafted for this kitchen.
Allowing for much-needed storage space that the old kitchen was lacking.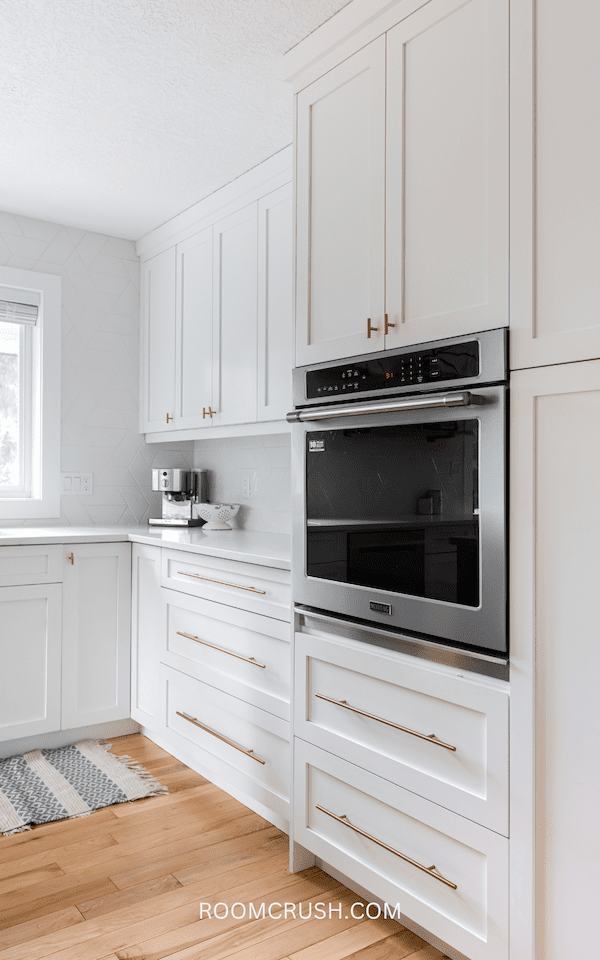 5. Quartz Countertops
Investing in quality stone countertops is going to make the difference between a good kitchen makeover and an incredible kitchen makeover.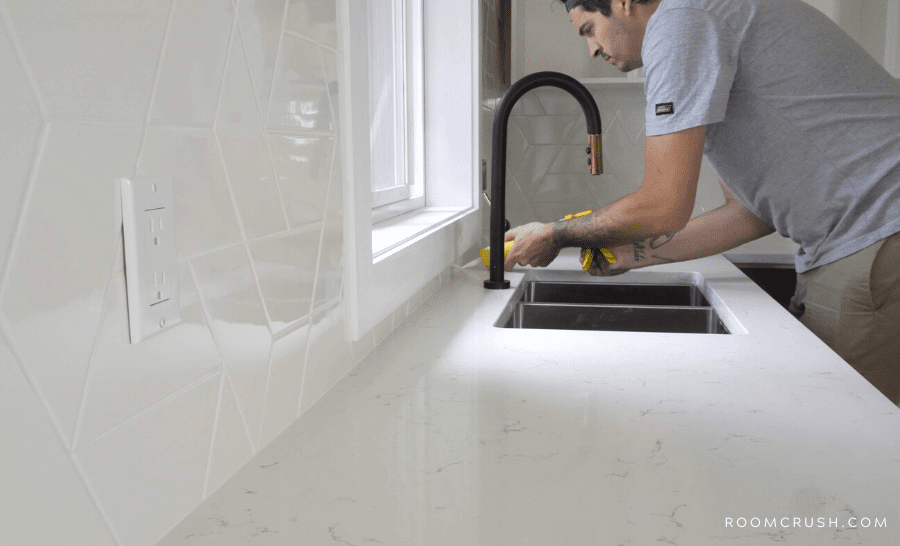 It's a known fact that real quartz or marble countertops will be a pricey purchase. But sometimes you can save a bit of money by buying a "scrap" piece.
Go to your local stone retailer and ask to take a look at their scrap yard. You can often score an off-cut at a discount.
6. Custom Kitchen Island
Nick designed and built a large kitchen Island with a white oak butcher block countertop.
The new cooktop was fitted inside, with hidden ventilation fixed into the Island.
As a nice touch, an interior-vacuum system was in place in this home.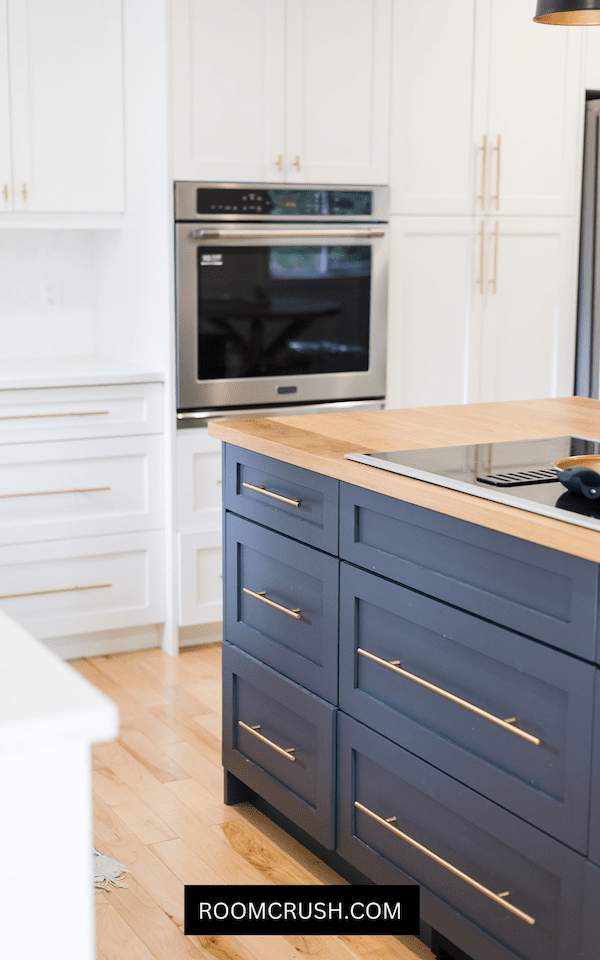 To best utilize this feature, Nick installed a duct under the Island where with the push of a button, a small door opens, and one can sweep dust to be sucked away into the vacuum system inside the house.
7. New lighting
What's something that makes your home look dated?
…Boob lights, of course!
As well as fluorescent lights and retro-looking ceiling fans. This 90s kitchen had all three!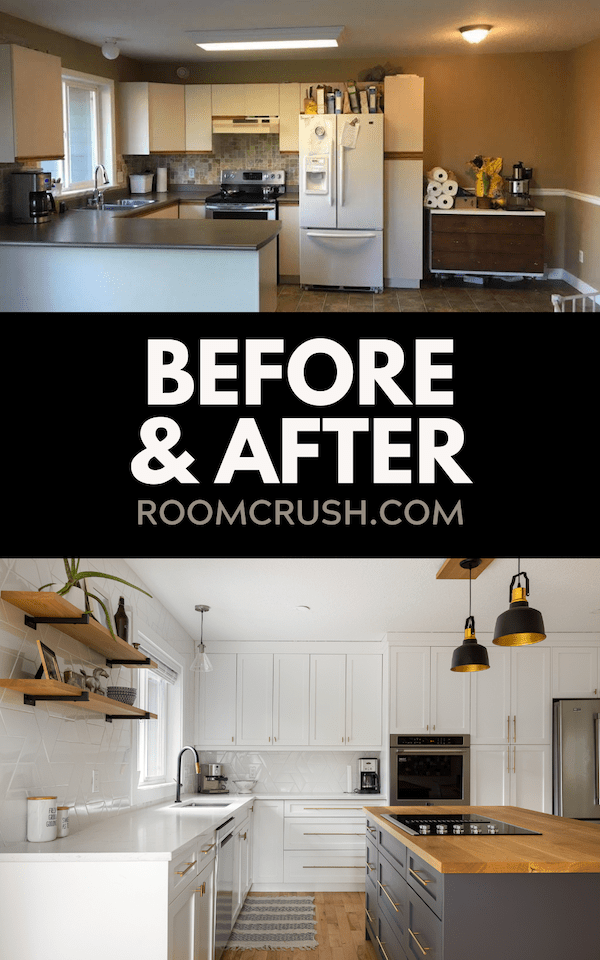 The designers switched the old lighting fixtures for simple recessed lights with bright white bulbs, and two galvanized pendant lights above the Island.
Read: How to choose the best lighting for your home
8. Fresh Paint
The easiest way to update a 90s kitchen (or any room, for that matter) is to give it a fresh coat of white paint. And that is exactly what this kitchen needed.
With white cabinets, white countertops and white walls, one may worry that things could get TOO white quickly.
But having the foundation (cabinets, counters and walls) bright white was intentional.
As it set the light and airy backdrop for the designers to purposefully layer in contrast with oak shelving, butcher block Island countertop, a very unique geometric tile wall.
9. Geometric Tile Wall
Instead of having a regular, small backsplash, the designers created an amazing visual experience by tiling the whole wall.
Yes, that's right! Nick tiled the entire kitchen wall from floor to ceiling.
Because, why just have a backsplash, when you can have a statement wall in your kitchen?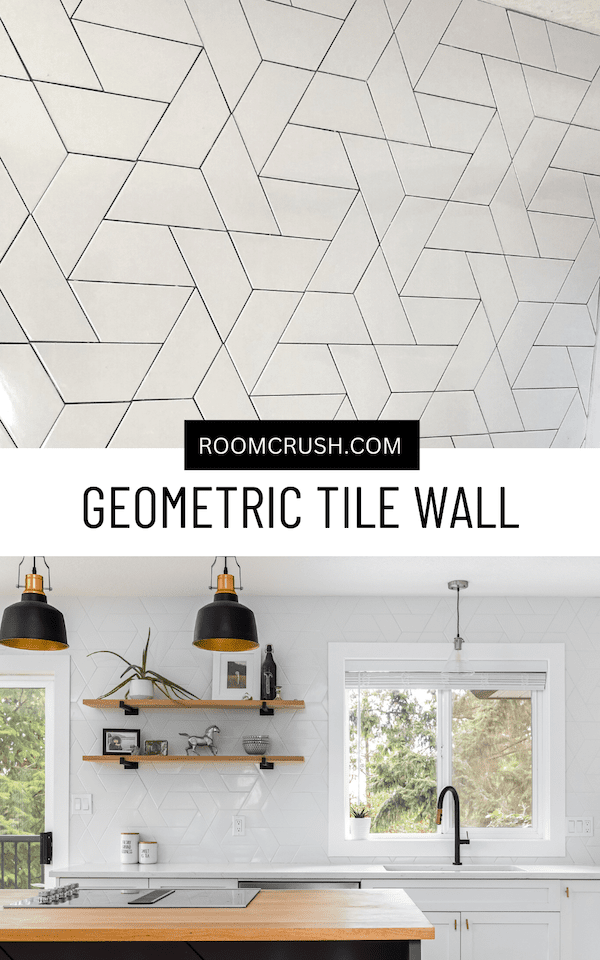 "Don't be afraid of making bold statements with your tile patterns, in unconventional ways. Tiles don't have to be restricted to one little backsplash area." Advises Chelsea.
"For our 90s kitchen makeover, we tiled one whole floor-to-ceiling wall in a wild geometric pattern, and it's one of my favorite things about the house now.  A fully tiled wall is unexpected and gives the kitchen a truly one-of-a-kind feel."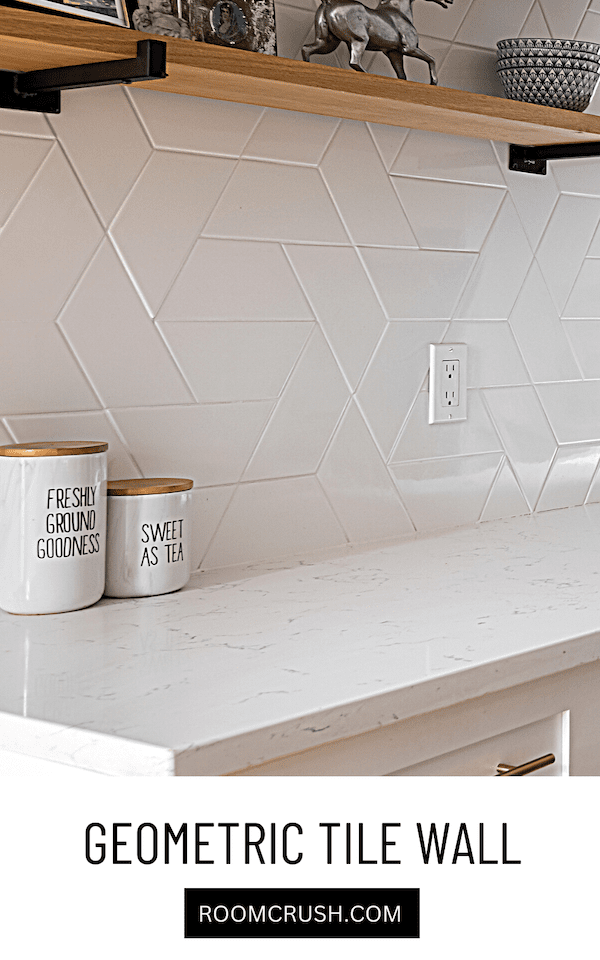 90s Kitchen Makeover – Conclusion
These details made the transformation all the more enticing to buyers when the newly renovated home went on the market (and sold within a few days!).
This 90s kitchen makeover took a dark and dated builder-grade kitchen and transformed it into a bright, modern and luxurious yet functional space for a family.
What to read next:
Pin this: