Best Christmas Wreaths: Do you want to be the envy of your neighbors and flex how bossed and baller you are this Holiday?
Of course you do. What is more festive than making your friends, family and neighbors jealous?
Obviously, displaying the fanciest of Christmas wreaths on your door is the only way to make your neighbors and dinner guests so envious they'll turn as green as the Grinch.
Ok. Maybe that's not actually a thing. But nevertheless, here are the top Christmas wreath designs this season. And more importantly, what they say about you, as a person.
Best Christmas Wreaths To Flex Holiday Prowess Over Your Hood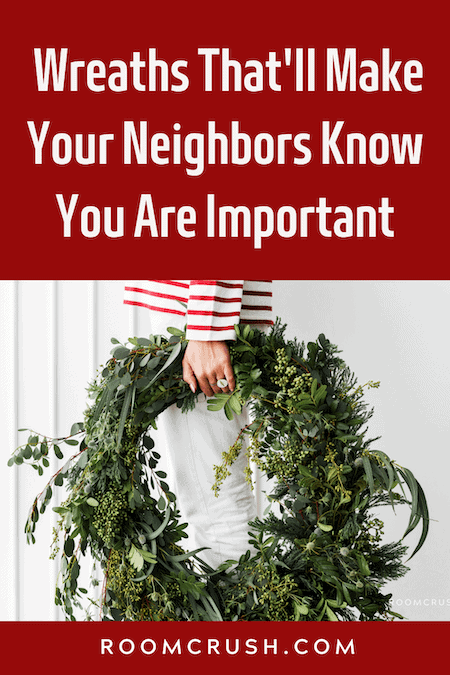 1. An artist who possibly made this lives here
You are an artist with an eye for quality design.
You could have made this wreath yourself, sure. But you are also very busy and have better things to do.
So you will hang this wreath on your door and just let everyone assume you made it and not correct them when they gush compliments about how talented you are.
(The description of this wreath says it's made of  'lambs ears' which sounds terrifying. Don't worry, it's not made of real lambs.)
2. Someone Who Lives Better And More Eco-Consciously Than Her Neighbors Do, Lives Here
You tell yourself that you are obsessed with minimalist home design. You save minimalist decor images on Pinterest daily.
You have told your family numerous times that you are a minimalist.
Also, you collect everything and you are not a minimalist.
But this simple wreath is pretty and allows you to keep the jig up a little longer.
Sale
TEMPUS 18 inch Fall Wreath Magnolia Leaves with Pine Needle Yellow Berry Wreath for Front Door Harvest Festival Decor Window Wedding Autumn Outdoor Indoor Décor
1.Size: The wreath has an external diameter of about 18 inches and an internal diameter of about 11inch.The package size is about 17*13 inches.After receiving the product, please remember to unfold the branches of the wreath and you will see a beautiful fall wreath.
2. Material: Selected and made of high quality material. High quality simulated magnolia leaves, colorful foam berries, silk pine needles, strong rattan base, composed of this realistic and durable beautiful wreath.
3. Features: distinctive autumn colors. Beautiful handmade wreath incorporates the colors of autumn, very representative of home decor, can be incorporated into any fall home decor.
4. Application: Magnolia leaves wreath is very suitable with front door decoration, make your front door attractive, welcome you and your family into your home. You can also hang him on your kitchen, fireplace, walls, windows, and let it accompany you through a warm autumn day.
5. Note: The garland can be used indoors and outdoors because some of the leaves are made of silk, if used outdoors it is recommended to hang it on a covered porch.
3. Nice Person With Something To Prove Lives Here
So what if your neighbor Cathy thinks your garden lacks compared to hers. She'll shut her Cathy mouth up as soon as she gets a glance full of this wreath.
This wreath screams "I have my sh*t together, Cathy" while also reminds Cathy that, unlike her, you are willing to take risks.
Because you aren't afraid to adorn your winter wreath with real orange slices and apples, in a neighborhood prone to bears.
Related: Idiot-proof ways to make more money for Christmas this shopping this year
4. Very Rich Lady Lives Here
If anyone ever questioned if you are a wealthy person with class and character, they will wonder no more when they see this wreath on your door.
Birds lounging on a completely symmetrical array of pine cones? Clearly, you have a refined taste.
5. Important Queen B Lives Here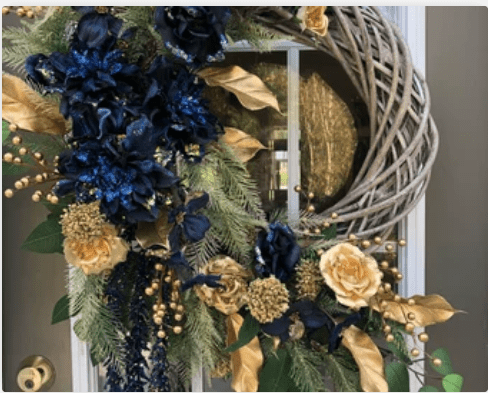 Watch out - someone fabulous and dramatic lives at this house. Oh, it's you.
Your dinner guests wouldn't dare arrive at your door without classy hostess gifts in hand.
You deserve it and we all know.
Best Christmas Wreaths To Flex Holiday Prowess Over Your Hood - Conclusion
Choosing a great Christmas wreath that will impress your stupid neighbors doesn't have to be a drawn-out or boring process.
Simply select your mood from above and then get back to enjoying what matters this time of year.
The new season of Vanderpump Rules.
You May Also Love
Sale
Kederwa 2 Pack Adjustable Wreath Hanger, Over The Door Wreath Holder from 15"-24'' Metal Wreath Hook for Christmas Wreaths Decorations
☞【Fit Door-thickness Below 1.8inch】: Updated ajustable wreath door hanger, 15-24 inch adjustable height, Overall width 1.2inch, Over Door hook Width 2.1inches, ensures perfect placement of your wreath.
☞【Soft Foam to Protect Your Door 】: The side contact the door have the soft foam to prevent scratching your door, and the door wreath hanger only be 0.04" thickness, won't interfere with your door opening or closing.
☞【Rustproof & Sturdy Metal】: Smooth galvanized metal surface outside, the wreath hanger made of good quality metal is hard to bend it, can hang up to 20lbs. The Smooth touching won't hurt your hand or the door and being stainless.
☞【Ideal Xmas Decoration Hanger】: The Large door hanger fitted with festival atmosphere and decorations, also suits to hang your daily items, hat, coat, handbags or other daily accessories.
☞【Multi-functional】: Fits not only the front doors, the adustable height also suitable for the garage door or basement door. Over the door wreath hanger not only use in holiday, Christmas decorations but also perfect for hanging your hat, coat, handbags or other daily accessories.
Valery Madelyn Christmas Ball Ornaments Decor, 60ct Luxury Red Gold Shatterproof Christmas Tree Ornaments Value Pack for Xmas Decoration
【Original Design 】Valery Madelyn is a retail brand adhering to original designs. The design is inspired by the luxury modern home style. when the baroque luxury red and gold ball ornaments are integrated into your family, they can truly show the value of luxury. Invite your Family and friends to experience this luxurious Christmas season together in the holiday
【Exquisite Craftsmanship】Christmas balls Ornaments includes 3 special finishes: shiny, matte and glitter. Each Christmas ball is blow-molded and then hand-painted. Multi-finish and novelty shape ball ornaments meet all of your favorite tree decoration
【Premium Quality】Each ball is pre-tied with cap and string. These balls are made of durable and eco-friendly plastic to provide excellent shatterproof ornaments. These shatterproof Christmas tree ornaments are unbreakable practicality of plastic. Ideal for families with kids and pets
【Application】 This set of 60 Christmas ball ornaments, each measuring 1.57-3.15 inches/4-8cm, is suitable for use as a 6ft Christmas tree, tabletop decoration and DIY for wreaths or garlands, and also makes an excellent gift
【More Choices】Christmas Balls greatly match with luxury red and gold theme products like tree skirt, stocking, tree topper, wreath, garland and Christmas ornament set