7 Best Vegan Organic Pillows to Sleep On in 2023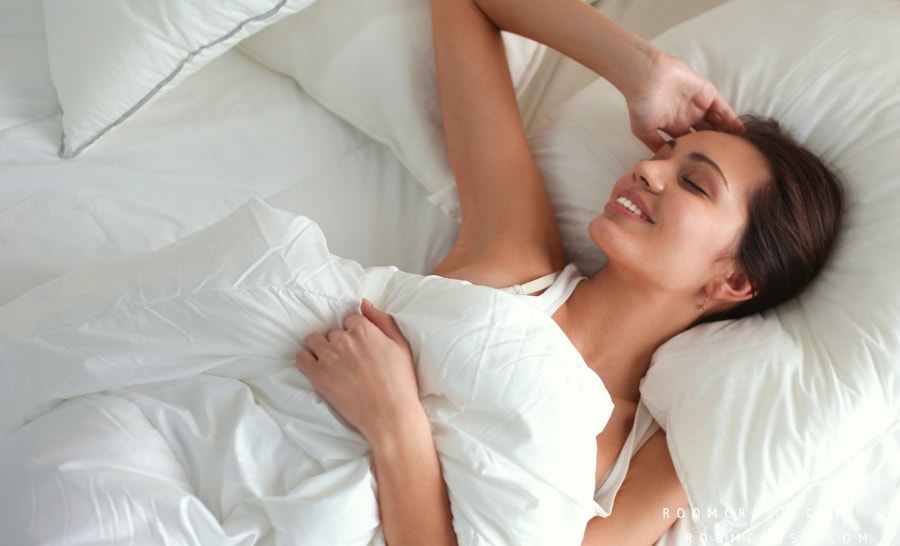 We found the best organic pillows! We know that 'down' is cruel and to be boycotted at all costs. If you are on a mission to upgrade your home with luxurious cruelty-free sustainable items then this is for you.
You spend A LOT of time hanging out in bed, and a ton of it sleeping on your pillow. If you want quality sleep (and you do), it's time to think about upgrading to one of the best organic pillows.
Not only are organic pillows a natural and sustainable option, but they often help provide a considerably more comfortable sleep.
Whether you're looking for organic pillows that you can take on the road or simply something comfy for in your bed, we've got you covered:
---
7 Easy Home Updates eBook: Free!
Today, get a free copy of our ebook that shows you 7 simple updates you can make in your home this weekend that will make your home look expensive and increase its value. Tell us where to send your free copy:  
This site uses ads and affiliate content as an Amazon associate earning on qualifying purchases. Disclosure.
---
The Best Organic Pillows You Can Sleep On
Yesterday we shared the best organic bamboo bedding and today we are going deeper and taking a closer look at the best organic pillows.
1. Naturepedic Organic 2-in-1 Latex Pillow
If you want a pillow that you can customize to your preference, the Naturepedic Organic 2-in-1 Latex Pillow is for you.
Made from organic cotton and natural latex, this heavenly sleep assistant provides a luxurious feel.
It has a unique 2-in-1 design that's built to cater to your comfort – there's a quilted side that will help ensure your head doesn't sink in too far, and a stretchy side that can give you a little more depth.
The BIG benefit of shredded latex is that it doesn't go flat. Instead, it remains resilient and responsive, providing you with lasting comfort.
It's designed to be hypoallergenic, perfect for sensitive sleepers.
However, the customization can be a bit of a pain because finding your right fill takes a bit of time.
Thanks to the shredded latex, this pillow never goes flat, meaning you'll always get the same comfort night after night!
PROS
CONS
Adjustable
Organic
Customizable
Takes a while to customize
An investment (but worth it)
2. BOLL & BRANCH Down Alternative Pillow – Luxury 100% Organic Cotton
We love that Boll & Branch has a "vegan down" organic pillow made from animal-free natural materials.
The Down Alternative Pillow is so comfortable!
Regardless of the density, each pillow is wrapped in a shell that's made of 100% organic cotton threads.
Each piece of material is tripled washed to ensure you get maximum comfort.
Your sleep and peace of mind deserve this pillow, definitely consider giving it a try.
PROS
CONS
3 chamber construction
Ethically sourced material
Great for ANY kind of sleeper
You need to pick density then adjust first – but soft can't be adjusted to Medium or Firm (vice versa)
Costly (but worth it)
3. Organic Body Pillow by The Futon Shop
It's not just your standard pillow that can be organic – body pillows are a great option. If you want a healthy and sustainable body pillow choice, look no further than the Organic Body Pillow.
This hand-made pillow option is chemical-free and comes in three convenient sizing options.
It's a fully organic cotton option that features both an organic cotton outer and between three and five pounds of organic cotton fill (depending on the pillow size, of course).
What we like most about this body pillow is that as far as natural pillow options go, it's not ridiculously priced. It'll cost you more than your average pillow, but it's seriously worth it – especially since you're getting a full-body pillow.
If you're looking for a healthy and sustainable choice when it comes to body pillows, look no further than the fully organic cotton body pillow!
This handmade pillow is chemical free and comes in three size options, with a 3 to 5 lbs of organic cotton fill. The outer shell is also made from organic cotton, making this the perfect choice for those who care deeply about their health and the environment.
PROS
CONS
3 size choices (including a mini)Fully made of organic cotton
Natural and sustainable
Not customizable
4. Organic Mini Pillow by Avocado
If you want the PERFECT travel pillow, the Organic Mini Pillow is for you. Avocado makes some comfy choices, and this one is the perfect companion for your next plane ride or road trip.
This mini pillow is made with non-toxic, safe and breathable organic certified and renewable kapok fibre, along with 100% organic latex certified.
It's 20 by 12 inches and weighs in at 0.9 lbs. There's an additional 0.5 lbs of fill so you can customize it how you want. The small size makes it easily packable and portable. This vegan-approved option is made to be cool, light and airy.
But not only is this pillow made to be portable and easy to pack, but it's both supportive and breathable. Get yourself something cute and comfy to bring along with you, but note that this is NOT a pillow that's designed for the toddler in your life.
PROS
CONS
Perfect travel pillow
Cute and comfy
Vegan approved
None
5. Neck Roll Organic Kapok Pillow by Bean Products
If you're looking to add a little luxurious comfort to your sleep routine, the Neck Roll Organic Kapok Pillow by Bean Products is for you.
This bad boy is crafted with 100% organic cotton fabric and a 500-thread count sateen finish.
Overall, it's silky, lightweight and fluffy.
What's best is the fiber comes from responsibly harvested Kapok trees in the rainforest – perfect for those looking to live a more clean and natural life.
The oblong shape of this pillow offers great support, while providing great support for under your arms.
This luxury pillow is built with lumbar support in mind, and it naturally molds to your position.
If you haven't yet added a neck roll to your pillow collect, we highly recommend checking this one out. 
PROS
CONS
Perfect for lumbar support
Lightweight and fluffy
Molds to your position
Not as customizable as other options
6. Buckwheat Pillows by PineTales
PineTales has a great collection of Buckwheat Pillows, ranging from travel to standard size.
Each pillow has a matrix-designed, soft, removable pillow case – there's no need to buy any extra ones. These pillows are fully adjustable, there is a zipper on both the inner and outer layers so you can add or remove hulls if it's not quite as comfortable as you need.
This particular pillow is great for combo sleepers. While it's firm and supportive, it doesn't feel hard like memory foam (or other like pillows). Instead the fill is easy to shift around, ensuring you can get the most comfortable sleep possible.
Whether you're on a plane, train, or simply in your own bed, these buckwheat pillows are comfortable.
PROS
CONS
Comes in a variety of sizes
Customizable so you get your perfect fit
Soft pillow cover
None
7. Organic Pillow by Birch
Birch makes a stellar organic and natural sleep solution in the Organic Pillow.
The entire pillow is made with non-toxic material, free of both foam and harsh chemicals.
This natural pillow features a birch wool inner section that's wrapped on all sides with organic wool that enhances breathability and wicks moisture away.
This comfy creation is then zipped into a cover that's made of 100% organic cotton.
If you're looking for something that's designed to be super comfortable and supportive, this is the pillow for you.
The best part is this pillow comes with a 100-night trial – if you don't love it, send it back!
PROS
CONS
100 day trial
Super comfortable
Made of all natural materials
None
Eco-Friendly Pillow Options
Buckwheat
Buckwheat hulls are more firm and supportive than traditional pillows, and they allow circulation that helps you keep cool at night.
This is a GREAT eco-friendly pillow choice if you find that you're a hot sleeper.
However, due to their firmer construction, it might not be the best pillow choice for all sleepers.
Kapok
If you love a good down feather pillow (but don't want an actual down feather pillow), Kapok is for you.
This fluffy material comes from the Ceiba tree in South America and can be harvested without having to cut down the tree, making it a vegan and cruelty-free down feather alternative. 
Not only that, but this pillow-making material is fully compostable and biodegradable. Pillows made from this material are comfortable and safe to sleep on.
Organic Cotton
Organic cotton can be used as a breathable cover and filling for eco-friendly pillows.
It helps create something that's firm, but not too firm. It's worth noting that many "organic" cotton pillows only refer to the case and not the actual fill, so double-check what's actually inside the pillow to make sure it's a sustainable choice.
Organic wool
If you struggle with allergies, organic wool is for you. This pillow-making material is resistant to dust mites and mildew, making it a great choice for the average sleeper.
What we like most is organic wool makes some of the coolest pillows, perfect for those that are hot sleepers.
Why Is It So Important To Sleep On High-Quality Organic Pillows?
Getting a good night's sleep is essential for overall health and well-being.
Having a high-quality pillow made of vegan materials, including organic cotton, can help improve the quality of your sleep in several ways:
Comfort: A pillow made from organic cotton is soft, supportive, and breathable, which means it can help you sleep comfortably throughout the night.
The natural materials used in the pillow can also help regulate your body temperature, keeping you cool and comfortable.
Allergies: Many people are allergic to synthetic materials found in regular pillows, which can lead to irritation and discomfort during sleep.
A pillow made from vegan materials like organic cotton is hypoallergenic and free of synthetic materials, making it a great choice for those with allergies or sensitive skin.
Environmental impact: By choosing a pillow made from vegan materials, including organic cotton, you're making a more environmentally friendly choice.
Organic cotton is grown without harmful pesticides or synthetic fertilizers, making it a sustainable and eco-friendly choice.
Ethical considerations: A pillow made from vegan materials ensures that no animals were harmed in the production of the pillow.
7 Best Vegan Organic Pillows to Sleep On – Conclusion
Overall, a high-quality pillow made from vegan materials, including organic cotton, can help you sleep comfortably and soundly while supporting the environment.
Read this next: