Outdoor Shower Ideas: 40 Ways To Create A Backyard Oasis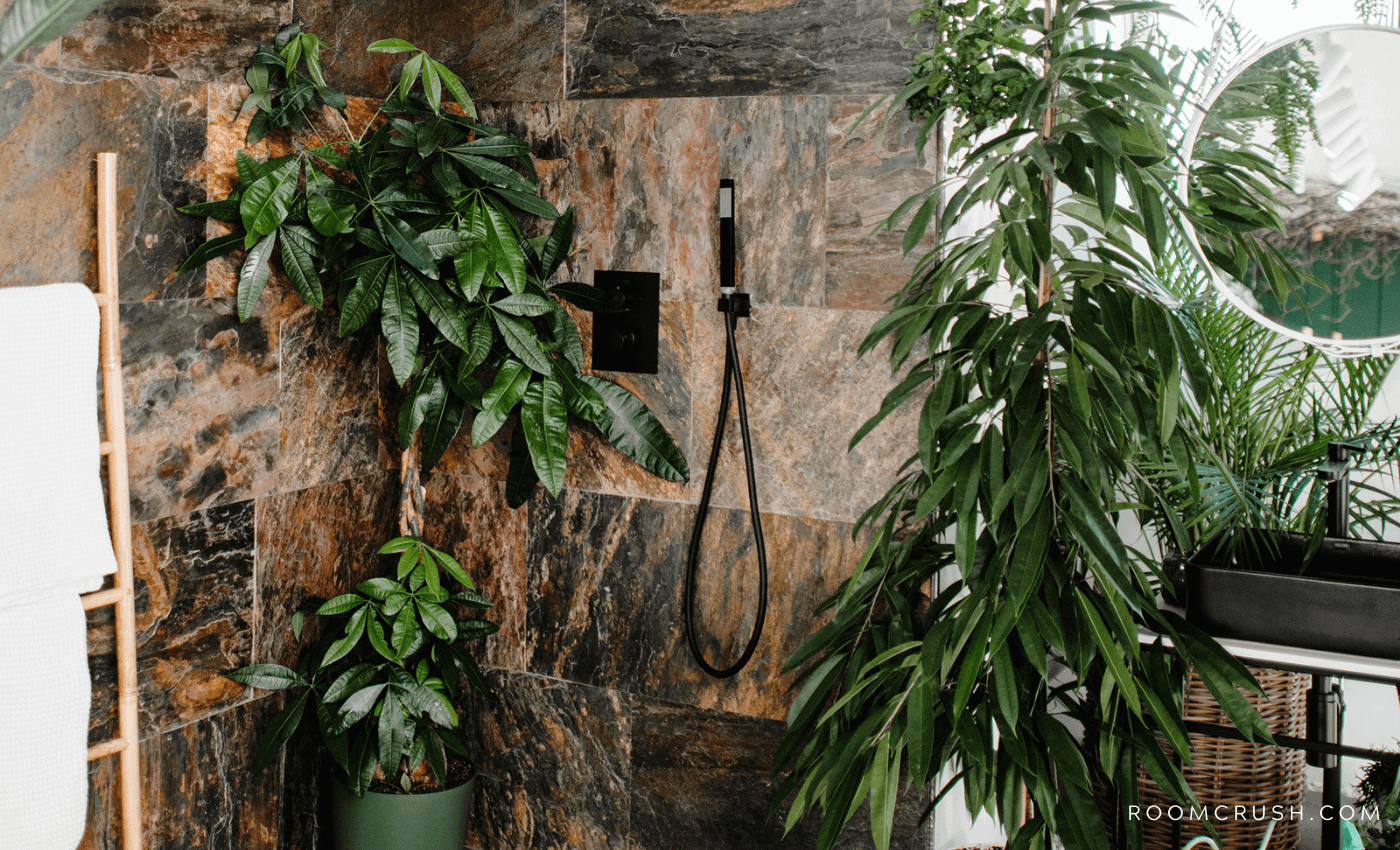 Looking for some excellent outdoor shower ideas and inspiration? This is the ultimate guide to styling an outdoor shower in your own backyard!
While many backyard renovations or remodeling projects can cost quite a hefty note, outdoor showers are one of the most affordable landscaping design ideas to try.
Whether you have a small backyard or a big one, an outdoor shower can fit literally any space.
In this article, we share some of the best outdoor shower ideas to help you create a backyard oasis.
---
7 Easy Home Updates eBook: Free!
Today, get a free copy of our ebook that shows you 7 simple updates you can make in your home this weekend that will make your home look expensive and increase its value. Tell us where to send your free copy:  
This site uses ads and affiliate content as an Amazon associate earning on qualifying purchases. Disclosure.
---
Outdoor Shower Ideas: 40 Ways To Create A Backyard Oasis
Summer is here, and our backyards are calling for a quick spruce-up.
With summer in full swing, we always yearn for the outdoors—not just dining outdoors but also bathing and showering al fresco!
You can have a professional build an outdoor shower in your backyard, or even try a DIY project if you are handy and well knowledgeable in outdoor construction.
Here is a DIY guide on how to build an outdoor shower. 
Now, check out these incredible outdoor shower ideas to inspire your own outdoor shower space!
If installing an outdoor shower is your next major home improvement project, it is best to hire a seasoned plumber who is well-versed in outdoor shower construction.
In most cases, buckled or broken tiles, as well as poor drainage, are common problems with DIY installations.
Landscaping Tip…
A simple outdoor shower can be made by hanging a tubing connected to a garden hose and a sturdy showerhead from a suitable height and allowing the water to drain into the ground or through a bed of stones underneath your feet.
This, however, may be a breach of local laws.
So, if you envision a natural setting for your outdoor shower, many municipalities will require outdoor showers to follow building codes, meaning you may need to install drain pipes to carry wastewater away.
This contributes to the protection of groundwater quality and the city's drinking water supply.
Bathroom Accessories For Your Outdoor Shower
To complete your outdoor shower, you need bathroom accessories including:
Outdoor Shower Ideas To Create A Backyard Oasis
Without a doubt, there is nothing more opulent than a home with a private shower in the backyard. From rustic and tropical to luxurious, scroll our round-up for inspiring outdoor shower ideas!
1. Fully Exposed Outdoor Shower
This is perhaps the easiest kind of outdoor shower you can build. If privacy is not a concern for you, go this route. Create this wall-mounted shower installation requires nothing more than using assorted pipe fittings, and a showerhead near a water access point. Add towel hooks for convenience.
2. A Stone Cave?
Designing your outdoor shower with stone makes it look very organic. Whether you have a large rock within your yard that can add a focal point to your outdoor shower, or you build a stone enclosure or have your shower mounted on an artistically jointed Mazeras wall, your choice!
Showering in this kind of bathroom makes you feel one with nature as the water gushes out. Amazing!
3. Curtain Call
Shower curtains are terrific for outdoor showers. They add a sense of privacy and you don't need to use them close to a wall, because they can be free-standing as well.
Just choose the right one.
You May Also Like: Do you Need a Shower Curtain? Here's How to Choose & Maintain One
4. Wooden Walls
Wood is a popular material for building outdoor showers, especially when you need an enclosure for privacy, or just a new wall for fixing your shower.
Wood is also an excellent example of an environmentally friendly material because it is biodegradable and organic, with the lowest carbon footprint of any equivalent building material.
Hence, a more sustainable outdoor shower.
Since wood blends so well with your natural environment within the yard, it adds a sense of continuity to your landscape.
Whether you use wooden screens, timber boards, or slatted beams, you will love the overall look.
Just be sure to get your wood treated for longevity. Add some tall plants in your outdoor shower for a complete design!
5. A Tropical Jungle
Create a simple tropical rainforest within your yard by growing tall plants and trees nearby. This also adds color to your outdoor shower and promotes a much-desired fresh breeze.
Go for plants with large leaves and distinct shapes, wall-climbing plants are perfect too! Plant with beautiful blossoms will also look great in a tropical outdoor shower!
Banana plants are great as they thrive in areas of high humidity, a lot of moisture and warmth.
You May Also Like: 10 Ideas To Update Your Boring, Old, Tiny Bathroom Stylishly
Palm trees are also lovely, but keep the young trees in planters because their root systems are extensive and invasive, and they will seek moisture at any expense. If planted near enough to your outdoor shower, the tree will erode the ground and search out and destroy underground plumbing.
You May Also Like: The Best Indoor Plants For Beginners- Expert Tips For Beginners
Trust us, the sound of gushing water from the showerhead and its cold feel will complete the look of your rainforest-inspired outdoor shower.
6. Surfer's Paradise
Instead of throwing away your surfboard, recycle it into your shower system's support for a unique shower idea.
You can also display it as a decorative item in your outdoor shower.
7. Sleek & Minimalist
This modern yet charming outdoor shower features clean white walls, patterned wall and floor tiling, stylish showed features, and modern amenities.
Wall-climbing foliage gives it bright colors and warm tropical touch.
It is very pleasing and calming on the eye with simplistic lines and screams clean!
Being in such an uncluttered space is perfect for starting the day with a clear head, or to unwind in before sleep!
8. Bamboo Land
Bamboo walls instantly creates a unique vibe in your outdoor shower.
I mean, I can only think of a Bali vacation right now!
Bamboo is also a modern and environmentally friendly alternative to mahogany or cedar walls.
Its popularity is due to its ease of installation, maintainance and durability.
Tonkin bamboo canes are the most suitable bamboo species for covering bathroom walls because they are less vulnerable to sudden changes in temperature and humidity.
9. Zen-Inspired
These outdoor showers take inspiration from the pure, Zen-like aesthetic of Japanese design.
They are uncluttered and allow you to relax in complete privacy while showering in the open sky. Any spa will borrow these outdoor shower designs.
You May Also Like: How to Transform your Bathroom into a Home Spa
Landscaping Tip…
Consider winterizing your outdoor shower once the cold weather sets in.
To withstand months of freezing temperatures, a permanent shower built in a cold-weather environment needs frost- and rust-resistant fixtures.
Install shut-off valves in a climate-controlled area of your home so you can turn off the water and drain the outside pipes in the winter to save them from freezing and bursting.
Looking to build an outdoor shower in your yard? Which of these outdoor shower ideas would you go for?
Related – is your outdoor space Summer ready?
Pin this: