What Is Urban Farmhouse Decor Style?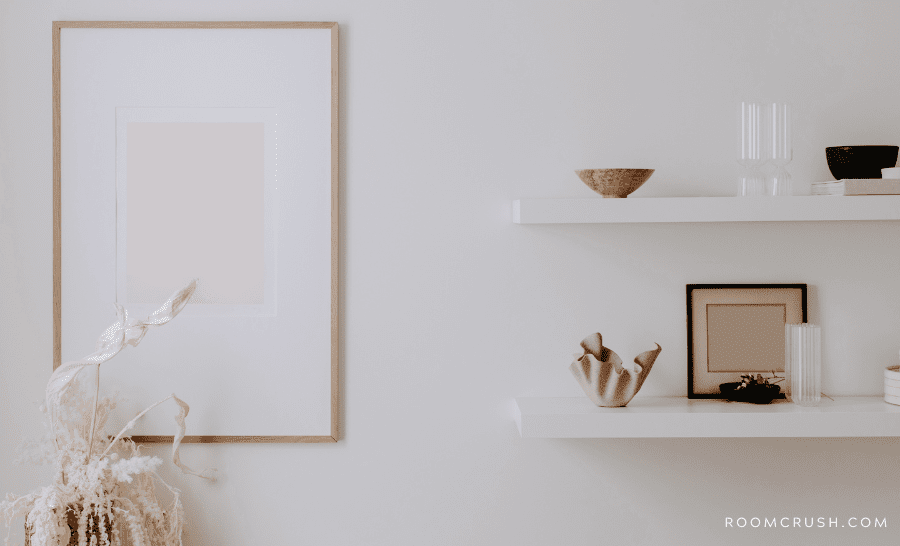 You might be thinking, what in the world does urban farmhouse look like?
To make your interest deepen, I'll say that urban farmhouse is a home decorating style that brings the vibe and feel of a farm right to the middle of an urban city.
Sure it has a cozy, casual hybrid style as it blends with traditional and contemporary home elements. It plays beautifully by mixing neutral colors with metal and natural elements.
You can impeccably transform your own old home into an airy and orderly urban farmhouse. Before I get to more profound exciting talks, let me tell you that the idea of bringing the farmhouse to the city is becoming all rage.
---
7 Easy Home Updates eBook: Free!
Today, get a free copy of our ebook that shows you 7 simple updates you can make in your home this weekend that will make your home look expensive and increase its value. Tell us where to send your free copy:  
This site uses ads and affiliate content as an Amazon associate earning on qualifying purchases. Disclosure.
---
Maybe most of us are so stressed about day-to-day events in life that we wish to get to another dimension where we want to chill and release those stress and tiredness.
home styling is hybrid and comforting. It brings the idea of blending the traditional and contemporary style peppered with natural and industrial elements." data-pin-title="All About Urban Farmhouse Decor Style" />
What Is Uban Farmhouse Style?
Urban farmhouse style is a modern take on the traditional farmhouse aesthetic. It features simple, clean lines and natural materials like wood and stone.
Urban farmhouses are often located in cities and suburbs, as opposed to rural areas.
This allows for easy access to fresh produce and other supplies needed to run a farmhouse. Urban farmhouses also often feature rooftop gardens and other urban farming initiatives.
Why Is Farmhouse Style So Popular Nowadays?
Many city dwellers are not lovers of modern, glass-everywhere and fancy polished concrete design elements of a building.
Most of the city residents set up their homes in overly populated areas for work reasons.
When they feel the stressful life of a city, they tend to travel and go back to the countryside and crave the cozy and relaxing feel of their farmhouse while reminiscing the happy moments of their younger years.
That is precisely how the concept of the urban farmhouse was born!
The home restyling enthusiast introduces the way of bringing and transitioning your decor to an urban farmhouse style home.
This kind of home styling is hybrid and comforting. It brings the idea of blending the traditional and contemporary style peppered with natural and industrial elements.
The Urban Farmhouse Style Is Becoming a trend
In recent years, we already notice the rise and mainstreaming of the popularity of this home styling.
However, the country-home style of decor is not new at all.
Many of us grow up with a kitchen made of a brick accent wall, oak kitchen cabinets, and wallpaper border with images of pigs, chicken, and cows.
The farmhouse that we see today is getting the inspiration for "farm life." It means many of us are wanting to go back to the experience of living the natural way.
We love to taste and feel the all-natural comfortable lifestyle. This feeling is what an urban farmhouse can give.
Design by Kimball Modern | Photo Credit Dane Cronin Photography
Four Keys Factors That Make Urban Farmhouse
1. It Gives Warmth and Is Inviting
After a day's work and stressful, busy streets, each one of us will want to go to a place where we can feel the warmth.
We want a place where we can express ourselves, and we think that whatever we think, say, and act, the place will give us that kind of comfort.
Besides, when we keep on inviting guests and friends, we want our home to become approachable.
We want every individual to feel comfortable and become part and equally feel happiness. In other words, it needs to feel "homey."
2. Pretty and Versatile
Since there are no hard and fast rules of decorating a farmhouse concept, you can always mix different styles like industrial peppering them with traditional ideas.
A country-style inspiration is too flexible, depending on your taste and comfort.
3. Family-Friendly
The materials you will use, and the finishing style are indeed relaxing in nature. The styling works for any family.
The aged-looking furniture, wood-based decor, and distressed-metal-based and dull finishing will add the character that all family members will surely feel at home.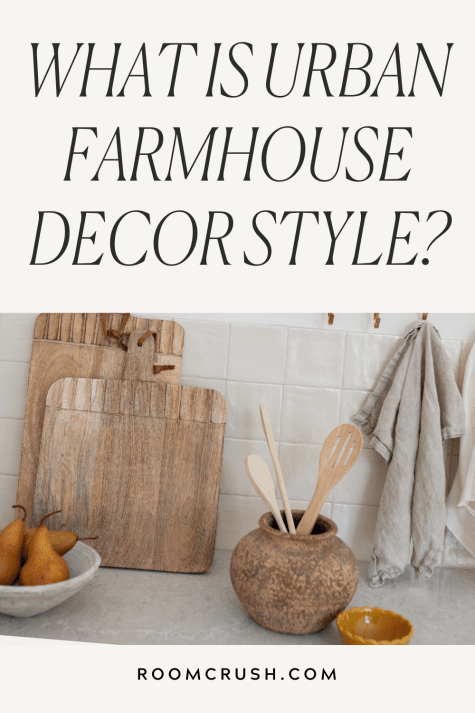 4. Decor Is Everywhere
No need to buy fancy and expensive decor. They can be found everywhere. Many of the urban farmhouse enthusiasts prefer to find items in a flea market.
Some can be bought on eBay or Amazon.
We are all exposed to these kinds of items and styles every day.
We only need to see the value and complementary of this decor to make our home cozy for an urban farmhouse.
What Is Modern Farmhouse Style?
A modern farmhouse home styling is a "country" inspired home décor styling. It is a combination of modern and urban inspiration.
This means, you do not need to reconstruct your own home in the middle of a city.
When you want to transform your home to an urban farmhouse, the right mixing and complementation of country-inspired home décor is the ultimate secret.
When you add in more tech and contemporary items, the modern farmhouse style turns into urban farmhouse style.
Design by Kimball Modern | Photo Credit Dane Cronin Photography
Pieces of dull finishing, driftwood, barn wood, used decor item, old windows, pickle jars, brick walls, an image of farm animal, and more blending to modern influence like monotone decor of grey and white will make your urban farmhouse modern style perfect.
Many people think that a country-inspired home will look clutter. The truth is that urban farmhouse modern style looks cleaner.
The floating shelves, wood bead garlands, and recycled glass vase in a stunning floral arrangement will sound and feel natural, clean, and organized.
10 Ways To Bring The Urban Farmhouse Style Into Your Home
Soon enough, you will be bringing the nostalgic farmhouse feel blending in the environs of a city that will not look out of place.
For sure, you will get excited to be one of the trending homes in your city.
Here are our top tips that I want to share with you:
# 1 Mix Different Materials
Always remember that natural elements are the ones that bring warmth to any home space.
Try the sleek wooden farmhouse table, place a back bar at the back, black metal bistro chairs, or rattan chairs in a tan color, surely you want to be always at home.
Undeniably, leather cushions can be a great compliment to give a contemporary twist.
# 2 Play With The Contrast Of Your Materials
The warmth will effectively come out with your woods and fabrics when you play with contrast. For example, this can include onyx and marble.
Not only will your home interior look cool, but you don't need to build a new kitchen counter. Instead, build contrast with marble and onyx accessories, such as coasters and plates.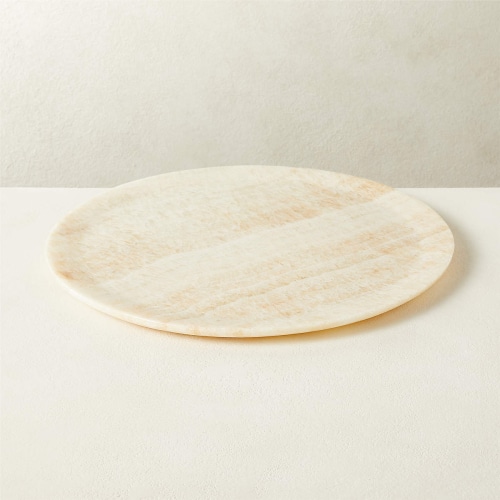 One piece of furniture can also include contrasting materials. For example, we love the side table pictured below for its combination of rustic wood and luxe white marble:
# 3 Don't Be Intimidated By Contemporary Elements
Materials and items with a high-gloss surface and lustrous metals are great contemporary styles.
One easy way to incorporate metals into your interior design is to get metal flatware in gold or copper tones.
Add some traditional accessories with modern shapes such as lanterns, and your home will surely look amazing!
# 4 Animals and Quotes Are a Trending Urban Farmhouse Style
Print-on-demand designs of quotes and animals are one of the top trending decor items that will suit anyone's budget.
Another trick is adding real or faux potted plants . The technique is useful in giving life and color to a dull space.
It will also complement the wood and metal-based materials. Some of the popular indoor plants are Pilea, Fiddle Leaf Fig, and Herbs.
Other popular indoor plants that are perfect for modern farmhouse are succulents.
If you are a busy person but wish to stay in a warm and caring urban farmhouse home style and you do not have time to water plants, succulents will be perfect.
# 5 Make A Statement
The wall can be an excellent start to kick-off your statement. Some enthusiasts put up removable wallpaper, like this one: NextWall Wildflowers Peel and Stick Wallpaper (Multicolored)
The good thing about wallpaper is you can change it anytime you want.
Also, there are various and endless designs to choose from that will fit your taste, character, and statement.
Another trick that I never thought would work best is the use of rustic rugs and animal patterns.
I thought it would look cluttering and hard to blend with metals and wood. But I found out it works best and looks fantastic!
# 6 Make Sure Everything Blends
The best color scheme that I want to recommend are palettes that reflect life on the farm. These are earthy tones and colors of eggs, hay, and grass.
For woods, I prefer to see whitewash colors because it is a typical element of a farmhouse style. The whitewash color will create more of a modern farmhouse-looking home.
Mix it with an iron door, or cabinet pulls, your home will look gorgeous!
Sale
5-1/16" (128mm) Francisco Bar Pull, 10 pk
STYLE - Soft Iron is the ideal component to any wood stained or painted cabinets and drawers.
PERSONAL - Adding cabinet hardware is the perfect way to add your sense of style to your home décor. A simple change can make a huge impact on the look and feel of any room.
INSTALLATION - Home Improvement made easy. Standard installation hardware is included. 10 Pack for larger projects and replacements.
PACKAGING - Packaged individually to protect finish.
# 7 Give Importance To Lighting
Don't forget that lighting features are essential to accent your modern urban farmhouse.
The combination of a wooden framed chandelier integrating the rope and twine plus the mix of metals will surely add a spark to your lighting!
You can also get a glass pendant chandelier, which really adds to the rustic look when paired with Edison bulbs.
The lights will also emphasize your materials and statement. If you need some advice on lighting this post will help – How Important is Dining Room Lighting?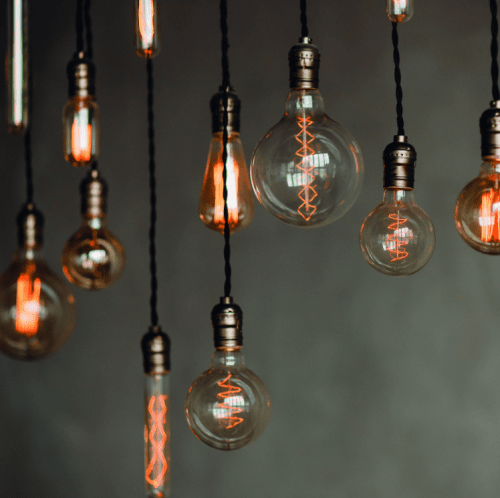 # 8 Balance The Textures
The secret to a home texture is in the pillows and throws. You can opt to use leather, wool, sheepskin, furs, and velvet.
Nowadays, there are many vegan versions of these materials that look just like the real thing, especially vegan leather and suede!
# 9 Accessories Can Be Good Players
Get those old bowls and fill them with acorns, leaves, and pine cones and place them on a side or corner table.
Old jugs and vases with flowers or feathers are perfect to compliment your texture. Using these old items, you can creatively bring the mother-nature feel to your home.
You can also do something similar to your kitchen. Wire baskets, open shelving, and large old glass jars where you put ingredients are fantastic complements.
Use aprons that are grey in color or natural tones to complete the stunning vibe of your urban farmhouse kitchen.
# 10 Furniture Plays A Huge Role
A weathering or reclaimed wood piece of furniture is the perfect fit for a modern farmhouse.
If you have a coffee table and you want to do a makeover, I would suggest making it look weathered to complete your urban farmhouse home style statement.
What Is Urban Farmhouse Decor Style? –  Conclusion
Amidst the busy streets of life in an urban city, there is always hope to find relief in the comfort of your home.
If cold, minimal, or uber-modern spaces are not your style, but you aren't into the "full farmhouse" look, then blending your design into the urban farmhouse style may be perfect for you.
Take time with your home today and transform it into a home style that will fill you with joy.
For More Design Inspiration, You'll Love:
How To Create A Scandinavian Interior Decor Style
How To Nail The Organic Modern Interior Decor Trend