7 Instagram-Worthy Summer Patio Essentials
Let's talk about Summer patio essentials: Looking for some ways to prepare your patio for summer?
Wondering how you can spice up life in your backyard? Bored about having only the trampoline in place for the kids to jump up and down?
Then it is about time you installed a patio garden in your backyard which provides a potential space for outdoor relaxation.
Add some ambiance to your patio, no matter how small or large with these summer patio essentials!
---
7 Easy Home Updates eBook: Free!
Today, get a free copy of our ebook that shows you 7 simple updates you can make in your home this weekend that will make your home look expensive and increase its value. Tell us where to send your free copy:  
This site uses ads and affiliate content as an Amazon associate earning on qualifying purchases. Disclosure.
---
7 Summer Patio Essentials To Make Your Outdoor Space Instagram-Worthy
If you have a yard and a patio space, you can make it gram-worthy with a few key items.
We will share what those are in this article. 
But if you live in an apartment, don't worry, because we have some great tips to help you make the most of your balcony over here!
To style my patio space for this article, I aimed for finding pieces that had function and affordability.
First, I sourced these two teak finish lounges, which you can score at Walmart: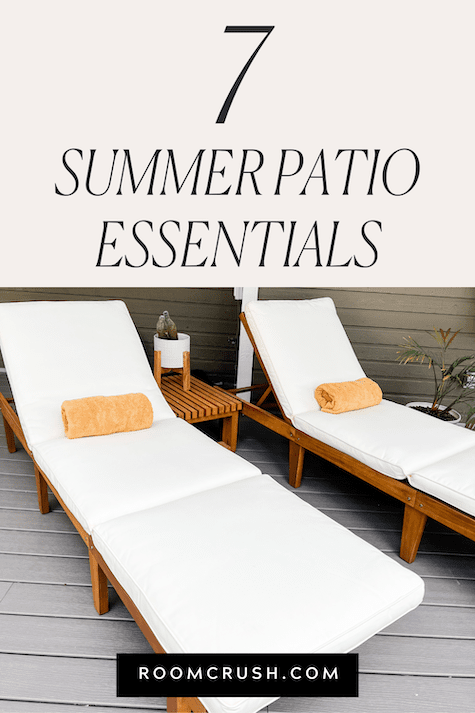 I love the color of the wood, as well as the white cushions. Adding a couple of rolled-up towels gives it that hotel pool feel.
Next, I was tasked with styling the covered seating area.
For this, I already have one outdoor seat, so I just needed two love seats to match.
Of course, I absolutely adore the Sunset Teak love seat ay CB2.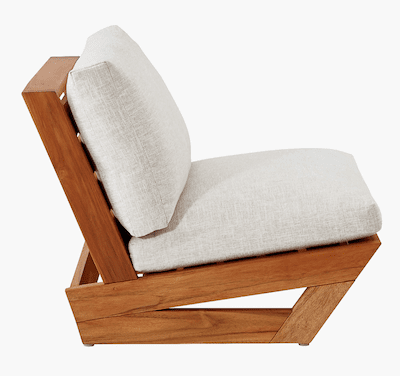 And in hindsight, I wish that I would have purchased the real deal from CB2.
But because I was pulling items specifically for this article, I needed furniture that would arrive fast.
I couldn't wait months for CB2, so I instead went with a similar loveseat as you can see below: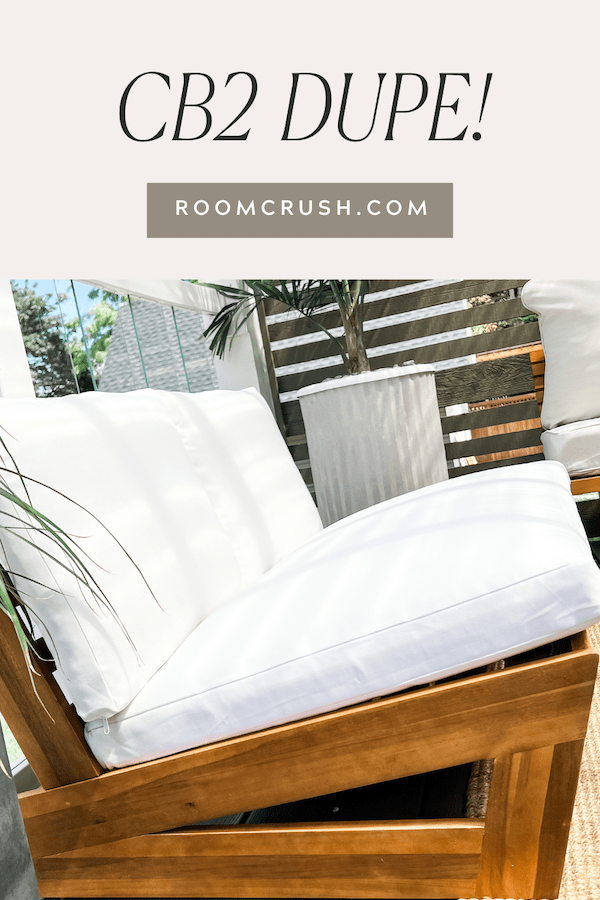 You can also get these loveseats from Walmart. 
To be fair, they really are a pretty good CB2 dupe. They look almost identical, were easy to put together and they do the job.
Also, you certainly can't argue with the price.
The biggest difference is the cushion. As you can see from the two images above, the CB2 cushion is much plushier. 
Next, I purchased an outdoor coffee table, which, when it arrived was not the right color. It was supposed to be teak-colored like the rest, but I received a weathered grey color. 
No biggie! A coat of black paint and we were good to go. 
Finally, some lights, and a few potted palms, and voila!
All in all, we love how our Summer patio styling turned out.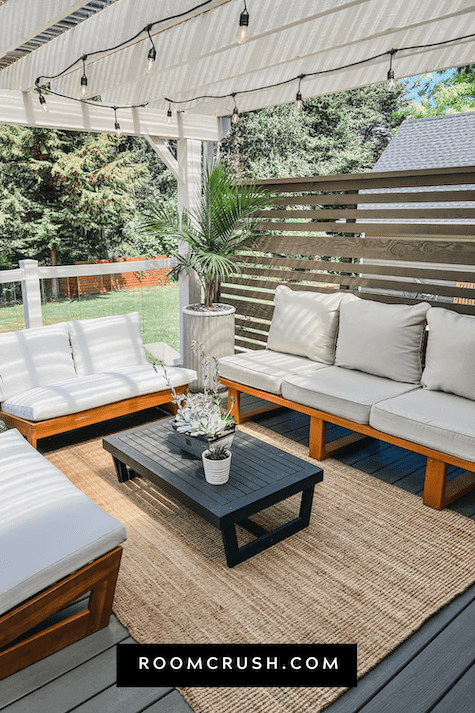 Read on for some more ideas, for what items your need to build your own Instagram-worthy patio. 
1. An Outdoor Daybed
Nothing beats the feeling of relaxing outside when the sun is up in the sky, right?
Instead of visiting a swimming pool in order to relax on the poolside bed, simply make your patio summer-ready!
First, get a day bed! (I love this one). 
Outdoor beds are normally designed to be waterproof but if yours not, simply keep it under the shade structure on your patio.
An outdoor daybed will ensure you enjoy your summer in style!
2. Patio Umbrellas
With an outdoor patio umbrella, you will have good shade and protection against the summer sun.
You can get a table umbrella, a free-standing umbrella, or even a tilting umbrella.
When choosing an umbrella, choose a frame design that uses more flexible materials like wood or fiberglass unlike string material like aluminum which is easily damaged in case of a sudden windstorm due to its lack of flexibility.
Also ensure the fabric is lightweight, strong, stain-proof, fold-able, and waterproof to ensure its longevity.
3. An Outdoor sofa
An outdoor sofa? Yes, you need that!
When you need to take drinks outdoors while chatting to some businessmen, that sofa will come in handy!
Throw atop some cushions and enjoy the comfort! Outdoor sofas can be so durable. But if you doubt this, then get a sofa cover.
If you love luxury, you can go ahead and get a chaise lounge instead of a sofa.
4. Hang a hammock
Think about a hot Sunday afternoon when you need a nap and it seems so hot indoors.
You might consider a hammock nap or a porch swing nap, right?
Well, the day bed in your patio is good but a hammock or a porch swing?
Even better because as much as it adds more space to sit in your patio, it is also a nice spot for that afternoon nap.
5. Picnic table
Remember the last time you had an outdoor dinner under the enchanting shine of the stars?
Install a picnic table or a bistro table with chairs and viola, a perfect place to sit and eat!
6. BBQ Station/ Outdoor Grill
Summer is the season for bbq parties so it is better to start planning for the same.
While organizing bbq parties, it is important to have a venue in mind- and the best place for that is in your backyard patio.
Some people are lucky to have an outdoor kitchen but if you don't, no need to worry.
Simply set up a bbq station at a comfortable location in your patio and start sending the party invitations!
7. A Fire Pit
Fire pits remind me of bonfire nights. And bonfires remind me of Christmas nights where we sing carols all night long.
But since we have Christmas only once a year, I tend to miss bonfire nights, don't you?
Well, summer nights can be so beautiful over a bonfire: sit down and chat all night while sipping down a coffee shake…I can't wait!
Patios give you the opportunity to reconnect with nature at the comfort of your home apart from adding more value to your home.
You can easily decorate it for summer or fall just by a touch-up of accessories.
You may also like: 
Pin This: