What Are Average Prices For A Garage Door Repair?
When your garage door begins acting up, the first thing on your mind is probably how much it's going to cost for a garage door repair.
This can be a huge issue for homeowners who might not know exactly what needs repairing, and more than likely, they'll want an estimate.
What Is The Average Cost For A Garage Door Repair?
Depending on the size and type of garage door, labor can cost anywhere from $75 to $200 per hour. Parts will typically run between $100 and $500, but it's not unheard of for them to cost more than $1,000.
---
7 Easy Home Updates eBook: Free!
Today, get a free copy of our ebook that shows you 7 simple updates you can make in your home this weekend that will make your home look expensive and increase its value. Tell us where to send your free copy:  
This site uses ads and affiliate content as an Amazon associate earning on qualifying purchases. Disclosure.
---
Many homeowners choose to do repairs themselves to save money.
But if you're not familiar with how garage doors work or don't have the necessary tools, it's best to leave the job to a professional.
Trying to fix something yourself that you're unfamiliar with can often lead to further damage and even injuries.
Frankly, a hospital bill from a DIY injury will cost more than hiring a professional to tackle the job.
How Much Does it Cost to Replace a Garage Door?
Depending on the type of door you choose and the installation, it can cost anywhere from $500 to $4,000 to replace a garage door.
You can also expect to pay an additional $100-$200 for installation.
A metal garage door will be more expensive to replace than if it's made of wood or plastic.
A damaged garage door, or one that needs repairs, will also increase the cost of replacement.
If you're considering replacing your garage door, it would be wise to shop around and compare prices before deciding. Be sure to ask about warranties and installation fees as well.
Average Costs For Small Garage Door Repairs
The cost of any garage door repair can vary depending on the make and model, and for accurate pricing, we advise you to contact a local repair service.
The garage door is your home's largest entry and exit point, making it essential to keep its condition as good as possible.
Here are a few average price points you may incur for more minor repairs on your garage door.
Garage Sensors:
The alignment of your sensors can affect the proximity detection and closing ability of a door.
If you're:
noticing that it's taking an unusual amount of time for doors to close
or they always seem like they miss their target by just enough so as not to make contact with anything at all
then this may be what's going wrong!
The average repair cost ranges from $50-$75. Unless someone has experience realigning these delicate devices themselves, the repair could be free!
However, it could take more than one try of realignment before getting perfect results.
Garage Door Tracks:
While the cost of repairing a bent or dented track can vary depending on where it is located, an average repair estimate ranges from $125-$150.
If some damage has impacted your railway, this could explain why your cars don't always pass through smoothly at specific points along their length.
Contractors will have the tools necessary to get those tracks smooth again in a short amount of time!
Roller and Hinges:
The roller and hinges combination can be expensive to fix. You'll spend between $10-$15 on each broken/damaged roller, while the price for just one hinge will be about $10 dollars each.
One garage door could have 10-12 rollers and at least 15 hinges, so a professional repair on this could add up quickly between product costs and labor.
You can also see if you can get a roller and hinge repair kit it you have a lot of parts that need repair. Just make sure to get a kit that supports a variety of door heights (or your specific door height).
Garage Door Spring Repair:
You can tell if something isn't quite right with one when they start popping or clicking more than usual while opening/closing the door manually.
This may be an indication the springs need to be fixed, which would cost between $200-$300, depending on how many pieces need attention. A set of 2 springs will set you back about $300.
Pair of 2″ Garage Door Torsion Springs Set with Non-Slip Winding Bars & Gloves, High Quality Precision Electrophoresis Black Coated, for Replacement & Installation, MIN 16,000 Cycles (0.218×2"x24")
DIMENSION : One Pair of 218" wire size x 2" inside dimension x 24" length Garage Door Torsion Spring. (left & right)
PACKING INCLUDED : A pair of Garage Door Torsion Spring, A pair of 17.2'' Non-Slip Winding Bars and Gloves, and Installation Instructions are included in the package, so you can start installing immediately after receiving the product.
HIGH QUALITY : Made of heat-treated professional spring steel coils with aluminum cones to make sure they are extremely heavy duty. The latest electrophoretic coating technology provide excellent corrosion proof performance and superior abrasion proof performance. Salt spray tests up to 300 Hours, and Minimum 16,000 Cycles. NEVER need to lubricate the spring, keep hands clean during installation.
SIMPLE INSTALLATION : Use KaiMinDogz high quality garage door torsion springs to replace old broken garage door springs.Having the experience of installing torsion springs can save you a lot of money.
IMPORTANT : Please make sure that the wire diameter, inner diameter, and length of the spring you choose are exactly the same as the original spring used. The extra time should prove beneficial. Over the years we have discovered that informed customers are happier.
Garage Door Broken Cables:
It can be a hassle to fix when your garage door cable is broken.
A professional will need about $150-$200 for new parts and time from their busy schedule to replace this essential piece of equipment that holds up all of our homes!
scottchen PRO Garage Door Safety Cable for Extension Springs Galvanized Carbon Steel 8'8″ x 1/8″ 7×7 Strands – 1Pair
【Function】This safety cable is used to insert into the extension spring to avoid a spring fly all over after it snapped, well home protection.
【Application】This garage door cable suitable for extension spring-operated garage door systems, not for torsion spring lift cable.
【Package】The garage door safety cable kit includes 2pcs cable, and 2pcs separate S hook, let the installation work easily.
【Quality】Constructed of galvanized carbon steel aircraft cable in 1/8″ diameter 7 x 7(7 strands-7 wires per strand), easy bear 220lbs strength.
【Dimension】Each cable length 8'8", be sure measure the correct length of your garage door before purchase.
Broken Glass Panel:
When you have a broken glass panel, it's important to fix the issue as soon as possible. The cost of fixing this type of damage can range anywhere from $75-$100 or potentially less if some minor repairs are done.
Noisy Garage Door Upon Opening and Closing:
If you notice any grinding or squealing when opening/closing the device, please lubricate all gears with oil before trying again; if this does not solve the problem, see a professional for assistance!
How Much Does It Cost To Replace A Pulley On A Garage Door?
Depending on the type of pulley, it can range from $10 to $40. Garage door pulleys are usually a simple screw-on design, so they're easy and inexpensive to replace.
If you have a garage door opener, you may be able to get away with just replacing the belt rather than the entire pulley system.
However, depending on the size and type of pulley, be aware that it could cost anywhere from $50 to $200 to replace a pulley on a garage door.
scottchen PRO 3″ Heavy Duty Garage Door Pulley Kits, 3/8″ Arbor 200LB Load, 4 Sheave Pulleys, 2 Clevis Forks, 4 Bolts and Nuts Kit
【Function】This 3in garage door pulley kit designed to repair or replace damaged parts of your old, worn, noisy and jumping doors. Provide a quiet, smooth and pleasant door opening/closing.
【Compatible】The 3in sheave pulley is 3/8" bore and 3/8" cable groove, which adapt to most commonly garage doors and accept max 5/16" diameter pulling cable or straps.
【Valued Package】The package include 4 pulleys and 2 clevis forks, this can be used as 2 fixed pulleys plus 2 sliding clevis wheel pulleys, fulfill your various demand. Coming with 4 screws and nuts, saving your time to look for from drawer or corner.
【High Quality】The garage door pulley system is heavy duty, 200lb load rating for doors up to 400lb. Durable steel construction, center race with 9 ball bearings and pre-lubricated in factory for smooth sliding.
【Kindly Reminder】Professional installation is recommended. If DIY, please remember wearing safety guard always, using the proper tools and install properly.
It's important to note that garage door pulleys are not typically considered a "repairable" part. In other words, most people will simply replace the entire pulley unit rather than try to fix it.
There are loads of different types and sizes of pulleys, so it can be challenging to find the exact replacement part you would need.
If you're comfortable doing some basic DIY repairs, however, you may be able to save some money by replacing only the worn-out or broken parts of the pulley unit.
How To Fix A Bent Garage Door?
You can fix a bent garage door by using a pry bar to straighten it out.
If the door is severely bent, you may need to remove the track and remove the screws that hold the door in place. Once you have straightened it out, reattach the track and screws. If the door is still not aligned correctly, you may need to adjust the hinges.
This is a somewhat complicated process, and you might make it worse by trying to fix it. Unless you've successfully set a bent garage door yourself before, we definitely suggest getting a professional to fix this problem.
Related: What to do if multiple electrical outlets aren't working
What Do You Do When Your Garage Door Won't Close?
If your garage door isn't closing, it could be for various reasons. Here are troubleshooting tips to help you identify the issue and fix it:
Check the transmitter battery to make sure it's charged.
Make sure the wires aren't loose where they connect to the opener.
If the opener is old, it might need to be replaced.
Make certain the photo eye sensors are clean and in working order.
Check that the tracks of the garage door are clean and free of debris.
Make sure the brackets at either end of the tracks are securely fastened.
Confirm there is no obstruction blocking the path of the door. (e.g., a stray basketball)
If you've checked and troubleshot all of these things and your garage door still won't close, you probably have something wrong with the door itself, and you'll need to repair it.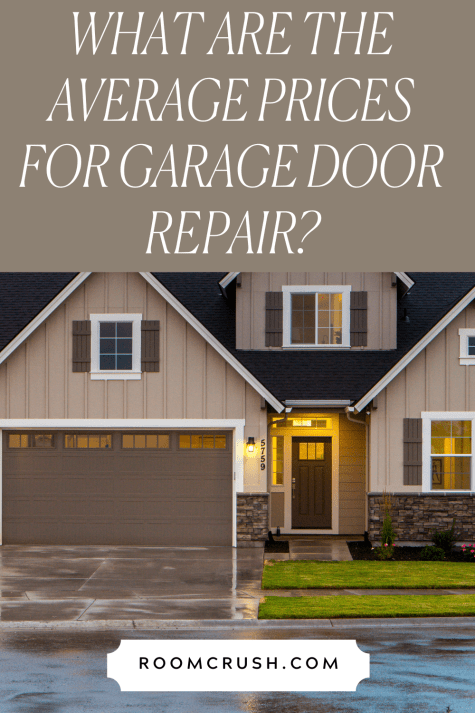 Garage Door Repair Prices – Conclusion
The garage door is the first point of contact for your home. As such, it's imperative that you take care to ensure its safe and reliable use by making sure all aspects are functioning properly at any given time.
Since garage door repair isn't always simple, don't hesitate to get estimates and an inspection from a professional. When it comes to garage door repairs, don't attempt to fix them yourself with the wrong tools (and possibly get hurt).
You'll be glad you did!
Read this next: How To Fix A Door That Is Sticking?