Wall Art In The Bathroom: There is no doubt that wall art always makes a stunning display when used to spruce up walls around your home.
And it's very common to hang wall art in the living room and bedroom; but have you considered using wall art in your bathroom too?
Wall art, even when hang in the bathroom, provides an instant color palette and creates a focal point within your space. It's no doubt that such a bathroom will appear more finished.
While adding art in a bathroom can upgrade your space's look and feel, you might be skeptical about hanging wall art in the bathroom because of moisture.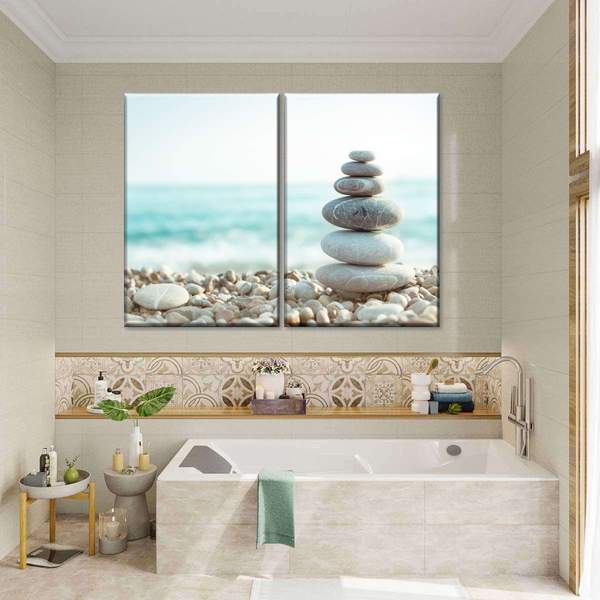 So before you get excited and hang up new artwork in the bathroom, it's vital to know how to protect a picture from moisture in your bathroom.
How to Choose The Right Bathroom Wall Art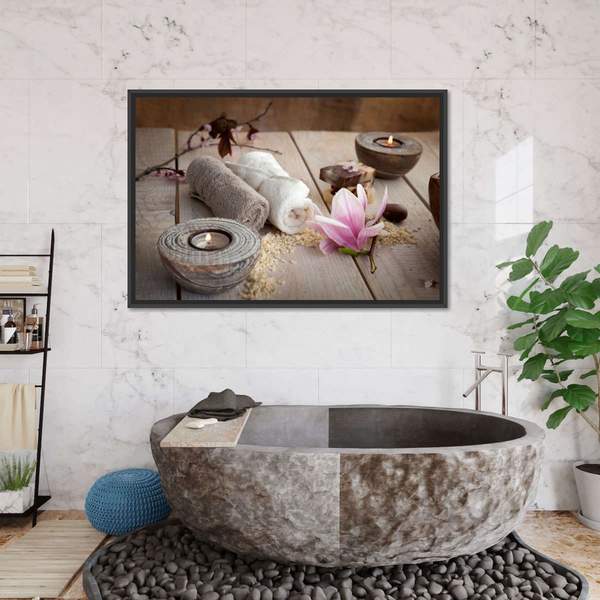 1. Go For Replaceable & Moisture-Proof Art
Considering the humidity levels in your bathroom will help you choose the right artwork so you do not spend a fortune in buying wall art that will be spoilt one hang in your bathroom.
Usually, when you hang artwork in the bathroom, moisture can seep through the frame, allowing mold to form over time thus, ruining whatever you have framed.
Avoid hanging paper-based pictures or wood-framed pictures as well as any artwork that is priceless. Instead, go for artwork that can be replaced after a few months or so.
That's why, canvas art is a popular choice for bathroom wall art because it is pretty durable when exposed to moisture and better yet, replaceable.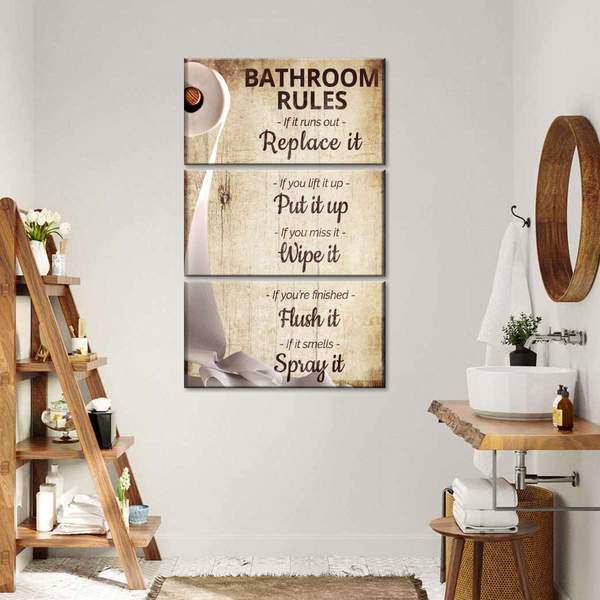 Canvas art is categorized into canvas prints, and canvas paint. While a canvas print is an image printed on a canvas material then stretched into a frame, a canvas painting is painted by a person straight onto the canvas, using either acrylic or oil paints.
Both are okay to hang in the bathroom, but a canvas print is more likely to sustain damage from moisture.
Get an inexpensive canvas artwork that you won't mind replacing if mold begins to grow or the artwork begins to warp. Good thing, canvas prints are generally safe in the bathroom as they often feature a special coating to keep moisture from affecting it.
Otherwise, feel free to moisture-proof your canvas artwork by having a professional add a protective varnish, or you can do it yourself.
TIP: Acquiring art from Elephant Stock gives you an upper hand because the art pieces are made with premium materials and water-proof lamination. Great for the bathroom!
2. Pick Metal Frames
Wooden frames are so good, however, with the bathroom's constantly changing temperatures, wood frames tend to expand and contract, causing damage to the frame.
Instead, use metal frames, preferably those made of aluminum, which does not rust and will withstand those fluctuating temperatures.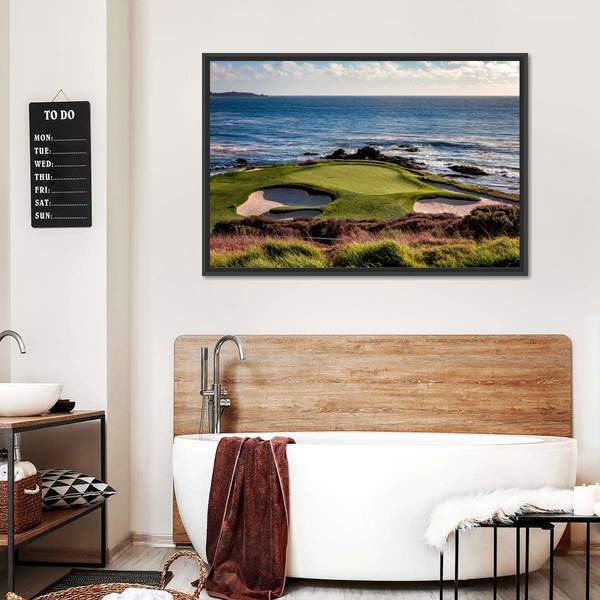 However, if you cannot resist the beauty of wooden frames in your bathroom, go for pinewood frames.
Pine is highly resistant to warping, resists splitting when it's nailed and takes a stain well. It is also easy to finish and paint.
3. Refrain From Glazing
First off, glazing is susceptible to shattering when the frame falls to the ground, making it unsafe especially when walking barefoot. So, simply avoid bathroom wall art that has glazing.
Additionally, moisture tends to easily build up inside a framing package when there is glazing.
If you need to use glazing, use acrylic instead of glass. as it allows some moisture to pass through, preventing moisture from building up inside the frame.
How To Prepare Your Bathroom To Receive Wall Art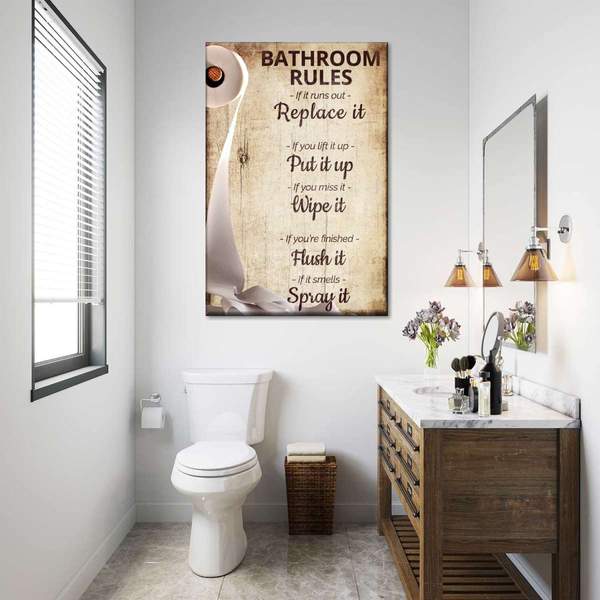 Choosing the right artwork for your bathroom is important to ensure your purchase is useful. However, you must also prepare your bathroom to receive artwork.
To see how humid your bathroom gets after showering, check the walls after your shower and see if condensation is collecting.
Feel free to use a humidity gauge for this test too.
Now, the important thing to do is venting your bathroom to help reduce moisture. Use a bathroom exhaust fan, which you should turn on before showering. Also, keep it on while you shower and run it for a little bit after you finish showering.
Also, do not hang your painting near the steamiest possible spot right near the shower. The steam generated from hot showers, (as well as the fact that the bathroom is usually a less ventilated room of a home), can create a damp environment that would wreak havoc on an unsealed, or poorly sealed painting.
Such a heated spot can undoubtedly heat up the air causing excess moisture to form. Choose instead a more ventilated area, such as near the door, or close to a ceiling vent.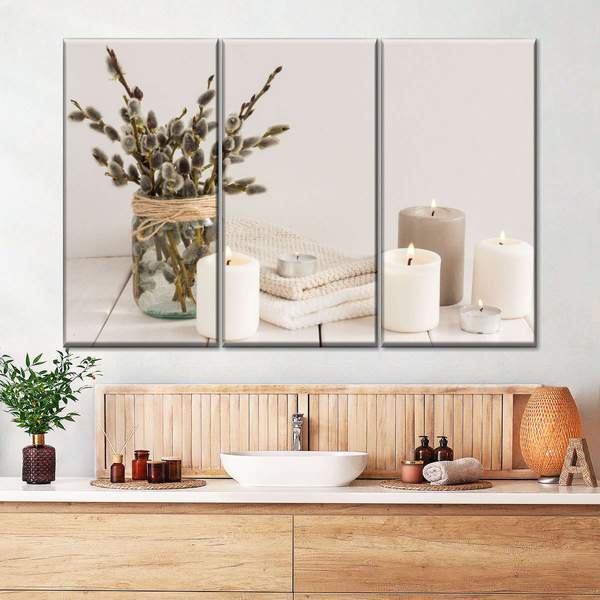 You can also open your bathroom windows if it has so that more humidity can escape. You can also open the door if you live alone.
Actually, if you shower with the door open, also consider opening the windows in other nearby rooms to help speed up the ventilation process.
And finally, when you hang your bathroom art on the wall, make sure you keep it a bit further from the surface so that air can flow behind the artwork and prevent moisture from collecting.
You May Also Like: How To Create An Eco-Bathroom In 8 Actionable Steps
Tips to Use When Hanging Wall Art in your Bathroom
When hanging wall art in your bathroom, consider thee few tips to capture your personality and creativity and express yourself on your wall space: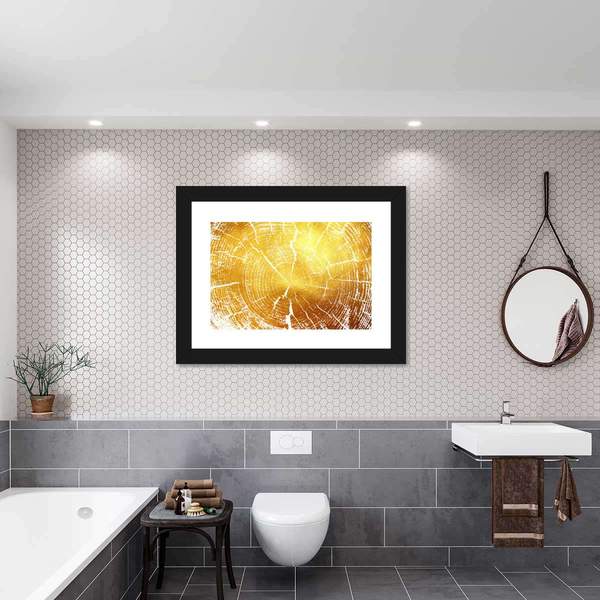 Hang artwork at eye level so you can appreciate its beauty every time you walk into the bathroom.
Depending on the size of your bathroom, choose artwork that is up to scale. Ideally, smaller pieces fit narrow bathrooms and larger canvas wall art pieces are great for big walls. If using smaller artwork, the idea is to group several art pieces so they appear as one large unit.
TIP: If you have one large piece and a few smaller pieces, hang the large piece toward the middle as a focal point and go from there.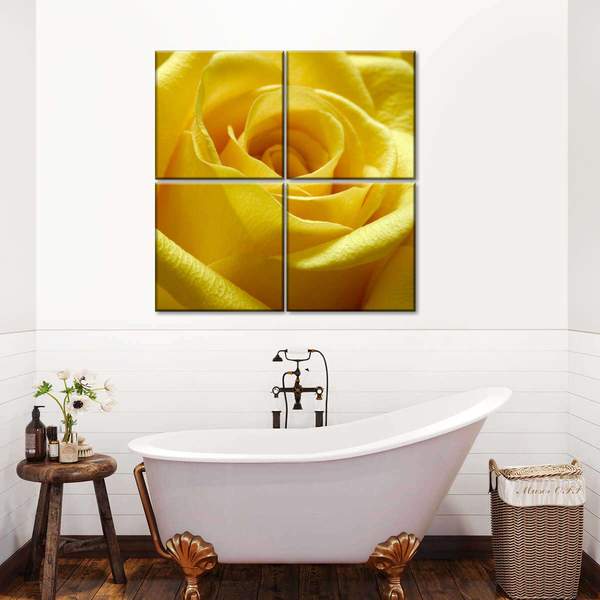 A general principle when hanging art over a piece of bathroom furnishing like a bathtub, is that your artwork should not be wider than the width of your bathroom furniture; about two-thirds the width of the furnishing is ideal.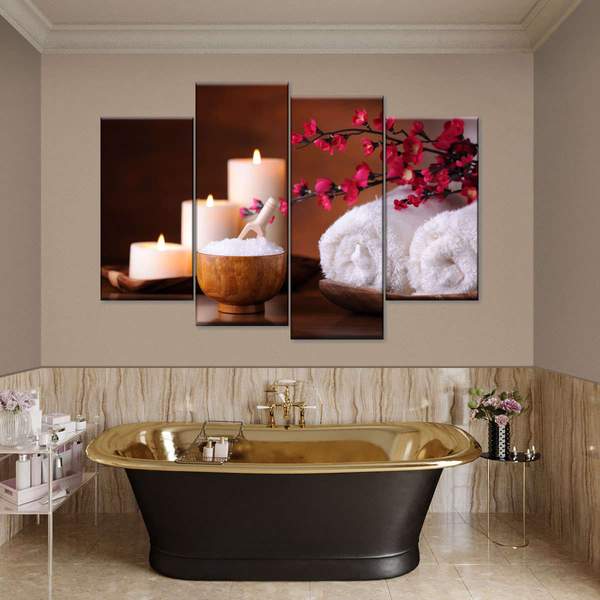 However, it is not faulty to add a statement art piece that extends beyond your bathtub; only if your bathroom is expansive and the wall behind would still look empty with a smaller piece of art.
Wall Art Placement In Your Bathroom
Now that you have learnt how to choose the perfect wall art for your bathroom, whether you want to hang art in your master bath, ordinary-size bathroom or powder room, get inspired by these few bathroom art placement spots:
Above the Tub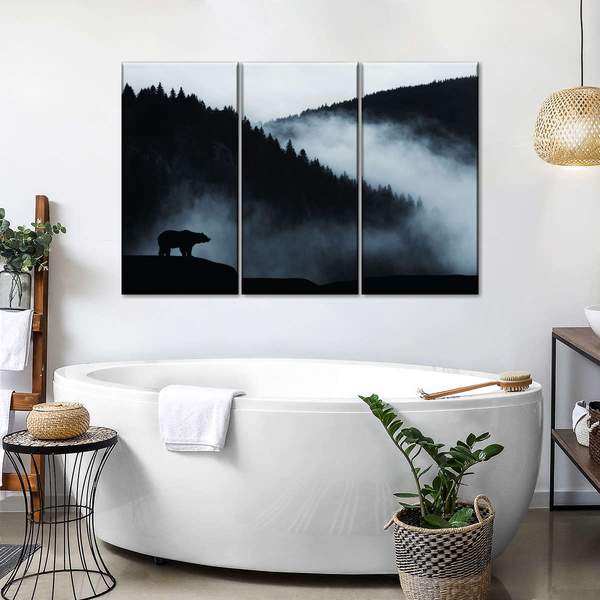 If you have a tub that is separate from your shower, place art on the wall behind the bathtub so it doesn't look empty and boring.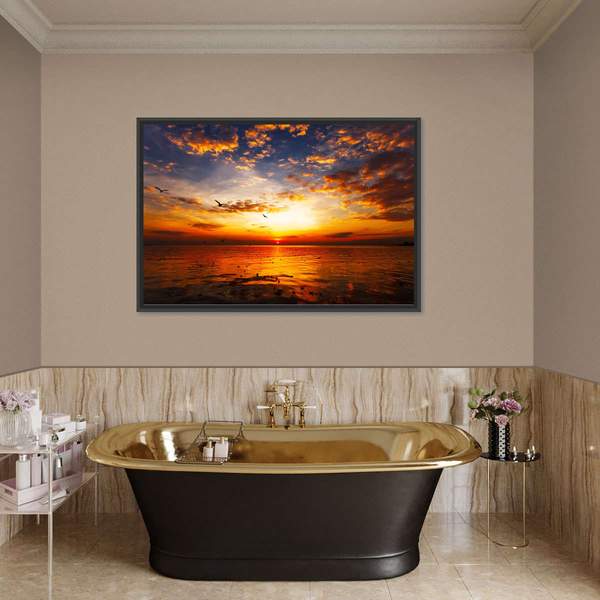 One statement piece of art or tightly-grouped smaller pieces (preferably 3) hand above your tub can make your tub to be the center of attention.
Just leave enough wall space between your artwork and tub to avoid any damage from splashing water.
You May Also Like: Love Spas? Here Are 9 Accessories To Create A Luxurious Spa Bathroom
Above the Toilet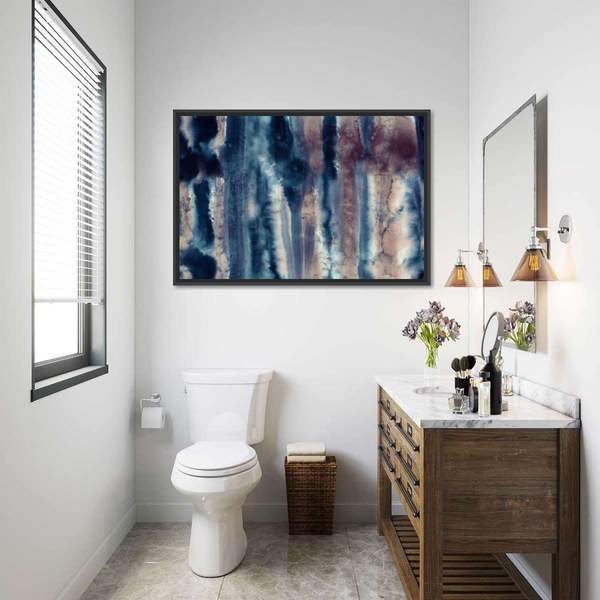 You can also fill in that blank empty space above the toilet with some beautiful bathroom art! Art pieces that are as wide as the toilet tank are ideal and will create balance between the two.
However, if the empty wall space is massive, then consider a larger piece of art that extends on both sides.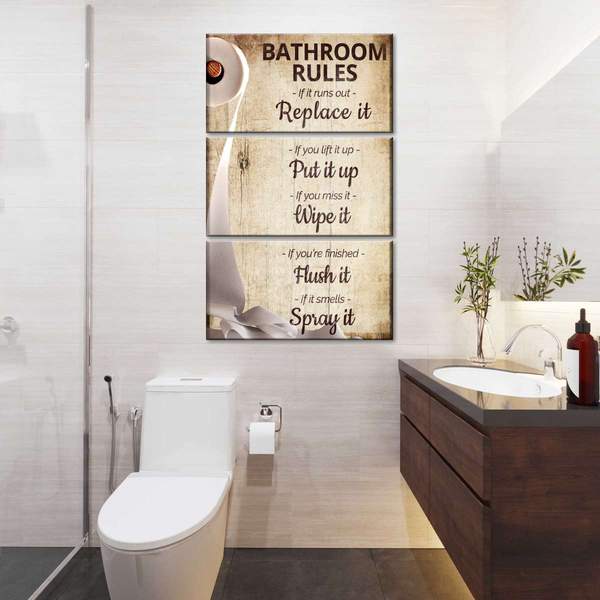 Also, create a vertical gallery by displaying more than one piece of art downwards. Ensure you leave enough space between your artwork and the back of the toilet for displaying some toiletries such as: tissues box, folded towels, a basket etc.
Above the Towel Bar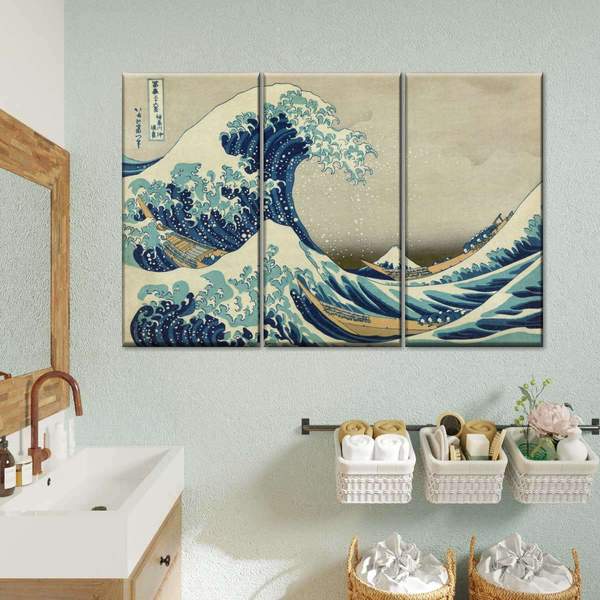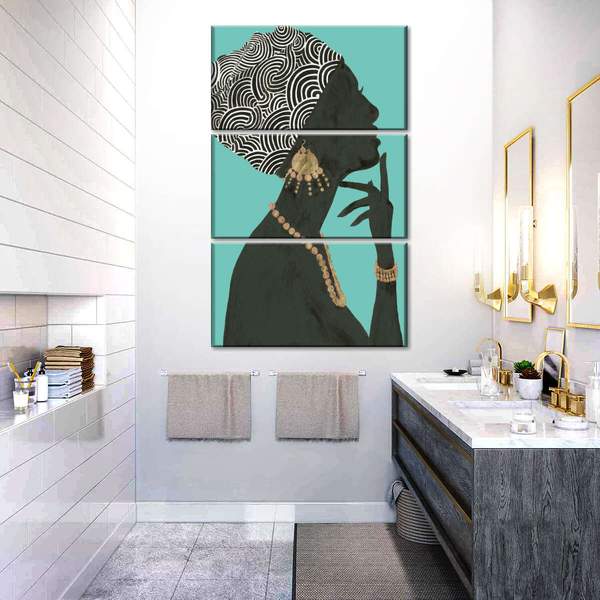 A towel bar is a great way to add extra storage within your bathroom. However, the empty wall pace above it might be bothersome.
So, hang art ensuring it overs two-thirds the length of your towel bar for a good balance.
You May Also Like: 15 Ideas to Beautifully Add Extra Storage in Your Bathroom
A Bathroom Corner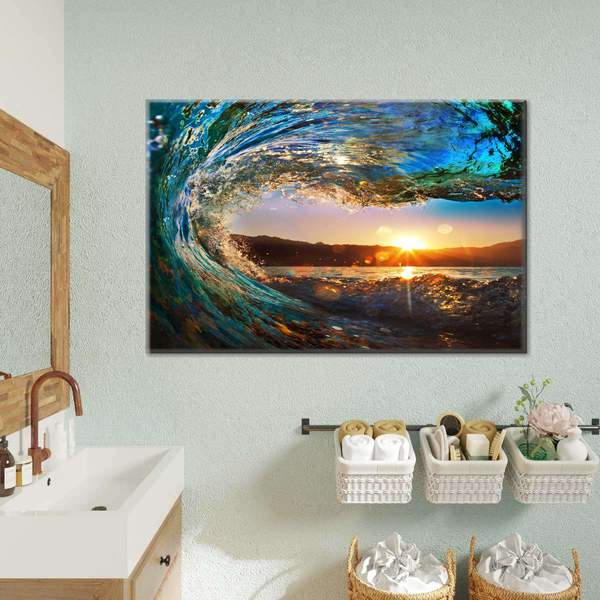 If you have an empty bathroom corner that would appreciate visual interest, then add art. Choose a theme, or at least a style, so the artwork is cohesive and doesn't look cluttered around this area.
While many would create a gallery wall in their bathroom corners including many pieces of art, we recommend just two to four art pieces arranged creatively for a subtle statement. Also, it won't clutter the space.
Above the Vanity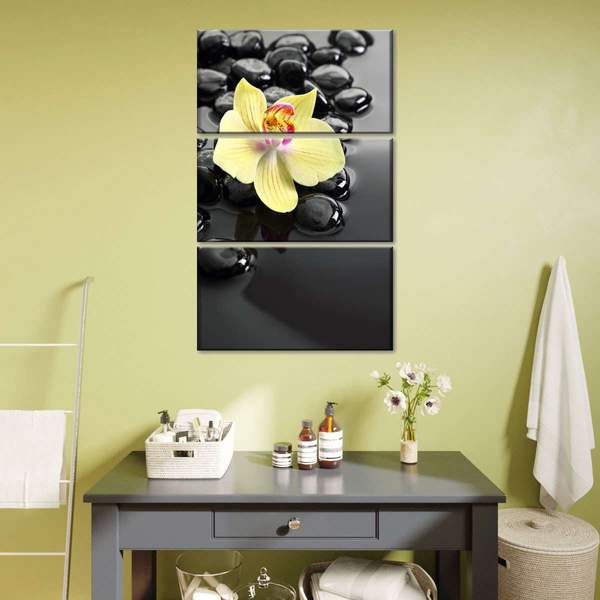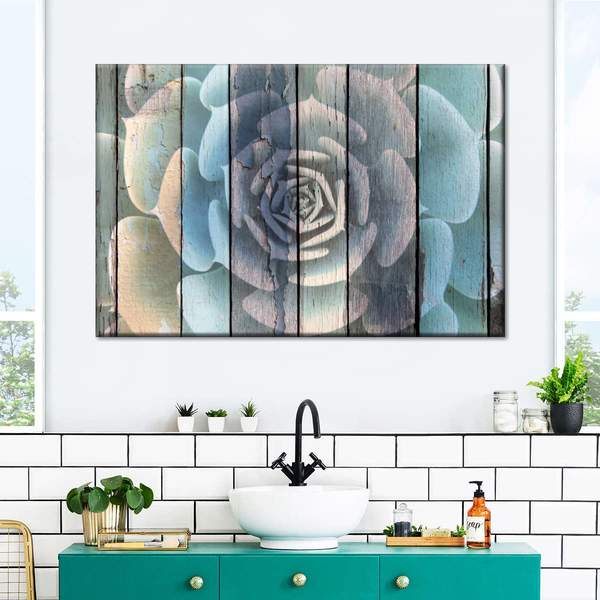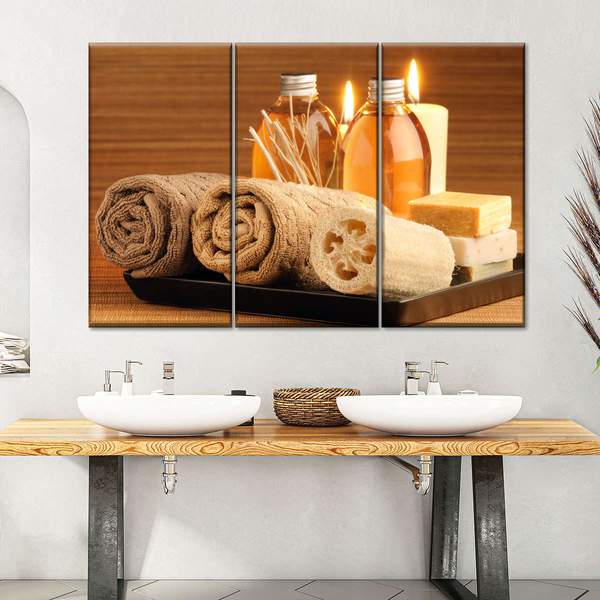 The easiest way to transform a bathroom vanity, apart from adding a statement mirror, is to add a statement piece of art. This makes the space feel "finished" and perfectly styled.
Décor Tip…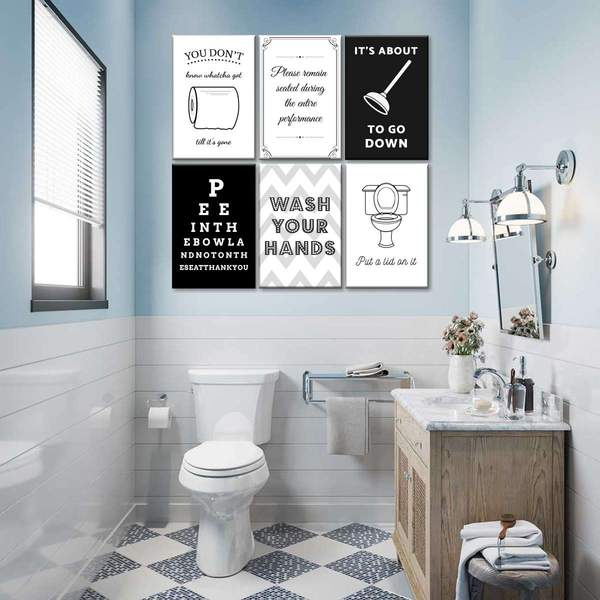 A fun way to use art in the bathroom is by hanging humorous art above the toilet space. Try it!
You May Also Like: Ideas to Update Your Tiny, Boring, Old Bathroom Stylishly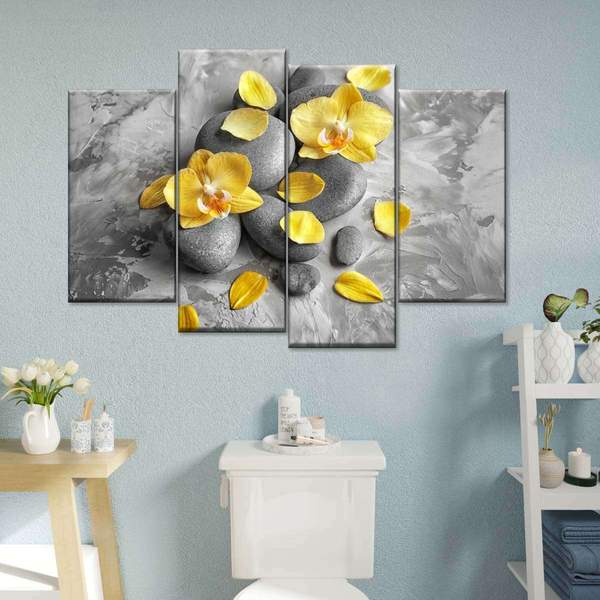 Ready to incorporate wall art into your bathroom? Try our design tips and ideas today!