Decorating A Mantel, For Any Season
So, you thought decorating a mantel was going to be an easy-breezy task? I hear ya; it's funny how cute items can quickly turn into a cluttered mess. Okay, we're going to figure this out together.
We're going to turn your mantel into the focal point of your room and do it with style.
You see, once upon a time, I read some real estate advice advocating seeking out properties with fireplaces. The author added that fireplaces had miraculous powers making even the tiniest space can feel grand, luxurious, and charming.
I guess that was true because we purchased our first fixer-upper when I was 23 years old. It was a dump, but its saving grace was that it was a dump with a wood-burning fireplace.
---
7 Easy Home Updates eBook: Free!
Today, get a free copy of our ebook that shows you 7 simple updates you can make in your home this weekend that will make your home look expensive and increase its value. Tell us where to send your free copy:  
This site uses ads and affiliate content as an Amazon associate earning on qualifying purchases. Disclosure.
---
Somehow the buried oil tank and termite issues didn't even phase us. In fact, we burned one full cord of wood while relaxing during the first winter season.
We're convinced the crackling of the fire during the open house is what made the house sell for a high market value during a dead housing market. I'm sure the champagne helped, too.
So, for our next project, we sought out a property with a fireplace and repeated the same formula when we sold it.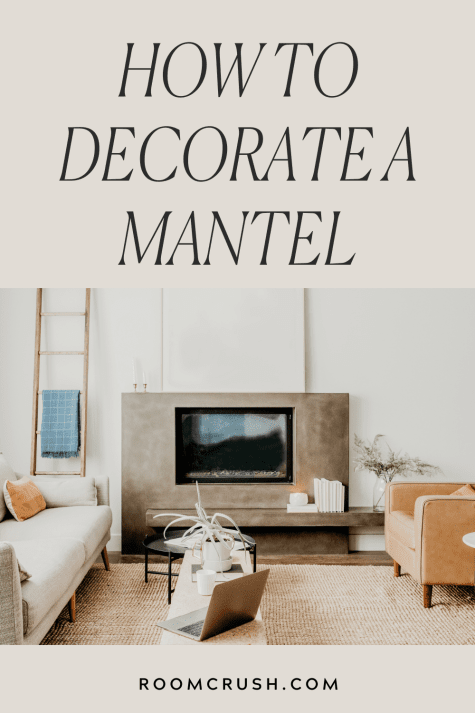 Ideas For Decorating a Fireplace Mantel
Decorating a mantel doesn't have to be that complicated. It actually comes down to just a few simple rules and some trial and error.
Keeping proportion and balance in mind while decorating will ensure a cohesive look. Since mantels are usually large in size smaller items can get lost and appear cluttered. When it comes to small decor items apply the less is more rule.
Should Your Fireplace Decor Be Symmetrical or Asymmetrical?
The choice is yours. Whether you choose symmetry or asymmetry decor style, both will create balance. It's entirely a matter of preference.
Most traditional designs will use symmetry; an example of this would be placing "identical items" on each side of the mantel.
For example, a pair of vases like these metal ones would look great on either side of a mantel: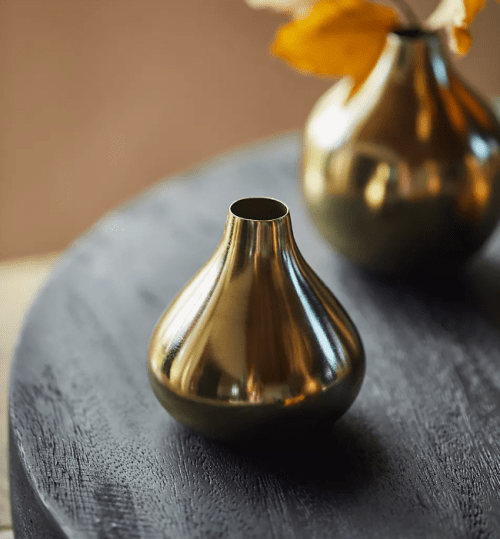 You can also create symmetry by placing a large piece of art in the center as the anchor of the design and using the same pot on the ends of the mantel.
If you would like to create asymmetry, place decorative items in groups.
A décor principle that always works well is grouping things in odd numbers. Usually, my go-to is groups of threes.
Sale
Sullivans Ceramic Jug Vase Set, Farmhouse Decor, Kitchen, Bedroom, Office, Living Room, Bathroom, & Coffee Table Centerpiece Decorations, Vases for Decor, Mantle & Shelf Decor (CM2431)
Farmhouse Centerpiece Table Decorations- Enhance your home with these small ceramic jug vases. Whether you're looking to decorate your living room, home office, kitchen, bedroom, or bathroom, these versatile vases will leave your home with a modern farmhouse feel! They will look great on your shelf, mantle, entryway or coffee table and much more. Create your ideal room decor aesthetic with this decorative rustic vase set.
Room Decor and Accessories- (measuring 3"L x 3"W x 10"H; 3"L x 3"W x 7"H; 4"L x 4"W x 4"H) The elegant design of these vases will fit in with a ton of different design styles. Whether boho, modern farmhouse, rustic, or cottagecore, this ceramic set is sure to enhance your space. For an extra pop of color, add in your favorite Sullivans fake flowers. These vases are NOT watertight, or made for fresh flowers.
An Ideal Giftable- Not only are these vases a perfect home decor accent, they can be a great giftable for many occasions. Whether you're looking for a housewarming gift, hostess gifts for the holidays, or a bridal, baby shower or anniversary gift, the versatility of this set is endless.
Perfect For Special Occasions and Gatherings - Crafted from 100% ceramic, these vases make a perfect centerpiece for all different occasions and celebrations. Whether you are searching for the perfect table decor for your boho wedding, bridal shower, baby shower, or new home, these rustic vases are a great choice.
Packaged For a Safe Delivery- Each vase is packaged securely in Styrofoam to ensure a safe delivery, and avoid breakage in transit. These vases come in a sturdy box, ready to be wrapped and gifted to a loved one!
Sale
3 Pieces Fashion Decorative Book,Hardcover Modern Decorative Book Stack,Fashion Design Book Set,Display Books for Coffee Tables/Shelves(Paris/New York/London)
Fashion Design---Inspired by a fashion find, this decorative book set give your space a fashion feel and visual interest.This unique home accent pairs neutral hues with the fashion design.
Real Blank Hardcover Book---Soft touch matte cover,actual book, brand new. The book is real in every way but has no printed content inside.
Perfect Decor For Home---Those modern themed decorative books are specifically designed to be used as part of a book stack for decorating a room,coffee table,end table,any tabletop or bookshelf.
Good Idea For Gift---Surprise friends, family, teachers, bosses, and coworkers with this tastefully decorative gift. Perfect for Chanukah,Christmas, Valentine's Day, Father's Day, Mother's Day,weddings,anniversaries,housewarmings and birthdays,halloween.
Kroucoco--We focus on natural style home decorations,hope our product bring warm and comfort to you.Please contact us if the item does not meet your desire.We are here to help as our best.
Layering and Styling Your Fireplace Mantel Decor
Asymmetry designs play right into the farmhouse decor style.
To create a cozy and casual feel, layer items of varying sizes.
And to make things more interesting, you don't need to hang your artwork! Instead, think about placing your artwork on the mantel and leaning it against the wall. This provides a more relaxed design.
Place large-scale items in the back to create a focal point. Use smaller accessories in the front to provide interest and details.
To add dimension to your mantel design, add a mix of heights. You can place your small items on top of decorative boxes or books to create varying heights.
Be sure that the items relate to each other. In other words, they're all in the same color family or made of the same material, such as wood. This will help keep the design modern.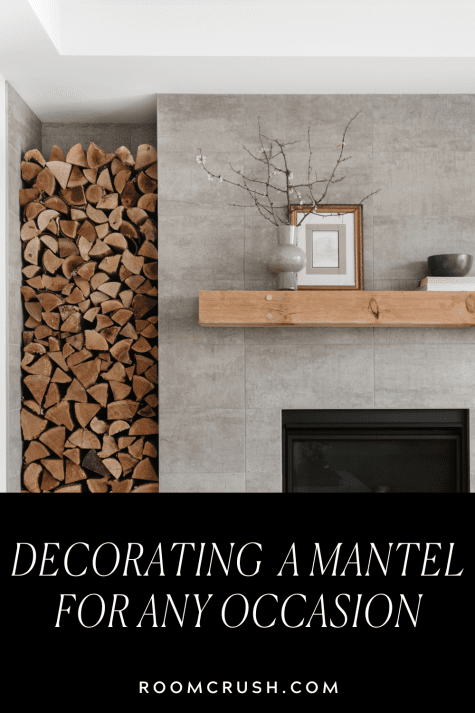 Three Unique Ideas For Decorating A Mantel Year Round
Using Mirrors When Decorating a Fireplace Mantel
Mirrors are an excellent choice for decorating a mantel and are timeless. Depending on how they are positioned, they can add depth and reflect features in the room.
Unlike artwork, which makes a LOUD statement, a mirror adds a lot of style without complicating the design.
In other words, you will not have to work as hard to make it work with other pieces. Of course, if the room is grand, the frame and size of the mirror should be to scale.
An ornate frame adds to the drama; however, the other items on the mantel can be simple, like this one: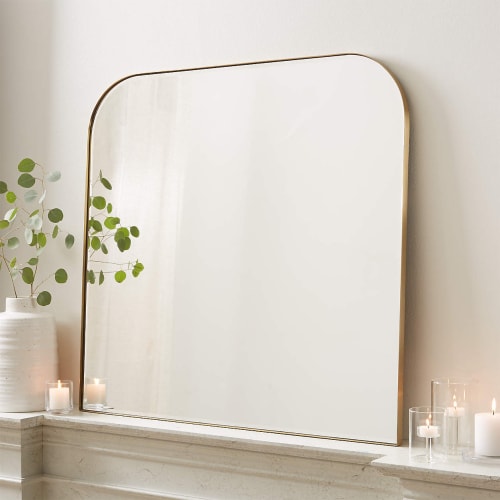 Lastly, mirrors can be used as part of a large arrangement or can work well alone.
Update Your Fireplace Mantel
Many homeowners I've worked with have complained about not liking their mantels. My recommendation would be the following:
If you have outdated brick on your fireplace, you may be interested in the German Smear Brick technique, which will provide an inexpensive and fantastic transformation. Check out my tutorial here: How To Create The German Schmear Look.
Another option would be to paint your mantel, update the surround of the fireplace with tiles, or change it altogether.
We love these baroque-style tiles, which would add a unique spin to your fireplace: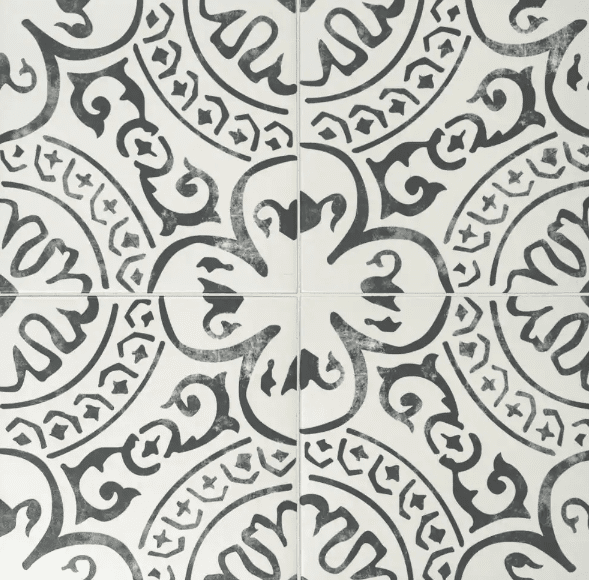 Lastly, for a quick update, Amazon has some great mantel options from basic designs to ornate ones, which can immediately transform your whole room.
BoscoMondo Rustic Fireplace Mantel Shelf with Corbels- Pine Wood - Wall Decor, Mounted Farmhouse Shelving
🌲FEEL THE WOOD GRAIN: The wood grain is the artwork by nature. Every shelf has its own unique wood grain which creates an authentic environment in your room. Each shelf reflects the distinctive characteristic of the tree it comes from so no two pieces are alike.
📐 HAND-CRAFTED: All wooden pieces are hand-crafted and finished with water-resistant, eco-friendly and durable finish for superior protection. Our fireplace mantels are perfect for farmhouse wall decor and shelves for living room.
🛠 EASY TO HANG: Our shelves can be hung easily. You can mount your mantel with or without corbels. With the included magnetic spirit level, you can make sure your shelf is well aligned.
📦 INCLUDES: You will get solid pine wood construction fireplace mantel, 2 corbels, wooden wall mounting bracket, a magnetic 8'' spirit level, wall plugs, screws for the wall, screws to tighten the corbels, instructions and the Beauty of Nature Hand-crafted Rustic Mantel.
🏠SIZES: BoscoMondo mantels with corbels come in several sizes ranging from 60'' to 72'' in length. (7'' Depth & 5.5'' Thickness). Corbel size: 5.5''Height x 5.5''Width x 3.5''Depth
Complete Your Mantel Decorating Like a Pro
Okay, now that your mantel is looking fancy, you may begin to feel that the lower section of your fireplace appears a little neglected. If that is the case, add one or a few well-chosen pieces to complete the design.
ZIXNEXKOO 17 Inch Firewood Rack Indoor/Outdoor, Wood Storage Log Rack Bin Wood Holder, Small Wood Racks Storage Firewood Holder, Iron Fireplace Wood Holder,Black
🔥AMPLE STORAGE: With a dimension of 17 x 14.3 x 15.3 inches (L x W x H), this Firewood Rack is able to hold a large amount of wood for fireplace in all seasons.
🔥HEAVY DUTY MATERIAL: Carefully crafted with heat-resistant wrought iron to ensure a stronger firewood log stand that withstands flames. Sealed with a black matte powder-coat finish for durability and long life.
🔥FOR SMALL SPACES & EASY TO MOVE: This firewood rack is the perfect size to fit on outdoor, back yard, under eaves, patio and indoor garage, or put it on a hard surface, such as paving stones, concrete patio, or gravel. Overall, the firewood holder organized is compact and light enough to move by yourself. It is a good companion for barbecue parties. Log rack can be used as a practical surprise gift for Mother's Day,Father's Day,Labor Day,Thanksgiving,Christmas,etc.
🔥EASY ASSEMBLY: All hardware accessories and tools included for this firewood rack, minimal assembly required by just one wrench. Simple but robust structure design guarantees the support strength and storage convenience of the log holder to the greatest extent.
🔥PROTECT FIREWOOD:U-shape design of Fireplace Wood Holder fits tightly with the logs, delivering an optimum space utilization. The appropriate ground clearance and slat base design allow for smooth airflow can effectively keep your firewood neat and organized, dry and safe, to protect your firewood from the wet ground.
This is where you can add an element that is both decorative and useful. Choosing a firewood holder helps bring in some nature and warmth from the wood logs.
VANA NALA 30x34'' Black Arched Mirror Arch Large Matt Black Metal Framed Mirror for Dresser and Fireplace, Mantel and Bathroom Mirror
ARCHED DESIGN: Edged with a slim band of matt back, this minimalist wall mounted mirror curves a suble arch of moder elegance. Able to fit your bathroom, living room and entryway.
STAINLESS STEEL FRAME: Weighs 30lbs! Our large wall mirror uses preminum quality stainless steel material and TSCA certified MDF backing to avoid both rust and corrosion when wall mounted, making it perfect bathroom mirrors for vanity.
DIMENSION: 34 X 30 inches. This 30x34 arch mirror is featuring a 1 inch depth frame which is extremely minimalist and able to greatly live up your space. Easily enhance the beauty of your any rooms.
NO DISTORTION: All of our bathroom wall mirrors uses 1/6'' thick silver glass, making sure NO distortion or wrapping, also oxidization FREE with the glass content being "Silver" instead of aluminum. In addition, you will also receive the mounting template , as well as instructions to help you install simply and safely. Every single mirror from VANA NALA is carefully crafted with over 60 processing on one item.
Exquisite Craftsmanship: We adopt strict quality control from material selection to manufacturing techniques and use the highest grade of standards for production processing, and each mirror is carefully packed to ensure that it will not be damaged during transportation.
Decorating A Mantel, For Any Season – Conclusion
Decorating a mantel correctly will take your fireplace from a lovely to, "Wow, your fireplace looks worthy of a photo shoot for Better Homes and Gardens magazine."
Your fireplace provides warmth, ambiance, and a place your family gathers.
Decorating a mantel to showcase its full potential will only allow the time spent in front of it to be all the more special.
read this next:
How To Decorate A TV Wall Stylishly