17 Ideas: How To Drastically Cut Household Expenses
Let me be the first to applaud you for searching out ways to learn how to drastically cut household expenses.
To begin on the right foot, we need to tackle one of the first hurdles, which is for you to become accountable for your finances.
Let's explore some useful ways you can start to cut household expenses that aren't necessary.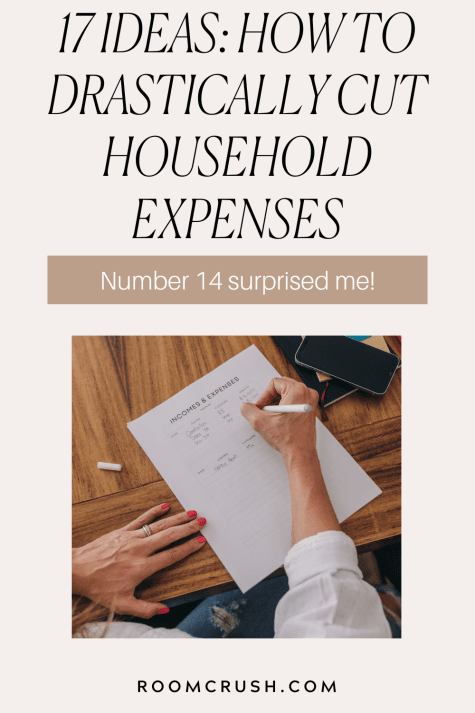 How To Drastically Cut Household Expenses
When money is tight, everything feels like a tall hurdle.
---
7 Easy Home Updates eBook: Free!
Today, get a free copy of our ebook that shows you 7 simple updates you can make in your home this weekend that will make your home look expensive and increase its value. Tell us where to send your free copy:  
This site uses ads and affiliate content as an Amazon associate earning on qualifying purchases. Disclosure.
---
Yes, I get it – if your checking account is overdrawn and your credit card charges are high, I wouldn't want to stare at statements either.
However, by NOT knowing your numbers, you will not only continue to take a nosedive in your finances;  you'll likely cliff dive into the rocks.
Financial rock bottom will impact more than your bank account. It will also affect personal relationships, work performance, and overall health.
Yikes!
One thing I can assure you of is that despite your situation, whether it's good or bad – you'll feel better once you have a plan.
Plus, you can't fix or address your issues without knowing them.
Besides, we're adults now, and knowing exactly how much money we have coming in and out is part of the territory.
If you have a hard time tracking your expenses and are sick of overflowing piles of receipts, then I highly recommend a digital expense tracker.
Using free software like Google Sheets, you'll know exactly how much you're spending each month, which makes cutting down on your household expenses so much easier.
1. Communicate With and Involve Everyone In The Household
Yes, it's all hands on deck!
To make sure everyone stays on track, it's a good idea to arrange a meeting at least twice a month to keep everyone focused on this goal.
This will eliminate any surprises from creeping up at the end of the month. Plus, if something seems a bit off, you can deal with it right away.
You'll come to appreciate that your family unit will become closer and avoid unnecessary feuds regarding money since everyone will be well aware of the family priorities.
Lastly, remember these sacrifices will all be worth it in the end and are not forever.
Next, it's time to review all your current debts, and expenses and write them down. The table below can be used as a guide of categories you can include.
Review the last three months to get an average for each category below to get a realistic idea of your spending habits.
Here's a made-up example:
Rent or Mortgage $1,950
Household Utilities, Telephones 500
Groceries, Entertaining Budget 600
Car Payment, Insurance, Gasoline 725
Shopping 575
Savings 0
Credit Card Debt (List Each Card) 295
Other Liabilities 320
College Loans 625
Fun Money 650
Total: $6,240
MONTHLY WAGES: $5,000
OTHER INCOME: $500
TOTAL $5,500.00
Numbers don't lie, and from the looks of things, if this were your sheet, I'd say you need to reduce your spending, and you need to do it QUICK!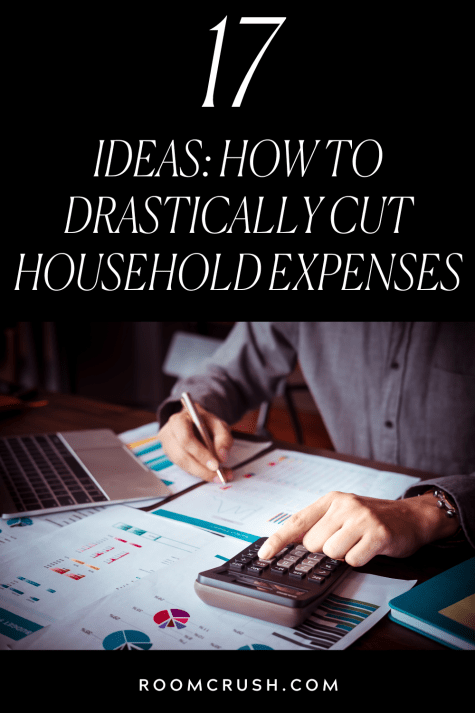 2. Stop Eating Out
According to The US Department of Agriculture, Economic Research Service, over a third of our food budgets are being spent on eating-out services.
It has been our experience that we fall into this trap for two main reasons. First, is convenience and the second is not having what we are in the mood to eat in our own kitchen.
My suggestion is to splurge (yes – you read that correctly) on a few prepared dinners that you would look forward to eating.
For example, a local Italian food market in the area has freshly prepared meals.
We purchase a few of their restaurant-quality meals and keep them in our freezer for days we don't feel like cooking. I still consider this a frugal purchase because the amount spent is probably 50-70% less than eating out.
3. Find Ways To Save Money On Food Shopping
Although this method is a bit time-consuming, I have come to appreciate it's the only way to reduce my cost.
No, it's not couponing.
My solution is to plan out my meals. This prevents us from purchasing extra food that will most likely go bad before we have time to consume it just because it's on sale.
This is another area where I find digital planners/printables really useful. A digital meal planner can help you identify exactly which groceries you need and how much you need to spend, all while helping reduce food waste!
4. Review Your Insurance Premiums and Phone Services
This is a BIGGIE, and most years, it's a HOME RUN!
Most years??? Yup, I've gotten into the habit of comparing the rates of our car insurance premiums and phone services every year.
Without fail, I usually find a better price than the one I'm currently receiving; however, sometimes the cost-saving does not warrant the hassle of moving companies.
At that point, I generate a phone call to inquire if they could provide me with a discount to continue my services with them.
Easy breezy!
Three years ago, we were able to reduce our annual auto insurance policy (with the same coverage) by $395.
5. Consider Buying Used
At some point or another, all new and shiny things are no longer new anyway. Furthermore, buying used is a sure way to drastically cut your household expenses, and that's the goal.
To clarify, when I say used items, it means more than just buying items from consignment stores.
It also applies to open boxes or refurbished goods from big boxed retailers like Home Depot or Best Buy.
6. Make Clothing Purchases Off Season
The off-seasons purchasing will be your best cost savings.
But if you can't resist the urge or need a particular garment for a special occasion, at least get it on sale.
7. Consider Coloring Your Own Hair
This still blows my mind…
Three years ago, I tried a DIY professional Custom Hair Color, which you could apply at home.
The result was my hair color looked so natural it has even fooled many hairdressers while getting my hair trimmed on several occasions.
The reactions I received when I mentioned my color cost me about $10 a month are quite entertaining.
At this point, I wouldn't trust anyone else to color my hair. 
Click Here To View Where To Order Custom At-Home Hair Color From

8. Run Your Appliances At Night
Naturally, utility fees will be higher when the most power is in use since the power grids are under pressure.  Therefore try to resist the urge to run your dishwasher immediately after dinner.
Real Simple says the best time to save energy costs is to do our laundry after 7pm or before lunchtime the next day.
Pro Tip: Local energy providers usually list the best times to run appliances on their website.
You may also like: 4 Ways To Save Money On Your Energy Bills This Fall
9. Wash Your Clothes On Cold
It may not surprise you to learn that washing your clothes in cold water could save you some moolah, but what probably will shock you is it can also extend the life of your clothes.
Actually, how much dough could it save you? Well, ColdWaterSaves.org, states that an estimated 90% of the energy used during our washing cycles goes toward heating the water.
To further save on your energy bills, consider air-drying some or all of your clothes.
If you don't like the feel of line-dried clothes, you could always place your clothes in the dryer for a few minutes to complete the drying process.
10. Turn The Temperature Down On Your Hot Water Heater
Isn't it amazing that whenever you need hot water, you simply need to turn on the faucet?
Your supply is always ready for use unless a few people in a row took long showers, at which point you may need to play the waiting game for a few moments.
Your water heater works 24/7 heating up water to ensure it's ready when you need it. Therefore, choosing a temperature setting, just a few degrees lower can drastically cut your household expenses.
One of our family members that have a household of five was able to cut their utility bill by over $100 a month by using this method.
Twelve hundred a year is something to brag about!
11. Purchase An Adjustable Thermostat
How much can you save by using a programmable or smart thermostat?  According to Energy.org, the cost savings can be as much as 10% a year, and that's only by changing the temperature for eight hours a day. In other words, you're saving money while you sleep!
Every degree you lower or raise the temperature during extreme weather can impact your household expenses big time.
Further,  you can create a schedule that caters to your family's routine to keep the temperature comfortable only when needed.
EconoHome Adjustable Thermostat – Universal Plugin Heating & Cooling Thermostat – Compatible with Most EconoHome Wall Mount Space Heaters
EASY TO OPERATE: Just plug in this adjustable thermostat, select heat / cool mode with the user-friendly switch and it will automatically turn on or off your heating or cooling devices through your preset target temperature.
EFFORTLESS TEMPERATURE SETUP: This non-digital plugin thermostat comes with an adjustable temperature dial and the current temperature is displayed on the center for easy reference. Temperature control range is 41-86°F.
SAVES YOU ON YOUR HOME ENERGY BILLS: You're always a winner with this heating & cooling thermostat. It's energy efficient while maintains a consistent ambient room temperature.
VERSATILE USES: Suitable for most portable space heaters, window air conditioners, and circulating fans. Can also be used for refrigeration, fermentation, greenhouse fan and designed to suit almost any application you can imagine.
SAFE & RELIABLE: This 3-Prong thermostat plug into a standard socket is ETL listed and rigorously tested for quality control and safety. Conforms to UL Std No. 60730-1, 60730-2-9. Rated Voltage is 125VAC 60Hz, Max Loading: 15A 1875W and has a recoverable overload short circuit. Dimensions: 5" x 2.5" x 2.5"
12. Check Your Water Usage and Correct Issues
A few days ago, I received a water bill showing another high usage month. The increase was 30% higher than average and it just didn't make sense, so I made a few calls.
The water company's technology has a full record of your usage. Their records are so detailed they can tell you the date and time when you turn on your outdoor sprinklers or if you had a sudden spike.
Really?
Yes, the customer service rep on the phone informed me that my water usage went up on a specific date to the tune of 200 gallons a day.
He was also able to tell that we reduced our overall usage; therefore, a leaking toilet was most likely the culprit.
One of my favorite ways to reduce water usage is to get a water-saving shower head. Just be sure it's compatible with your home's water pressure!
13. Replace Or Clean Your HVAC Filter Often
Let's keep this simple – when your filter is dirty, your HVAC system's airflow is constricted.
This means your unit has to work harder to keep your house at the desired temperature setting.
How to drastically cut household expenses is by NOT having to replace them!
Make it a point to inspect all your appliances to ensure that they are operating efficiently.
14. Routine Appliance Maintenance
Air conditioners that can not cool, vacuum cleaners that don't remove dirt, dryers that don't dry, and dishwashers that don't wash can be plagued by the same problem a dirty or clogged filter.
Yep, dishwashers have filters that need to be cleaned as well!
In fact, that is the first thing you should inspect before calling in a handyman
To keep appliances running in tip-top shape, you need to clean or replace filters regularly.
15. Find A Roommate or Move To A Smaller Home
If you have a spare bedroom, consider renting it out to a friend to help to reduce your living expenses. Of interest, many homeowners have listed their additional bedrooms on Airbnb or similar sites.
While visiting Charleston, South Carolina, we stayed in a guest suite, which was a new addition to the original structure of the home.
The homeowner spent an investment of $50,000 to add a guest suite and additional living space for her own use.
The addition was to a historical home and had two stories. On her first year, she was able to rent the guest suite (bedroom, bathroom, and closet) for over $35,000.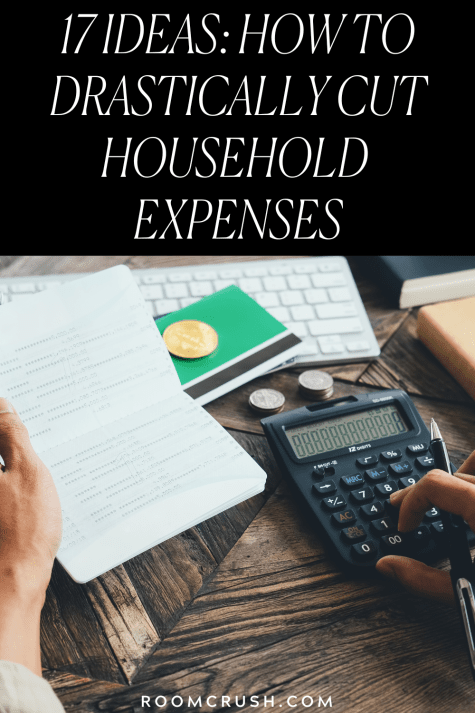 16. Become A One-Car Family
Easier said than done, but it can be done! When sharing one vehicle, you will need to make sure everyone in your family is on board.
This helps you save not only on insurance costs, but repairs, gas, and parking too!
17. Change The Way You Vacation
No, I'm not crazy – well…that's debatable. For us, vacation is never off the table!  However, when trying to save money, we take a stay-at-home vacation.
You could read all about it here, How To Have A Staycation At Home.
How To Drastically Cut Household Expenses – Conclusion
Although at first, the changes may seem overwhelming or an unbearable task, you will find that having a written plan will help give you the roadmap needed to become successful.
If executed correctly, your family might just end up surprising you as you instill in them a healthy respect for money.
If you were used to spending mealtime at your local restaurant instead of your own table, it might take some time to learn to enjoy dining in.
Lastly, when trying to drastically cut your household expenses introducing changes into the family slowly can help them adapt to the new normal.
For ways to style your home for free or on a restrictive budget, check out: