SpineAlign Review: Mattress Really Improves Posture?
This SpineAlign review will help you decide if the brand is right for you. Most people think bad posture results only from hunching over while working or not sitting straight at the dinner table. And while these cause incorrect posture, they're not the only factors contributing to it.
Many would be surprised to learn that your sleep position affects your posture. SpineAlign is a brand that designs products to ensure that you sleep in the correct posture.
That way, you improve your spine health and get a good night's rest. Whether you're a back or side sleeper, SpineAlign's products will be perfect for you. The pillow is adjustable and made comfortable for anyone. 
Curious to see how they can help you? Check out this review.
---
7 Easy Home Updates eBook: Free!
Today, get a free copy of our ebook that shows you 7 simple updates you can make in your home this weekend that will make your home look expensive and increase its value. Tell us where to send your free copy:  
This site uses ads and affiliate content as an Amazon associate earning on qualifying purchases. Disclosure.
---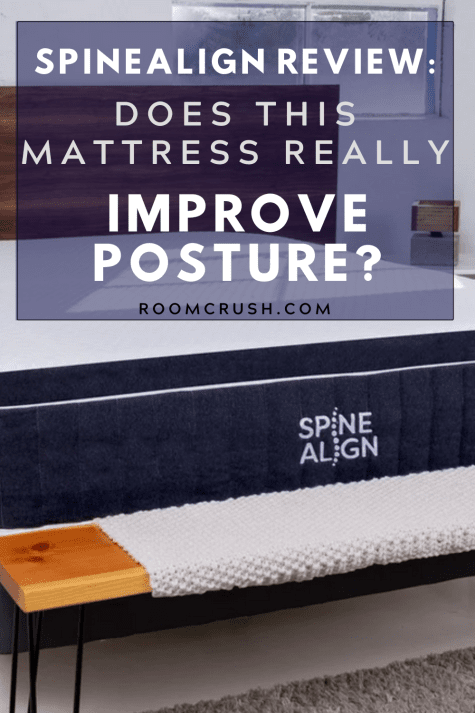 About SpineAlign
SpineAlign was founded by sports chiropractor Dr Jason Loth and fitness expert Dave Scheina. The two have always had a passion for musculoskeletal health.
In addition, they know how much sleep affects the body, specifically posture. So, they made it their mission to help people lie in the correct position in bed to improve their posture and sleep.
The brand offers top-quality products that help people sleep in the right posture. Their products let you rest in the most natural, relaxed position, improving spinal alignment. This is also awesome for healing and recovery when you need it.
The company ensures that its prices are affordable to make it more accessible. After all, everyone deserves proper sleep and good posture. Customers also love how proactive the brand is at spine health education. Dr Loth is always an email or a phone call away to answer your questions about spine health, body pains, and sleep.
Today, SpineAlign is an award-winning brand. Tuck.com has recognized its products for their human-centered design and focus on spine health. This year the SpineAlign Pillow was voted The Best Pillow 2022 by The Sleep Doctor.
The brand has also been mentioned in Fox, Our Sleep Guide, and Sleepopolis.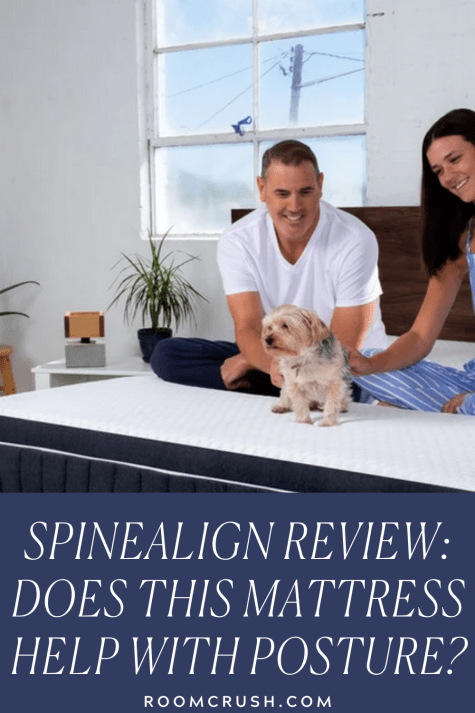 Our Take on SpineAlign Products
The brand doesn't carry that many products. Instead, they've streamlined their offerings to a few high-impact products. That makes shopping less complicated and never overwhelming.
That said, they have everything you need to get a comfortable sleep. Here are three of their products that make up the perfect sleeping setup:
SpineAlign® Luxury Hybrid™ Mattress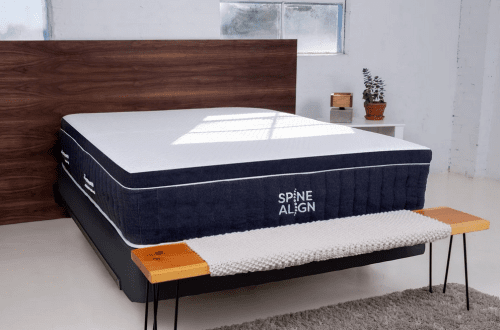 This mattress has multiple layers to help you sleep in the most natural position. So, your spine stays relaxed and aligned all night. This reduces back pain, encouraging a deeper sleep so that you can get a well-deserved night of rest.
The foam layers are strategically placed to help keep you cool at night. The top layer of foam is infused with copper, a known conductor of heat. Then, there's a cooling-gel layer made of the brand's ArcticPhase™ foam. These two layers work together to cut the heat, leaving you cool and comfortable as you sleep.
All the poly foams used in this mattress are safe and non-toxic. They're CertiPUR-US®-certified, so you can rest assured that there aren't any chemicals that can harm you.
The mattress is available from twin to California king. You can also choose between medium to firm for its firmness level.
What customers like about it:
Very soft and comfortable
Relieves back pain and pressure
It makes you feel well-rested all night
SpineAlign® Pillow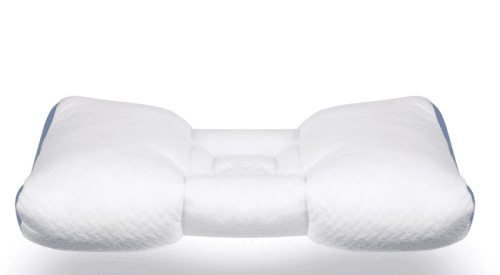 The SpineAlign pillow is fully adjustable and customizable so whether you're a side sleeper or a back sleeper, your head and neck will be supported throughout the night. It's also incredibly soft and breathable, giving maximum comfort as you catch those Z's.
The best thing about these pillows is that they're adjustable. Just open the zipper at the back of the pillow and adjust the foam filling according to your preference. For example, move some of the foam up top if you want lower support for your neck.
What customers like about it:
Perfect for side sleepers
Easy to switch from side to back while sleeping
Adjusting the filling is quick and simple
Relieves neck and shoulder pain
SpineAlign® Tencel Sheets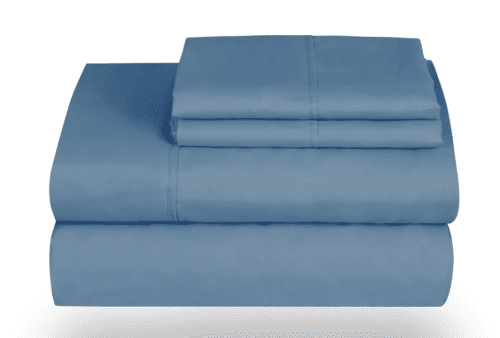 Tencel is a fabric made from fibers produced through sustainable, eco-friendly methods. They're processed from raw wood and turned into soft fabric for the most luxurious sheets ever.
We love their Tencel sheets!
What customers like about it:
It cools you down as you sleep
Pros and Cons
Pros:
It helps you sleep in the correct posture
Uses safe, non-toxic polyfoams
Doctor-approved products
100-night trial for mattresses
60-day trial for pillows
10-year guarantee
Free shipping within the USA
Award-winning brand
Cons:
They don't offer a wide range of products
SpineAlign Customer Reviews
The brand's products have over 200 5-star reviews on their official website.
Meanwhile, content creators also share their thoughts about the company on YouTube.
One of these is dugroz, who reviewed the SpineAlign pillow. He demonstrates how to adjust the foam filling according to your preferred position.
"I have some minor back problems," he shared. "[The pillow] does make me feel better when I use it…I think it's good for my spine health and posture, so I'll keep using it."
Sleepopolis also made a video about SpineAlign's mattress. He stressed that it's awesome for people who sleep on their side.
" It has a softer feel, so it has some good pressure relief," he said. "Also, the bounce allows you to change positions without feeling stuck on the mattress."
SpineAlign.com VS Nestbedding.com VS Laylasleep.com
Of course, SpineAlign isn't the only bedding and pillow brand out there. So, how do their products fare against other ergonomic bedding brands?
First, let's look at SpineAlign's signature pillow and compare it to Nest Bedding and Layla Sleep.
All three pillows provide some form of comfort, whether it's through softness or a cooling fabric. The Layla Sleep and SpineAlign pillows have a trial period and warranty. Meanwhile, the Nest Bedding has neither.
But the most advantageous edge of the SpineAlign pillow is that it's adjustable. So if you want a pillow you can tweak according to your liking, SpineAlign is the most suitable one.
Related: The Best Bed-In-A-Box Mattresses.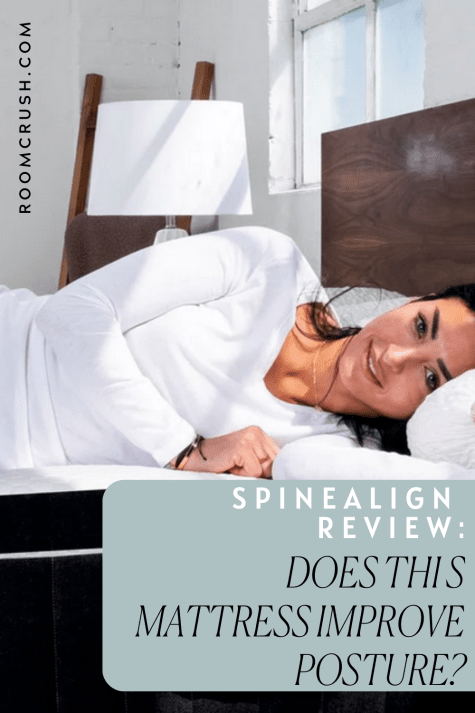 Is SpineAlign worth it?
The brand is worth a try for anyone who wants to sleep in the correct posture. Their doctor-approved, human-centered design is impressive. The company is a must for anyone who suffers from back and neck pains. We also recommend it for those who can't find a comfortable position in bed.
There's also a 10-year warranty and 100-day return policy for the mattress to ensure your satisfaction. Overall, it's hassle-free to give them a try.
When you sleep on SpineAlign's comfy products, there won't be any more tossing and turning at night. You'll sleep in the correct posture and wake up feeling your best.
Read This Next: