Litter Robot Review: Self-Cleaning Cat Litter Box, Worth It?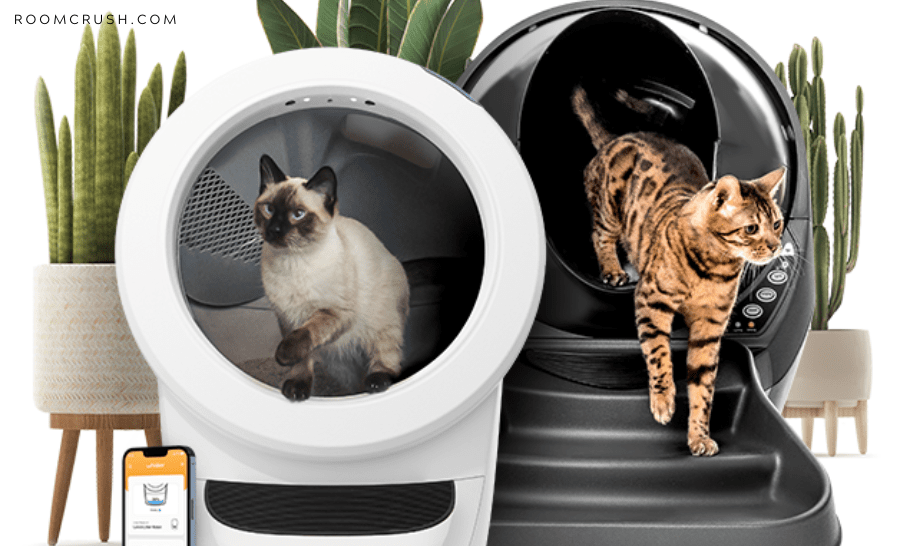 A self-cleaning cat litter box is the dream of every indoor-cat parent. For this Litter Robot review, we put this claim to the test.
Cleaning up after your cat isn't anyone's idea of a good time. Washing and replacing their litter are some of the less cute and glamorous parts of owning a cat. And if you have multiple cats under your roof, it can get even more frustrating.
If you hate cleaning your cat's litter box, Litter Robot will be a lifesaver. This veterinarian-approved automatic litter box cleans up your cats without your help. You have to put the litter inside and let your cats go to town.
But is this self-cleaning device worth the money? How effective is it at cleaning up after the cats? Read on to hear more about this innovative litter box.
---
7 Easy Home Updates eBook: Free!
Today, get a free copy of our ebook that shows you 7 simple updates you can make in your home this weekend that will make your home look expensive and increase its value. Tell us where to send your free copy:  
This site uses ads and affiliate content as an Amazon associate earning on qualifying purchases. Disclosure.
---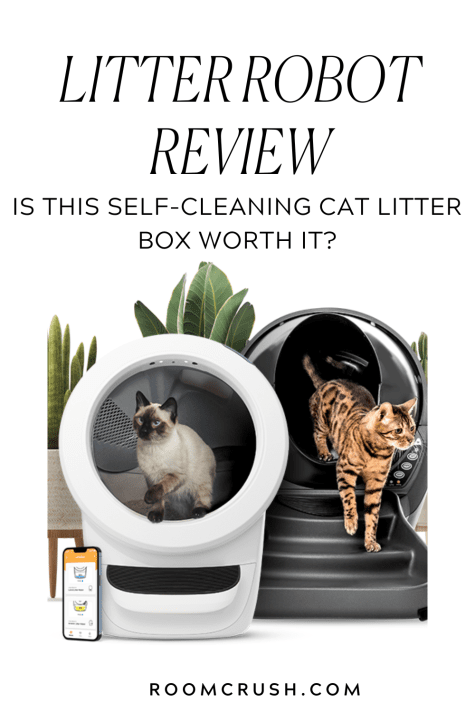 About Litter Robot by Whisker
The Litter Robot is an automatic, smart litter box by the renowned pet brand Whisker. It's an awesome product that's been around since 1999. And for the past 20 years, the company has worked hard to innovate further.
It requires minimal help from you: all you have to do is fill the box with fresh litter and let it do its thing. It's hassle-free and saves you lots of time since you only need to clean it once a week. You can track the level of trash and litter on your phone to see if it's time to clean it.
But aside from helping out humans, it's also beneficial to cats. Each time your cat goes, it will have clean, fresh litter.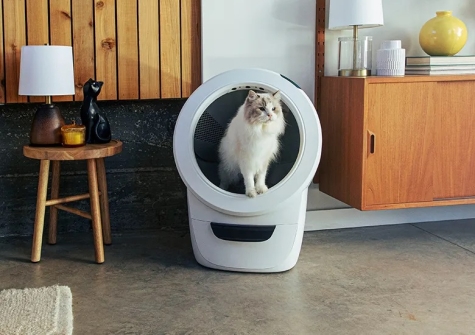 The newest model of the automatic litter box is called the Litter Robot 4. Whisker added many new cool features to this one, like the SmartScale™ and SafeCat™ systems. It can also help owners monitor their cat's urinary health and well-being.
Sounds like the dream device for any cat owner, right? Well, it comes at a price—literally. It costs over $600, which is quite steep. But what you get is the highest-rated litter box in the world.
The Litter Robot is so popular that it's been featured on media channels like CNN and The New York Times. The brand also has 160k and 135k cat-loving followers on Facebook and Instagram, respectively.
Ordering from Litter Robot
You can choose between three self-cleaning litter box models on the brand's website. The Litter Robot 3 Connect range from about $499-$549. But the latest model—the Litter Robot 4—is priced at $699. Stay tuned to see our review on that model in a bit.
None of these litter boxes require a special kind of litter. So, you can use your favorite scoopable litter that your cat is accustomed to. All you have to do is make sure the beads are small enough to pass through the screen.
The brand also offers feeder robots, cat accessories, toys and furniture for your pet, and more.
All the models are designed and assembled in the US. They also have a one-year warranty to help you with any technical difficulties.
You can opt for a 90-day in-home trial of the Litter Robot. It ships in 7-19 days, with free shipping for orders over $45.
Litter Robot 4 Review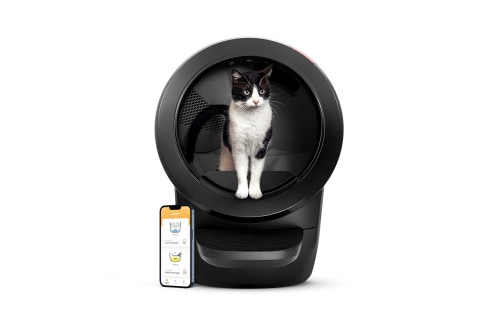 This model is the latest evolution of the brand's self-cleaning litter box. It's Wi-Fi-enabled, giving you visibility on the box's stats.
The concept is simple. After you set up the Litter Robot box and put some litter, your cat can sit on it and do its business. The box's robotic mechanism rotates, it scoops out the litter waste and places it all in a container you can throw out later. But since the trash bin isn't out in the open, it won't leave that stinky odor some litter boxes have.
The box already comes fully assembled. All you need to do is plug it in, set it up with your phone, and let it do the rest.
Taking customer feedback to heart over the decades, they added new technologies to this model. There's a new cat sensor and a litter-sifting technology for odor control. It also tracks waste drawer and litter levels on the Whisker app. So, you know exactly when to clean the tray and replace the dirty litter.
The compact size is perfect for any cat to sit in. Lots of cats adjust and acclimate to the box within a week. It doesn't have a weight limit, so they're great for cats of all breeds. That said, it can't recognize cats under 3 lbs, so kittens may not be able to enjoy this box in automatic mode.
Try this self-cleaning litter box out and join the 750k+ cat owners who never have to scoop litter again.
You May Also Like: Best Whole House Humidifier Picks
Why do people like the Litter Robot?
Takes out the hassle of cleaning traditional litter boxes
Reduces the odor of cat waste in your home
You get phone reminders of how full the waste bin is
Clean out the machine only once a week
You may also like: The 5 Best Air Purifiers for Allergies (Pet Hair, Odors, and Dander)
How does Litter Robot work
You can choose between two types of cleaning cycles: manual and automatic. If you're not comfortable doing the automatic setting yet, you can do it the manual, traditional way first.
To use the automatic setting, press the icon that says "clean" on the box. The robot then cleans itself when it detects that your cat has used the box.
But don't worry, the robot box waits 3-15 minutes after your pet uses it before starting the cleaning process. That way, it won't start while your pet sits in the box!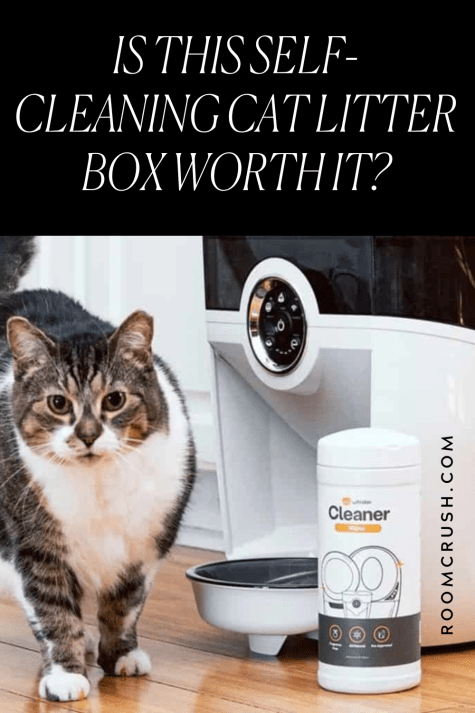 How To Clean Litter Robot
Hate cleaning appliances? We've got a treat for you! The self-cleaning litter box doesn't require any upkeep or cleaning—at least of the device itself. All you have to do is pull the waste bag out of the bin when it's full. Empty it, replace the bag, and you're done.
If the base is dusty, wipe it with a clean, wet rag. You can also use a disinfecting solution to remove stubborn grime and dirt. Ensure the cleaning products and liquids don't touch the wires and buttons.
Pros and Cons
Pros:
The highest-rated cleaning litter box in the world
No more scooping out litter by hand
Reduces the funky odor of the litter
Convenient for homes with multiple cats
Approved by veterinarians
Has features like SmartScale to show you your cat's stats
Offers a 90-day free trial
Free shipping for orders over $45
Cons:
Could be expensive
Automatic mode doesn't work for kittens under 3 lbs
Litter Robot Customer's Reviews
The litter box has excellent reviews on its Facebook page. It has scored 4 out of 5 stars, thanks to over 1,000 good reviews!
YouTubers also love to share their experience with the robot litter box. One channel that has talked about it is AllAboutCats. She shared her experience with the Litter Robot 3 and compared it with the newer model.
She was quite happy about the technological changes in the fourth model, which made it more people-friendly. "I was really happy with my experience," she said. "It seems they've addressed most of the issues I was talking about when I reviewed the Litter Robot 3. They are offering more advanced weight sensors and have a more advanced app."
Another review is from SnazzyLabs. He's tried many automatic litter boxes, but he believes the Litter Robot 4 is the best. One of his fave things about it? It's a compact size! "The robot has a massive cavity for cats of any size while still maintaining a fairly small footprint!" he said.
Litter Robot vs Petkit vs CatGenie
When comparing the Litter Robot to its top competitors, you'll see that it truly shines.
It's lighter than the Petkit and CatGenie models at 24 lbs. The other brands weigh around 27 and 25 lbs, respectively.
And while all three come with a trusty app, Litter Robot is the only one with advanced laser sensors. This technology lets it detect when your cat is in the box.
Another plus with the brand is that they have an extended warranty of up to three years. This is something that's not available with the other two brands.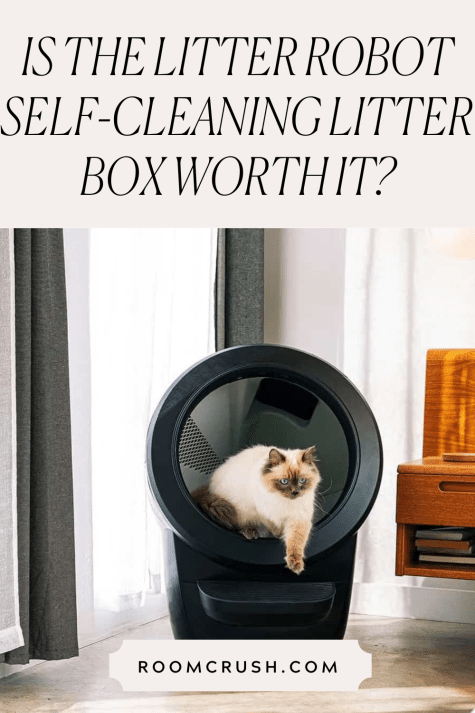 Is Litter Robot worth it?
Yes, the Litter Robot is an excellent investment for any cat parent. Although it can be a bit pricey for some, it's a lifesaver when picking up after your pets. If you have two or more cats, this litter box is a must-have.
You only need to clean the litter box once a week since it's self-cleaning. Plus, it reduces the odor in your house, keeping it fresh and clean for longer. No need to stress about how much time it takes to clean up or how funky your living room smells.
Get this self-cleaning litter box as a gift not only to your pets but to yourself as well.
Read This Next: