Bathroom Cleaning Hacks You Have To Try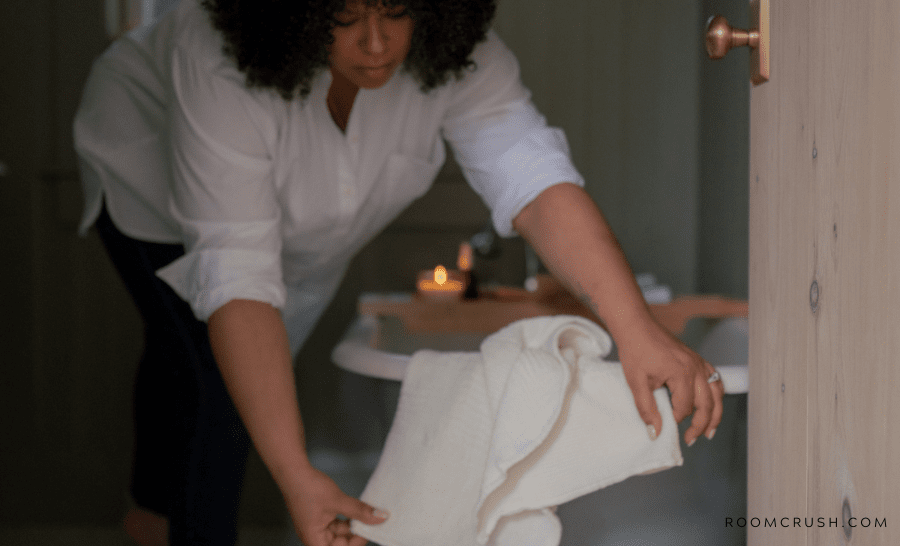 Bathroom cleaning hacks can save you precious time. Unlike some parts of a home that we do not use often, the bathroom is used virtually all day long. Because of this, it gets dirty, very quickly, and needs to be cleaned continuously.
Yes, it is gross and hard work to clean a bathroom effectively, but there are ways to minimize your cleaning time.
After all, it would help if you enjoyed a refreshing shower to begin your morning or a warm bath after a stressful day, and that will not happen if you are walking into grossness.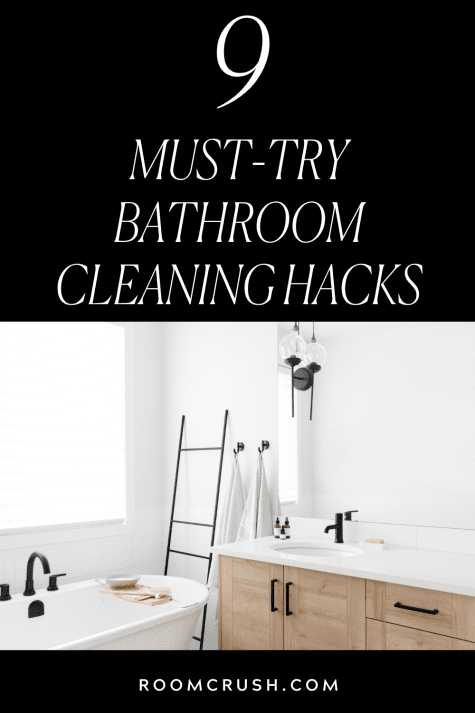 Warning: Some Of These Bathroom Cleaning Hacks Will Surprise You
I have skillfully implemented a few hacks into my cleaning schedule. One of the tools I swear by is Rain-X!
---
7 Easy Home Updates eBook: Free!
Today, get a free copy of our ebook that shows you 7 simple updates you can make in your home this weekend that will make your home look expensive and increase its value. Tell us where to send your free copy:  
This site uses ads and affiliate content as an Amazon associate earning on qualifying purchases. Disclosure.
---
Rain-X was initially created for windshields, but it can also be used on glass shower doors because it has the same effect. It will keep your shower glass clean, remove soap suds, and water stains.
1. How To Keep Your Glass Showers Clean Longer Using Rain-X?
Instructions For Spotless Glass Showers:
Scrub your glass with a magic eraser sponge with a few drops of dish soap to remove any soap scrum.
Rinse with water and dry with a microfiber cloth or tee shirt to prevent any spots or lint. Apply Rain-X directly on your glass.
Use a clean microfiber cloth to rub it onto the surface of the glass in a circular motion.
Use a fresh dry microfiber cloth to remove the excess.
Make your efforts last longer by tossing in a squeegee in the shower. The Rain-X usually will last several weeks, depending on the frequency and length of your showers.  Keeping your glass spotless will no longer be such a chore.
2. Clean Your Fabric Shower Curtains & Moldy Shower Liners
This is an easy one!
Collect your fabric shower curtain, plastic liner, and towels.
Toss them all in the washer with your regular detergent, add 1 cup of baking soda and a few drops of tea tree oil.
The towels will provide the needed friction to scrub your plastic liner, the baking soda will increase the performance of your detergent. The tea tree oil has antibacterial properties which help in sanitizing your laundry.
If you're interested in having the best-smelling laundry check out Best Smelling Laundry Detergent Combos Hands Down.
3. How To Clean Tiles Inside Your Shower Or Tub
When renovating our master bathroom, I went for white subway tile, dark grout, and charcoal penny tiles for the interior of my shower floor.
Big mistake…what I failed to consider was I have lots of hair products that enjoy leaving a white film on my beautiful dark floor grout – Ugh!
So, I purchased a little dish brush, and filled it with dawn soap to banish any evidence of the white residue mostly left behind from my collection of hair conditioners.
Eraser sponges are my go-to for the tiles on my wall.
A few swipes with the eraser is all it takes….if your soap scrum is stubborn just sprinkle a little baking soda.
By the way, DON'T waste your money on purchasing the name-brand eraser sponges; my experience has been that they crumble while in use AKA breaks easier. Plus, I found them to be too costly.  So for the past few years, I've been pleased with a knock-off eraser sponge.
They also work wonders on your tub, sinks, and hard water stains on stainless steel.
After each shower, we keep the soap scrub away by using our squeegee on the tile walls as well.
4. Use Shaving Foam On Your Mirrors
Here's another crazy cleaning trick you probably never ever heard of.
Shaving foam
will not only clean your mirrors it will de-mist them. In other words, when your bathroom becomes steamy it will keep them from fogging up. What?!
To use, spray it on a paper towel and polish it off with a microfiber cloth. Your mirrors should remain steam-free for about two-three weeks depending on "steaming frequency."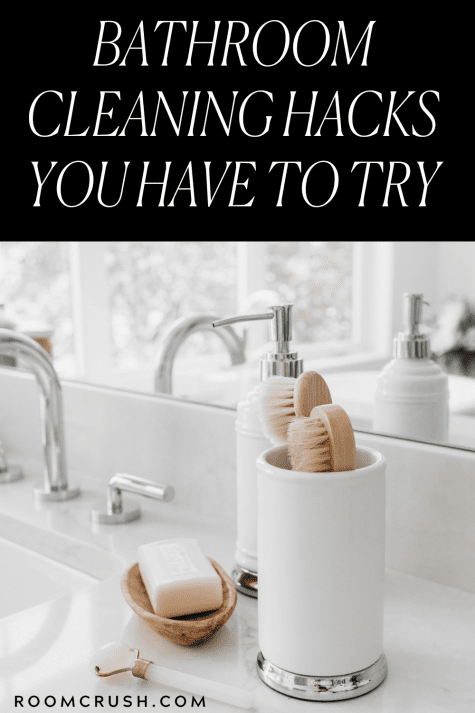 5. How To Keep The Porcelain Sink Shiny And New
Okay, let's be honest porcelain sinks can pretty much clean themselves. If they need a little help, a few swipes with an eraser sponge it all it takes.
If your sink becomes stained, just sprinkle a little baking soda and peroxide, then scrub.
My go-to for countertops is nonother than Method Granite and Marble cleaner. I love the way it smells and it keeps my countertops shiny for days.
My second brand favorite is Mrs. Meyers. I pick up all my products at Grove Collective since they have free shipping and price match.
Related: 10 Ideas To Update Your Boring, Old, Tiny Bathroom Stylishly
6. Clean The Toilet And The Brush
The toilet needs no introduction at all and usually requires a lot of attention. A few times a week, sprinkle some product and use your brush to scrub the bowl.
Flush the toilet to clean the brush and drip dry the brush by closing the lid on the handle of the brush.
I love using Blueland's toilet cleaning tablets for this. Not only do they smell great, but all I need to do is drop a tablet into the toilet, brush once it's dissolved, and flush (with no harsh chemicals!).
Lastly, spray some disinfectant onto the brush and holder for ten minutes and then rinse it off.
You May Also Like: Best Eco-Friendly Cleaning Products For A Non-Toxic Home
7. Tidy Up Regularly
My friend Angela has always joked that I enjoy living in a hotel. She has pointed out on several occasions that I do things only a hotel maid would do.
I've come to admit she's correct as there is more evidence in my bathroom. I can't stomach an overflowing wastebasket…especially in the bathroom.
I fixed this issue by purchasing small garbage liners – it makes me happy and keeps things tidy.
Keeping extra liners in the waste basket keeps this task super quick and gives off that hotel feel.
I also keep glass wipes and disinfecting wipes under the bathroom cabinets in each bathroom.
A simple wipe down on my mirrors and surfaces…then a quick toss of the wipes in the garbage – Voila!
In case it needs to be said, vacuum and mop your floors during your regularly scheduled cleaning – at least weekly.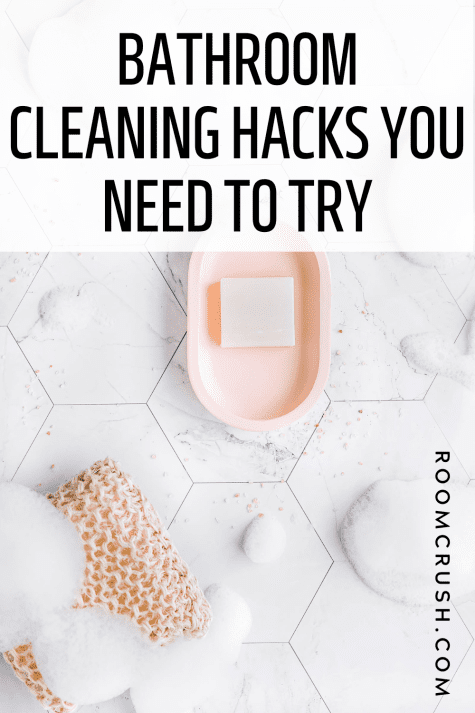 8. Keep Your Exhaust Fan On For 30 Mins After A Shower
To reduce the humidity in your bathroom, your exhaust fan should remain on for 30 minutes after showering.
By putting this into practice you'll notice your walls and mirrors will become less dirty.
Don't forget; your exhaust fan will need vacuuming and rinsing from time to time to remove dust buildup.
9. How To Keep Your Bathroom Smelling Great
This is like hitting the easy button and probably one of my favorite bathroom cleaning hacks.
You can pour a little fabric softener into the tank of your toilet. This will provide some freshness with every flush.
Second, sprinkle some Downy Unstopables in your wastebaskets.
Third, read this guide on eco-friendly cleaning products to use in your home.
Bathroom Cleaning Hacks You Have To Try – Conclusion
Keeping your bathroom clean is a necessary evil. If you incorporate a few of these bathroom cleaning hacks, I promise you'll be grateful and will find yourself cleaning less often.
If you have a few tips of your own, please feel free to share them below. 
Read this next:  How To Clean Your House? In What Order?