10 Inviting Outdoor Kitchen Ideas For Every Yard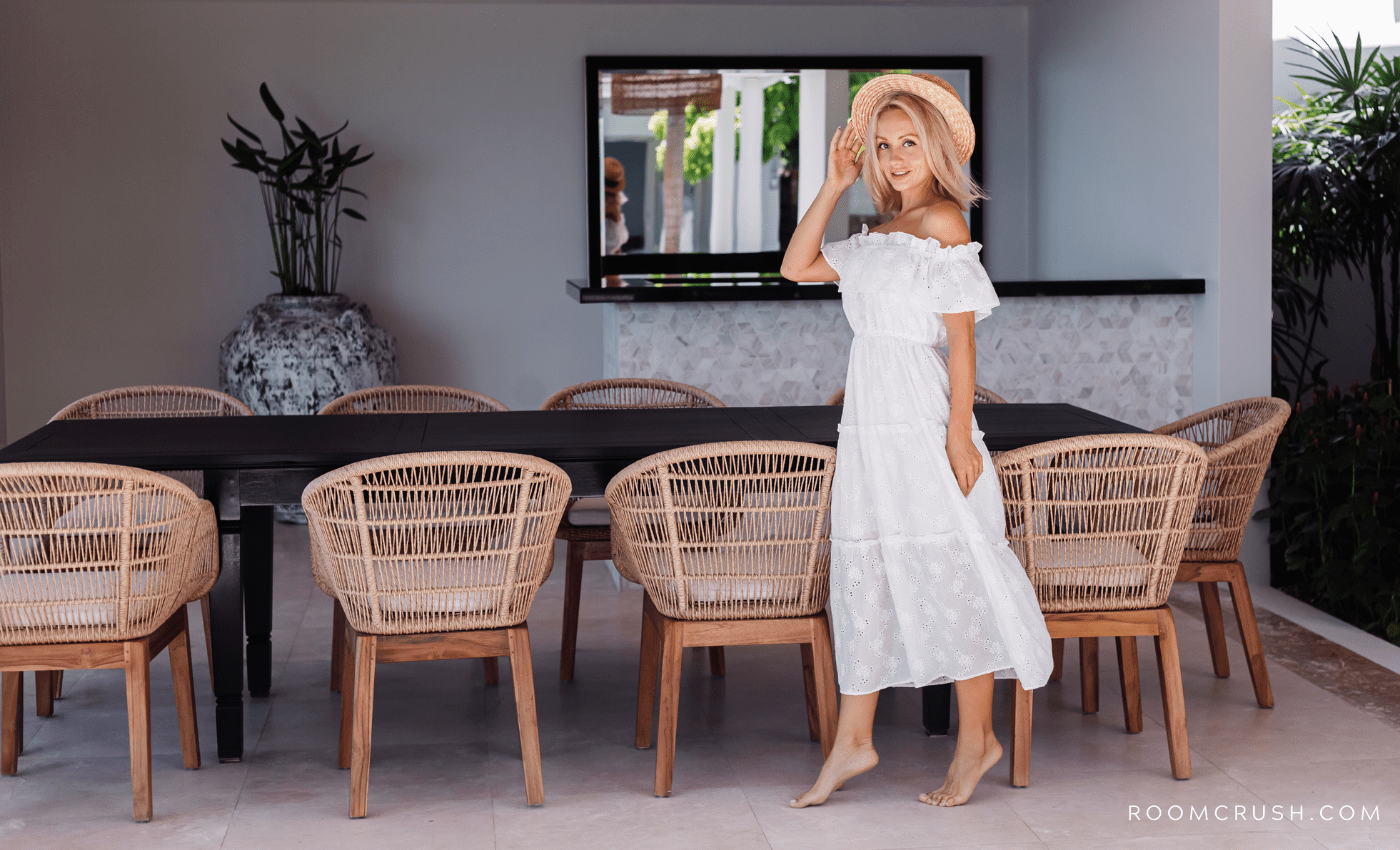 If you love grilling and cooking outdoors, then you must be looking for outdoor kitchen ideas to add to your yard.
Indeed, the warm season is here already, but is your backyard ready?
Starting a backyard project as soon as now will allow you to get out of the house and enjoy the outdoors. And this season, outdoor kitchens are on the rise!
Here's the fabulous outdoor kitchen inspiration you've been searching for!
---
7 Easy Home Updates eBook: Free!
Today, get a free copy of our ebook that shows you 7 simple updates you can make in your home this weekend that will make your home look expensive and increase its value. Tell us where to send your free copy:  
This site uses ads and affiliate content as an Amazon associate earning on qualifying purchases. Disclosure.
---
10 Inviting Outdoor Kitchen Ideas For Every Yard
Adding an outdoor kitchen to your yard provides a great place to entertain.
Guests will gather around the BBQ grill and socialize as dinner is being cooked as food is grilled on the patio.
Outdoor kitchens significantly increase the value of your home; when you have a functional outdoor kitchen, you have an investment you can enjoy for many years to come.
For sure, an outdoor kitchen will greatly expand your living space outdoors. Whether you have a small yard space or an expansive one, we share amazing tips for creating an outdoor kitchen as well as ideas to inspire your next backyard project.
You May Also Like: 15 Creative Backyard Decor Ideas to Try
Factors to Consider Before Creating an Outdoor Kitchen
Research, preparation, imagination, experience, and patience are all required when planning a home improvement project. Some homeowners tend to employ designers, while others prefer to do it themselves.
In either case, there are numerous considerations to make during a home improvement project, particularly when designing outdoor kitchens. These include:
1. The Location
The immediate location of your home will affect the kind of outdoor kitchen you can build, and even when you can use your outdoor kitchen.
Usually, summer is the best time to use an outdoor kitchen. So, when designing your outdoor kitchen, plan for warm temperatures and plenty of sun, and be prepared to take any measures.
It is wise to build your outdoor kitchen under an existing shade or consider installing new sources of shade, so you and your guests stay comfortable all year.
No matter how beautiful your outdoor kitchen turns out, it is essential that it blends in well with the surrounding environment, so it can look natural like it was meant to be there the whole time!
Again, the location of an outdoor kitchen should be near your home to make it easy to prepare and transport food.
2. The Space & Layout
The size of available space in your yard will determine the size of your outdoor kitchen, thus, the layout as well whether U-Shaped, L-Shaped, Side-by-Side or a Galley.
Think about the size of the area you need for entertaining, ideally, how much amount space each person will get after the complete installation. Consider your family first before looking at how much space there is for other friends too.
Carefully take note of any existing yard features that you want to complement- pools, or gardens, for instance.
Also, be wary of design overlap. You do not want your outdoor kitchen covering to shade your vegetable garden.
To make a smooth transition between indoors and outdoors, it's a good idea to put your outdoor kitchen closer to your indoor kitchen.
3. The Utilities
When planning your outdoor kitchen layouts, keep in mind the best practical access to utilities like gas, water, and electrical supply to ensure you design your kitchen accordingly.
Furthermore, when placing your grill or smoker, consider the natural flow of the wind to ensure the smoke from the grill is carried away from the dining and living areas. You should also consider placing the kitchen area far enough away from doors and entryways to keep foot traffic away from possible hazards.
4. Your Budget
Every backyard project including creating an outdoor kitchen will require a financial investment. Thus, your budget will affect the kind of layout and the appliances you can have in your kitchen.
As much as you want an inviting outdoor kitchen, always work within your budget because there is something for everyone!
5. Your Kitchen's Functionality
An outdoor kitchen is more than just a grill and countertops. Since most homeowners desire a fun outdoor entertainment spot, a fully-equipped, outdoor kitchen where you can grill your favorite foods, and enjoy them with all of your family and friends while entertaining, is a great idea.
Knowing what purpose you want your outdoor kitchen to serve will help know what kitchen appliances to include: a grill, oven, power burner, cook set, grill set, skewer system, French press, knife set, bar cart and more.
Also, keep all outdoor cooking equipment away from places where children or people participate in sports to avoid balls from being thrown onto a hot grill.
6. The Outdoor Dining Table
The dining area in your outdoor kitchen is an important aspect to consider. You will need a high-quality outdoor dining table. 
For this post, we purchased the Farum Table and benches to review.
The Farum table is currently sold out at Article, but it appears to be available at Havenly. Here's a $100 credit to spend at Havenly either way!

Or, the closest comparable table we can recommend would be the beautiful Acosta table. 
Now, let's review the Farum table.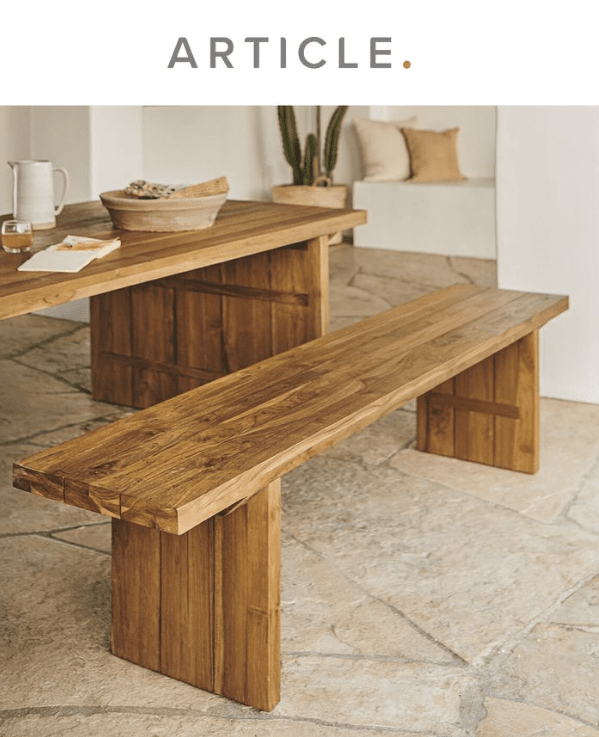 First, I was not expecting this set to weigh so much!
This table and benches are really, really heavy. It really is made of solid teak. 
And, we chose this outdoor dining table for its durability.
When I opened the box, I was also surprised by the color. It arrived in a much darker red-brown color, that did not look like the pictures on Article's website. 
Honestly, I did not like the actual color at all at first. 
But after some getting-used-to, I don't mind the color as much now. It is lightning a bit in the sun.
More important than the color, however, is the durability of the table itself.
For this outdoor kitchen ideas post, as with all of our posts, we want to make sure that we thoroughly test the products that we review. 
So, we putting it to the test, to see how well this solid teak outdoor table will hold up, in the rainy climate here. 
So far, I have had it for a few months, during the Summer and it is still looking like new. 
I will update this post in the Fall, once it's been through the rainy season. 
Again, although the Farum table is sold out, the Acosta table is very similar. Acosta would be a great addition to any outdoor kitchen.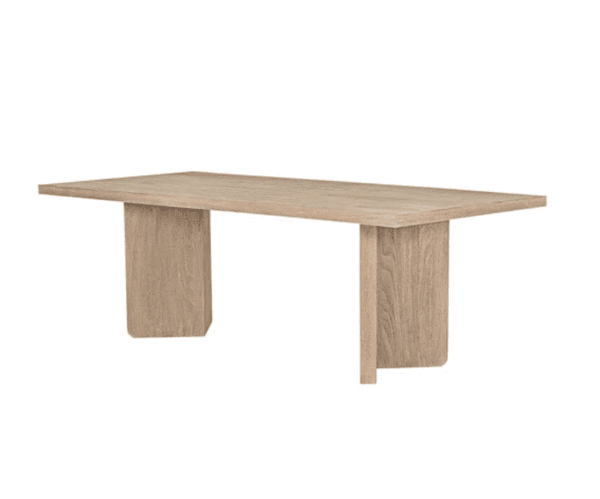 7. Offer a View
No guest wants to sit down to eat at the table and face a brick wall or an old garden shed in your backyard!
You want to provide a perfect location for your outdoor kitchen that provides an amazing backyard view- possibly to the swimming pool, or garden among other stunning backyard features.
The location should also provide the most privacy from neighbors: using screens and screening views with trees and shrubbery will provide privacy while also providing a noise buffer for your close neighbors.
You May Also Like: 15 Ideas for Landscaping your Yard Without Grass
Inviting Outdoor Kitchen Ideas To Create One In Your Yard
You can easily transform a patio by building an outdoor kitchen and a dining area in this paved location of your yard. This actually makes work easier!
Another option is to add your simple kitchen by the pool, under a covered deck, an extended roof.
The latter option allows you to enjoy the grilling season, even when the weather is not there.
Ready to install an outdoor kitchen in your yard? have all the factors above in mind? Then try these 20 inviting outdoor kitchen ideas for your yard:
1. Build a Compact Kitchen
A compact outdoor kitchen is a simple, effective, and perfect outdoor kitchen for small spaces in great outdoors.
These kitchen kits are easy-to-install prefabricated kitchens, though you still have to connect them to water and gas lines.
They can be bought and installed by experts or by yourself.
A fire grill is usually the focal point of a compact outdoor kitchen., and includes weather-tight cabinetry built-in for storage.
It can also include a pizza oven sitting atop the countertop.
Thus, a compact outdoor kitchen allows you to cook restaurant-quality bbs and pizzas in your own backyard.
2. BBQ Area with an Oven
Even if you're just grilling up a short weeknight meal, the fresh air and hot grill will put you in the mood for a holiday.
So, even if you have small yard space, fit in a BBQ area. You can acquire a gas or charcoal grill, or even choose to grill campfire-style by using a stone fire pit with attached grilling grates.
Consider the type of grill, how much you'll be grilling, how much storage space you have, what flavor you want, and how much time and energy you'll want to devote to cooking when choosing a grill.
Outdoor gas grills are very popular, and indeed they fit right into any contemporary outdoor kitchen space complete with modern fixtures and ample seating and counter space.
A simple cast-iron grill can work too for a relaxed vibe!
3. Add an Outdoor Bar Area
Every backyard needs an outdoor bar, especially as part of your outdoor kitchen.
They make entertaining outside a simple and stylish adventure.
If you don't have a ton of space, this small bar can tuck into just about any corner of your patio, deck, or yard.
4. The Seating Area
A seating area is a mandatory option for all sizes of yards, especially when you host gatherings.
Add comfortable weatherproof chairs or sofas depending on how tall the table or countertop is.
5. Consider Organization Of The Space
Organization is still important in your outdoor kitchen.
Put together a pull-out utensils drawer for hanging all your BBQ and oven tools. Cabinets are must-haves too!
You will also be prepping veggies and seasoning meat so you need a trash can as well, serving trays, and more. So depending on your the items you will use, have the right organization in place for a clutter-free space.
6. An Outdoor Kitchen Island
Looking to add convenience and fun to your backyard? Then install a kitchen island.
It can provide extra working space, seating space around, or even extra storage
8. Build a Pergola
Even the best outdoor kitchens need a little shelter every now and then, especially when harmful UV rays are at their most fearsome, to ensure the durability of your countertops. appliances, fabrics, seating as well as ensure the comfort of the users.
If temperamental umbrellas aren't your style, consider building pergola or gazebo creations.
Cabana slat beams and beadboard paneling to line the underside of your patio roof will also provide a finished look.
9. Add Lighting
The right lighting is a vital part of your kitchen as it enhances visibility and opens up the space.
Create someplace warm and inviting by hanging simple string lights as they can make a major impact. Solar lights will help give off a warm glow come night time.
Go ahead and dine al fresco!
10. Fix your Countertops
Outdoor countertops must be weather-resistant, waterproof, and sturdy enough to withstand the weather elements all year.
Concrete countertops are a durable choice while the pricier stainless steel is able to resist tarnish and damage from rain.
Others prefer stone countertops. For instance, bluestone countertops are beautiful, but brittle and can accumulate stains over time. Granite, on the other hand, is a perfect option for both covered and uncovered countertops because of its longevity, aesthetic appeal, and stain/fade resistance.
Wood countertops also stand out but require more maintenance thus suited for covered outdoor kitchens.
Similarly, tiled countertops will require frequent maintenance as they are susceptible to grout dirt or cracking in cold areas.
Convinced to build an outdoor kitchen? Let us know!
Pin This: