15 Ideas for Landscaping your Yard Without Grass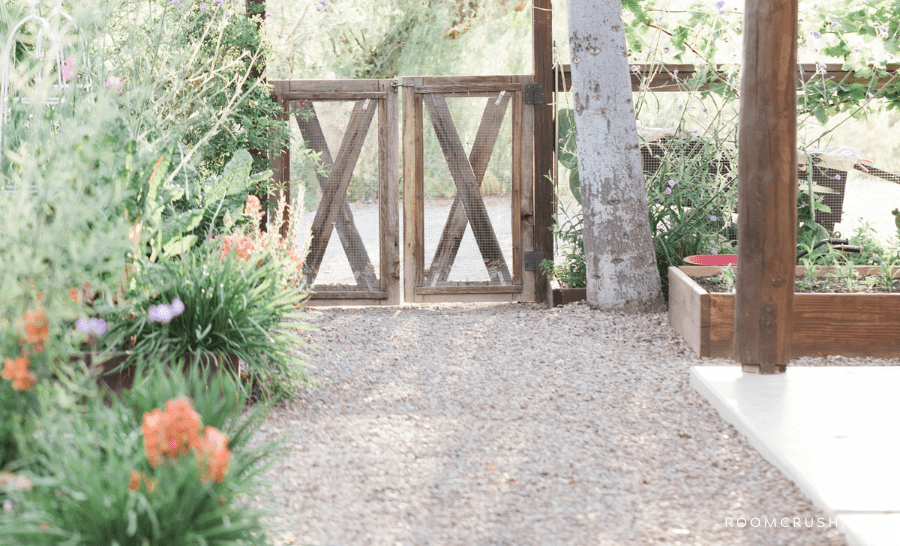 Looking to revamp your landscaping without grass? You're in the right place.
Well-kept grass lawns add curb appeal and greatly increase the value of your house. However, the expense, upkeep, and specifications that come with such a beautiful landscape feature can put a dent in your wallet.
Planting turfgrass, mowing, watering, feeding, weeding, edging, and aerating a natural lawn can all take a lot of time, effort, and money. So, if you're looking for ideas for landscaping your yard without grass, you're in the right place.
However, there are a few landscaping factors to consider before beginning your project, and a landscape analysis will help deliver on that:
---
7 Easy Home Updates eBook: Free!
Today, get a free copy of our ebook that shows you 7 simple updates you can make in your home this weekend that will make your home look expensive and increase its value. Tell us where to send your free copy:  
This site uses ads and affiliate content as an Amazon associate earning on qualifying purchases. Disclosure.
---
How to Conduct A Simple Landscape Analysis
1. Locate All Utilities
Even before beginning your landscaping project, it is important to locate the utility lines first.
Any landscape analysis should take those lines into account, including sewer and septic systems, gas lines, heat pumps, electrical lines, and underground transformers, cable TV lines, water pipes, telecommunications lines, and irrigation systems.
You should be able to find out where these lines are buried, if underground, by contacting the local utility providers.
If you've installed service lines yourself, such as drainage tubes or a gas line for an outdoor barbecue, you're in charge of keeping track of their positions. Digging an area with underground utilities can cause damages thus, costly repairs.
Also, consider above-ground utility points such as power, gas, and water meters, transformers, heat pumps, and guy wires.
For example, planting trees beneath power and communication lines is opposed due to conflicts with the branches, and also limits accessibility for workmen. In fact, during a storm wind, trees in utility wires can spark fires as the insulation is rubbed off the wires by branch abrasion.
Take into account the utilities of common use (sidewalks, curbs, or public roads) that might be adjacent to your property, as well as any state and local ordinances that apply to these features.
This will help avoid possible fines down the road, accidents by drivers, or the wrath of your neighbors- if your trees shed a lot of leaves or drop a ton of fruits.
For example, trees should never be planted near underground water and sewer lines because the roots will cause problems as they grow naturally seeking water.
2. Note All Access Points
The site plan should show access to utility meters by specifying the location of fences and gates to allow entry of meter readers, air conditioning systems, or underground crawl spaces for raised foundation homes.
3. Note Your Land's Erosion Patterns
Since gardens tend to lose a lot of soil, it is also important to take into account the land's erosion patterns. For instance, the gas line you assume is 24 inches down maybe just 8 inches from the shovel's blade due to continuos erosion.
4. Consider the Existing Vegetation
Most landscapes including your yard will have existing vegetation. Thus, during your analysis, looks at what is there, what you want to keep, and what to get rid of. This will be determined by your short- and long-term goals for the property.
5. Address the Use of your Landscape
Since manmade features affect the way you use the landscape, even before you install your new landscaping, you must first decide the purpose of your yard depending on your lifestyle, budget, acreage and property goals.
For instance, will your yard, for example, be used for hosting so you would need an outdoor kitchen or a playground? Would you prefer a vegetable garden, or will it be used solely for aesthetic purposes? You might even need an all-purpose yard!
Remember to landscape consciously, ensuring your environment is not negatively impacted.
From the landscape analysis, you can select low-maintenance landscaping that suits your budget.
You May Also Like: The Importance of a Well-Maintained Backyard and 15 Creative Backyard Decor Ideas to Try
In this article, we share creative ways for landscaping your yard without grass.
15 Ideas for Landscaping your Yard Without Grass
Lawns are going; grass is going due to the maintenance costs down the line. For alternatives, here are 15 no-grass landscaping ideas that will transform a plain stretch of lawn into a beautiful landscape you'll really use and enjoy:
1. Use Artificial Turf
If you are unable to maintain a lush lawn but still desire a green lawn, artificial turf grass can be installed. This will require a significant investment to ensure a properly installed artificial lawn so be ready for that.
Before buying your artificial grass, do your research to find the best quality of fake grass since different types are specialized for a particular need.
When installing your turf grass, prepare your base ensuring it's level, solid and free from holes and sinks. This will also help avoid problems of stagnant water in the future.
When it comes to artificial turf grass installation, drainage issues can be very severe. A lawn with bad drainage can absorb water in all the wrong areas, resulting in puddles, thus, costly to maintain in the long run if not resolved early.
To ensure water flows freely, fill places where you want drainage to be smooth by digging and using rubbles.
After installing your lawn, be sure to apply infill to weigh down the turf and keep the artificial grass from getting wrinkles or ripples caused by movement. Thus, the turf looks better and feels softer on your feet.
The Coated Green Silica Sand Infill for Synthetic Turf √ is a safe alternative for use, might you be wary about the dangers of infill.
Artificial turf grass is attractive in all types of weather and requires little upkeep, as it does not require watering, fertilizing, or mowing like real grass. Remember, it still requires little upkeep to look its best: it will need to be cleared of leaves and debris if you have trees nearby, and even occasional raking. Also, deodorizing to prevent odor.
It's also pet-friendly unlike some grasses.
However, turf can melt, especially during the summer when the south-facing windows reflect the sun off to melt the grass. To ensure your artificial turf doesn't melt away, install screens and protective films to cover windows that face your new artificial turf prior to installing your turf.
To ensure you don't have serious 'fake lawn' problems down the line, it is best to hire an expert.
2. Plant a Garden
Planting a garden will not only increase your property's value and provide fresh foods for your home, but it also nurtures the ecosystem by providing some or all of the four needs of wildlife: food, water, shelter, and nesting areas. 
Before switching over to gardening, make a decision on the kind of garden you want and the plants or flowers you want to grow in it. This will assist you in determining the size needed and its style.
Since establishing a new garden bed often means sacrificing a portion of the lawn, kill the grass naturally by sheet mulching using newspapers or unwaxed cardboard, to smother the grass. Add garden soil to the area and select the right kinds of plants for your area.
Grow produce that is suitable for the climate, soil, amount of sunlight, and rainfall of your area. You can also have a drought-resistant garden that can bring life and activity to your home when water is in short supply. Flowers are a great choice too!
Be sure to arrange plants in tight groups when planting an entire garden bed; sharing soil and root systems will keep them from drying out.
Gardening Tip…
Choose plants that do more than just bloom. For instance, add plants with interesting foliage, bark, or fruit to extend seasonal displays.
To pull your garden together, consider these garden design elements; ideally, your garden should include:
Colors to add vibrance to your garden, and create a color scheme.
Texture to give your garden definition. For instance, you can mix different plants with flowers and rocks.
Sound to breath life into your garden- think the sound of trickling water, chirping birds, or the wind rustling plants,
A focal point to grab the eye and then direct the attention to the surrounding plants. 
3. Plant Edible Ground Cover
By replacing a grass lawn with ground cover plants, you can save water, spend less time mowing, and attract beneficial pollinators to your yard. If edible, they will also spice up your kitchen.
Spearmint is a great choice for shady and damp areas of your yard while creeping thyme, a hardy plant that can stand some foot traffic, is a great option for areas near pathways and between rock steps.
The slow-growing wintergreen with edible red-berried does well in shady areas so they can be planted under trees in dappled light. 
Make the area more attractive by using ground cover to soften the hardscape pavings; this is a wonderful alternative idea to traditional grass.
4. Start a Container Garden
A container garden is a perfect way to add structure and beauty to your room instead of a green lawn.
It's actually not difficult to start a container garden as you only require: a container, plants, soil, and water.
Container gardening allows you to grow plants that would otherwise be difficult to grow in your garden soil, plant anywhere, and have a garden that requires little to no weeding, pest and disease control, and easy fertilizing.
To make your home more inviting, pick a beautiful planter that can be tied to your sorroundings and strategically position your container plants around your yard.
5. Use Raised Planter Beds
Your landscape will benefit from attractive cedar raised beds. Use them to create perimeter gardens that will brighten your entryway and allow you to cultivate food in your front yard.
So, convert your yard into a garden with elevated planters to take it to the next level, and fill your garden with the types of vegetables you like to eat. 
You're not planting directly on the field in this situation, but rather in raised beds. As a result, you can sit down while tending to your garden and monitor the consistency of the soil and water drainage. How easy!
Plants like perennials, annuals, and ornamental grasses thrive in raised beds, and they use less water than container gardens. To maximize the amount of planting ground while also providing a focal point in your yard, create a spiral-raised planter garden.
You May Also Like: The Basics of Gardening in Raised Planter Beds
6. Plant a Moss Garden
Moss is a perfect lawn substitute for grass. So, if you're looking for greener ways of landscaping your garden without grass, so for this wonderful springy ground cover that can be walked on moderately.
When used in lawns and gardens, mosses are very pleasing to the eye. They only need a small amount of water and are very simple to grow. It's also cheap to keep moss alive. When moss dries up due to a lack of sunlight, it regrows on its own. That means you'll probably just have to buy moss once, and it'll keep growing in your lawn.
As nature's natural carpet, moss lawns can save on water, time, and fertilizer. Simply choose a variety that is native to your region ( purchase from a local nursery), provide them an acidic soil environment of around 5.5, compact the soil into a soil surface and plant your mosses.
The best time to transplant moss is in spring or fall when there will be the most rainfall. After planting your moss, water it thoroughly, ensuring the area is damp with regular watering for the next year to help the moss establish well.
Moss lawns need very little maintenance. Just pay more attention to the moss, and the edges especially, in the hot dry months to ensure your moss does not dry out, as it may die.
Also, avoid trampling on the moss regularly since it can only withstand light foot traffic. Thus, in heavily trafficked areas, stepping stones or stairs should be installed.
Time to remove your grass and substitute it with a moss garden for a green yard that doesn't need any irrigation or weeding!
7. Or a Cactus Garden
Succulents and cacti make excellent landscaping plants. They are low-maintenance, adaptable to a variety of climates, and simple to care for and develop.
Most cacti plants will event thrive in neglect. If you have a hard time caring for grass, let alone plants, then cacti would be a great option for you.
Landscaping with cactus evokes a unique style. Place a variety of rocks in your landscape to provide the ideal environment for these plants. Try mixing different heights, shapes, sizes, and colors of cacti to fill in space and create a show of color and texture!
You May Also Like: How Do You Start & Care For A Cactus Garden?
8. Plant Trees & Shrubs
Trees and shrubs work well together to offer your landscape texture and dimension.
When it comes to planting, variety is important. Consider the color and shape that the trees and shrubs can take when they mature and don't be afraid to combine deciduous trees and shrubs with evergreens. This will ensure a beautiful landscape.
Choose native species and opt for a variety so you can inter-plant them to reduce the chance of pests and disease.
You May Also Like: 4 Tips For Landscaping Around A Tree In Your Garden
Landscaping Tip…
Plant a flower wall. The hydrangea shrub is one particular landscapers' favorite since large globes of flowers cover this shrub in summer and spring hence a showstopper in your yard!
The best place to plant hydrangeas is in a sheltered location with sunny mornings and shady afternoons.
9. Mulch Well & Creatively
Different types of mulch can be used throughout your yard to improve aesthetics, suppress weeds, regulate the soil's temperature and conserve soil moisture. 
Organic mulches are a more appealing ground cover while also providing nutrients to the soil. They can make each planting area healthy and beautiful!
Instead of leaving your soil bare, mulch it with cedar bark chips for a rustic look. To avoid weed growth, it's a good idea to lay down landscaping cloth on the field before mulching.
10. Install a Rock or Gravel Garden
One of the best ways of landscaping without grass is by hardscaping your yard using rocks or gravel.
As a critical part of landscape design, hardscaping defines and adds a sense of organization to the natural areas and features of your yard.
If you want a backyard that looks good whether in use or not, particularly where turfgrass is impractical due to frequent drought and heat, consider replacing it with a rock garden or gravel. These large or tiny stones, as preferred, have a very modern and elegant appearance and do not need any maintenance.
You can also prefer slate tiles, or another rocklike ground cover for low maintenance, which is particularly useful in drought-prone areas.
Pea gravel has long been prized for its silky texture and wide range of colors. Use it to make your driveways, patios, walkways, and planting beds more visually appealing.
When using rocks, set your rocks in a purposeful arrangement that highlights or draws attention to the rocks used. There is however no right way to design or set you your rock garden. 
But before you de-plant, prepare ahead (with the help of a pro if necessary) to determine what greenery will remain. Underneath, landscape fabric should help avoid regrowth.
However, if you live in a hot desert, this may not be a choice for you. When the gravel gets too hot from the sun during the day, it can be very difficult to walk on.
11. Build a Deck/Patio Area
A deck is an open outdoor porch or platform without a roof that extends from a house. On the other hand, a patio is a paved area situated directly on the ground, which can either be attached or detached from a house.
Since outdoor living spaces are becoming increasingly common and they're ideal for the summer and for entertaining, having a patio area or deck means that you'll be able to spend more time in your backyard.
Develop a functional outdoor living area to bring your backyard to life. The shape and design of the patio- whether formal or fun- will set the scene for the mood of the home and outdoor living space. 
Add seating to your yard to open it up to a world of possibilities: You can dine alfresco, you've got a great new spot to chat, read books, and so much more.
Bring in patio furniture, greenery, and a few container plants and flowers. Remember to allow at least 3 feet of open space around patio furniture to ensure easy passage. Take it to the next level by heating your patio for use year-round.
You May Also Like: 7 Outdoor Essentials To Make Your Patio Summer-Ready
12. Build a Firepit
A firepit can act as a focal point of your patio, and add create a perfect yet subtle entertainment spot for evening chats.
Call your utility providers to check the location of buried utility lines before digging out the area for your in-ground fire pit.
Check the local fire pit regulations as well. A fire pit must be 25 feet away from any buildings or overhanging trees, according to most regulations. Consider the direction of the prevailing winds in your yard.
13. Install an Outdoor Kitchen & Dining Area
A patio is fine, but adding an outdoor kitchen or a fire pit completes your outdoor living room space and greatly enhances the value of your house!
So, step up your entertaining game with an outdoor kitchen that you can put outside on an existing patio, deck, or area of your yard. Provide an area for a grill, refrigerator, sink, and even an oven. You can also add cabinets and counters so you have more room for prep and storage for all those fun grilling tools.
Consider gathering your guests around this outdoor entertainment spot if you're hosting this summer. 
14. Build a Walkway/Driveway
Walkways, stepping stones, and driveways not only add interest to your yard but also provide a functional space for human and vehicle traffic.
You can choose to build a pavement, a natural-looking walkway using simple stone paths- these are beautiful, and also the easiest and most convenient way to get from place to place. Winding gravel paths also make construction simple.
Allow greenery(think moss or plants) to grow between stone tiles on a terrace for a lush, overgrown tropical vacation vibe. 
Add solar accent lights to illuminate your paths— and you won't waste any electricity. Place lamps close enough together that their light overlaps (typically every three to six feet).
TIP: Consider paving your yard fully for a low-maintenance hardscape.
15. Add a Water Feature
There's nothing like a modern fountain to set the scene in a courtyard. It gives any sitting area a calming atmosphere. You could also build a swimming pool to cools you off during the hot months or a stock tank pool.
Ponds are also gaining popularity, bird baths and an outdoor water bath too.
You May Also Like: How to Build an Outdoor Shower
Remember, most water features will require the right maintenance, especially swimming pools.
Maintenance is required to keep the pool's aesthetic features and user-friendliness. Your pool water must have the proper pH, calcium hardness, chlorine levels, and be dirt-free. The most basic maintenance procedure is to clean your pool.
If you don't have the budget and space for installation and maintenance, try a stock tank pool instead.
Landscaping Tip…
Create a multi-use backyard to enjoy your yard; ideally, a series of outdoor rooms that transition from a highly developed space to a natural setting with native plantings, an outdoor fireplace, a koi pond, a shade garden, and irregular stone paths.
Lawns that require little maintenance are becoming increasingly common. Leave the lawn alone and try one of these landscaping ideas without grass instead!