16 Awesome Backyard Decor Ideas To Try
Backyards are a fantastic spot in your home because they offer the feeling of safety and privacy, and indeed, most family recreation takes place here.
That means every homeowner should strive to have a well-designed backyard area.
There are a ton of backyard decor ideas you can try for your outdoor living space.
---
7 Easy Home Updates eBook: Free!
Today, get a free copy of our ebook that shows you 7 simple updates you can make in your home this weekend that will make your home look expensive and increase its value. Tell us where to send your free copy:  
This site uses ads and affiliate content as an Amazon associate earning on qualifying purchases. Disclosure.
---
If you're a homeowner who's looking to make the most of their big or small backyard, read on for these great backyard decorating ideas you can try this weekend!
16 Awesome Backyard Decor Ideas To Try
Here are 16 incredible backyard decor ideas to inspire you to transform our outdoor space this weekend.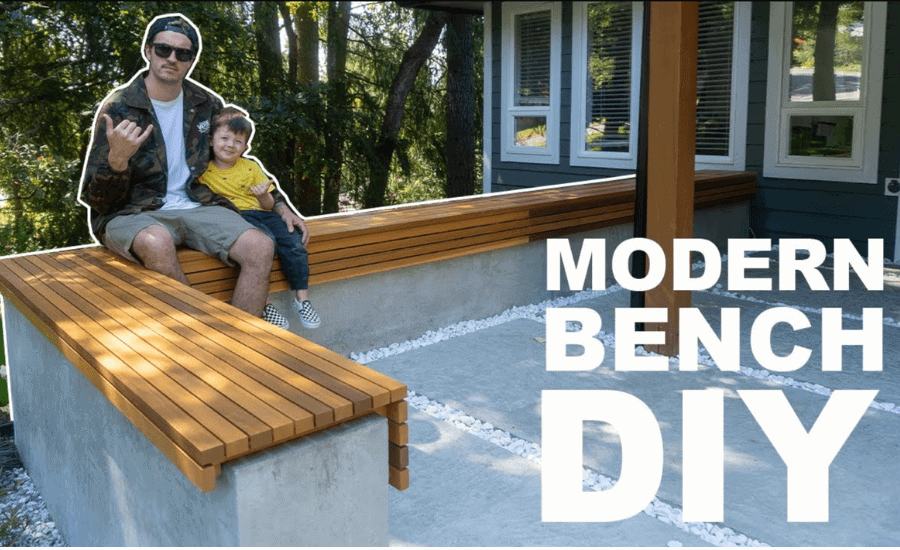 Courtesy: RadDadBuilds
Nick over at RadDadBuilds created this epic patio area by building a DIY modern concrete and wood bench.
It completely transformed the entryway and added major curb appeal.
Be sure to watch his step-by-step video tutorial on how he did it, on the RadDadBuilds blog!
These days, in such a digital, tech-driven society, it seems like people's priorities are switching to comfortable and great indoor environments, and forgetting one more thing- their outdoors!
Neither adults nor children spend much leisure time outdoors. Thus, to some point, backyards are becoming overrated.
However, in striking a balance to also have private and well-designed outdoor spaces, we could be making ourselves happier overall.
Thus, we should rethink how we can make these outdoor living spaces as comfortable and accommodative as possible to ensure we have time to spend outdoors.
You May Also Like: 20+ Ideas To Make Your Outdoor Space Look More Expensive & Resort-Style
Importance of A Well-Designed Backyard
Outdoor living is just as important as indoor living. Thus, let's consider these great benefits:
1. It adds value to your home
Any potential buyer will get a view of your house from the street. Thus, a well-manicured lawn, neatly trimmed trees and hedges, and an appealing entry all boost your home's curb appeal.
Like renovating your kitchen and adding high-end appliances, transforming the attic room, and remodeling your bathroom, well-designed backyard areas also add value to your home and attract more potential buyers.
While a well-designed backyard area with luscious landscaping can increase the resale value of your home, it's most important to create a space that best serves your household's lifestyle and needs.
2. It can improve your overall health
Taking time to unplug, and enjoy the sights and sounds of nature is good for your well being. Being outside in nature is associated with improved mood, memory, attention, better work performance, and productivity.
We all want to dine al fresco, meditate from the swing chair, lay in a hammock, take a game night outside, shower outdoors or swim in the pool!
Cooking, dining, exercising, or socializing in your backyard for at least an hour a day is great to help lower the risk of diseases, feel calmer and even, live longer!
Enjoying the crackle of a fire by the fire pit with the lights off has been linked to lowering your blood pressure, allowing your body to prepare for sleep. Doesn't this just make for an amazing bedtime routine?
Fresh outdoor air also gives a boost to your immune system. No wonder landscapers will advise on incorporating common oak, cedar, and pine trees into your landscaping.
They produce high levels of phytoncides that when breathed in, your body produces more white blood cells to fight infections.
Clearly, time spent outdoors has many health benefits!
3. Your Backyard Allows You To Reflect Your Personality & Style
A well-designed backyard allows you to communicate your personality and style to other people around you, depending on the backyard decor ideas used.
Create a Zen garden – be sure to include a fountain- to achieve a calm and relaxed state of mind. You might also need to incorporate an outdoor kitchen, fireplace or even, a swimming pool if you're a sociable person looking to host activities in your backyard.
And while you can try to DIY your own backyard, professional help goes a long way!
4. Continuum
A well-designed backyard area serves as an extension of your indoors since a person's external environment plays a big role in their success in life.
If you feel stuck indoors because of too much office work, why not take the work to your outdoor living area?
The change of location will go a long way in improving your mood.
Thus, creating a beautiful yet functional backyard area is fundamental. If you cannot DIY, involve a professional!
Do you prefer an outdoor kitchen, a lagoon pool, water features like fountains, pergolas or porches? It is easy to create a space that's uniquely tailored to you, as well as the style of your home.
Get off of your front porch and out into your outdoor oasis!
You May Also Like: 9 Balcony Ideas That Will Spice Up Your Outdoor Apartment Life
Backyard Decor Ideas To Transform Your Outdoor Living Space
1. Build Your Patio Area or a Deck
If you're not sure where, to begin with your backyard remodel, why not start with a deck or patio?
Building a patio area or a deck allows you to upgrade your backyard space and this adds resale value to your home.
This works especially well if you are decorating a small backyard. Make a simple backyard beautiful and extend your living space to the outdoors with a patio.
This surface gives patio furniture firm footing, allowing for the creation of space for entertaining.
You may be able to find a nice vintage patio set at your local thrift store. A little spray paint can make it look good as new. 
You May Also Like: How to Create A Summer-ready Patio
2. Create a Stone Walkway
A well-designed walkway is a beautiful and useful upgrade. It can also help prevent erosion in an area that gets a lot of foot traffic.
Garden paths can elevate the look of your green space. the best part is that creating one is easy enough to accomplish in a weekend.
You can create a more rustic garden walkway or leave space between well-arranged stones to allow greenery to grow and contribute to the natural beauty of a garden walkway.
3. Create Shade with a Pergola
Need to get more shade with a low-maintenance retreat? Pergolas are great! Build your pergola or get professional help to achieve a stand-out outdoor space feature!
A pergola can be an effortlessly stylish way to entertain and enjoy your outdoor living space without sacrificing your comfort or budget. Essentially, it shades this picnic area.
You May Also Like: Summer Patio Must-Haves This Year
Tip: You might also consider going for patio umbrellas that provide plenty of shade on those hot, sunny days. This is a much cheaper option for building a pergola.
4. Throw Down An Outdoor Rug
Similar to your indoor area rug, an outdoor rug pulls your seating area together into a single, unified space that is inviting and comfortable.
It also helps protect the wood or stone surface from scraping furniture legs.
All-weather rugs make great outdoor decor items!
5. Bring Out Your Outdoor Furniture
Outdoor furniture is one of the most important features to include in your backyard transformation.
When planning your outdoor decor, keep a few things in mind. The right seating that is waterproof and weather-proof, large outdoor pillows, benches, and rocking chairs are all fantastic pieces to create a cozy space for you and your guests to relax.
Tip: Keep your patio area clean and inviting with comfortable furniture and simple landscaping to help reduce stress.
6. Outdoor Dining? Yes, Please!
Dining outdoors is a much-anticipated ritual during the warmer months of the year. Thus, transforming your backyard or patio into a stylish and comfortable dining area would be much appreciated.
Carve out the right area for an outdoor dining table and chairs.
Moreover, it's ideal to situate the outdoor eating area near an access point to your kitchen. Even if you have an outdoor kitchen, you'll still likely have to grab items from indoors.
7. Set Up An Outdoor Kitchen
We all want to dine al fresco, but cooking al fresco is even more delightful. Design a small outdoor kitchen area by including a small charcoal grill for your summer BBQ recipes or a pizza oven.
You can also install a kitchen kit under a pergola, which includes an island, grill, storage, and refrigerator.
You May Also Like: 10 Inviting Outdoor Kitchen Ideas For Every Yard
8. Enchant The Space With Lighting
An outdoor deck is a great place to catch some fresh air, admire the sunrise or just enjoy a cool beverage with your family.
If you have enough space, your deck can also serve as your main hosting area for dinner parties and barbecues. However, no nighttime gathering is complete without ample outdoor lighting.
The right deck lighting can illuminate your space and set up the mood while the right landscape lighting can enhance the trees, shrubs, flowers or other features in your yard and provide security along a walkway or around a deck.
9. Use A Stock Tank Pool
Stock tanks add appeal to your yard or outdoor space and are more subtle, they are also inexpensive and take up less space. We need them!
While we bring them out in the summer, they are also easy to pack away in the colder months after the tank is drained, cleaned, and rolled for storage in a garage, shed, basement, or wherever you store your stuff.
10. Work On Your Fence
The humble garden fence, our gardens have them but we neglect them.
So why not give your fence some love?  Paint it all over, or add a unique mural. You can also hang planters or use fairy lights to decorate them.
11. Grow Vertical Gardens
Thought you had no space to grow an actual garden? You might want to consider growing vertical gardens instead, and have them by your fence for a start.
Get the potting soil or plants like moss, the seeds, and maybe a few beautiful planters too. And you'll be good to start cashing in on your green thumbs.
Planting upwards instead of outwards equips you with enough space to plant fresh herbs, healing plants, and even tons of different types of flowers.
You May Also Like: How to Start A Hanging Basket Garden
12. Heat Up with a Fire Pit
Fire pits are ideal for creating an alfresco lounge space.
Much like indoor fireplaces, fire pits provide the perfect focal point for an outdoor sitting area, and they look fantastic surrounded by outdoor sofas or built-in bench seating topped with cushions.
Fire pits are usable all year round and they create an irresistibly ambient glow for a cozy evening outdoors in the summer. You want one!
13. Have An Outdoor Portable Bar
An attractive and durable backyard bar will come in handy when serving up your drinks stylishly, thus, a perfect solution for entertaining any amount of guests.
Most portable bars, or carts if you will have extra-sliding storage space in the bottom thus providing extra storage.
Whether you are enjoying your time with family or friends an outdoor portable bar cart will remain a trendy piece for years to come.
14. Hang A Hammock
Enjoy your outdoor furniture with hammocks, a family favorite that is easy to set up, and provides the ultimate outdoor relaxation.
15. Add An Outdoor Shower
Perhaps your summer favorite feature, outdoor showers are one of the best backyard decor ideas for the warmer months.
They allow you easily clean up without bringing the filth inside the house, particularly if you are involved in outdoor activities.
It is also very refreshing to shower outside while the wind touches your skin and while you get a good view of the beautiful surroundings. Everyone with a backyard should try this makeover idea!
You May Also Like: How to Build an Outdoor Shower
How do you envision using your backyard area? It may be a backyard oasis for quiet time or a barbecue area for parties.
Deciding how your outdoor space connects to you and your home and delving into the design alongside a professional will ensure the flow of your outdoor living space!
Which of these backyard décor ideas have you tried?