Inspiring Pond Ideas For Your Backyard
It's no doubt that water features like fountains, garden ponds, and swimming pools complete any backyard, adding life and significance to your outdoors.
Ponds, in particular, add a focal point to your backyard garden especially when they have plants and fish.
In fact, they attract wildlife, and the diverse ecosystem becomes so refreshing to look at!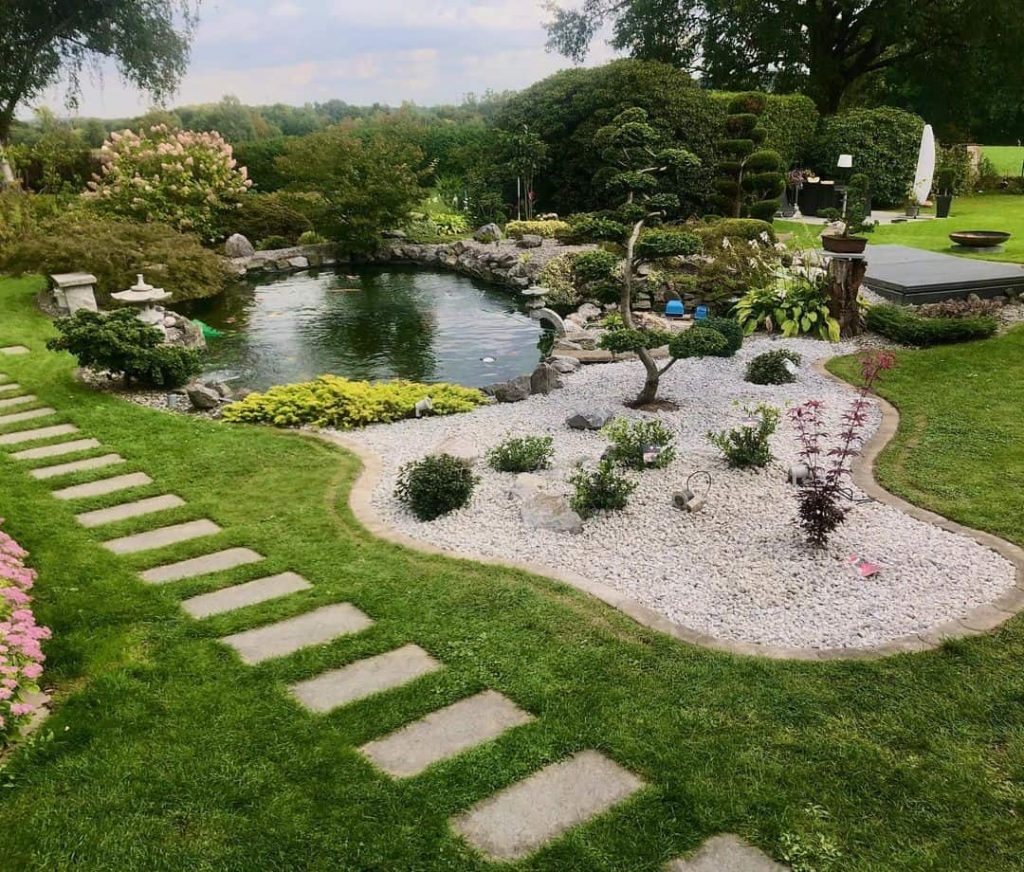 Ponds are beyond a decorative addition to your yard. Scientifically, the sound of trickling pond waters is so relaxing let alone the sound of chirping birds. It also cancels any noise from street traffic or noisy neighbors. Meditating by a pond would be so worth it!
---
7 Easy Home Updates eBook: Free!
Today, get a free copy of our ebook that shows you 7 simple updates you can make in your home this weekend that will make your home look expensive and increase its value. Tell us where to send your free copy:  
This site uses ads and affiliate content as an Amazon associate earning on qualifying purchases. Disclosure.
---
A well-designed backyard garden pond will raise your landscaping game, adding value to your property. Have you considered how a well-lit garden pond can highlight your outdoor space, especially at night?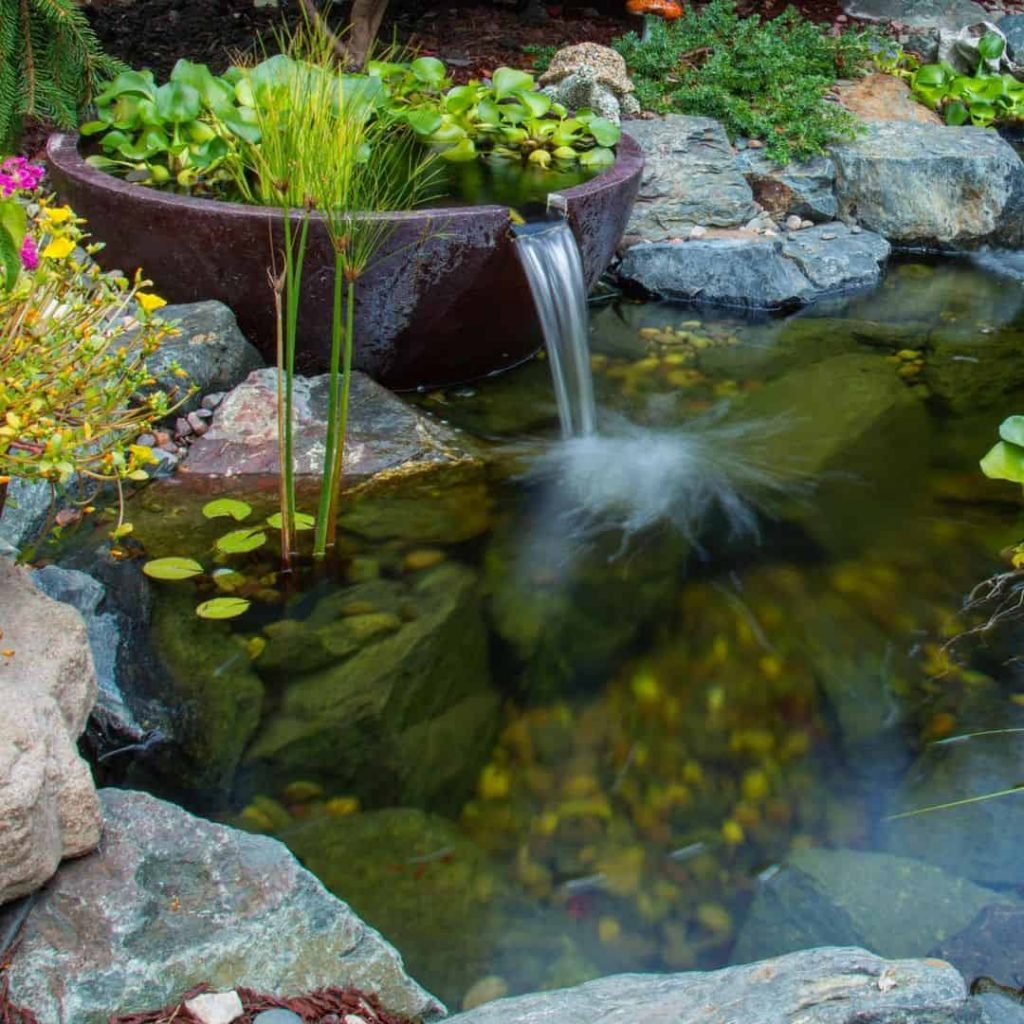 There are many pond ideas; ponds of different styles, sizes, and shapes to choose from, so, depending on your budget and the yard space available, you can get a professional to design a garden pond for you.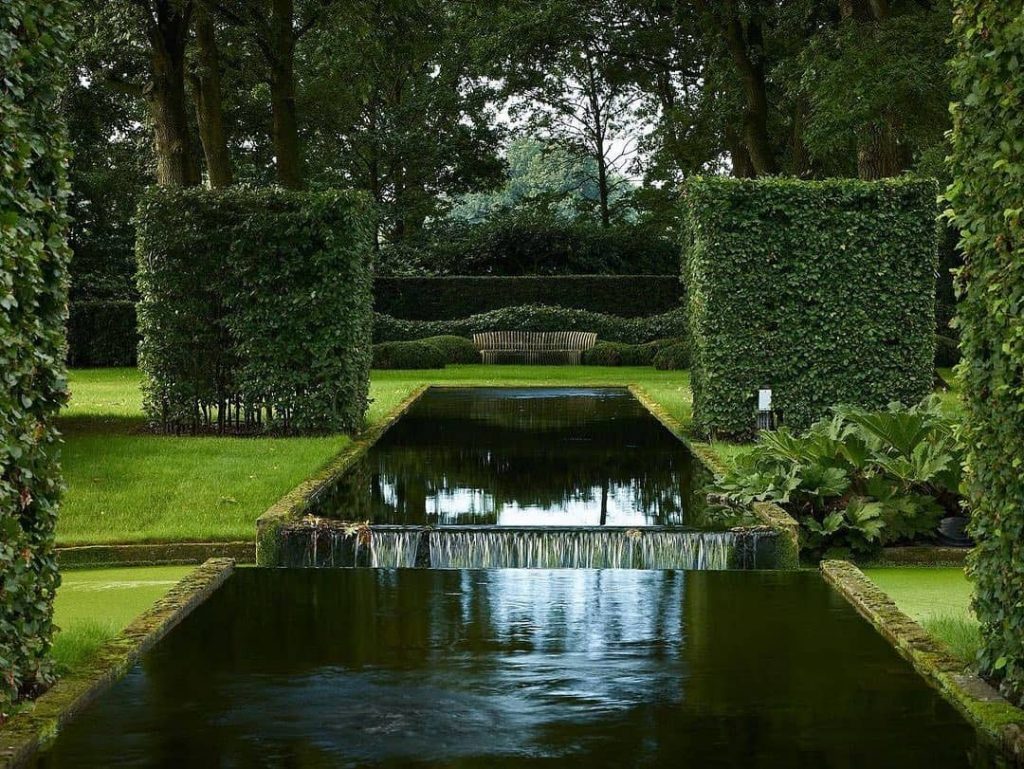 Before you design your pond, probably using the pond ideas we share, here are some factors to consider before getting started:
Tips For Designing A Garden Pond For Your Yard
A backyard pond is an ideal spot to spend a relaxing evening away from the hustle and bustle of everyday life.
It's also a perfect place for flora and fauna to flourish, and if you're a bird watcher or love the beauty of nature, you can easily build a beautiful pond in your yard with a few simple factors to consider:
1. Choose the Spot
Before finding inspiration for pond ideas, choose an ideal spot first.
If you want to get the most out of your pond, consider building it where you enjoy have fantastic views and therapeutic sounds for the majority of the time.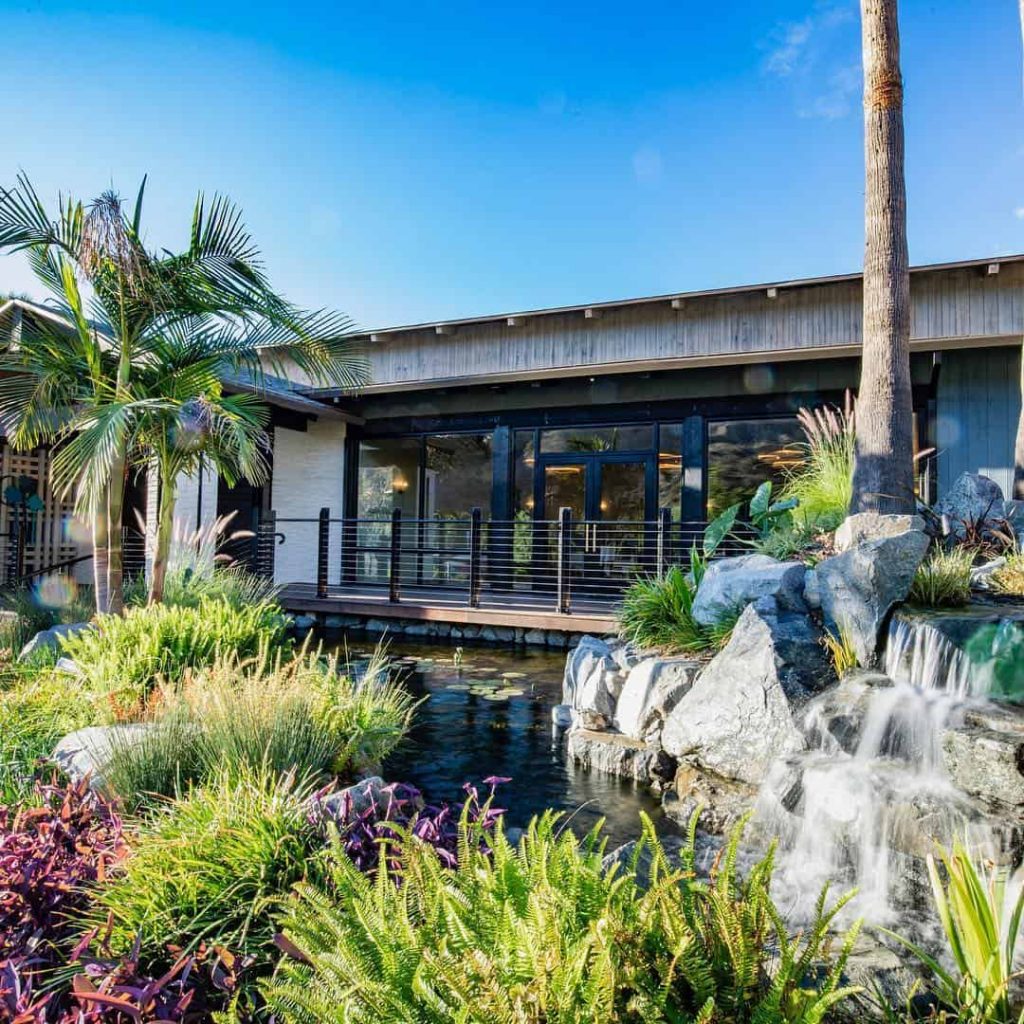 A spot near the house is also ideal so you can always remember to maintain your pond. You might forget about it if you hide it far off especially in the winter and find it icing over and killing your fish.
Also, construct your pond in an open area with at least 5 to 6 hours of daily sun for the plants and water conditions to stay at their best. More than 6 hours of sun per day may encourage excessive algae growth, thus, green or murky water.
Ideally, a spot with morning sun and afternoon shade which helps to keep the water cool, helping in algae control.
Additionally, your pond should be away from trees to ensure the roots don't grow back into your pond and destroying it; again, to ensure no leaves or fruits fall into the pond and clog the system, especially if you don't maintain it on a regular basis.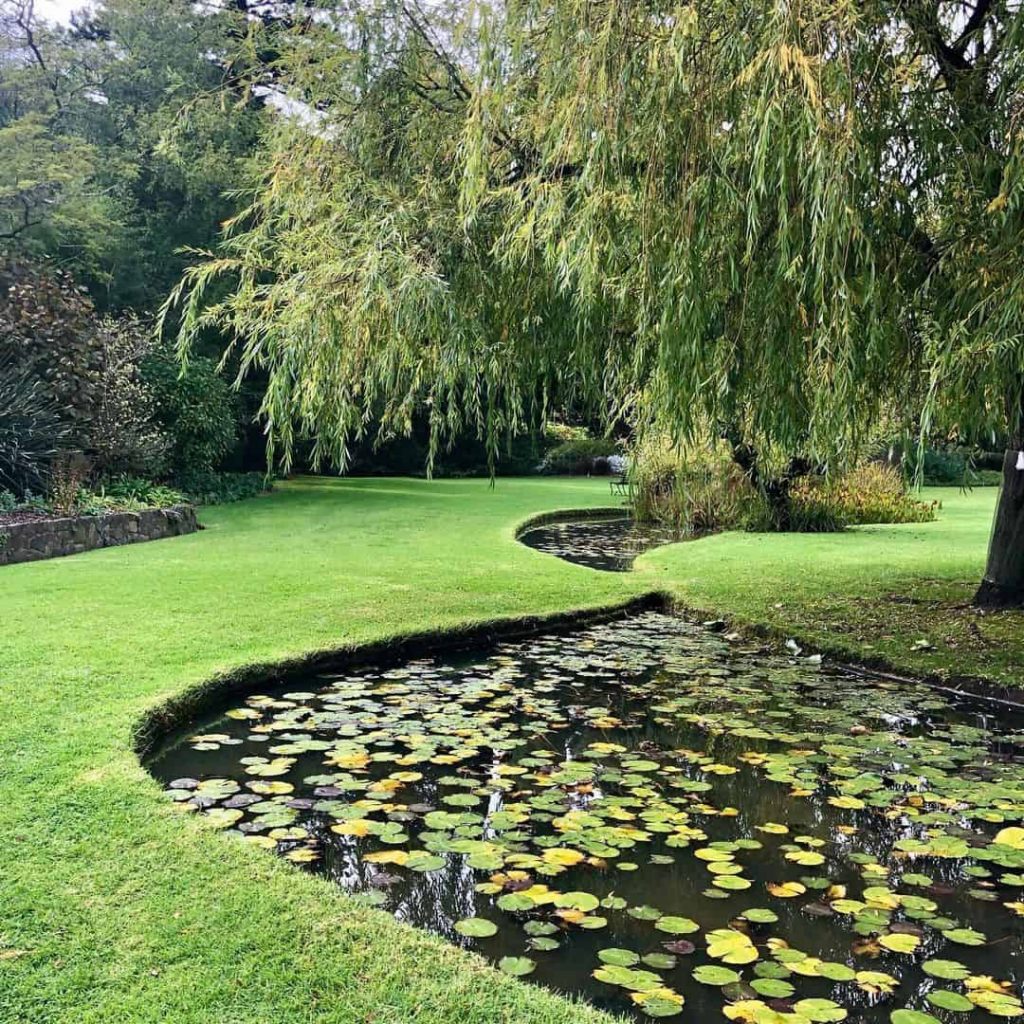 It's also a good idea to double-check that you won't be digging over any buried cables or wires.
You May Also Like: 15 Ideas for Landscaping your Yard Without Grass
2. Easy Access to Water
Access to water is important for your pond, both to fill it and to top it off when any water evaporates during hot days. You may use a garden hose or an auto-fill valve linked to a buried water line to do it manually.
If you don't keep the pond water moving, disturbed, and aerated, it will become stagnant and algae-infested. Create a fountain, a waterfall, or use an air pump to gently ripple up the pond to stir it up.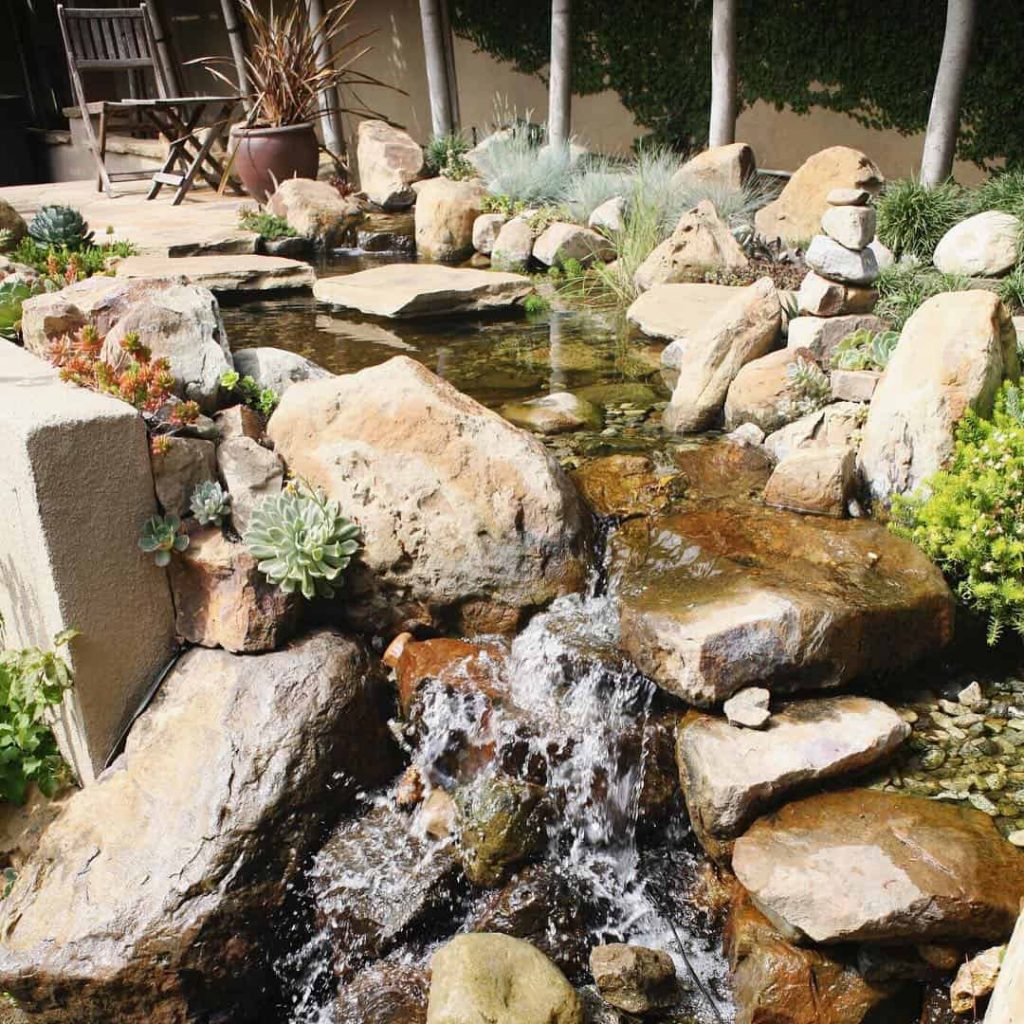 If you want a waterfall, make sure you have enough room. Knowing where you want it ahead of time will save you a lot of time later because you'll be able to position the soil you'll need to build it up when you dig it out of your pond.
You can easily build a waterfall by arranging rocks and boulders, varying their sizes into a fall during the construction of the pond.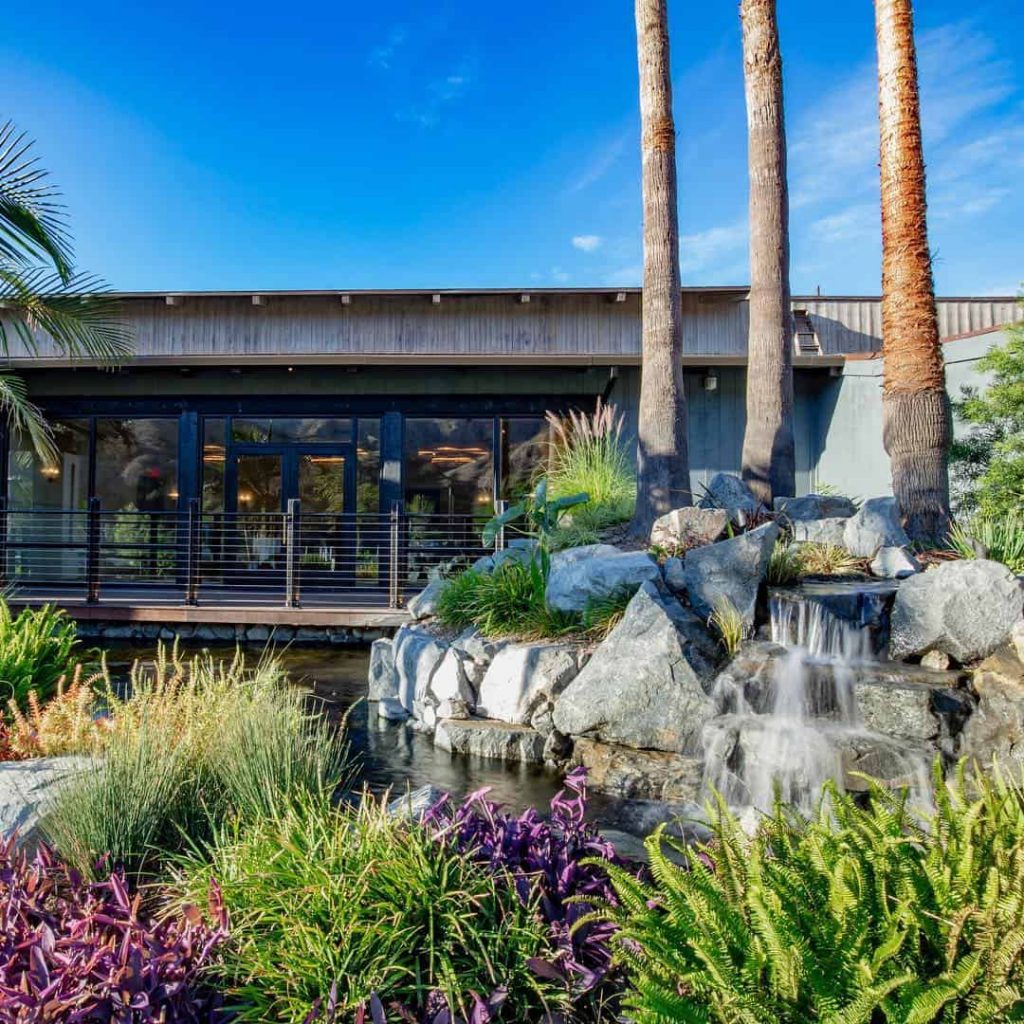 3. Decide your Ideal Pond Size and Shape According to your Budget
The available yard or garden space for your pond will determine how long or wide you can contruct it. Your overall budget will also dictate how sophisticated your pond turns out.
If you will have plants and fish within your pond, a deeper pond is your best option. A minimum depth of 7feet will allow your fish to breed.
Before you start digging, review your municipal codes to make sure you can afford any licenses or conditions that come with getting a pond. Check with the homeowner's insurance company as well.
While you can DIY your own pond if you have the expertise, we recommend new pond owners to look for a competent builder in their local area to construct their first water pond.
You May Also Like: How to Build a Garden Pond (Step-by-Step Guide)
Landscaping Tip…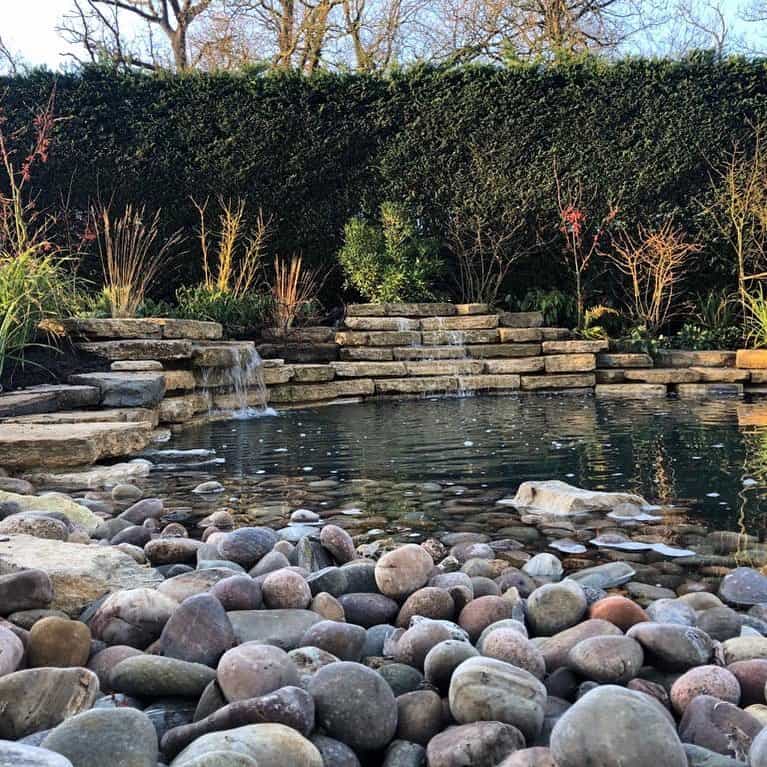 During the construction of your pond, you can choose to create a natural-looking haven and a low-maintenance pond by adding rocks and pebbles to the pond.
If you have a skimmer, a thin layer of gravel used at the pond's bottom aids in the decomposition of organic waste that does not make it into the skimmer basket, resulting in a cleaner pond and happier fish. Gravel often seems more natural than a bare liner and protects it from the sun.
It also traps sediment, keeping the pond clean and can help anchor plants that offer fish refuge from light and predators or simply offer a place to sleep.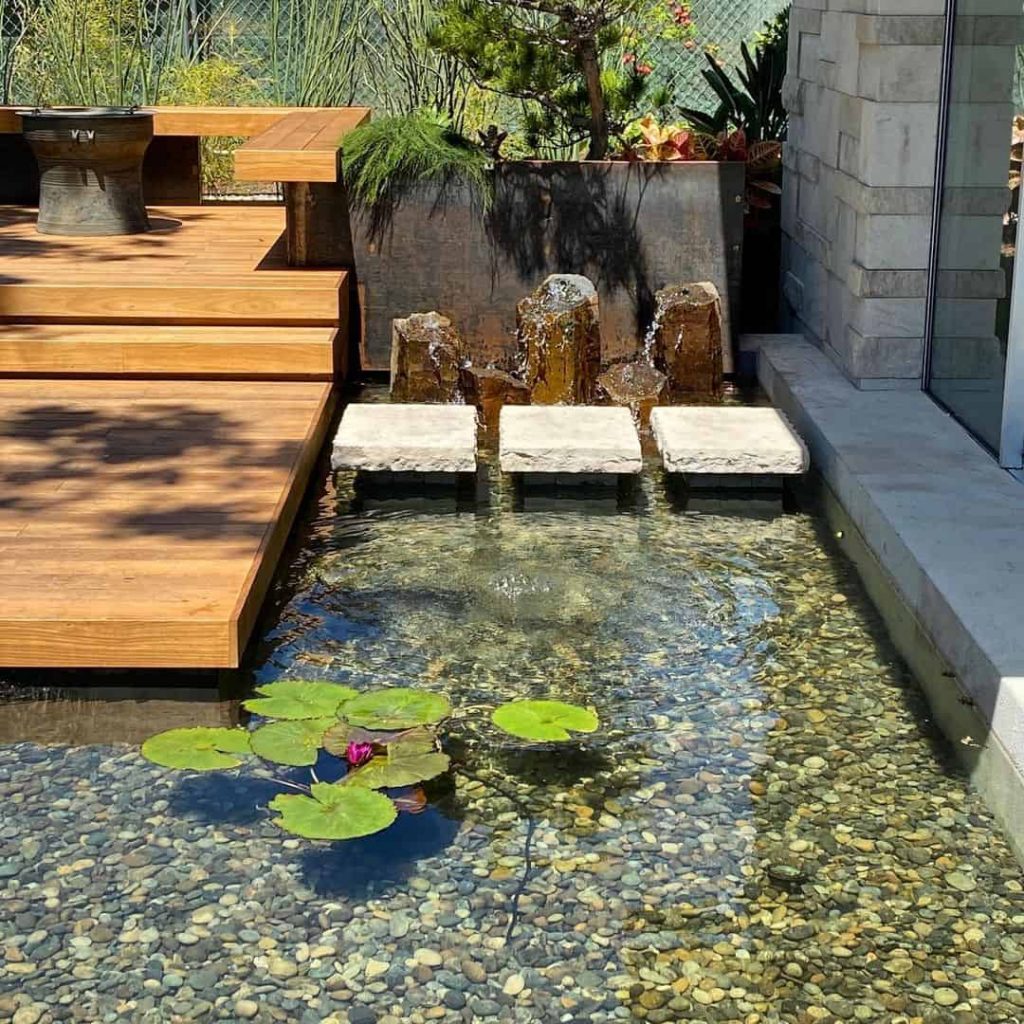 However, use pebbles that are only large enough to trap sediments but not too small to be compacted, ideally, 1 inch in diameter. They should be rounded, without sharp edges and clean.
A mix of rocks and pebbles is great but if you're starting out, get expert help on the same.
4. Add Water Plants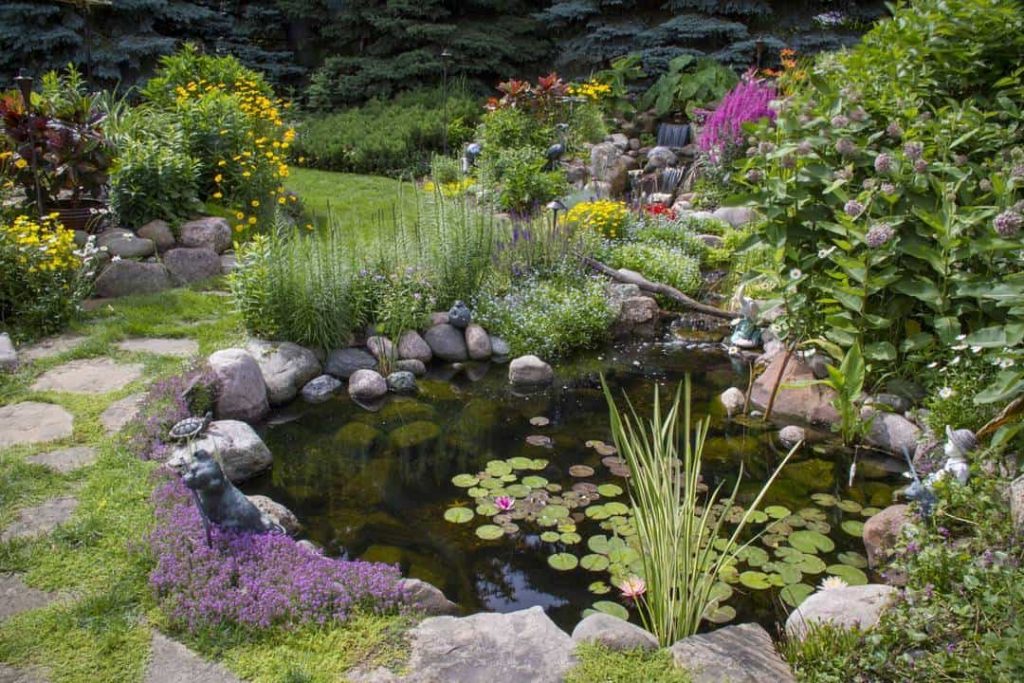 Aquatic plants really bring a pond to life; not only do they add to the natural beauty of your pond, but they also play an important role in preserving the water's and inhabitants' health.
Pond plants also consume nutrients that would otherwise feed the algae that makes your water green and encourages the growth of blanket grass.
They also help to reduce light levels in the water, preventing unwanted algae blooms, and provide shelter and protection for your fish, particularly when it's spawning season. And the right choice of oxygenating ponds plants can literally breathe life into the water.
Check which conditions are preferred by any plants you intend to add, as some may require specific conditions to thrive.
When it comes to the types of plants you can use in your pond, the size of your pond is also important; faster-growing pond plants are only appropriate for larger ponds, whereas slower-growing aquatic plants are better for smaller ponds.
You also want to ensure your pond is over 7 feet deep to ensure the plants do not dominate the pond making any activity difficult. Hence, control is appropriate at such a stage.
Types of Pond Plants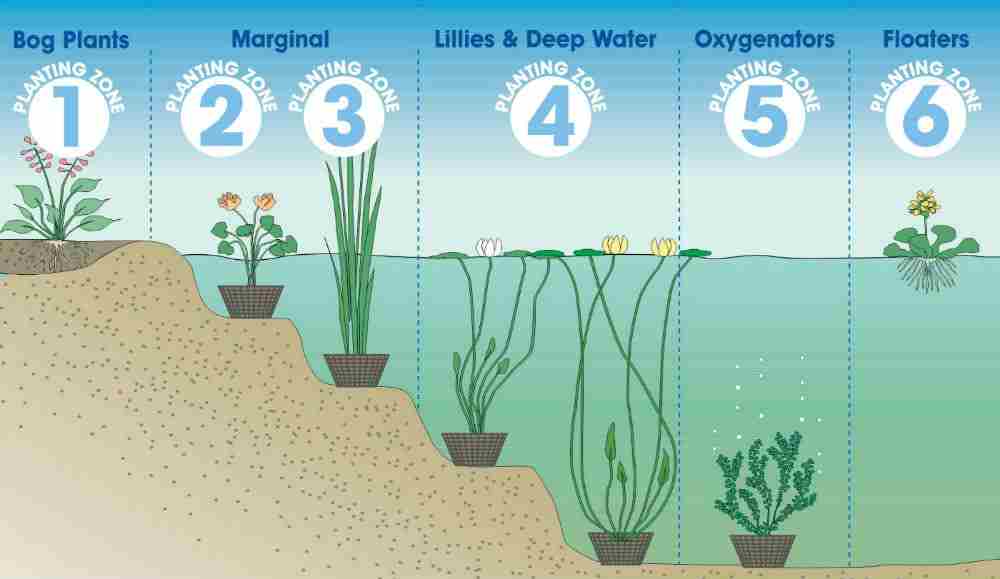 It is recommended to plant a variety of pond plants that work together to ensure a beautiful ecosystem. They include:
Bog plants that thrive around the edge of your pond where the soil remains damp. They highlight the pond's border and the Acorus Calamus is a popular choice.
Marginal plants that grow in the shallow edges of your pond. They can be grown in aquatic planting baskets and give shape to the pond's water edge whilst adding color during the growing season. Veronica Becca bunga is great at providing shade.
Deep water plants like lilies create interest in your pond, and absorb nutrients to inhibit algae growth.
Oxygenating pond plants like Ceratophyllum demersum- Hornwort are rapid-growing plants that rapidly use nutrients that would otherwise be used by algae such as blanket weed. They help maintain a good healthy balance in the pond.
Floating pond plants like Stratiotes aloides add extra texture and interest to the surface of your pond.
Indeed, adding a variety of pond plants like cattail, lotus, blue iris, water lilies and water hyacinth adds natural beauty and a wild feel to your pond, especially when their flowers bloom.
Ensure the right balance of plants to provide your pond with year-round color and foliage as well as a safe and efficient aquatic ecosystem.
This means knowing how much of each form of pond plant you'll need for the size of your pond to create a beautiful and safe water setting. Take a look at this rough size chart from World of Water:

When growing these pond plants, an aquatic compost with a slow release fertilizer is needed. These provide nutrients for the plants at a healthy rate, without contaminating the water.
Heavy loam soil is also ideal as lighter soils, such as a peat-based soil, would simply float away. You can keep the soil in place and prevent leaching by using aquatic baskets with an added hessian liner in the basket.
Furthermore, the basket liner will rot over time, allowing the plant's root structure to grow through the mesh and securely anchor the soil.
TIP: Keep your pond in shape with regular trimming of excess foliage and removal of dead leaves and surface debris, especially as your pond plants gets into full bloom.
5. Choose Your Fish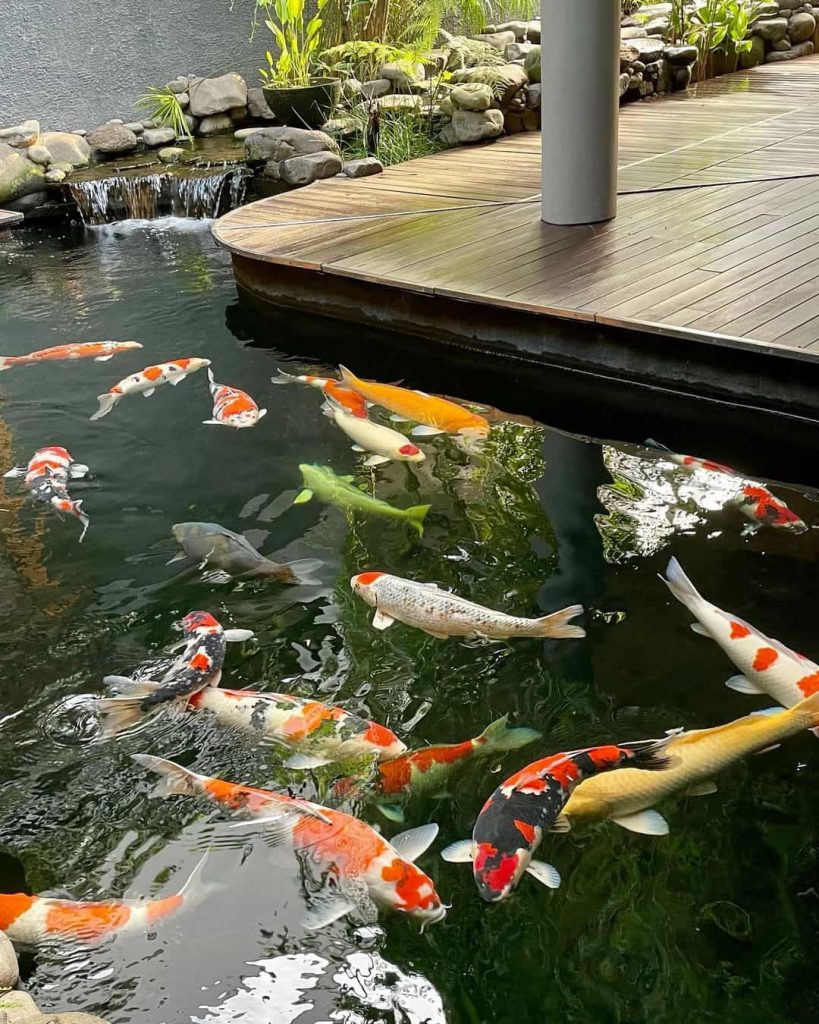 A pond without fish can be unappealing to most people. Fish in your pond add visual appeal, life, and fun, particularly when they swim around. They also help to minimize pond maintenance by eating algae and other sediments that settle at the pond's bottom.
The size and depth of your pond will determine what kinds of fish – and how many – can be kept healthily. Most pond fish need a depth of at least 50cm, but koi and other large carp species need at least twice that.
Consider the various species and their characteristics when determining which fish to raise. In natural water, there are fish that have camouflage, dig the bottom, eat plants and algae, and reproduce rapidly.
While Koi and goldfish are common choices, you can always mix and match different types of fish to create a stunning ecosystem. Here are 7 popular pond fish choices to include your pond.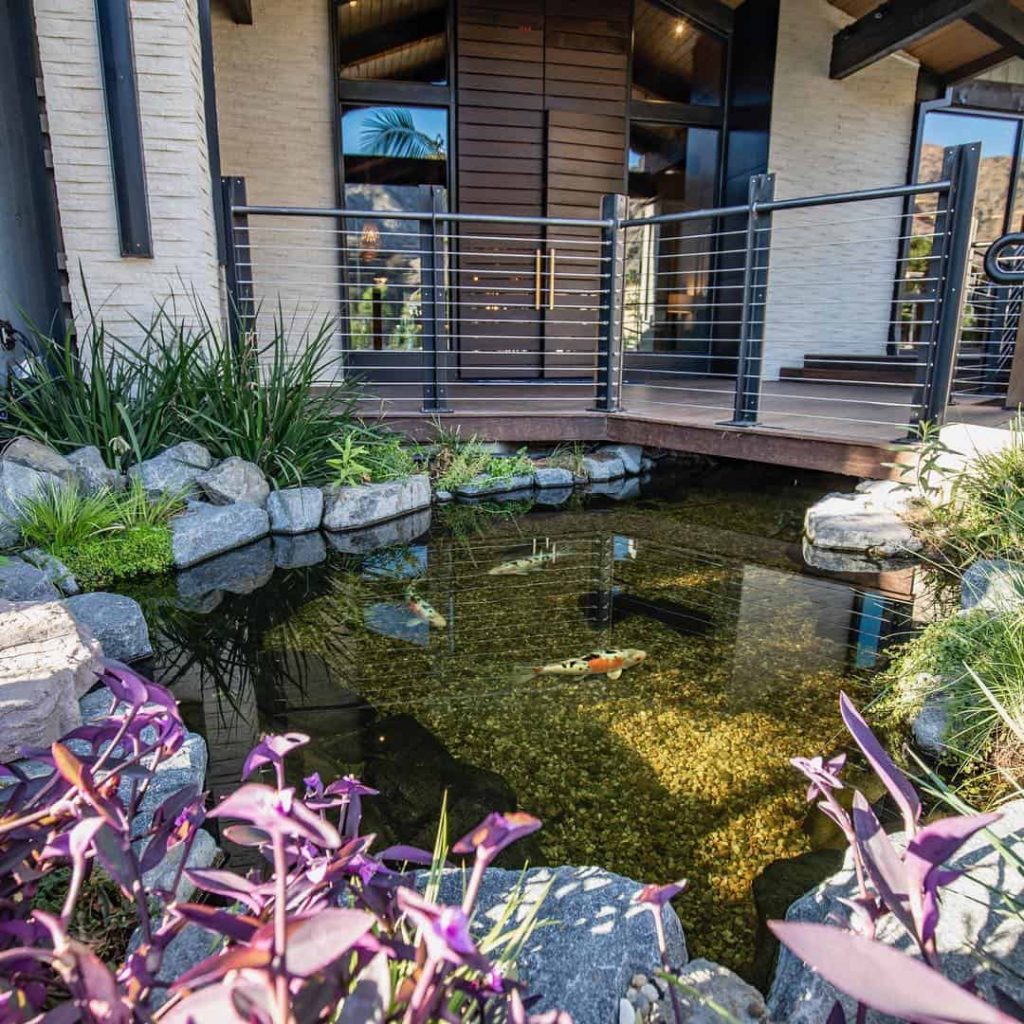 Aquatic Tip…
After purchasing your fish from an aquatic home, bring them home and float their unopened plastic bag in the pond for half an hour or so, so that they gradually warm up to the same temperature.
Then, open the bag and let pond water in for the fish to get accustomed to it. After a few more minutes, you can comfortably release them, and all that's left is for you to enjoy your new additions.
6. Maintain Your Pond
Make a commitment to maintaining your pond.
To ensure that your pond's water quality is not harmed, don't overstock it with fish or plants. Make sure your pond is winterized until the winter arrives.
Keep algae at bay by using an aerobic bacterial product in the pond and thoroughly clean your filters with a hose pipe. Also, keep your pump and filter running all year to remove any debris and keep the water flowing.
Remember that you can always hire a professional to maintain your pond.
7. Install Pond Lighting
Many pond ideas showcase magical lighting solutions!
So, once your pond is fully set up, install pond lighting to illuminate the edges of the water and light pathways, bridges or stepping stones to ensure that people can move about the pond safely at night.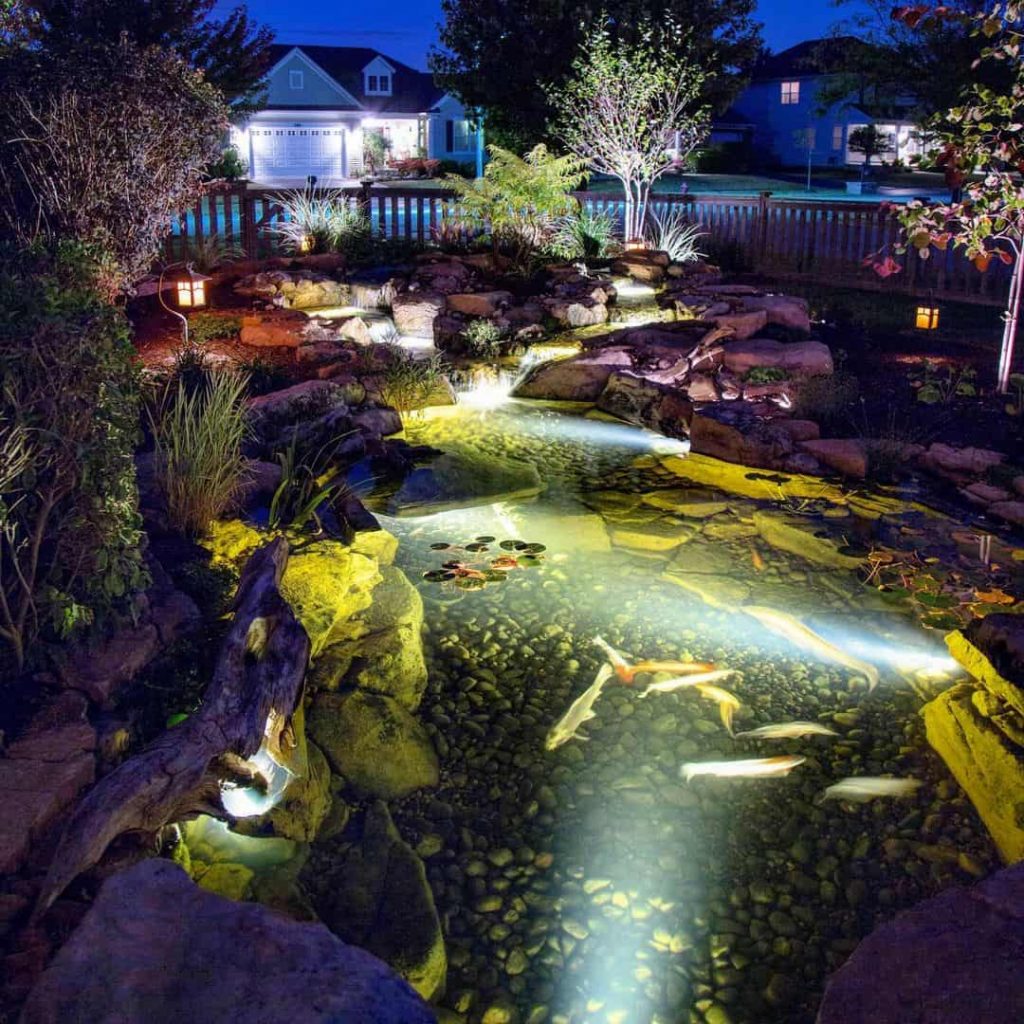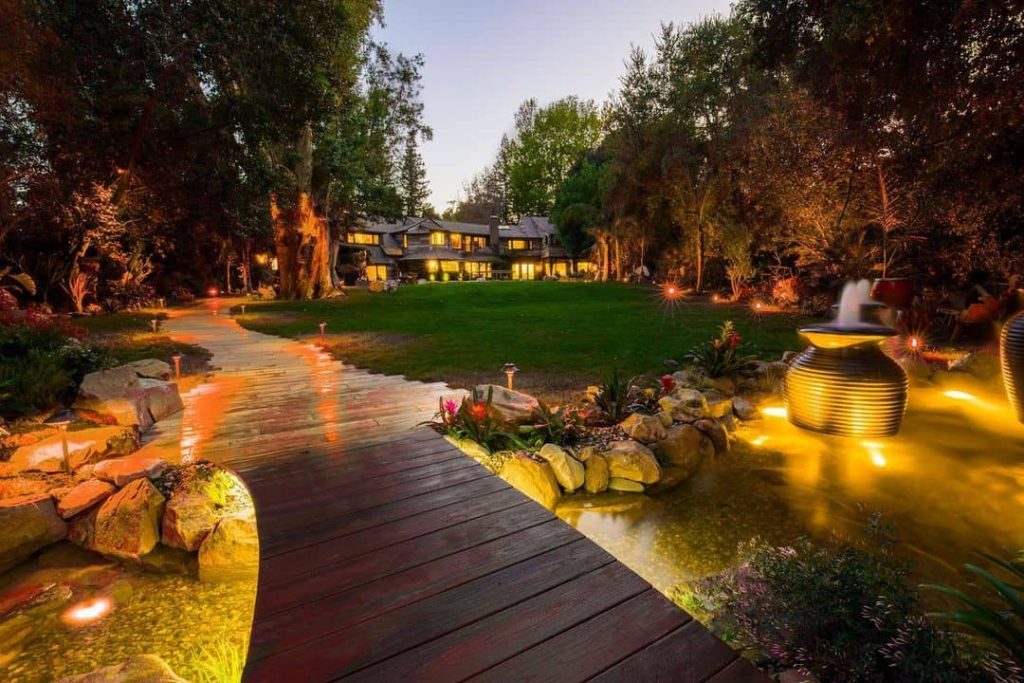 Also, use underwater lights sparingly to highlight fountains, waterfalls, or boulders. Don't go overboard. White lights hidden among the rocks, or colored filters put on the lights help add a splash of color to your water feature.
You May Also like: Pond Lighting Trends for Beautiful Effects: Do's & Don'ts
Pond Ideas To Brighten Up & Add Interest To Your Yard
In this article, we share pond ideas that will create the perfect backdrop for daily inspiration right in your yard. While each pond is unique both in construction and placement within a yard, gather inspiration on what can work within your outdoor space.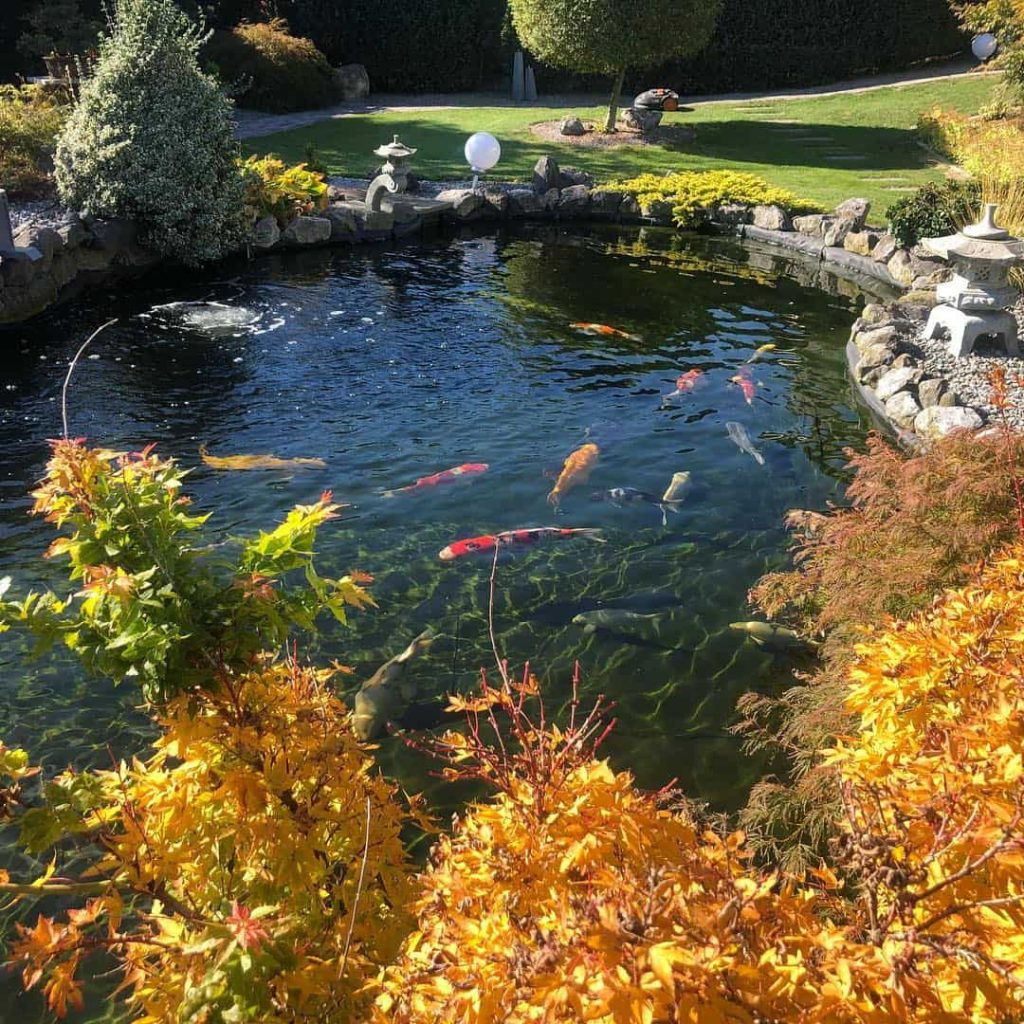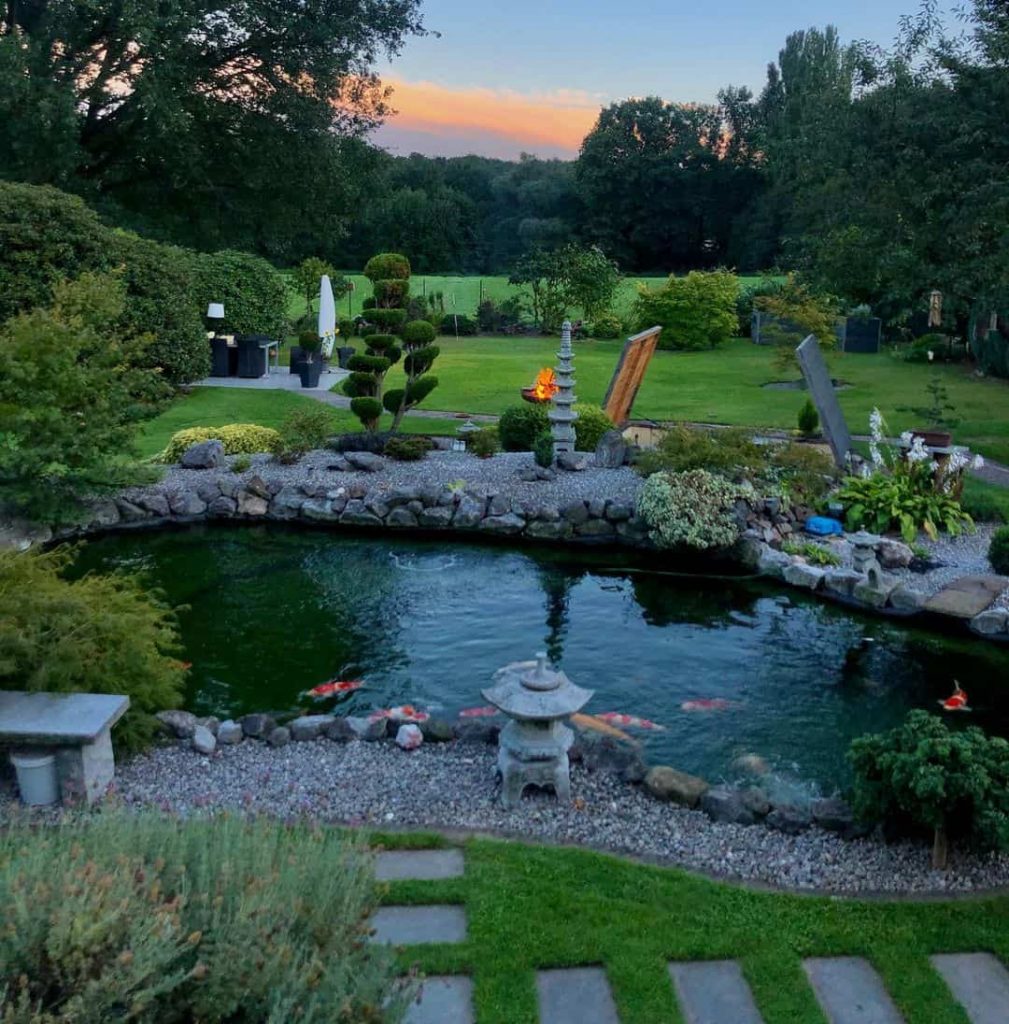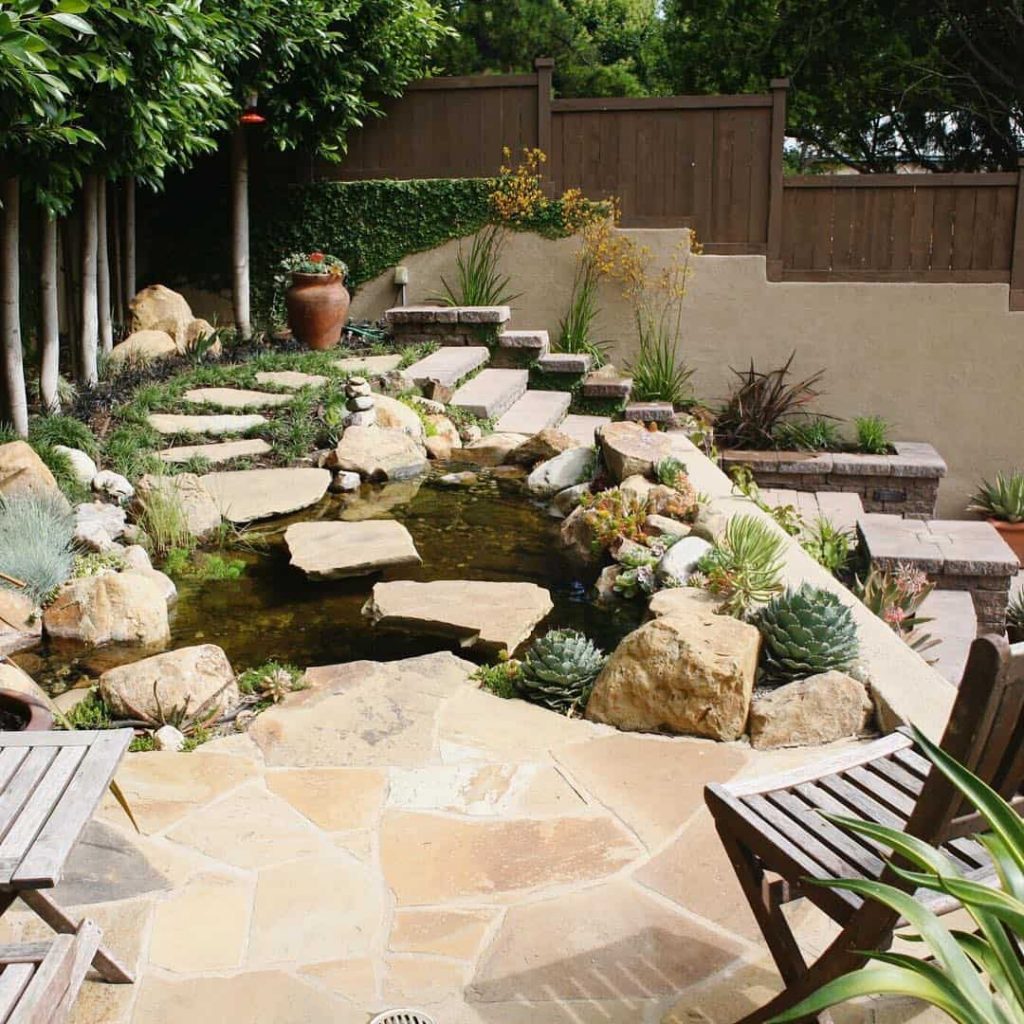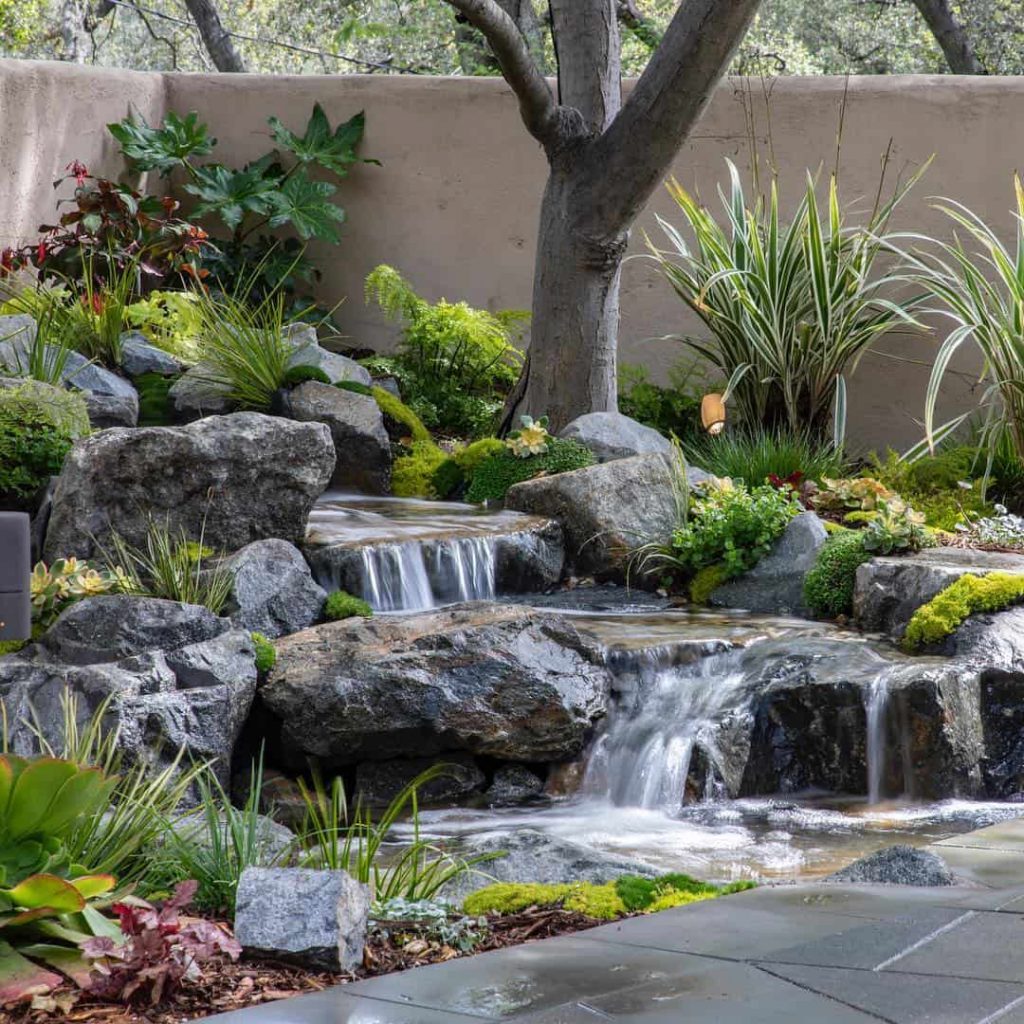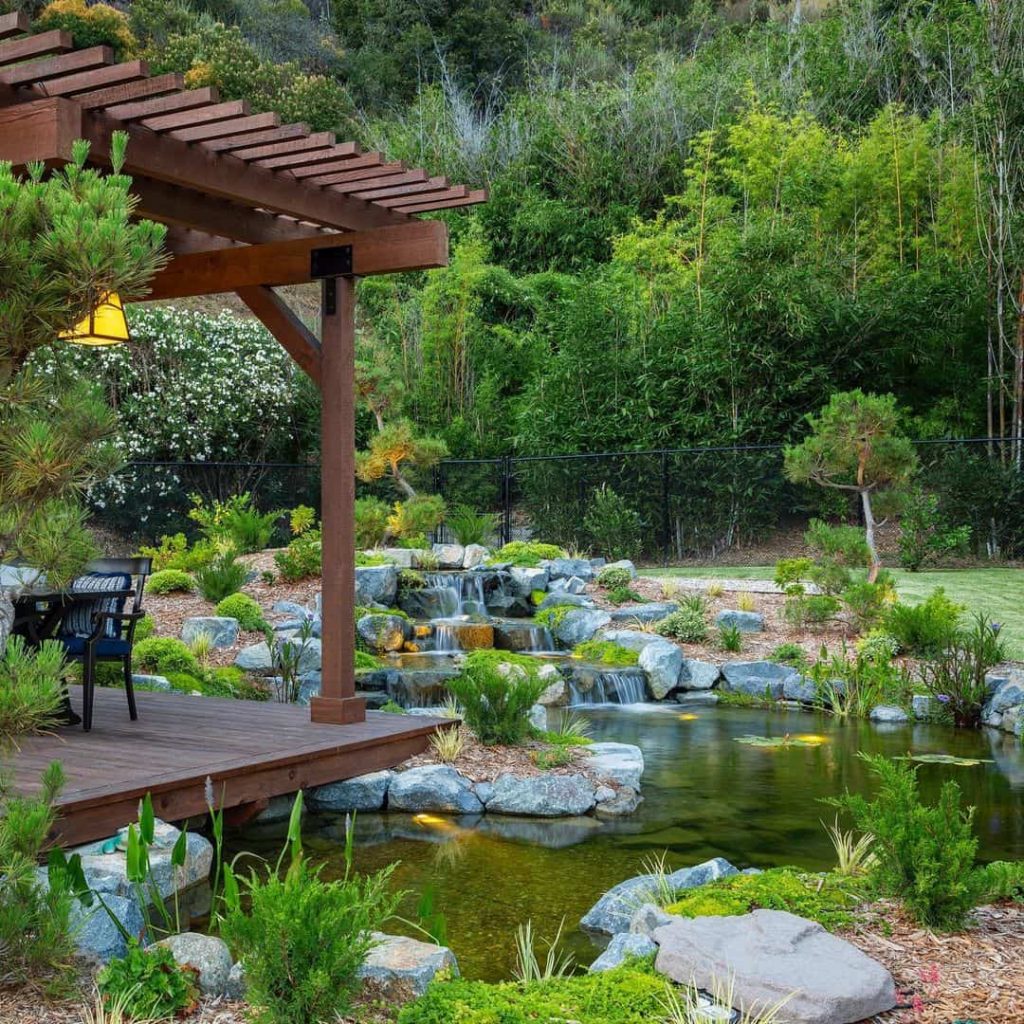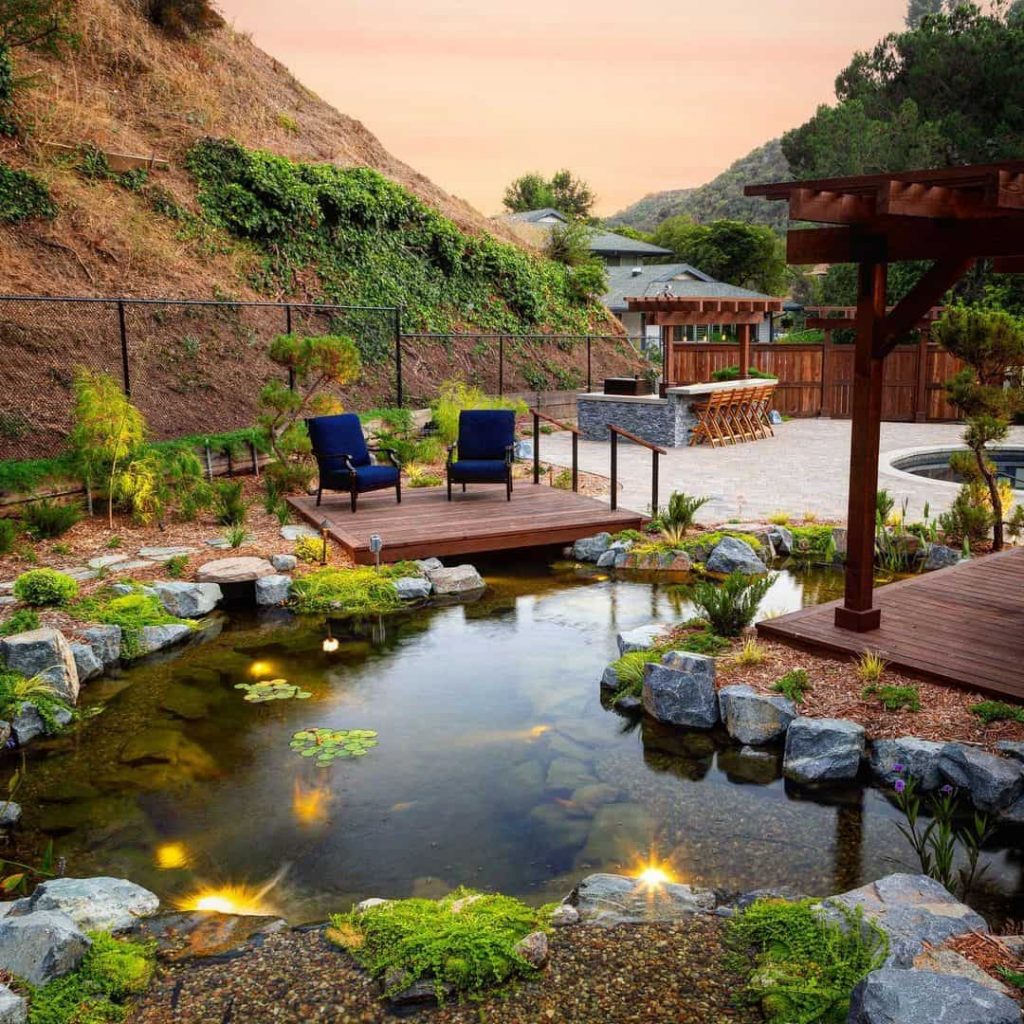 Planning to install a pond in your yard? Which of these pond ideas would you go for?