Blend Feminine and Masculine Styles In Décor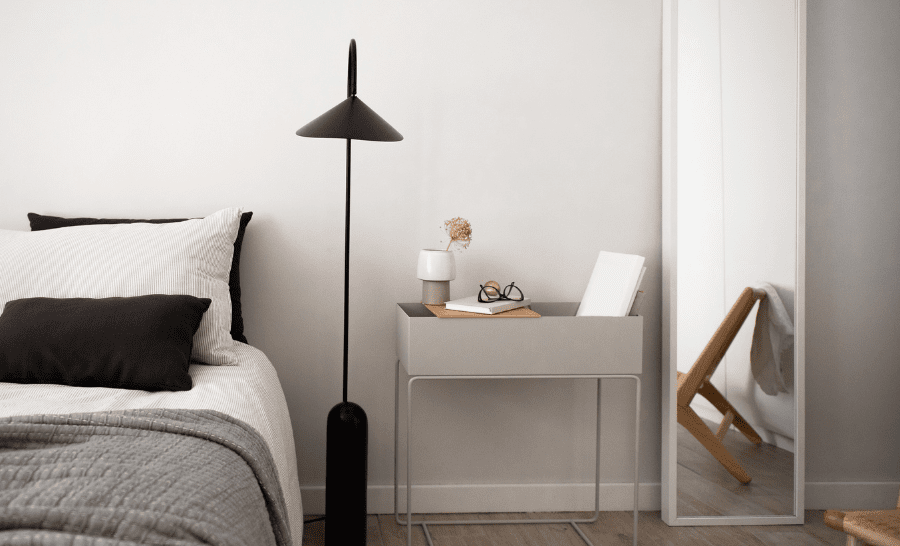 Are you wondering how to blend feminine and masculine styles when decorating your home?
Blending different styles in decor and tastes can be a real challenge. Especially when you are trying to appeal to both a woman's and a man's aesthetics in the same space.
In general, women tend to navigate towards soft or brighter colors. On the other hand, men tend to identify more with darker, more vibrant colors such as grays, browns, and earthy tones.
In this article, we will show you how to blend feminine and masculine design styles with class.
---
7 Easy Home Updates eBook: Free!
Today, get a free copy of our ebook that shows you 7 simple updates you can make in your home this weekend that will make your home look expensive and increase its value. Tell us where to send your free copy:  
This site uses ads and affiliate content as an Amazon associate earning on qualifying purchases. Disclosure.
---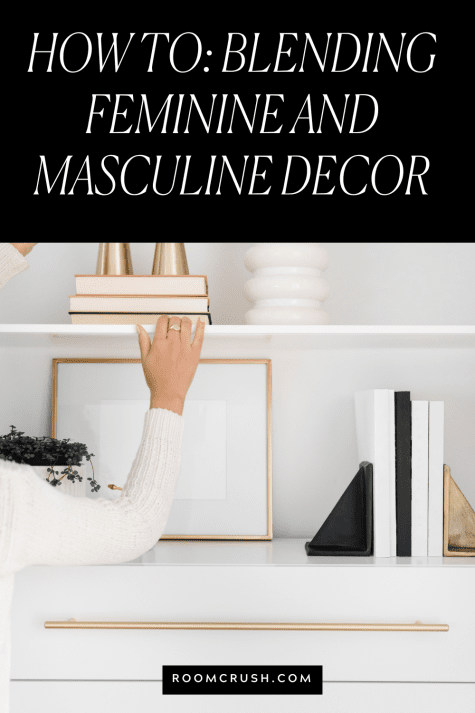 How To Blend Feminine and Masculine Styles In Decor
When creating spaces, the goal is to find solutions that are functional, beautiful, and that represent the entire family.
You don't need a degree in gender studies to know that there are stereotypically feminine styles and masculine styles.
We all have walked into a home or an apartment that screams "this is clearly a bachelor pad!" Then there are spaces covered in flowers and bling that just scream "girly!"
It's interesting what we call a room masculine or feminine.
When creating interior decor, it's essential to find a way to represent the entire family, while making the space functional and beautiful.
Here are a few rules to follow when aiming for a blended style:
Choose neutral colors to begin your foundation
Next, focus on the structure by using masculine touches. Including things like clean lines for a seamless look, vibrant color to ground the space, and potentially some leather and metal accents to create texture.
For the finishing touches, it's all about layering in some feminine details. Blankets, vases, plants, art, etc.
Some great leather and metal accents include pillow cases, vases, and drawer pulls:
Fancy Homi 2 Packs Boho Brown Waterproof Faux Leather Decorative Throw Pillow Covers 18x18 Inch for Outdoor Couch Bed Sofa, Hand Stitched Accent Square Cushion Case, Rustic Modern Farmhouse Home Decor
Material & Package: 2 pcs pillow covers made of premium faux leather. NO INSERT.
A Nice Home Decor & Gift: Crafted of single-side patchwork, beautiful and exquisite.And the back is solid color. This elegant look with different designs on the front and back can match well with most home decoration,from modern to minimalist, cozy bohemian to farmhouse. It's also a nice gift for your families and friends.
Durable Material: Both sides are made of premium thick faux leather.These brown artificial leather are hand polished by craftsmen to form an even and comfortable surface, making the leather stronger and more durable.
Long-lasting Zipper: Hidden zipper is sewn firmly on the pillowcase without loose threads which improves the appearance and provides easy insertion and removal.
Easy to Clean: With cloth and mild soap to spot clean as needed. And it'll look brand new. You don't have to frequently remove and fill.
Modern Farmhouse Glam Metal Vase, Black Flower Vase Home Décor Centerpiece Medium
Style: This decorative metal vase features a modern glossy black finish and is a great addition to your tables, counters or vanity
Design: This vase is perfect for holding dried or artificial florals; Size: 9.8inches(H) x 4.7 inches (W)
Perfect for your kitchen, living room, bedroom, bathroom, or office Foreside's beautiful vases will enhance any home décor
The Black Metal Vase from SUJUN adds a bold emphasis to your beloved arrangements. The slender metal vase is covered in a rich black and complete with a poignant handle. Your flowers will look even more beautiful resting in this sharp display
The Unique Metal Vase is made from lightweight matte iron and is a real statement piece that looks equally good as a room decoration or containing a stunning floral display. It is a stylish piece that will add a contemporary Scandi feel to your living space
Sale
Probrico 10 Pack Black Stainless Steel Kitchen Cabinet Door Handles T Bar Drawer Pulls Knobs Diameter 1/2 inch Single Hole 2inch Length
【 SIZE 】Single Hole T Knobs;Overall Length:2inch(50mm);Diameter:1/2in(12mm);Height:1-1/4in(32mm);
【 SCREW INCLUDED 】Easy to Install with Included Screws,2 size screws include:1 inch(25mm) 1.77 inch(45mm),If you need other length of long screws, you can contact us.
【 STAINLESS STEEL BLACK KITCHEN CABINET HANDLES 】Material:Stainless Steel;Finish:Black,it is light weight made of Stainless Steel; Our cabinet pulls are beautifully crafted and designed. Enhance your home with their simple elegance;
【 Hollow Type T Bar Cabinet Knobs Widely Use】Cabinet Handles/Drawer Pulls,Hollow Cabinet Handle Ideal for cabinet, drawer, door, cupboard, wardrobe, closet,Smooth and clear stainless steel handles,Great helper to pull out drawer soon and conveniently ;
【 Package Includes】 Selected Handles, Mounting Screws, Installation Instructions;please check these parts before install,If there is any quality problem with your purchasing, please contact us. We will refund the item value or send a replacement.
And for feminine details, look for soft textures in items like throws and rugs, as well as some minimalist art:
Artistic Weavers Melodie Boho Farmhouse Area Rug,7'10" x 10'2",Beige
This rug measures 7 ft 10 in (width) x 10 ft 2 in (length).
Machine Woven from a blend of polypropylene and polyester fibers in Turkey for lasting durability and no shedding.Construction type:Machine Woven
This piece features intricate carving to create a unique high/low texture.
Designed to withstand everyday wear, this rug is kid approved and pet friendly. Perfect for high traffic areas of your home such as the living room, dining room, kitchen, and hallways.
Tough and stain resistant. Easy to clean and maintain, we recommend vacuuming regularly and spot cleaning with a clean cloth. Always test a small area first. Use of a rug pad is recommended to prevent slippage and movement.
Kate and Laurel Sylvie Modern Circles and Going in Circles Framed Linen Textured Canvas Wall Art by Teju Reval, 2 Piece 18x24 Minimalist Abstract Black
TRANSITIONAL CANVAS WALL ART: Whimsical art on framed high quality gallery-wrapped canvas. Print name: "871 Modern Circles (left) & 869 Going in Circles (right)" by Teju Reval
EASY TO HANG: Metal sawtooth hangers come attached on the inset MDF back for easy wall display
LARGE SIZE CANVAS: Each frame is lightweight polystyrene with display dimensions of 18" x 24"
LOCALLY FRAMED: Gallery wrapped linen textured canvas is printed with fade resistant inks and framed in Waunakee, Wisconsin, USA of domestic and imported parts
ARTIST DESIGNED: Print "871 Modern Circles (left) & 869 Going in Circles (right)" 2020 Teju Reval
Blending A Home's Style For A Couple
Making a decision to live together as a couple or a family comes with a lot of compromises, and when it comes to home decor, it's no different.
Deciding on which pieces to stay and which pieces to go, has to be a collective effort. It wouldn't be fair to make a home all about one partner and not the other.
So finding new ways to incorporate a mixture into your home is a great way to start.
How Do You Combine Decorating Styles?

Go 50-50 On Everything
Home decor should be able to tell a lot about both of you in the home and mixing two styles are the way to go.
You both can add items that belong to you in the space; all you have to do is make sure they match and play well with each other.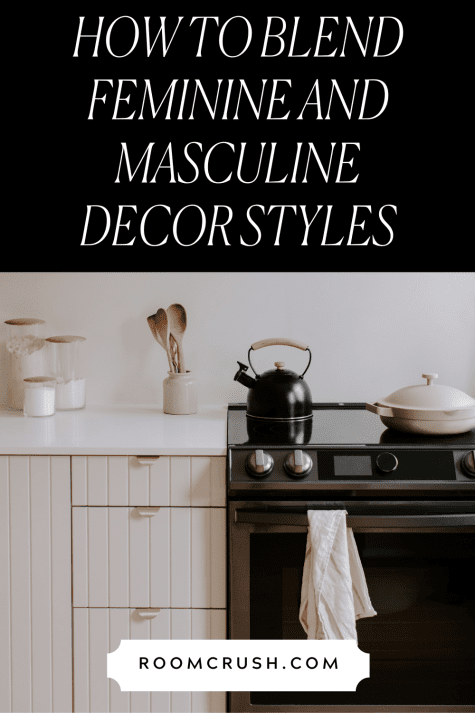 PERSONALIZE YOUR HOME WITH FRAMED PHOTOS
When selling your home, you are usually told to depersonalize it…so, when claiming it as "ours" do the opposite!
Use your walls to display some of your favorite happiest memories
Print and frame those photos from your iPhone! Fill your home with images that make you happy.
If you're worried that the photo frames you pick will look too masculine or too feminine, I always recommend going for glass photo frames.
Not only are they modern, but they keep the picture inside the focal point.
Here are a few ways to bring memories into your home:
In your kitchen – Frame your grandmother's recipe.
Find a beautiful piece of wallpaper and frame it to bring in texture or color.
Frame your husband's favorite sports jersey or encase the baseball he caught during a game.
The point is to do something even if it takes you a while to get the decor right.
Most decorators will admit that design is very fluid. And usually, the initial vision is just a representation of the final project.
Their job consists of editing their initial designs due to unforeseen issues.
Maybe the item which is out of stock was meant to be the focal point of the room, or after walls have been removed, the open floor plan gives them new inspiration.
Use The Fabric And Upholstery To Blend Feminine / Masculine Touches
Generally, it is safe to assume that most men and women tend to have different preferences in patterns.
Geometric and angular patterns are thought to be more masculine while feminine patterns are usually softer and often more complex than their masculine counterpart.
So what should you do now?
Favor one or the other….
Here's a good example, since leather upholstery is mostly considered a masculine choice, lean towards gauzy fabric for your curtains to balance out the room.
Sale
Dreaming Casa Solid Sheer Curtains Draperies White Rod Pocket 2 Panels 52" W x 96" L
2 Panels Rod Pocket Sheer Curtains: Each measure 52 inches wide by 96 inches long, Total cover 104 inch width.
Sheer curtains 2 panels 52 inches Wide by 96 inches Long curtains in package. Total measure 104 inch Width.
Rod Pocket can fit up to 1.5" curtain rod
As sun pours into your home through the sheer design, a comfortable feel that is sure to makes you relaxed and happy. It is a perfect decoration for your living room bedroom.
Gorgeous colors add life to your house. Bring the beauty and a new look for the kitchen/dining room/bathroom.The perfect balance between ornamentation and privacy.
If choosing a heavy upholstery for your curtains, maybe a linen texture sofa will help bring in a softer texture.
When it comes to heavy fabrics, they are considered more masculine and lighter weight fabrics are considered more feminine.
Always remember the choice of fabric tends to make a room look a little more feminine and also a little more masculine.
So when making a choice, go for textiles that go with the general style of the house and also go well with the color scheme to make sure they suit everyone just fine.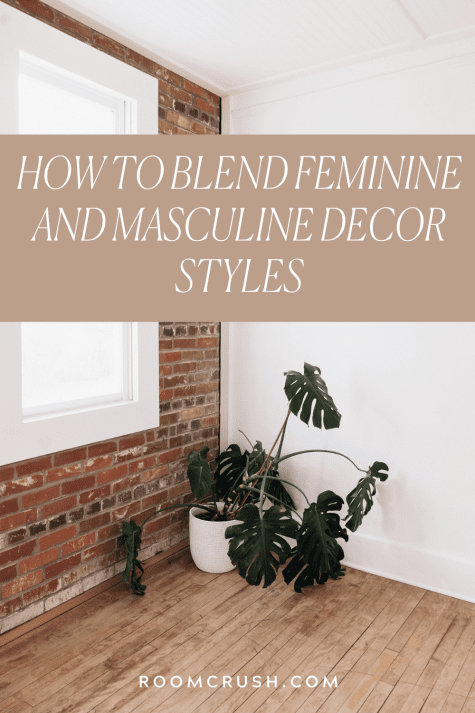 Blend Feminine and Masculine Styles –  Conclusion
The key to having a warm and inviting home is to include a little bit of everyone in the design so both partners can feel at home.
Using these tips for blending feminine and masculine styles gives you a solid foundation.
If you follow these tips, you will easily have the base furniture and color palette established, so now there is plenty of room to play around and change the details in the future.
You can enjoy freshening up their decor throughout the year, simply by swapping out the pillows or blankets for different colors.
Over time, you and your partner will come to develop your own blended style as a couple together.
Following these guidelines can really help with the itch to liven things up around the house!
What's your biggest decor challenge?