9 Must-Have Powder Room Accessories
Does your home have a powder room? Could it use a makeover?
If you are just thinking about renovating your house, then you should consider having a powder room.
Also called a halfway bath, the powder room is such a significant part of the house.
In this article, we will share 3 reasons why having a powder room rocks, and reveal 9 powder room accessories you need!
---
7 Easy Home Updates eBook: Free!
Today, get a free copy of our ebook that shows you 7 simple updates you can make in your home this weekend that will make your home look expensive and increase its value. Tell us where to send your free copy:  
This site uses ads and affiliate content as an Amazon associate earning on qualifying purchases. Disclosure.
---
What Is A Powder Room?
A powder room is a small bathroom that is normally composed of just a sink and a toilet.
Have you seen the room in a house where the ladies go in to touch up their make-up?
That is the powder room!
If you are not yet convinced about having a powder room, then here are 3 main reasons why you should.
Shop This Post:

3 Reasons Why You Need A Powder Room In Your House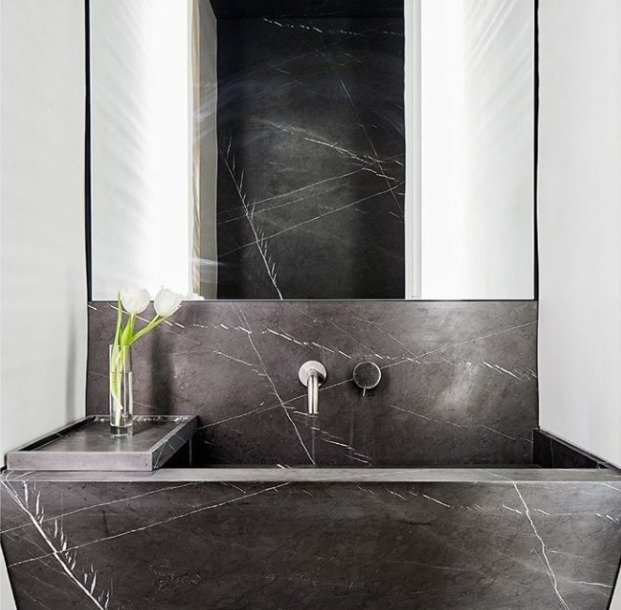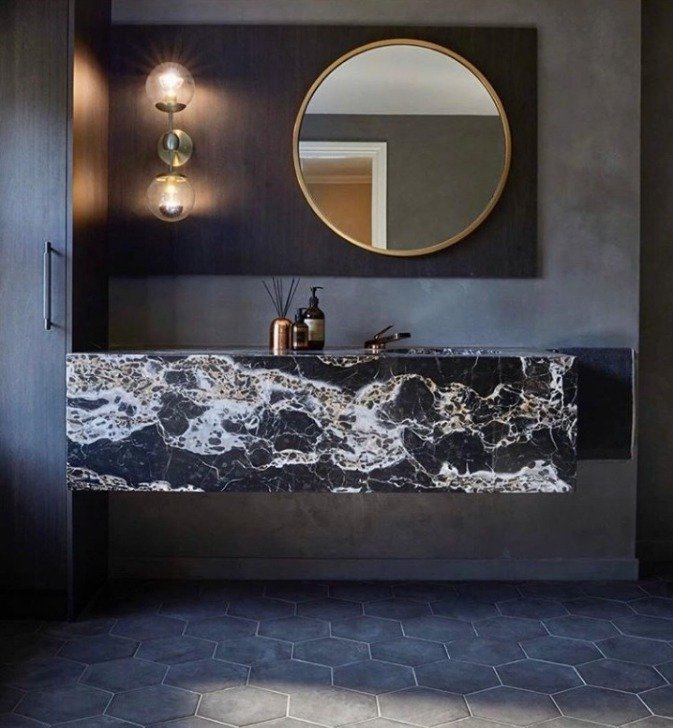 1. A powder room keeps your actual bathroom private
As a homeowner, you don't really want to share your personal bathroom with your guests, do you?
Suppose your master ensuite has a bathroom or it is just adjacent to your walk-in closet, would you allow people into your bedroom just so they could access the bathroom? No!
And also, you would want to keep your personal cosmetics and grooming products private.
That goes to show why a powder room is a necessity.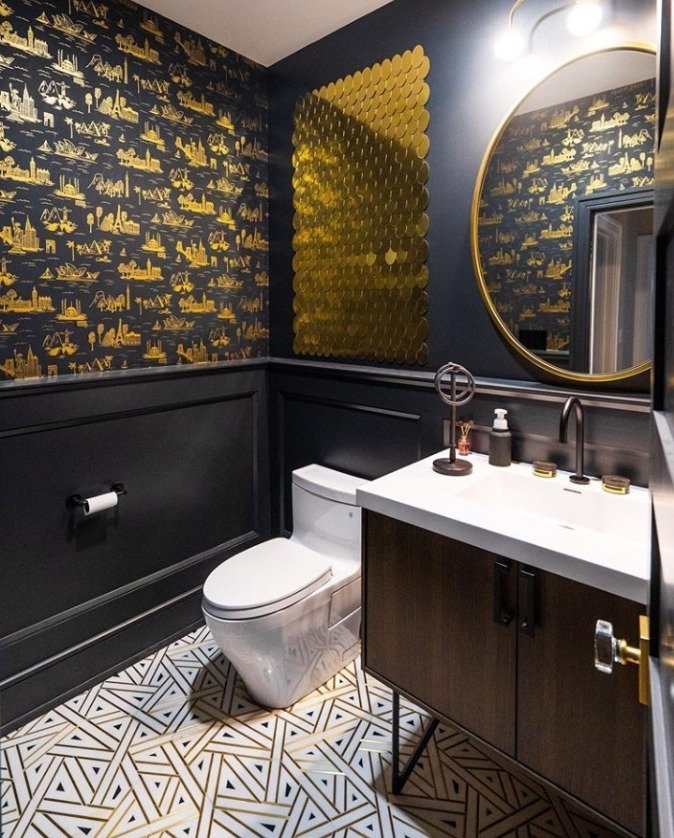 2. Powder rooms ease 'traffic' from the main bathroom
Have you had to wait up in line for minutes before actually using the washrooms?
Then you must understand that it is better to have a powder room in order to ease the commotion.
This is particularly important in case you have a lot of guests visiting or if you are a big family.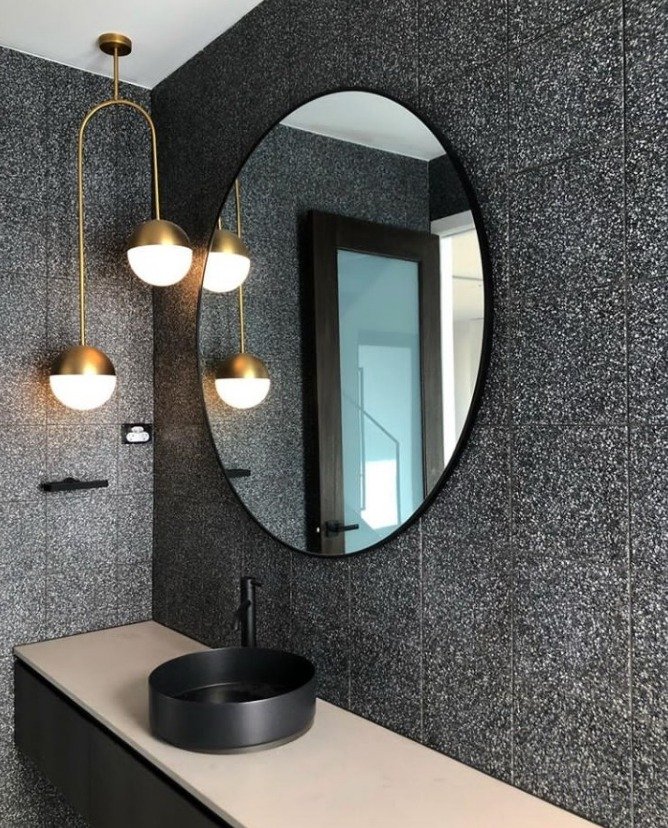 3. Powder rooms are convenient
The powder room is usually located near the entry of public rooms like the living and dining rooms to make it easily accessible even by the guests. That way, they can help themselves or even freshen up without too much fuss.
Indeed, the powder room has to be that one room in your house that everyone seems to be visiting. This means that it becomes one of the most seen rooms in your house thus it must stand out!
Decorating a small room can be hard and requires more strategy than you would think.
First off, you can always play around with the colors to give your powder room a larger feel than it actually is.
S&W Manufacturing Wall Sconces Set of Ttwo Plug in,Gold Wall Sconce,Wall Lamps for Bedrooms, Plug in Wall Sconces LED 9W 3000K Adjustable Sconces Wall Lighting with Switch
Wall Sconces Plug in or Hardwire, Easy installation : Wall lamp with plug in cord ( 70 inch ) , the gold sconce can be plugged directly into the wall to power on, or you can cut off the plug wire for Hardwire , ON/OFF Switch on the plug wire. Easy installation, Backplate Suitable US junction box standard .
Eye-Protective and Energy-saving :Wall lights for bedroom LED 6W (OSRAM chip). UL certified driver, 85% energy saving than traditional light bulbs, Warm light 3000K to keep your eyes free from the harsh glare .
Adjustable bedside wall lamp :The gold wall sconce head can be rotated up and down 350°, left and right 150° to bring easy and convenient reading experience ,and the plug in sconce made up of the aluminum materials, Will radiate heat in time ,Long-term use will not heat up
Wide Application wall light fixture : The modern led brass wall sconces is rated for dry locations, Perfect for Makeup mirror, bedroom headboard, House Reading Living Room Home Hallway Dining room, restaurant hotel guest room bedside and so on.
Indoor use only ,plug in sconce set of 2 ,sconces wall lighting plug in Great for decorating your room.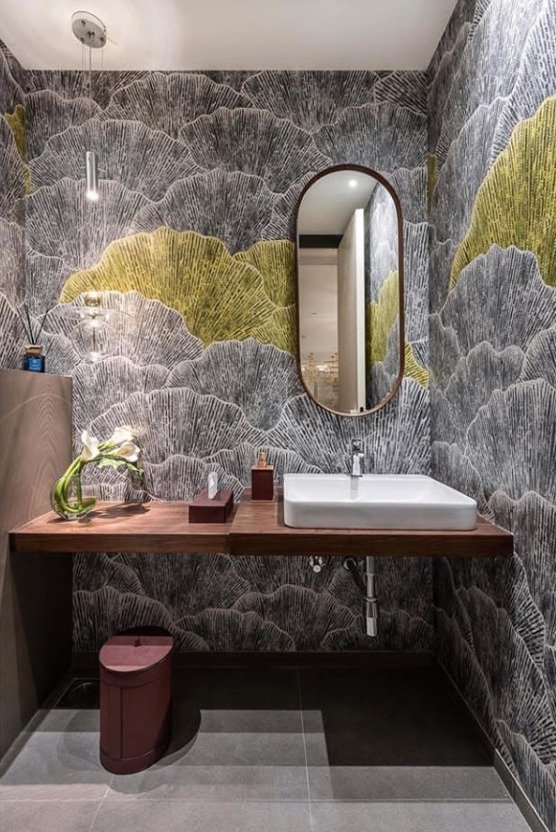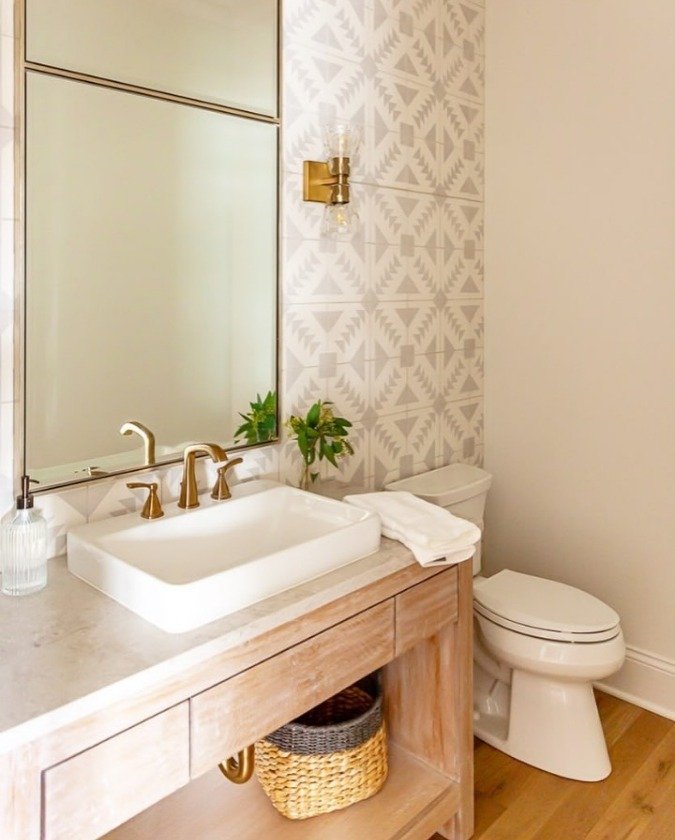 Ok, now it's time to give your powder room a gram-worthy update with these fabulous powder room accessories!
9 Fabulous Powder Room Accessories To Give Your Bathroom
1. Fancy Faucets
Delta Faucet Trinsic Widespread Bathroom Faucet 3 Hole, Gold Bathroom Faucet, Diamond Seal Technology, Metal Drain Assembly, Champagne Bronze 3559-CZMPU-DST
LIFETIME LIMITED WARRANTY: You can install with confidence, knowing this bathroom faucet is backed by Delta Faucet's Lifetime Limited Warranty
LASTS 2X LONGER: DIAMOND Seal Technology uses a patented design to reduce leak points and last twice as long as the industry standard (Industry standard is based on ASME A112.18.1 of 500,000 cycles)
SUPPLY LINES INCLUDED: InnoFlex PEX supply lines are integrated into the faucet for one less potential leak point and are conveniently included in the box
REDUCE LEAKS: DIAMOND Valve, a diamond-embedded ceramic disc, requires no lubrication and eliminates wear on seals, so you can rest assured that this faucet will perform like new for life
EASY INSTALLATION: Designed to fit 3-hole, 4-16-in. widespread configurations. Everything you need is together in one box, including a coordinating metal pop-up drain assembly
Powder rooms are normally small hence they have fewer fixtures. But this should not give you a reason to actually have a boring atmosphere in the powder room.
Transform your powder room into a work of art by choosing a dramatic faucet fit for the gram!
Now that's modern and elegant!
Related: 10 Ideas To Update Your Boring, Old, Tiny Bathroom Stylishly
2. A Bathroom Mirror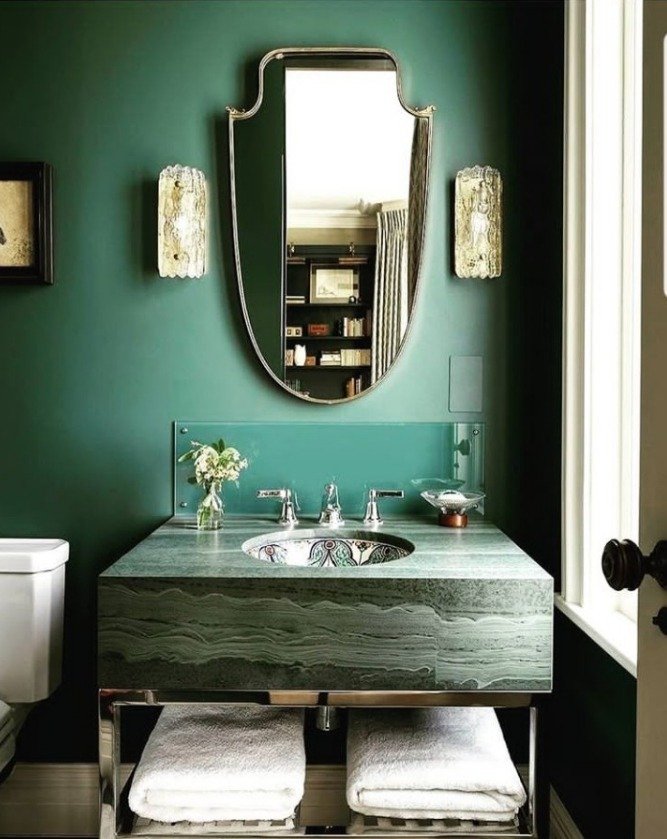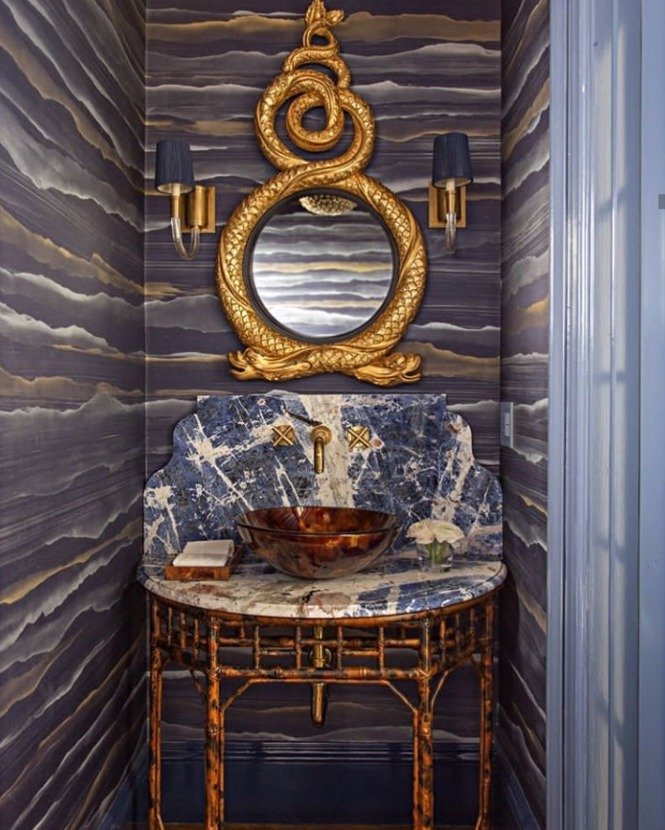 Add sparkle and shine to your powder room with a gorgeous bathroom mirror.
Play around with mirror shapes and get a good one for your powder room- you can choose to mirror the entire wall, use double mirrors, or also a round mirror.
It's your choice! But remember to ensure the frames are moisture resistant.
After all, who never likes a good mirror selfie?
Funerom Vintage 11.6 x 9 Inch Decorative Wall Mirror Gold Shield Shape
It's a Small decorative hanging wall mirror and also an Perfect for use as jewelry, accessories, makeup organizer。but not a big mirror, about the size of A4 paper
Golden Shield Shape decorate , makes it a stunning for living roombathroom and wedding party
Unique design, golden frame, luxurious shield shape, bringing retro Baroque style
Made of environmentally friendly resin materials,SIZE:11.6*9 in
If your purchase doesn't meet your expectations, let us know and receive a full refund with no question. If you have any concern on product or service, please don't hesitate to let us know and we'll make it right.
You May Also Like: Amazing Bathroom Mirror Ideas to Accentuate your Bathroom
3. A luxurious floating sink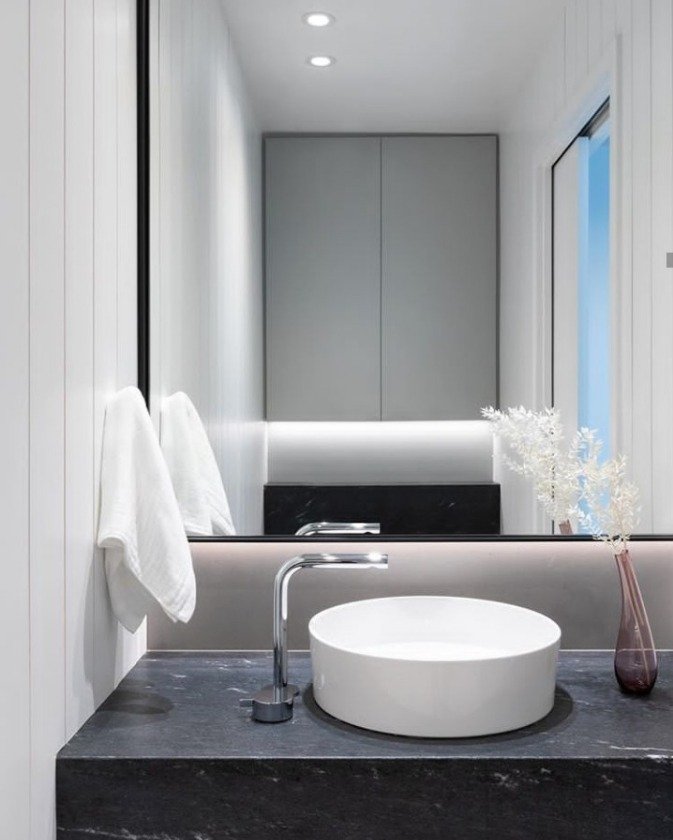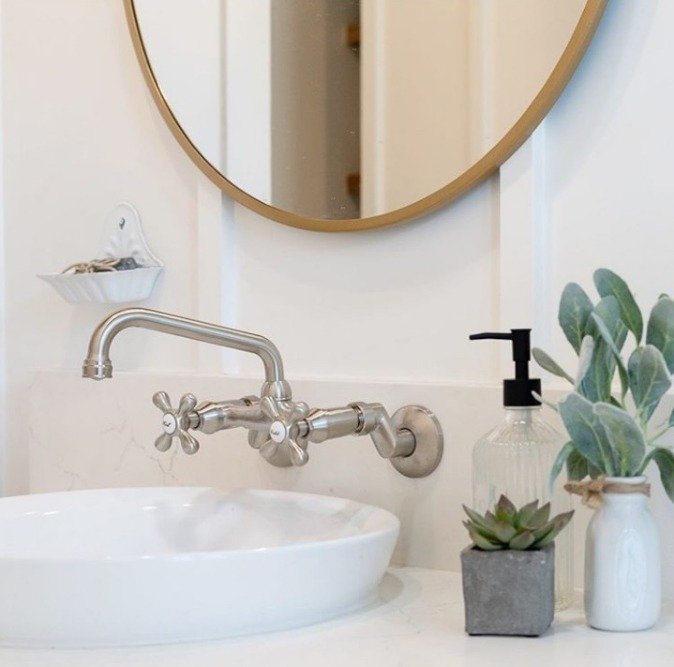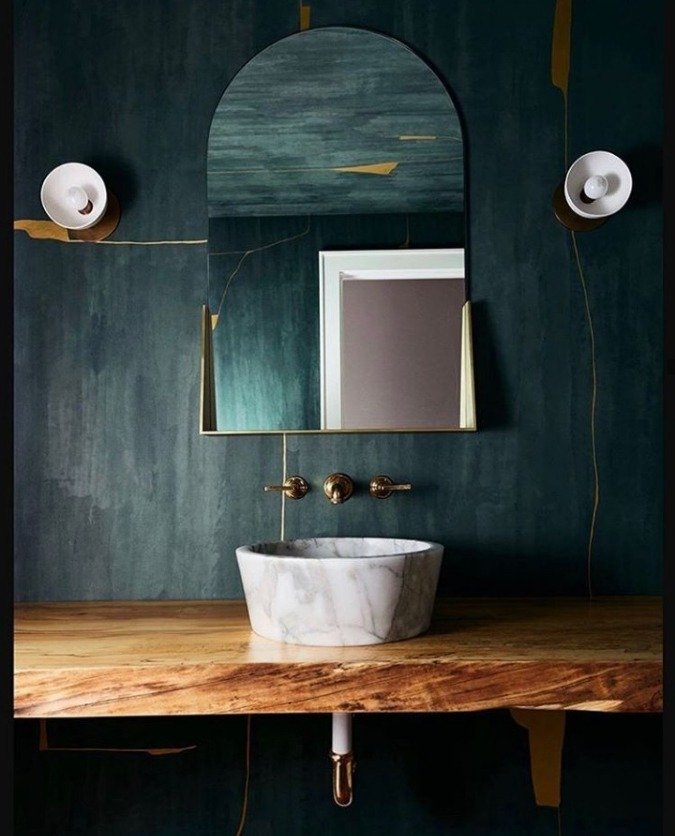 The floating bathroom vanity is the go-to trend!
It offers more space for storage and actually, some floating bathroom vanities have built-in cabinets. B
But before going for a floating sink, decide how much storage and counter space your powder room can provide.
In the powder room, the sink has to be one of the statement pieces. In this modern age, the floating vanity pops in the space right above the counter.
4. A gram-worthy chandelier
Most powder rooms tend to have no windows and if there are there, they are made small. That means that you must do a good job with the lighting.
Instead of using some normal light bulbs, set the mood with a beautiful chandelier.
Sale
SZXYKEJI 12-Light Glass Chandelier,Large Sputnik Chandeliers for High Ceilings, Rustic Ceiling Lighting Fixture Pendent Light for Kitchen Dining Room Living Room Bedroom Office (Black).
Mid Century Black and Gold Chandelier Size: 9.84 "h * 33.85" W, 4.72 "W This chandelier is hardwired, installation required(If the shade is broken, you contact us to get a new shade).
Mid Century Black and Gold Chandelier Size: 9.84 "h * 33.85" W, 4.72 "W This chandelier is hardwired, installation required(If the shade is broken, you contact us to get a new shade).
Installation scene: modern lighting style is suitable for living room, dining room, kitchen and bedroom(Note: install the lampshade carefully. Note: our lampshade is light smoke gray)
Black and Gold Chandelier Simple Installation: small parts need to be assembled, with detailed installation drawings. If you don't understand the installation, please contact us.
Professional customer service: our service and products will do our make you satisfied! If you have any questions, please feel free to contact.
You May Also Like: How To Choose Lighting For Your Dining Room
5. Luxurious soaps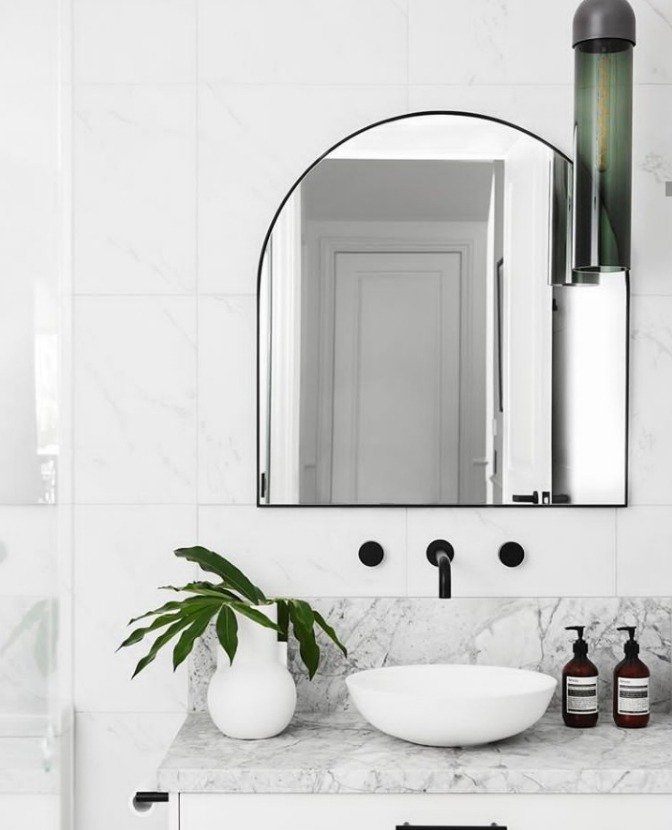 Imagine beautifully scented liquid hand soap, the bar soap in a nice soap dish and luxury brand hand lotions.
Your guests will appreciate a good lavender-scented soap!
6. Bathroom Trays and Canisters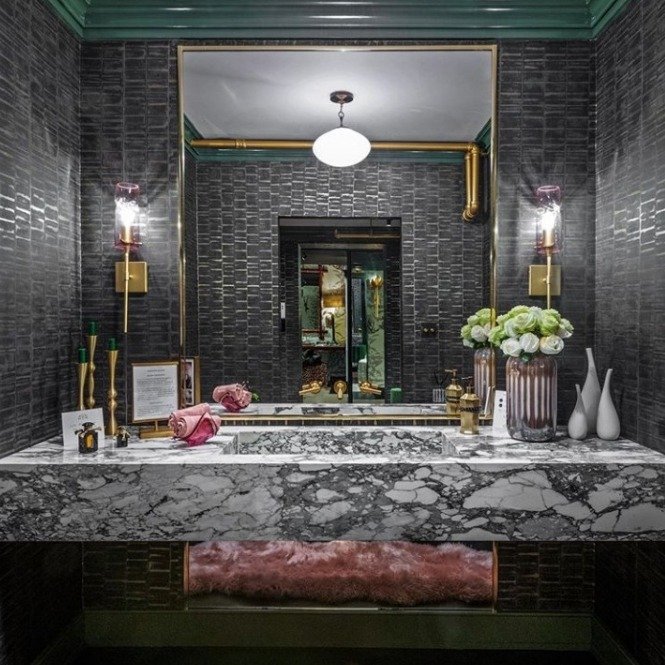 A couple of glass or wooden canisters can be a great addition to your powder room décor since they can provide great storage for your soaps, cotton pads, makeup wipes, and even lotion.
You May Also Like: Try These Shower Baskets for Extra Bathroom Storage
7. A cozy mat
Most homeowners prefer tiled floors, as they are easy to clean. But they tend to be cold and slippery when wet. Hence, the need for a cozy cotton mat.
8. Plush Towels
Place some Egyptian cotton towels to really make your guests feel like royalty.
Sale
White Classic Luxury White Bath Towels Extra Large | 100% Soft Cotton 700 GSM Thick 2Ply Absorbent Quick Dry Hotel Bathroom Towel for Home, Gym, Pool | 27x54 Inch | White | Set of 4
HOTEL COLLECTION - 4-Piece Bath Towels are generously Sized at 27x54 inches, plenty of room for comfortable lounging after a refreshing shower or relaxing soak. Each towel is spun from fluffy 700 GSM long staple 100% combed cotton - soft, durable, quick-dry, and wonderfully absorbent. It is more absorbent than any Turkish Cotton Towel.
WRAP INTO BLISSFUL LUXURY - At the end of a long day, or at the start of a new one, you deserve a little luxury. Transform your home into a sanctuary and your bathroom into a mini spa with the help of White Classic deliciously soft, comfy elegant towels. Fabulous selection of colors will make your bedroom look like it belongs in a magazine.
Experience a true luxury super soft feel every time you use them. The surface is smooth and not easy to shed, adding to their durability. Edges are reinforced with double needle embroidered stitching to prevent fraying from long-term use and laundering. Perfect for spa, poolside, bathroom, Beach, salon, college dorm room essentials.
CARE INSTRUCTIONS - Simply toss them in the machine and wash. After the first wash, these towels will fluff up beautifully, feel fresh and soft. These towels are specially processed to make the dryer take less time, thus saving time and energy costs. Keep The Lint Trap Clean. Some Lint May Be Observed in First Wash. This Will Not Affect The Look, Feel or Performance of Towel.
NO RISK TO YOU! With Our 2-Year Warranty Promise - WhiteClassic is a different kind of company that prides itself on providing the absolute best customer service in the industry. If you are not satisfied with your purchase at any point and for any reason, you can contact us for a replacement, (in fact, you don't even have to send back the product).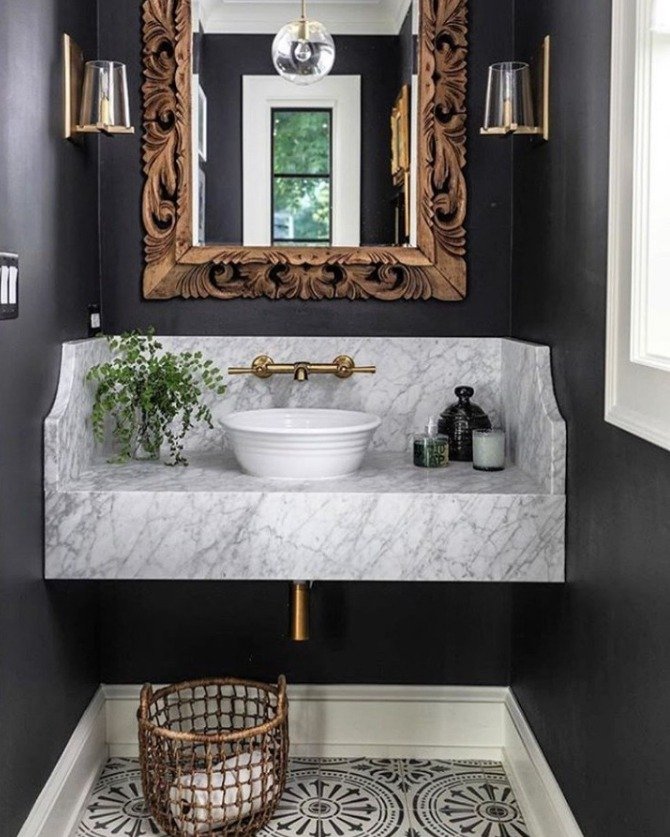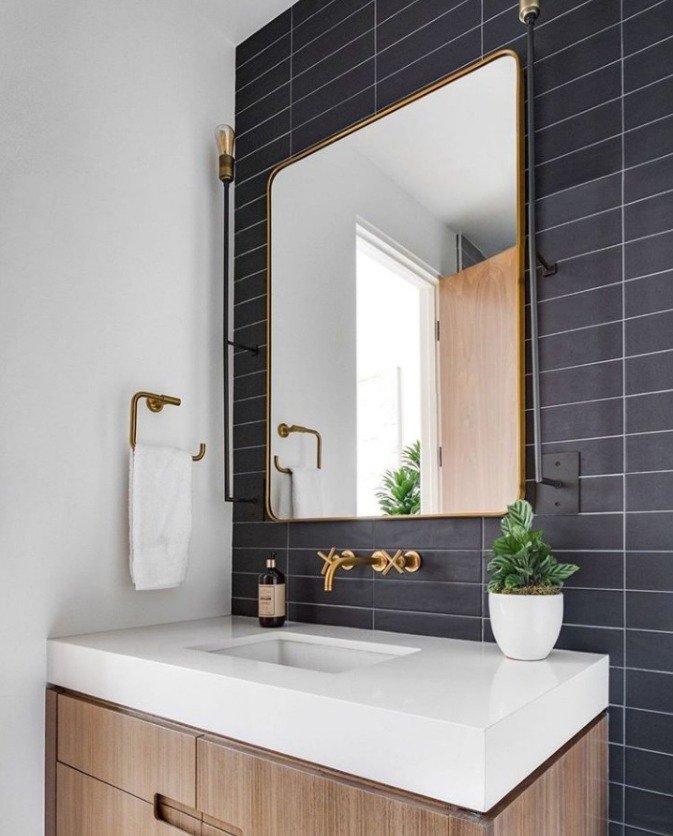 9. Scented candles
Candles make perfect powder room accessories.  You will want your powder room to be a serene sanctuary, right? Scented candles make that happen.
You May Also Like: How To Decorate A TV Wall Stylishly
Beautiful Powder Room Ideas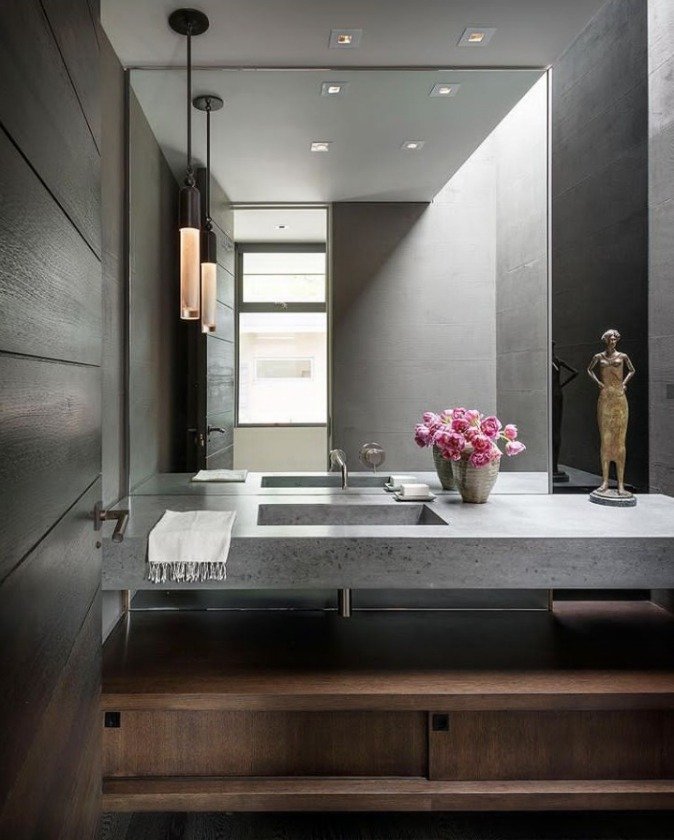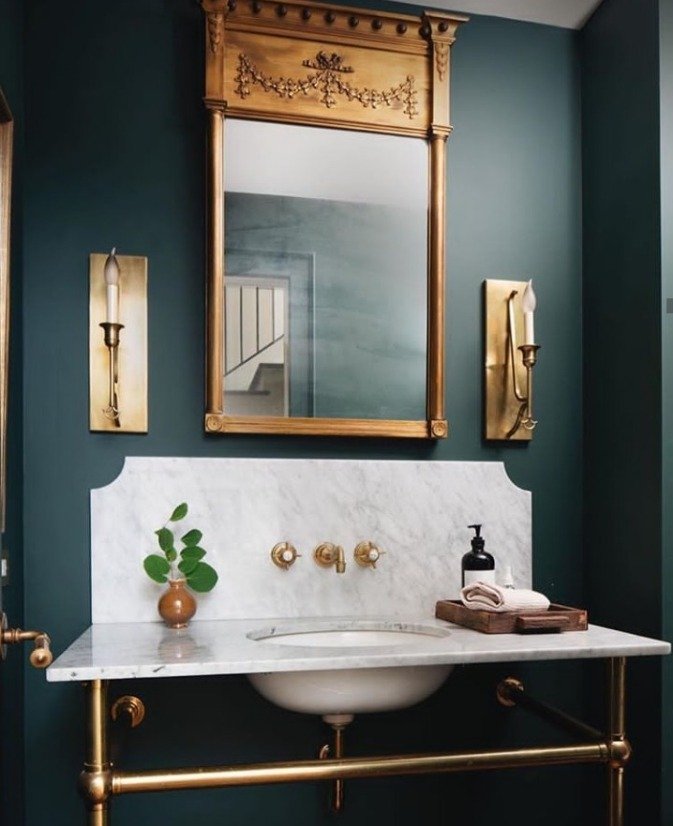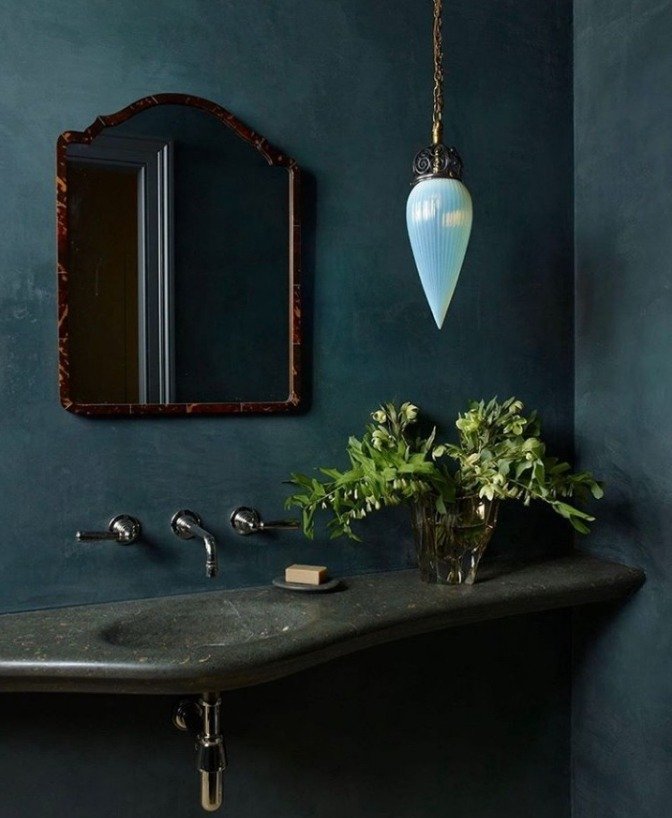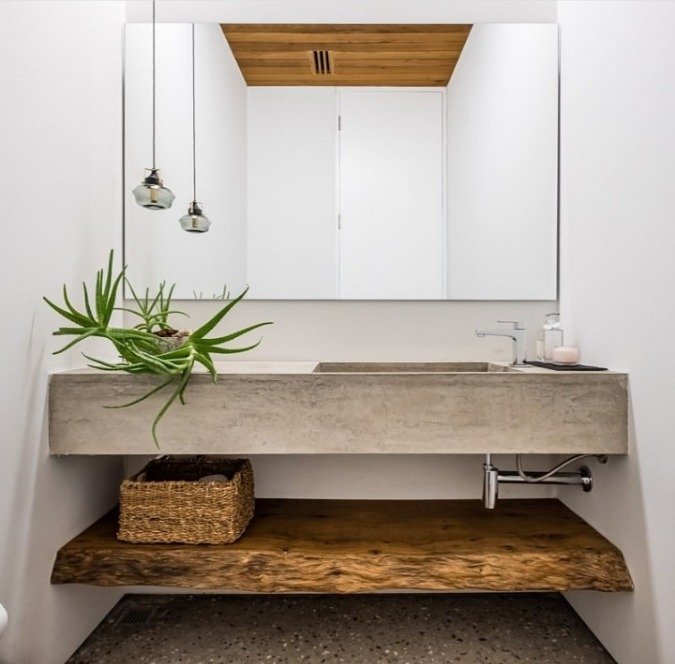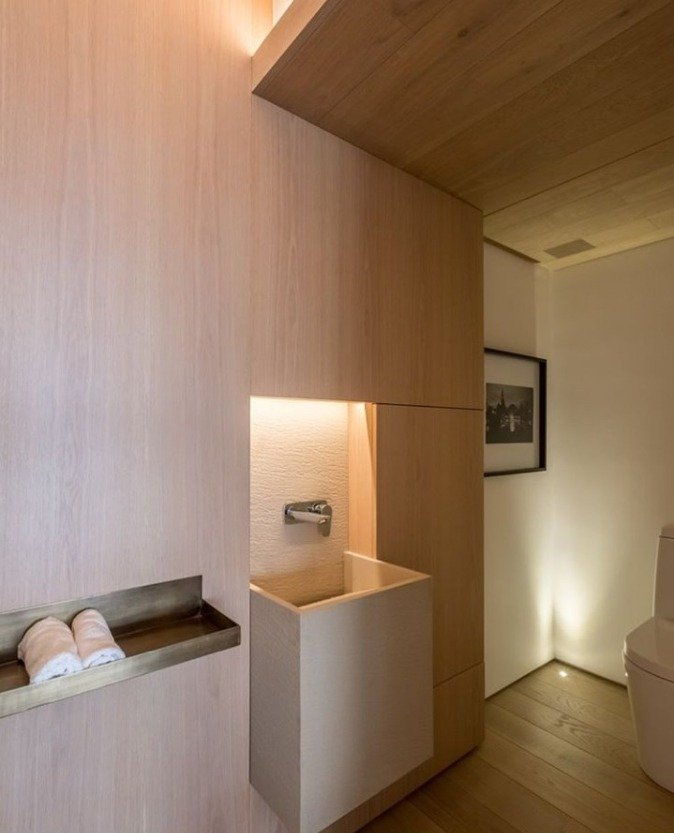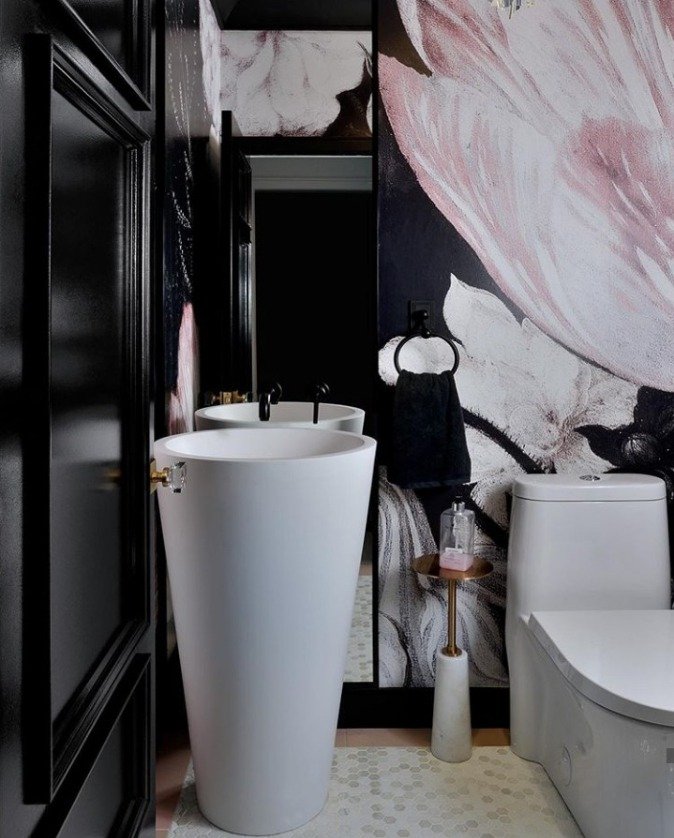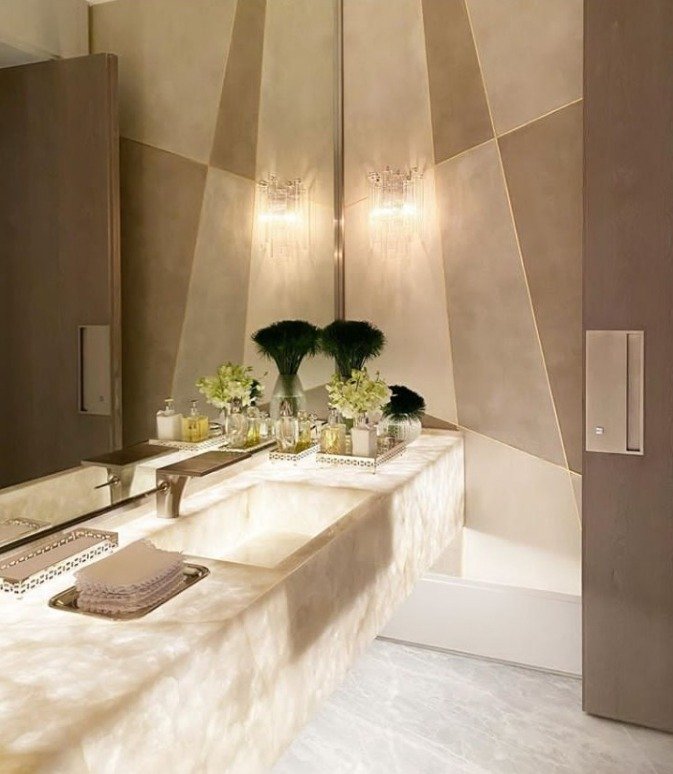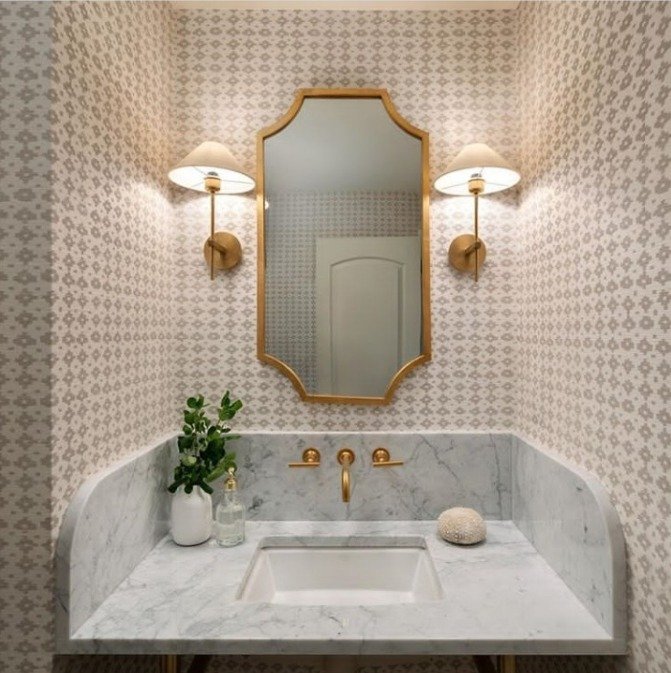 Nothing makes your guests feel more pampered than a stylish, modern powder room.
Incorporate these accessories in your powder room and you'll have a glamorous space in no time.
Well, do you have a powder room in your house? Have you used any of these powder room accessories to beautify the space?
We'd love to hear your thoughts in the comments below!
Keep Reading:
Pin this: