Best Hostess Gifts For A Christmas Dinner Party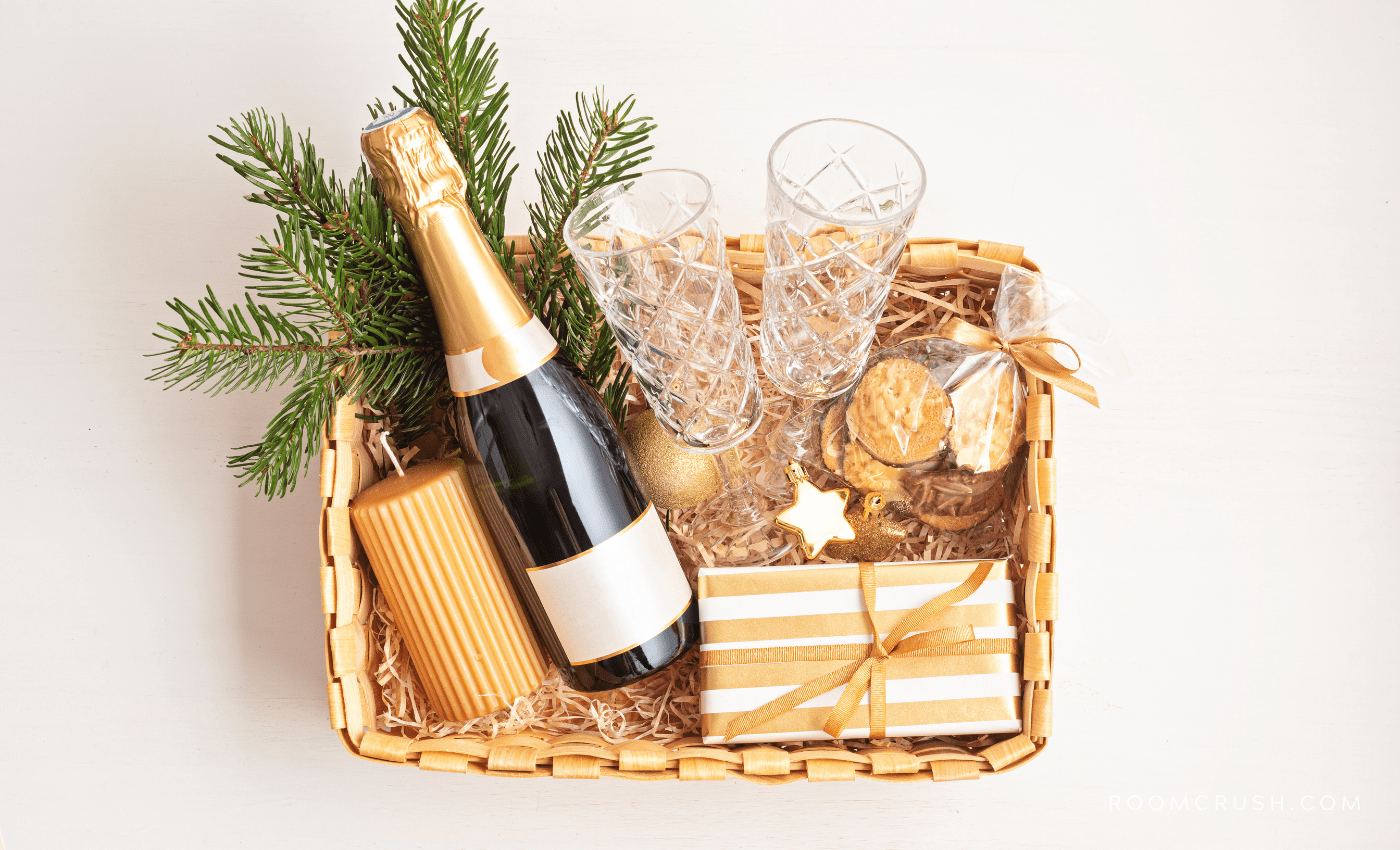 Wondering what gifts to bring for the hostess during a Christmas dinner party? Then ride along because in this article, we share the best hostess gifts to get her!
For any civilized person, it is actually bad manners to show up at any social gathering or event empty-handed. One guest etiquette rule is to gift the host. Never forget this!
So, are you wondering what gift to bring to the host?
Even if you're unsure of his or her preference? Then this list of the best hostess gifts will guide you!
---
7 Easy Home Updates eBook: Free!
Today, get a free copy of our ebook that shows you 7 simple updates you can make in your home this weekend that will make your home look expensive and increase its value. Tell us where to send your free copy:  
This site uses ads and affiliate content as an Amazon associate earning on qualifying purchases. Disclosure.
---
Best Gift Ideas For The Hostess During Any Social Gathering, Including Christmas
Since the holiday season is almost here, we are getting ready for the Christmas celebrations in style.
This means more and more home celebrations and parties with the relatives in general, Christmas lunches and dinners too.
Here are some fabulous ideas for gifts to give the hostess of your next dinner party or gathering.
1. A Bottle of Champagne + Wine Opener
Top on our list of the best hostess gifts is a bottle of champagne!
Champagne bottles are aesthetically pleasing, let alone the champagne itself!
But before you buy this gift for the hostess, just be sure of their preference and taste.
You can always inquire about this from them before the event.
To make your wine bottle even more beautiful, consider gift-wrapping your bottle and drop it into your bag.
Apart from the champagne with a beautiful bottle, consider bringing a wine opener for your host too.
Mixology Bartender Kit: 10-Piece Bar Tool Set with Bamboo Stand | Perfect Home Bartending Kit and Martini Cocktail Shaker Set For a Perfect Drink Mixing Experience | Fun Housewarming Gift (Silver)
Everything You Need (Except For The Booze): 10-Piece ALL-Inclusive bartender set of top shelf cocktail tools. Will give you the power to whip up impressive cocktails for your guests. Whether you're an amateur bartender or a professional cocktail mixing guru, whether you're setting up a bar at home or at work, this bar set is a brilliant way to hit the ground running.
Coolest Way To Store And Display Your Bar Tools: Eco-friendly bamboo stand (Patented), carefully designed to keep your barware tools organized and accessible at all times. No more clutter in your kitchen drawers and cabinets. Show off your gorgeous cocktail kit with the unique bamboo storage rack. You will definitely win your guest's attention.
Undeniably Perfect For Cocktail Lovers: First-class bartending set plus a sleek bamboo tool holder, both packed together inside a classy box. Your recipient will be thrilled like a child in a candy store. Plus, to make things truly delicious, it includes an online cocktails catalog.
Solid And Durable: Heavy-duty and high-grade martini shaker cocktail set. This entire bar accessories kit is made of stainless steel alloy: SS304 & SS430. Worry not, it's all dishwasher compatible, so forget about wear and tear with these professional bar supplies.
2. Wine Glasses
Beautiful wine glasses should be in your gift basket if you consider gifting your host a bottle of champagne.
There are custom wine glasses that you can gift the hostess to make your gift more personalized.
We love these super classy crystal wine glasses at Amazon, below and they are affordable, too!
3. An Instant Pot
The Instant Pot is such a kitchen must-have!
While it offers fast cooking and still preserves the flavor of food, your host would appreciate an instant pot as a gift. Even if she already has one or two, trust me, no one would reject a good instant pot.
4. Coffee Mugs + Pot
In social gatherings, coffee or tea are normally part of the menu, especially if it's a homey event at your parents' or relatives'.
That means a good set of coffee mugs and a coffee pot would be so appreciated.
5. Glass Cake Stand
A glass cake stand makes a perfect gift for the hostess. You can place your homemade dessert on it, fasten a gift tag around it and no hostess will refuse this!
6. A Box of Chocolates
Girls and chocolates?! Yes, please!
Feast your hostess' eyes on wonderful treats from chocolate pills to chocolate bars. There are so many types of chocolates that you can bring to the hostess and she'll love them.
7. Your Best Dessert + Dessert Stand
One of the best hostess gifts that can't be beat is to give a delicious dessert.
Does your hostess enjoy sweet treats? Then bring to your hostess an impressive selection of gourmet desserts gifts.
You can always prepare that delicious treat and bring it in a dessert basket.
8. A Bread Basket or a Box of Scones
Food gifts never disappoint and if you can't prepare bread or scones for the hostess, you can always buy food gifts online on Amazon or Walmart.
9. A Serving Bowl
In most of the social gatherings, food is normally a centerpiece as we've said over and again.
Apart from the instant pot, you can always bring the hostess a couple of serving bowls.
This will ease her serving for the guests. She'll appreciate this!
10. Cocktail napkins, Kitchen Towels, Dinner Napkins or Serviettes
Bring the hostess a bunch of cocktail napkins, kitchen towels or a pack of serviettes and she will thank you for it!
Most of the social events around Christmas are so warm and normally, for close friends and relatives. I could call them get-togethers.
While you can also have a bunch of flowers and sweet-smelling candles for the hostess, consider these 10 best hostess gifts and she'll love it!
Your presence will be appreciated.
Apart from these great gifts that you can bring for the host, there are some guest etiquette rules we should just learn to live by.
Proper guest etiquette ensures you come out as a person of class, who is well educated.
3 Easy Guest Etiquette Rules
Always Confirm Attendance
If you were invited to any social gathering over at Christmas, please be kind enough to confirm your attendance to the host.
And also, once you have confirmed your attendance, don't be rude enough to cancel the event during the last minute.
As, honestly, the host would have already budgeted for you so that would be a waste. It is also rude!
On the day of the event, be sure to arrive on time and politely greet the host once you're at the place; keep this first on the list once you're at the venue.
If you'll be unable to attend the social event, kindly let the host know this before you confirm your attendance.
As well, please do not bring in an uninvited guest to the party.
Always have them formally invited by the host if you have to tag them along.
Stick To The Dress Code
If you have to look good at any social event, then you must stick to the dressing code.
If it is a family reunion, be sure to dress modestly and respect whatever the theme will be.
Good enough, if it's Christmas, it is always easy to look good in red and white, right?
Anyway, there is no room for guessing!
If the host hasn't let everyone know about the dressing code, be wise enough to inquire this from the host.
Remember to Eat Before Showing Up At The Event
While there is always plenty of food at social gatherings, that is no pass to indulge and become foodie-famous.
And to ensure you don't over-eat, it is just proper to eat at your place even before the event.
Why?
You'll be full enough to over-eat at the place.
Even if the food delays to be served, your stomach won't be rumbling the whole time.
Your hands won't be on the bread basket, dessert table or wine stand every other time.
You will have a good time socializing and bonding.
Eating before attending any event will make you the happiest guest because you'll also preserve your guest etiquette…we don't want hungry fowls at the event!
Be A High-Worth Guest
As a guest, remember to be on your best behavior!
Arrive on time, with gifts for the host, and carry yourself well.
That means, don't overindulge on alcohol, don't participate in gossip or fights and don't overstay your welcome.
Instead, be friendly and open to all other guests, introduce yourself to people, and be keenly interested in what they have to say.
After the dinner party, be sure to send a thank you text or card to the host.
Best Hostess Gifts For A Christmas Dinner Party – Conclusion
Well, which of these hostess gift ideas will you consider bringing for the host of your next special event?
Have a gift idea that you think should be added to this list? Comment below!
What To Read Next: